How to find BA Job in a New Country in 2023

8 min read
Apr 21, 2020 12:00:00 AM
When you've set out to migrate to a new country for better opportunities, it is an educational experience like no other, where every day brings discoveries: food, culture, people, places, customs, and work. It's also really hard work - and that's true without even trying to negotiate any language barriers. When you move to a new country, you're learning to work and live in a strange new world.
One profession which has been an ever-growing and promising field all over the globe today is Business Analysis. It has gained high popularity owing to its techno-functional nature. A recent report prepared by LinkedIn based on insights from 660+ million professionals and 20+ million jobs titled "The Skills Companies Need Most in 2020 - And How to Learn Them", indicates that Business Analysis skill has made the most significant jump out of all the skills listed in 2020's trending hard skills. The report also states that business analysis is one of the few hard skills every professional should have, as most roles require some level of business analysis to make decisions.
Here's a data insight from SEEK on the job opportunities for BAs and how the job market is trending: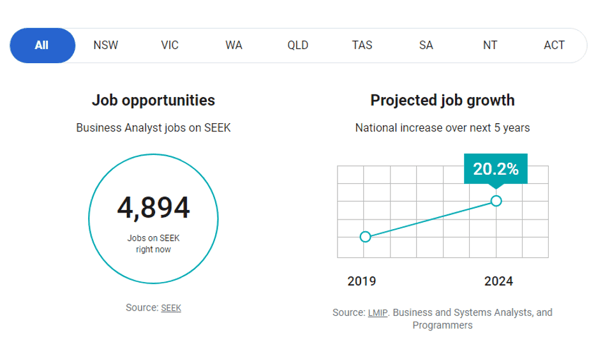 In short, we can say Business Analysis as a career prospect has a glorious future in whichever part of the world you are in.
The job scope for a business analyst in any industry is horizontal. It means that a business analyst can work across projects from any industry. The BAs role is often seen as a bridge between IT and business stakeholders. Business analysts must be great verbal and written communicators, tactful diplomats, problem solvers, thinkers, analyzers, and change-makers - with the ability to engage with stakeholders to understand and respond to their needs in rapidly changing business environments.
All the above characteristics make a business analyst profile a universal profile. In today's highly competitive economic landscape, business organizations continue to strive to improve their business processes and reduce costs. Business analysts are at the center of most of these initiatives, and thus the demand for business analysts is quite high.
For professionals looking for job openings as a business analyst in the global market, there are some basic skills or abilities which you should try and master-
1. Learn the Business Analysis process
Like any other activity, business analysis also follows a process. The best resource, which is available for free, is the Business Analysis Core Standard from IIBA. This is a fairly short document of about 50 pages, but it is very informative. This will give you a good idea of how business analysis is performed.

2. Learn Modeling and Diagramming tools
Business Analysts need to be technologically competent. Like most other professionals, business analysts also use a plethora of tools as part of their projects. Fundamentally, BAs have the following requirements to be fulfilled by using their tools
Managing requirements

Modeling requirements wherever feasible

Collaboration tools
Learn tools for business process modeling, state modeling, and use case modeling. You can get your hands on the free trial version of Microsoft Visio, which is a tool very popular in many organizations. You can also learn to utilize other free tools, such as Lucid chart and BizAgi Business process modeler.
3. Learn about the Domains of your interest
Domain knowledge is important. Getting a good opportunity abroad may need you to be experienced as well as have some basic domain knowledge. There are good resources available on the internet about almost all domains. It is useful to familiarize yourself with the domain in which you are seeking employment. Look for a handbook on the domain of your interest. Going through the handbook will give you a fairly good idea about how the domain functions.
When you understand your domain, it is easier to understand the needs of the organization, and your acceptance as a business analyst will increase manifold.
You can find a high-level overview of most of the domains at APQC.org
4. Hone your Behavioral Skills
Business analysts need to have a combination of hard and soft skills. The soft skills you will need to acquire/hone over the years to be a better Business Analyst professional are:
Communication Skills

Negotiation Skills

Facilitation Skills

Analytical Thinking Skills

Problem-solving Skills

Decision Making Skills

The ability to see the bigger picture

The ability to appreciate and empathize with others

The ability to influence without authority

Good interpersonal skills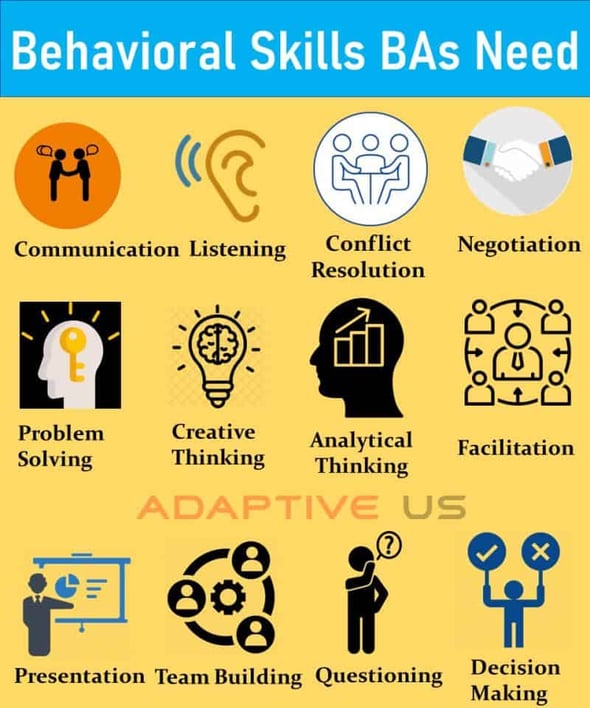 5. Prepare an Impressive Resume
While writing your resume, make sure to avoid silly mistakes.

Remember, your resume reaches the recruiter before they meet you, and whether you are called for an interview or not depends on the impression your resume makes on your prospective employer. Besides making sure that all the information you provide is honest and correct, it will bode well to write the resume using jargon and terms which are used by the industry in the country where you plan to work. The better written your resume is, the better your chances of getting called for the interview, and the higher the chances are of you grabbing the job that you are aiming for.
Utilize online resources like resume builder or resume editor to put up a great resume.
While looking for a job, one sure-shot way will augment your chances of getting a job is by earning a business analyst certification. Certifications remove uncertainty and widen market opportunities.
Though different countries may need different certifications, BA certifications from IIBA would be a better choice compared to the others as they have much wider acceptance. The IIBA certifications – ECBA (basic level), CCBA (intermediate level), and CBAP (Advanced level) each require a different level of experience that has dominated the certification space.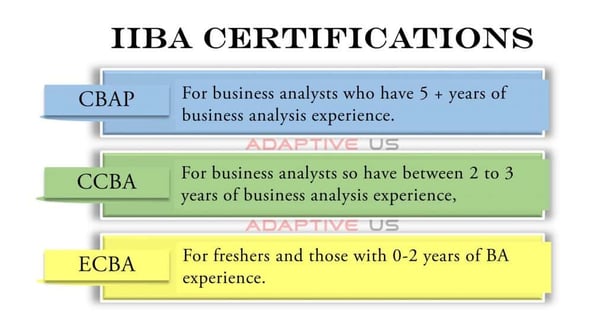 Junior Business Analysts and Freshers
While cementing your foothold in the field of business analysis, a broad understanding of business analysis tasks and techniques is the prerequisite. Undergoing a training program and attempting the ECBA certifications would not only give you a solid foundation to establish your BA career but also prove to your prospective employers that you have taken a step ahead to show your commitment to the BA profession in terms of acquiring BA skills and getting certified.
The Entry Certificate in Business Analysis, ECBA, is the first level of certification by IIBA. ECBA certification is ideal for individuals entering the field of business analysis. ECBA recognizes individuals ready to develop their business analysis skills, knowledge, and behaviors, to join the business analysis profession.
ECBA is framed rightly to suit the needs of an entry-level Business analyst focusing on requirements analysis, modeling, and requirements life cycle management with a good amount of emphasis on modeling concepts and tools. The questions in this certification exam are based on the business analysis body of knowledge BABoK version 3.0 by the International Institute of Business Analysis, IIBA.
The eligibility criteria for the ECBA Certification examination are as follows:
21 hours of verifiable professional development in the last 4 years. Adaptive US is an authorized EEP of IIBA®; its training will provide you with the desired professional development (PD) hours for the ECBA certification examination.

Agreement with the ECBA Code of Conduct.
Why Should I Invest in ECBA? explains why getting ECBA certified is a smart move.

Mid-Level Business Analysts
For professionals who have a few years of BA experience, a good understanding of technology and business will enable them to be successful in their careers. The CCBA Certification recognizes the business analyst's ability to take on larger and more complex project responsibilities and enables business analysts to move up in their career journey.
The Certification of Capability in Business Analysis (CCBA) is the 2nd level of professional certification by IIBA for business analysis practitioners. It is highly valued in the BA industry as it emphasizes your work experience, personal development, competencies, and up-to-date knowledge of the latest industry trends and developments.
CCBA certification is appropriate for business analysts with 2-3 years of experience who are keen to expand their skill sets and climb the BA career ladder. It adds a lot of value to a BA's profile as it is a recognition and acknowledgment of the expertise that a BA practitioner has in the business analysis domain.
The eligibility criteria for the CCBA certification exam are as follows:
Minimum 3750 hours of BA work experience aligned with the BABOK Guide in the last 7 years

Minimum 900 hours in each of two of the six knowledge areas or minimum 500 hours in each of four of the six knowledge areas

Minimum 21 hours of Professional Development Training in the past four years

Two references from a career manager, client, or CBAP recipient

Signed Code of Conduct
Why Should I Invest in CCBA? explains why getting CCBA certified is a smart move.

Senior Business Analysts
As business analysts mature in their careers, the expectations attached to their role expand, and it is essential that the BA, too, expand their knowledge base. This can be achieved through proper training and certification.
Certified Business Analysis Professional (CBAP) is the 3rd level of professional certification by IIBA for business analysis practitioners and is the world's most acknowledged business analysis professional certification for senior business analysts to excel in the corporate world. CBAP certification has proven results in terms of salary benefits, career growth, and opening up new opportunities in the global markets. The CBAP certification enables business analysts to move up in their career journey.
The CBAP certification examination needs one to understand BABoK in-depth and apply BABoK concepts to various business analysis scenarios.
The following are the eligibility criteria for CBAP certification:
7500 hours in the last 10 years, 900 hours of which should be in 4 out of the 6 BABOK Guide Version 3 Knowledge areas

35 hours of Professional Development in the past 4 years

Two references from a career manager, client, or Certified Business Analysis Professional – CBAP

A Signed Code of Conduct with IIBA
Why Should I Invest in CBAP? explains why getting CBAP certified will take your career to new heights.
While you wait to establish a strong foothold in the country you have immigrated to, pursuing and earning these highly coveted certifications will prove your mettle. Earning these certifications shows commitment, as preparing for these certifications and clearing the exam is not an easy task. Organizations also recognize individuals for the hard work and commitment that the candidate has put into it. These certifications work as a credential for a business analyst professional.
No Comments Yet
Let us know what you think