Top 10 CBAP Blogs for 2023
9 min read
Jun 20, 2023 8:45:37 AM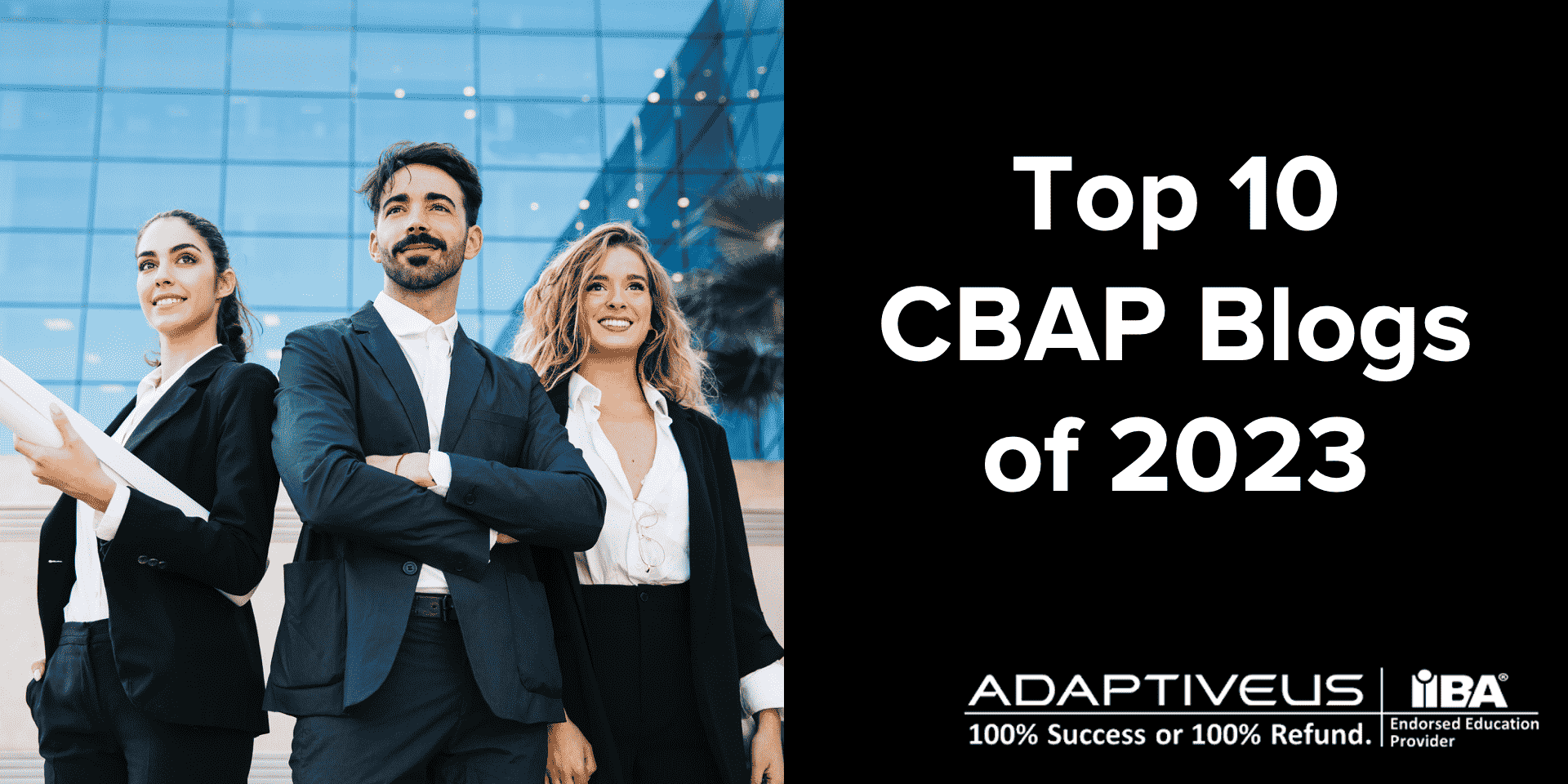 Business Analysis is one of the fastest-growing professions with an all-time high growth rate of 14% from 2014-2024, so if you are an ambitious Business Analyst looking at scaling greater heights in your career and expanding your business analysis horizon, there is no better time than now to pursue the CBAP certification. Given below are the top 10 CBAP blogs of 2023 which can help you understand and clear your CBAP certification examination.

10. CBAP Certifications Process - A Step-by-Step Approach

Certified Business Analysis Professional (CBAP) is the most sought-after certification for senior business analysts to excel in the corporate world. CBAP certification has proven results in salary benefits, career growth, and opening up new opportunities in the global markets. The CBAP certification examination needs one to understand BABoK in-depth and apply BABoK concepts to various business analysis scenarios.
Steps to Becoming a Successful CBAP
Ensure the eligibility for the CBAP certification exam (Week 1)
Take IIBA-approved training on CBAP (Weeks 2 to 5)
Study BABoK and Practice CBAP questions (Week 2 to 11)
Get your application approved (Week 6)
Take the CBAP test and be a proud CBAP (Week 12)
Read in detail about how these steps help you ease through your CBAP preparation...

9. 10 Questions You Might Be Afraid to Ask About CBAP Training

Is CBAP training the right training for me?
Does IIBA provide CBAP training?
Is CBAP training the proper training for our business analyst team?
Is CBAP training mandatory to go for CBAP certification?
Can I go for CBAP training when I am in between jobs?
Can a non-EEP provide CBAP training?
What is the ideal duration for CBAP training?
How do I choose the right CBAP training for me?
Is there CBAP training with CBAP exam fees?
Does CBAP training have any value without CBAP certification?
Read in detail about these questions and make informed decisions while taking up the CBAP exam...

8.10 Reasons When You Shouldn't Go for CBAP Certification

Before you reject or select the idea of pursuing CBAP certification, it's essential to take a step back and consider whether it's the right situation for you to go for CBAP. While there may be various reasons to question the value of CBAP certification based on individual circumstances, it is important to weigh its potential benefits. Whether you are a recognized expert in business analysis, satisfied with your current skills, confident in your job security, or planning a career transition, CBAP certification can enhance your professional profile, open doors to new opportunities, and provide a competitive advantage. From validating your expertise to expanding your network and staying updated with industry best practices, CBAP certification offers a range of benefits that can positively impact your career. Consider your circumstances and aspirations to make an informed decision that aligns with your long-term career objectives.

So, is choosing CBAP right for you? Read this blog to get to know more...

7. How to earn CDUs for Your CBAP Recertification

| | | |
| --- | --- | --- |
| Category | CDU Activity Categories | Maximum CDU Values per 3-Year Cycle |
| 1. | Professional Development | 30 |
| 2. | Work History (Professional Experience) | 25 |
| 3. | Professional Activities | 30 |
| 4. | Volunteer Service | 30 |
| 5. | Self-Directed Learning | 15 |
| 6. | Formal Academic Education | 30 |
Read about these CDU Activity Categories in detail and procure your CDUs efficiently.
6. Here's What Really Matters in Your CBAP Training
Six critical factors matter most when selecting your CBAP training program.
A well-qualified trainer will help ensure that you fully comprehend all aspects of business analysis theory and practice to adequately prepare for the CBAP exam.
Don't overlook the importance of high-quality study resources as a critical success factor in achieving your certification goals.
Choosing a CBAP training program with enough post-training support can be quite advantageous for aspiring business analysts seeking certification. It improves material retention and raises the likelihood of passing the exam on the first try.
Robust application assistance ensures that your theoretical knowledge may be translated into meaningful contributions inside your organization while minimizing errors and maximizing results efficiently.
Ensure your chosen CBAP training provider offers guidance on how best to approach different questions in the certification exam and tips for managing time effectively during the test duration.
Offering a success guarantee shows that the CBAP training provider has confidence in their program and its ability to prepare candidates for the exam. It also adds value and reduces risk when investing in CBAP Training.
Read in detail about how these six critical factors ensure that your investment of money and time pays off with a successful certification

5. The 10 Commandments of CBAP Training

Prep yourself by understanding the CBAP certification objectives, exam format, and essential concepts. Create a goal-oriented study plan that breaks down chapters into manageable sections within specific timeframes.
Keeping an open mind is essential when taking CBAP training. Don't wait until the end of the session to ask your doubt or question.
Ensure you're present for every class without fail because attendance is essential in maximizing the value of your CBAP training program!
If there are still lingering doubts after class hours, consider forming study groups with other students enrolled in the program.
Making well-organized and detailed notes throughout CBAP training is a must-do commandment if you want success in obtaining your certification!
Revise session content regularly throughout CBAP training. It enables effective learning retention and ensures you are well-versed in all concepts covered.
The more time you spend practicing chapter questions, the more comfortable and confident you'll feel when faced with similar scenarios on test day.
Joining office hours is highly recommended for anyone pursuing CBAP certification as it provides personalized attention from the trainers and opportunities for networking and collaborative learning.
Make sure that you review each simulation after completing it. Analyze where you went wrong and what steps could have been taken differently if given another chance.
Reviewing all simulations' performances is an integral part of CBAP training that ensures continuous improvement toward achieving certification success
Read in detail how these commandments helped aspiring professionals ace the exam and earn their certification.

4. 10 Lesser-Known Benefits of CBAP Training

CBAP training has various well-known benefits, including strengthening an individual's abilities, knowledge, and reputation in the field of business analysis. One of the most essential advantages of CBAP training is that it equips individuals with a thorough understanding of the business analysis process. Developing strategies to identify needs, eliciting stakeholder requirements, analyzing data acquired during elicitation sessions, and making suggestions based on results are all part of this process. Another advantage is that participants learn about several business analysis methodologies, including SWOT analysis, PESTLE analysis, cost-benefit analysis, etc. This allows them to work more efficiently and effectively by selecting the best strategy for each occasion. Participants also improve their stakeholder engagement abilities, allowing them to communicate more clearly with stakeholders throughout the project. They also increase their elicitation skills, which allows them to obtain reliable information for successful project completion.

Furthermore, this certification program focuses on teaching participants how to thoroughly analyze requirements while prioritizing those with the most significant impact on project success criteria, as well as allowing candidates to become acquainted with UML diagrams - one of the most widely used application development diagramming tools. Finally, CBAP-certified workers may confidently eliminate bottlenecks in deployed solutions, enhancing overall efficiency. Their expanded analytical ability enables them to extract insights into existing systems or processes, allowing for improvements and, eventually, leading to the organization's growth.

Dive in detail into ten surprising perks of CBAP training that will make you want to enroll today!

3. 10 Key Advantages of Hiring the Best CBAP Training

Hiring the best CBAP training can provide several advantages that will help you pass the CBAP certification exam with flying colors!
Access to great trainers is an essential advantage when taking up CBAP certification training, as it enhances your understanding of BABOK concepts.
By investing in top-notch CBAP training, you gain valuable insights into how businesses operate while developing critical thinking skills necessary for success as a BA professional.
Understanding all aspects provided by a well-structured user-friendly CBAP study guide can go a long way toward helping you achieve your goals successfully.
Access to chapter-based questions as part of your CBAP training provides an invaluable resource for honing your skills and mastering key concepts.
Access to video learning content found in reputable CBAP training programs will help boost your confidence when taking the certification exam and improve your comprehension of BABOK concepts.
Access to CBAP simulation questions is a crucial advantage when preparing for the CBAP certification exam as it gives realistic practice scenarios.
By working with a reputable training provider who offers this level of assistance, you can proceed with confidence, knowing that every aspect has been covered adequately.
Access to office hours is an excellent resource that ensures learners receive comprehensive support throughout their learning journey.
By taking advantage of CBAP exam support, you can significantly increase your chances of passing the certification exam on your first attempt.
Access to top-notch CBAP flashcards is a huge advantage when preparing for the certification exam.
Let us go over these ten key benefits of investing in top-notch CBAP training in detail

2. How to Attempt Knowledge Area Questions in the CBAP Exam

The BABoK® Guide defines six knowledge areas:
Business Analysis Planning and Monitoring
Elicitation and Collaboration
Requirements Life Cycle Management
Strategy Analysis
Requirements Analysis and Design Definition
Solution Evaluation
Consider the Entry Certificate in Business Analysis (ECBA), Certification of Competency in Business Analysis (CCBA), or Certified Business Analysis Professional (CBAP) exams. You must be intimately familiar with each knowledge area and its specific duties, items, inputs, and outputs if you want to become an excellent business analyst by utilizing these knowledge areas in your workplace.

Let us get more in-depth information about these knowledge areas and their tasks

Read in detail about applying these areas of knowledge in your work environment to become an effective business analyst

1. 25 Top Tips for Passing Business Analyst Tests

You will be accountable as a business analyst for ensuring that an organization's information systems support its objectives. To do this, you must have good analytical and problem-solving abilities. You must also be able to communicate successfully with stakeholders, understand their needs, and translate them into requirements. To prepare for business analyst tests, first, grasp the types of questions that are commonly asked. Many assessments will evaluate your ability to analyze data and spot trends. You might also be quizzed on specific business processes or software solutions. Reviewing your arithmetic skills and practicing problem-solving before taking any test is critical. It is beneficial to be familiar with the types of questions that will be asked, as well as the format of the test. Most business analyst exams are multiple-choice. However, some may also incorporate essay questions or case studies. Knowing the test format ahead of time will help you better prepare for what to expect on test day. Finally, keep in mind that practice makes perfect. In addition to reviewing topics and practicing problem-solving abilities, try taking some timed practice tests. This will give you a sense of how quickly you need to work and answer questions on the test. You can ace your business analyst tests with flying colors if you prepare and practice!
Read in detail here about studying techniques and best practices, what to study and how to prepare to ace the CBAP test!
No Comments Yet
Let us know what you think