2023 IIBA Certifications Overview
IIBA (International Institute of Business Analysis) is a world renowned professional association for Business Analysts formed in October 2003 with the goal of supporting and promoting the discipline of business analysis . With about 30000+ registered members, IIBA has the largest community of business analysts.
IIBA certifications are recognized through out the world and are highly valued in the BA industry as it emphasizes on your work experience, personal development, competencies, and up-to-date knowledge of the latest industry trends and developments.
IIBA certification is appropriate for business analysts with varying experience levels, starting with folks who have no experience, going up to senior business analysts with multiple decades of experience. It is a surefire way to improve skillsets and climb the BA career ladder. It adds a lot of value to a BA's profile as it is a recognition and acknowledgment of the expertise that a BA practitioner has in the business analysis domain.
IIBA certifications are relevant to a large proportion of working professionals as:
Industry reports predict that business analysis will be among the fastest-growing IT occupations and it is among the top desired skills for tech workers.

The most sensible way (Backed by a recognized certificate) is to switch from the technical field to the management field.

As a recent trend among big companies, the business analyst role gradually is kept as a stand-by internal consultant for the organization.

Saves organizations time and money in training a prospective BA.
Apart from the relevancy of this certificate, there are several benefits to having IIBA certifications.
Benefits of IIBA Certifications
The reputation of the certification awarding body is important. Currently, IIBA is the undisputed leading body for BA certifications. Formal recognition from IIBA, which is undoubtedly the leading body for BA certifications will give employers the confidence that the BA is capable of taking up further responsibility, has a sound understanding of how to carry out BA activities, and that (s)he can demonstrate the experience, knowledge, and competencies of a qualified BA practitioner according to guidelines laid out by IIBA.

Gives the business analyst a competitive edge over others as employers will give preference to a certified BA over others.

Potentially higher income for being formally recognized as an experienced business analysis professional.

At times, the clients insist that the consultant on their project must have professional certification to ensure high-quality delivery. Here, an IIBA certified individual comes to the rescue.

A definite & swift ascent of career into senior management positions.

The process of achieving and maintaining certification helps ensure you are continually improving and enhancing the knowledge base.

Recognition of professional competence by professional peers and management.

Greater confidence in professional competence
This is certainly a great way to advance in the BA career and also opens up new opportunities as CCBA's and CBAP's are in great demand across industries to clearly understand business needs and translate them into technical requirements and facilitate the growth of firms. More importantly, getting certified is a commendable way of keeping oneself abreast with the BA world and using terminologies that are consistent across the domain. Needless to say, an IIBA certified professional would certainly have a higher pay compared to other BAs. We have worked with thousands of IIBA certified professionals and have seen them transforming to better roles, transitioning to global opportunities, better salaries.
As per the latest salary survey of IIBA, certified professionals on an average earn 18-20% more.
IIBA offers multiple certifications - primarily classified into 2 categories - Core and Auxiliary certifications.
The following 2 tables describe the current IIBA certifications.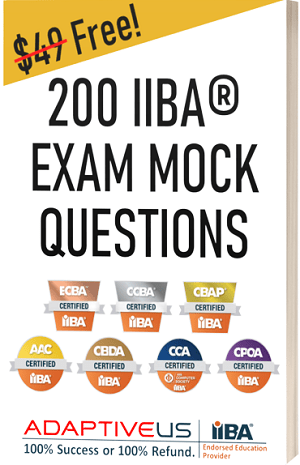 Entry Certificate in Business Analysis (ECBA)
ECBA
Target Audience
Individuals entering the BA profession New graduates Professionals aiming to switch over to a BA career
Eligibility

No Work Experience required

No Knowledge Area expertise

Minimum 21 hours of Professional

Development Training in the past four years

PDU
21 in the last 4 years
References
Not needed
Questions distribution

Business Analysis Planning and Monitoring – 5%

Elicitation and Collaboration - 20%

Requirements Life Cycle Management – 20%

Requirements Analysis and Design Definition -25%

Techniques -17.5%

Underlying Competencies – 5%

Business Analysis Key Concepts – 5%

Business Analysis & the BA Professional- 2.5%

Exam Pattern

1 hour long

50 multiple-choice questions

Basic multiple choice that tests the candidate's knowledge and understanding

Application Fee
45 USD
Exam Fee

150 USD for Members

305 USD for Non Members

Rewrite
Twice within one year of approval with no wait time
Rewrite/ Retake Fees

95 USD – Members

250 USD – Non-Members

Membership Fees

Region 1 – 139 USD – USA, Canada, Australia, New Zealand, Europe, UK

Region 2 – 89 USD – Singapore, Malaysia, Middle East Asian countries…

Region 3 – 55 USD – India, Pakistan, Thailand, Tanzania…
Certification of Capability in Business Analysis (CCBA)
CCBA
Target Audience
BA professionals having 2/3 years of experience Developing BAs, Hybrid BAs – PMs, Testers, QA, Change Manager, Tech Lead
Eligibility

Minimum 3750 hours of BA work experience aligned with the BABOK® Guide in the last 7 years

Minimum 900 hours in each of two of the six knowledge areas or minimum 500 hours in each of four of the six knowledge areas

Minimum 21 hours of Professional Development Training in the past four years

Two references from a career manager, client or CBAP® recipient

PDU
21 in the last 4 years
References
2 from a career manager, client or CBAP® recipient
Questions distribution

Business Analysis Planning and Monitoring – 12%

Elicitation and Collaboration – 20%

Requirements Life Cycle Management – 18%

Strategy Analysis – 12%

Requirements Analysis and Design Definition – 32%

Solution Evaluation – 6%

Exam Pattern

3 hours long

130 multiple-choice questions.

The questions are scenario-based (i.e. a candidate must do a bit of analysis to arrive at the answer)

Application Fee
145 USD
Exam Fee

250 USD for Members

405 USD for Non Members

Rewrite
Twice within one year of approval with no wait time
Rewrite/ Retake Fees

195 USD – Members

350 USD – Non-Members
Certified Business Analysis Professional (CBAP)
Target Audience
Aimed towards BA professionals having 5 years of experience Seasoned BAs, BA Consultants, Trainers, Business analysis, Systems analysis, Requirements analysis or management, Process management, Consulting
Eligibility

Minimum 7500 hours of BA work experience aligned with the BABOK® Guide in the last 10 years

Minimum 900 hours in each of four of the six knowledge areas

Minimum of 35 hours of Professional Development Training in the past four years

Two references from a career manager, client or CBAP® recipient

PDU
35 in the last 4 years
References
2 from a career manager, client or CBAP® recipient
Questions distribution

Business Analysis Planning and Monitoring – 14%

Elicitation and Collaboration – 12%

Requirements Life Cycle Management – 15%

Strategy Analysis -15%

Requirements Analysis and Design Definition -30%

Solution Evaluation -14%

Exam Pattern

3.5 hours long

120 multiple-choice questions.

The questions are longer cases (1 to 1.5 pages of information)

Multiple questions about the case.

Application Fee
145 USD
Exam Fee

350 USD for Members

505 USD for Non Members

Rewrite
Twice within one year of approval with no wait time
Rewrite/ Retake Fees

295 USD – Members

450 USD – Non-Members

Membership Fees

Region 1 – 139 USD – USA, Canada, Australia, New Zealand, Europe, UK

Region 2 – 89 USD – Singapore, Malaysia, Middle East Asian countries…

Region 3 – 55 USD – India, Pakistan, Thailand, Tanzania…
IIBA Non-Core Certifications
Certification in Business Data Analytics (CBDA)
CBDA
Target Audience

Business Analysts working on data analytics initiatives, professionals who are keen to visualize and interpret data and use analytics results to identify viable options, current CCBAs/CBAPs

Eligibility

No work experience required

PDU
Recommended 21 hours
References
Not needed
Questions distribution

Identify Research Questions - 20%

Source Data - 15%

Analyze Data - 16%

Interpret and Report Results - 20%

Use Results to Influence Business Decision Making - 20%

Guide Company-level Strategy for Business Analytics - 9%

Exam Pattern

2 hours long

75 multiple-choice questions

The questions are scenario-based (i.e. a candidate must do a bit of analysis to arrive at the answer)

Application Fee
Not required
Exam Fee

250 USD for Members

400 USD for Non Members

Rewrite/ Retake Fees

195 USD – Members

350 USD – Non-Members

Membership Fees

Region 1 – 139 USD – USA, Canada, Australia, New Zealand, Europe, UK

Region 2 – 89 USD – Singapore, Malaysia, Middle East Asian countries…

Region 3 – 55 USD – India, Pakistan, Thailand, Tanzania…
Agile Analysis Certification

(AAC)
AAC
Target Audience

Individuals who work as BA professionals in agile environments, Agile practitioners with 2-5 years of experience and those who are keen to augment their business analysis skill set and expertise and stay up-to-date on best practices and industry trends

Eligibility

No work experience required

PDU
Recommended 21 hours
References
Not needed
Questions distribution

Agile mindset - 25%

Strategy horizon - 25%

Initiative horizon - 25%

Delivery horizon - 25%

Exam Pattern

2 hours long

85 multiple-choice questions.

The questions are scenario-based (i.e. a candidate must do a bit of analysis to arrive at the answer)

Application Fee
Not required
Exam Fee

250 USD for Members

400 USD for Non Members

Rewrite/ Retake Fees

195 USD – Members

350 USD – Non-Members

Membership Fees

Region 1 – 139 USD – USA, Canada, Australia, New Zealand, Europe, UK

Region 2 – 89 USD – Singapore, Malaysia, Middle East Asian countries…

Region 3 – 55 USD – India, Pakistan, Thailand, Tanzania…
Certificate in Product Ownership Analysis

(CPOA)
CPOA
Full-Form
Certificate in Product Ownership Analysis
Target Audience

Individuals who work as Product Owners/Business Analysis Professional, support Product Owners in their work, execute Product Ownership related work, those considering a Product Owner career path, current CCBAs/CBAPs

Eligibility

No work experience required

PDU
Recommended 21 hours
References
Not needed
Questions distribution

Apply Foundational Concepts - 10%

Cultivate Customer Intimacy - 15%

Engage the Whole Team - 15%

Make an Impact - 15%

Deliver Often - 15%

Learn Fast - 15%

Obsess About Value - 15%

Exam Pattern

1.5 hours long

60 multiple-choice questions

The questions are knowledge-based

Application Fee
Not required
Exam Fee

250 USD for Members

400 USD for Non Members

Rewrite/ Retake Fees

195 USD – Members

350 USD – Non-Members

Membership Fees

Region 1 – 139 USD – USA, Canada, Australia, New Zealand, Europe, UK

Region 2 – 89 USD – Singapore, Malaysia, Middle East Asian countries…

Region 3 – 55 USD – India, Pakistan, Thailand, Tanzania…
Certificate in Cybersecurity Analysis

(CCA)
CCA
Full-Form
Certified Business Analysis Professional
Target Audience

Business analysts who want to learn/demonstrate proficiency in cyber security and assist in the overall cybersecurity solution

Eligibility

No work experience required

PDU
Recommended 21 hours
References
Not needed
Questions distribution

Cybersecurity Overview and Basic Concepts - 14%

Enterprise Risk - 14%

Cybersecurity Risks and Controls - 12%

Securing the Layers - 5%

Data Security - 15%

User Access Control - 15%

Solution Delivery - 13%

Operations - 12%

Exam Pattern

1.5 hours long

75 multiple-choice questions

The questions are knowledge-based

Application Fee
Not required
Exam Fee

250 USD for Members

400 USD for Non Members

Rewrite/ Retake Fees

195 USD – Members

350 USD – Non-Members

Membership Fees

Region 1 – 139 USD – USA, Canada, Australia, New Zealand, Europe, UK

Region 2 – 89 USD – Singapore, Malaysia, Middle East Asian countries…

Region 3 – 55 USD – India, Pakistan, Thailand, Tanzania…