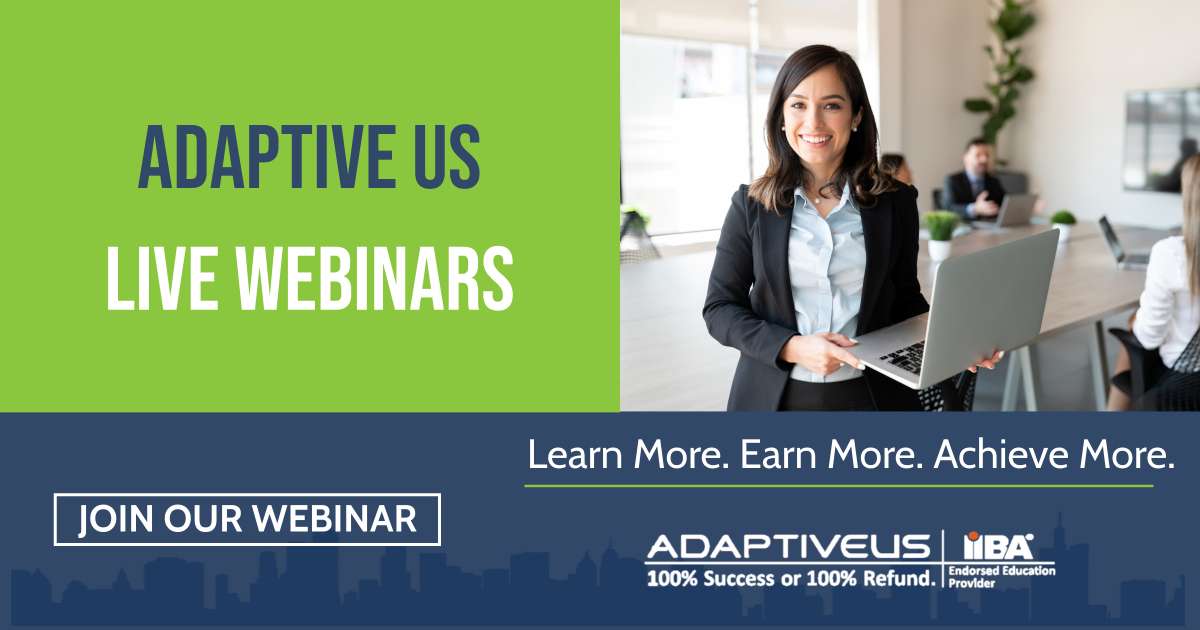 Upcoming Webinar
Essential Data Modeling Techniques for Business Analysts
Date: 4 October 2023
Time: 12 PM (New York Time)
How to Succeed in Your IIBA® Exam on the 1st Attempt
Date: Every Thursday
Time: 12 PM (Singapore Time)
Region: Australia, New Zealand, China, Japan, Singapore, India, Sri Lanka, USA & Canada West Coast
How to Succeed in Your IIBA® Exam on the 1st Attempt
Date: Every Thursday
Time: 12 PM (New York Time)
Region: USA, Canada, Europe, South America, Africa, Saudi Arabia, Dubai, Abu Dhabi, India
Winning the Best Opportunities and Getting Paid More Is Not A Dream Anymore.
With the US Department of Labour predicting a 14% increase in the demand for BAs every year, your DREAM BA CAREER can become a REALITY with Adaptive US!
Read how we helped business analysts just like you.


"Bagged my dream BA job in 1 month"
Lawrence Smith, CCBA

With the role of a BA constantly evolving and changing, I realized how important it was to stay relevant and ahead of the game. I wanted to master the art of business analysis to take on more challenging projects and project value to my employers.
With this goal in mind, I decided to get CCBA certified and enrolled with Adaptive US, and let me tell you, it was the best choice I made regarding my career advancement. I passed the exam at the first attempt and with my newfound learnings and practical insights, I pursued my dream of landing a BA job in the finance or health sector and soon landed a job as a BA Coordinator in one of the world's largest pharmaceutical companies within months of passing the CCBA certification. CCBA certification taught me the best practices and became a proficient BA who could handle the BA role adeptly.


"Landed a new Job that doubled my paycheck"
Mary Person, CBAP

Adaptive offered me excellent training and a plethora of tools required to pass my CBAP exam. They also provided extra training sessions whenever required. They have exceptional mentors who help you with all your questions and doubts. They covered all topics and taught tips and tricks that were helpful in taking my CBAP exam.
The new job that I got after my certification has doubled my paycheck and my colleagues now acknowledge my skill and potential in the workspace.I thank Adaptive for getting me CBAP certified. They are a great and supportive team who want you to succeed and will be there for you throughout your training.
"Taught me what it meant to be a BA "

Matthew Welborn, ECBA
Before getting a Senior Business Analyst job, I only had business analyst experience for about six months. So when I took up the job role, there was a significant knowledge gap and a lot of insecurity. I didn't really know what it meant to be a BA.
Upon the suggestion of my manager and peers, I took the training courses through Adaptive US and received the ECBA certification. The faculty at Adaptive is top-notch and incredibly knowledgeable. The course and the simulation tests helped me clear the ECBA certification on the first attempt. As a result, I upskilled and got rid of my insecurity.
I'm very thankful to Adaptive, and I look forward to continuing my training and going after the CCBA certification next. Thank you.

"Bagged my dream job with a large MNC"

Ghalib Riaz, CBAP
I wanted to share the good news with you. I passed my exam on the first attempt :-) Your guarantees are not just words I guess!
I also wanted to acknowledge that your training material is very reassuring. No doubt it helps you prepare for the exam. Nevertheless, it gives you courage to be able to take up a Business Analysis role with more confidence. During my preparation,

I got an offer from a very large multinational consulting company

and reached the final stage of interviews with another big employer. Most of the credit goes to your institution's help.
I will be recommending your course and training to as many as possible

"Got promoted with a 25% pay increase

"

Brian Johnston, CCBA
Adaptive's CCBA training sessions taught me a lot about the BA role. Because of the certification, I got a 25% pay increase. From a regular business analyst, I got promoted to an AVP Senior Business Analyst within my team. The training Increased my confidence In taking on complex projects and leading meetings with different types of stakeholders.
Thanks to Adaptive's CCBA training, I cleared the certification exam on my first attempt. Their customer service team was very friendly, helpful, and always available. I strongly recommend their courses because, without their rigorous training, I would not have been able to pass the exam. Thank you.


"ECBA training helped me Get Promoted"
Sarah Beasley, ECBA
With my team engaging in a new business process improvement initiative, I wanted to learn the skills and tools which would help me create my own place as a valuable member of my team. I completed my ECBA training with Adaptive and found that the knowledge I acquired from the sessions were very much applicable to my role as a business analyst.
The techniques which I learned in the training session helped me automate many of the mundane tasks and I could thus utilize my time more effectively towards improving the BA processes that made a significant difference to the organization.