How to Succeed in Your IIBA® Exam in The 1st Attempt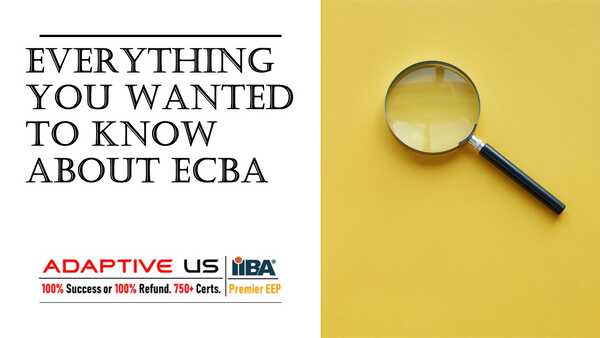 By the end of this webinar, you'll know:
▪ How IIBA certifications can play an important role in your BA career
▪ How to pass IIBA exam in the 1st attempt
▪ Adaptive support for IIBA Exam prep
▪ Q&A
Every Tuesday & Thursday
9 AM - 10 AM (Los Angeles Time)
12 Noon - 1 PM ET (New York Time)
5 PM - 6 PM (London Time)
9 PM - 10 PM (Dubai Time)
10.30 PM to 11.30 PM IST (New Delhi Time)
Winning the Best Opportunities and Getting Paid More Is Not A Dream Anymore.
With the US Department of Labour predicting a 14% increase in the demand for BAs every year, your DREAM BA CAREER can become a REALITY with Adaptive US!
Read how we helped business analysts just like you.
You can Thank us later!
"I bagged my promotion soon after becoming Certified "
With 8 Years of BA experience, the demand to mentor and lead other BAs significantly increased and I felt a greater desire to hone my BA skillsets. Craving for more knowledge and a global certification, I enrolled for the CBAP training with Adaptive US.

With the help of Adaptive's excellent guidance and resources, I passed my CBAP exam in the first attempt. With the learning & recognition that came with the CBAP certification, I got the senior management's attention and was promoted to a BA Manager role.

Getting certified was worth all the time and effort as it took my BA career to the next level.

Etoma Egot, CBAP
"CC
BA training and certification landed me in my dream job"
I was working as a BA but was keen on changing to the domain of my choice. I decided to give myself the winning edge by getting certified, as certification increases the chances of becoming a distinguished BA and carries a lot of weight with the organizations.
I completed ECBA and CCBA in just about 3 months of preparation and I landed a job at Pfizer as an Enhancements Coordinator. Thank you Adaptive for your assistance in helping me pass the ECBA and CCBA. It definitely helped me land in this position.

Lawrence Smith, CCBA
"ECBA Training gave me the first career break after 500+ of job rejections "
After completing my Masters, I aspired to become a BA. I diligently applied to over 500 organizations but unfortunately, none translated into a job. I figured that there was a gap in my resume and having no experience, knowledge or skill-set for a BA role were the major stumbling blocks for me.
I enrolled with Adaptive US for the ECBA online training which helped me immensely by boosting my confidence and improving my communication skills. The exposure to the BA domain, the knowledge, and the tips were the main reasons I was able to get a job by the end of the 5 weeks training session.
I would definitely say that having experienced Adaptive's training with LN as the chief mentor, I consider it to be the best.

Raja Vignesh, ECBA
Every Tuesday & Thursday
9 AM - 10 AM (Los Angeles Time)
12 Noon - 1 PM ET (New York Time)
5 PM - 6 PM (London Time)
9 PM - 10 PM (Dubai Time)
10.30 PM to 11.30 PM IST (New Delhi Time)
"Bagged my dream job with a very large MNC"
I wanted to share the good news with you. I passed my exam on the first attempt :-) Your guarantees are not just words I guess!
I also wanted to acknowledge that your training material is very reassuring. No doubt it helps you prepare for the exam. Nevertheless, it gives you courage to be able to take up a Business Analysis role with more confidence. During my preparation,

I got an offer from a very large multinational consulting company

and reached the final stage of interviews with another big employer. Most of the credit goes to your institution's help.
I will be recommending your course and training to as many as possible.

Ghalib Riaz, CBAP
"Achieved my very first BA certificate, in the first attempt, in 2 months duration!"
I have just achieved my very first BA certificate, CCBA in the first attempt. 2 months ago, I was still skeptical about my eligibility to take the exam. Adaptive US answered all my concerns in detail and that helped me gain confidence that I can pull through it.
Throughout the course, the instructor Mr. LN helped me understand BABOK by giving his real life experiences. Adaptive US also has a quality question bank which helped me familiar with the exam question structure. I thought the application process would take me few weeks to complete as I have to write down my previous BA experiences to accumulate enough hours to sit for the exam, but with the help of Adaptive US, I was able to finish it within 2 days. In overall, I would recommend Adaptive US for someone who is looking for a buddy to accompany you on achieving BA certificates.

Tran Nyugen, CCBA
"ECBA training gave me the BA skills that got me promoted!"
With my team engaging in a new business process improvement initiative, I wanted to learn the skills and tools which would help me create my own place as a valuable member of my team. I completed my ECBA training with Adaptive and found that the knowledge I acquired from the sessions were very much applicable to my role as a business analyst.
The techniques which I learned in the training session helped me automate many of the mundane tasks and I could thus utilize my time more effectively towards improving the BA processes that made a significant difference to the organization.

Sarah Beasley, ECBA
Every Tuesday & Thursday
9 AM - 10 AM (Los Angeles Time)
12 Noon - 1 PM ET (New York Time)
5 PM - 6 PM (London Time)
9 PM - 10 PM (Dubai Time)
10.30 PM to 11.30 PM IST (New Delhi Time)