Defining the Business Analysis Approach in 2023 | Free Template
5 min read
Aug 10, 2020 12:00:00 AM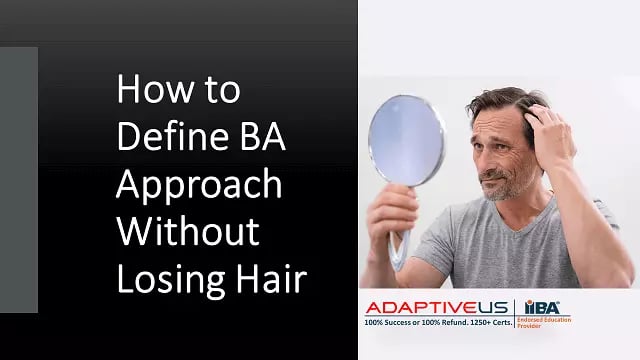 Determining the business analysis approach is the first step in BA planning and it is necessary to consider the purpose of this task along with several elements in order to come up with an approach that will be suitable for the project/organization. BA approaches are planned in order to come up with a suitable method to conduct business analysis activities – that is, the way in which tasks will be carried out and the deliverable that will be produced. Planning the BA approach gives rise to concise execution details, order, resources, documents, templates, agreed participation, and outcomes.
Scroll down to download Adaptive BA Plan Template
Executing BA activities and identifying the stakeholders to interact with does not happen in the first meeting, workshop, or video conference. Multiple aspects must be assessed and agreed upon in order to align efforts, such that it meets the expectations of the teams and gives rise to planned results. Some aspects which need to be considered are:
Nature of business/work the organization is in
Complexity, size of the project, and risks involved
Prior experience with different approaches
How tolerant the organization is towards uncertainty
Stakeholders and organizational culture
The deliverable that will be generated and whether it will require a subsequent approval or review
The two commonly used and well-known approaches are the Predictive approach and the Adaptive approach and it is possible to use different approaches within the same initiative.
The predictive approach focuses on in-depth planning and analysis of the projected future for anticipated risks. Also known as the "Waterfall" method, this methodology relies on an early phase analysis and a detailed breakup of the features and tasks for the entire development process.
In case the project approach is predictive, more upfront and detailed planning are necessary to ensure that the participants, formats, and necessary information are required/available on the planned dates. This approach also calls for formal documentation and representations.
The Adaptive approach on the other hand focuses on small, highly collaborative teams, which work on a series of short cycles, emphasizing transparency and rapid feedback from stakeholders.
The adaptive approach is best suited to organizations, which are into new product development/emerging solutions, products that have never been tried before and where change and customer feedback is welcome. This approach is not highly focused on formal documentation, it instead focuses on more interaction and collaboration with stakeholders.
If the project approach is adaptive with a combination of a low maturity level of expertise or execution from stakeholders' side, a strict follow-up of approval definition processes must be implemented.
The two factors which will influence the BA approach are described in some more detail here:
Project needs - The business analysis approach is shaped by the problem or opportunity faced by the organization. It is necessary to consider what is known about the need at the time of planning while acknowledging that project needs evolve throughout business analysis activities.
Stakeholders - Perform and document a stakeholder engagement plan to ensure planning and monitoring activities reflect stakeholder needs and account for stakeholder characteristics.
The business analysis activities are integrated with the BA approach. The business analysis activities, which will serve to obtain the required information, are planned with the relevant stakeholders and the objectives and schedules of the required sessions are set. Where review and approval activities are required, include it as part of the plan. When stakeholders understand what is expected from them and the level of involvement expected, they tend to engage more and offer support in all the BA activities.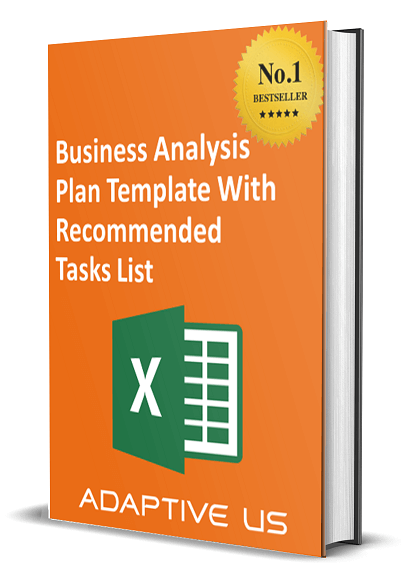 Some commonly used techniques to determine the BA planning approach as described in BABoK v3.0 are:
Technique

Description

Brainstorming

Used to identify possible business analysis activities, techniques, risks, and other relevant items to help build the business analysis approach.

Business Cases

Used to understand whether elements of the problem or opportunities are especially time-sensitive, high-value, or whether there is any uncertainty around elements of the possible need or solution.

Document Analysis

Used to review existing organizational assets that might assist in planning the approach.

Estimation

Used to determine how long it may take to perform business analysis activities.

Financial Analysis

Used to assess how different approaches (and the supported delivery options) affect the value delivered.

Functional Decomposition

Used to break down complex business analysis processes or approaches into more feasible components.

Interviews

Used to help build the plan with an individual or small group.

Item Tracking

Used to track any issues raised during planning activities with stakeholders. Can also track risk-related items raised during discussions when building the approach.

Lessons

Learned

Used to identify an enterprise's previous experience (both successes and challenges) with planning business analysis approach.

Process

Modelling

Used to define and document the business analysis approach.

Reviews

Used to validate the selected business analysis approach with stakeholders.

Risk Analysis and Management

Used to assess risks in order to select the proper business analysis approach.

Scope Modelling

Used to determine the boundaries of the solution as an input to planning and to estimating.

Survey or Questionnaire

Used to identify possible business analysis activities, techniques, risks, and other relevant items to help build the business analysis approach.

Workshops

Used to help build the plan in a team setting.
It is also important to consider the level of formality that is required and create the content and BA information that meets the established criteria.
The analysis and documentation techniques required are aligned to the project situation, that is, if it is a project with distributed teams, it is necessary to consider the tools that the organization has.
Task

Tools

To conduct meetings

Establish the audience and purpose of each meeting, as well as the nature of each meeting (whether it is discussion, milestone approval, demo, etc.), duration, and access methods like phone, PC-application, Web-conference, etc.
Web conferences avoid the need to travel and it is a great way to engage and interact with colleagues, partners, and customers and allows face-to-face meetings. With work from options becoming more popular, it is good to have a backup connection to ensure uninterrupted interaction. E.g.: GoToMeeting, Webex, Meet
For sharing content, one must be familiar with the platform.
Meeting recording may be helpful according to the importance of the matter of discussion. Be clear and communicate ahead with participants that the meeting is being recorded.

To publish and authorize deliverables

Establish and communicate different artifacts/templates to be used, including author, approver(s), purpose and audience of each document, frequency of usage of different templates, etc.
Publishing and communication tasks are aligned with the enterprise environment, rules, and tools available, which may have been previously assessed.
Document management and storage systems like SharePoint can be used for this purpose along with emails to communicate and collaborate with stakeholders. It is also important to build a directory of approvers according to the phase or type of authorization required.
In both predictive and adaptive approaches, the compliance metrics are communicated for the project team to know their participation and role in each phase.
To conclude, this task of planning the BA approach results in identifying the approach suitable for the organization and the BA activities including identifying participants, resources, expected deliverables, focus, level of detail of each deliverable, and a schedule for the execution of these activities.
The outcome of planning the approach for business analysis tasks will have a positive impact as it will provide certainty of the best techniques, media for meetings and communications across the organization, the templates to be used or created, and the role of the different stakeholder groups.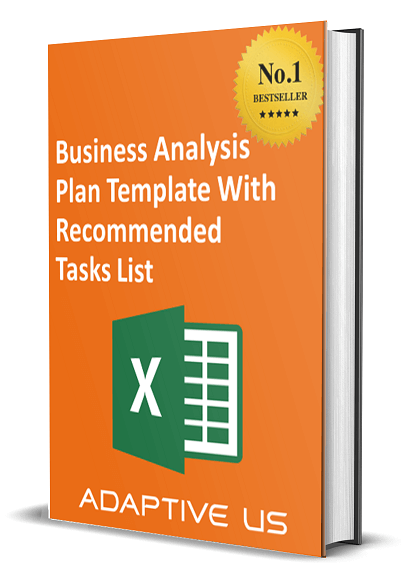 Suggested Further Readings:
What is Business Analysis?

Business Analysis Process

Best Business Analysis Books

Business Analysis Certifications

Business Analysis Certification vs. MBA

Business Analysis Certifications for Beginners
No Comments Yet
Let us know what you think