Top 20 Business Analyst Interview Questions and Answers

Written by: Sonal Singh
Published on: May 13, 2022 12:00:00 AM
Become an in-demand BA in 6 months or less!
Talk to our Learning Advisor Today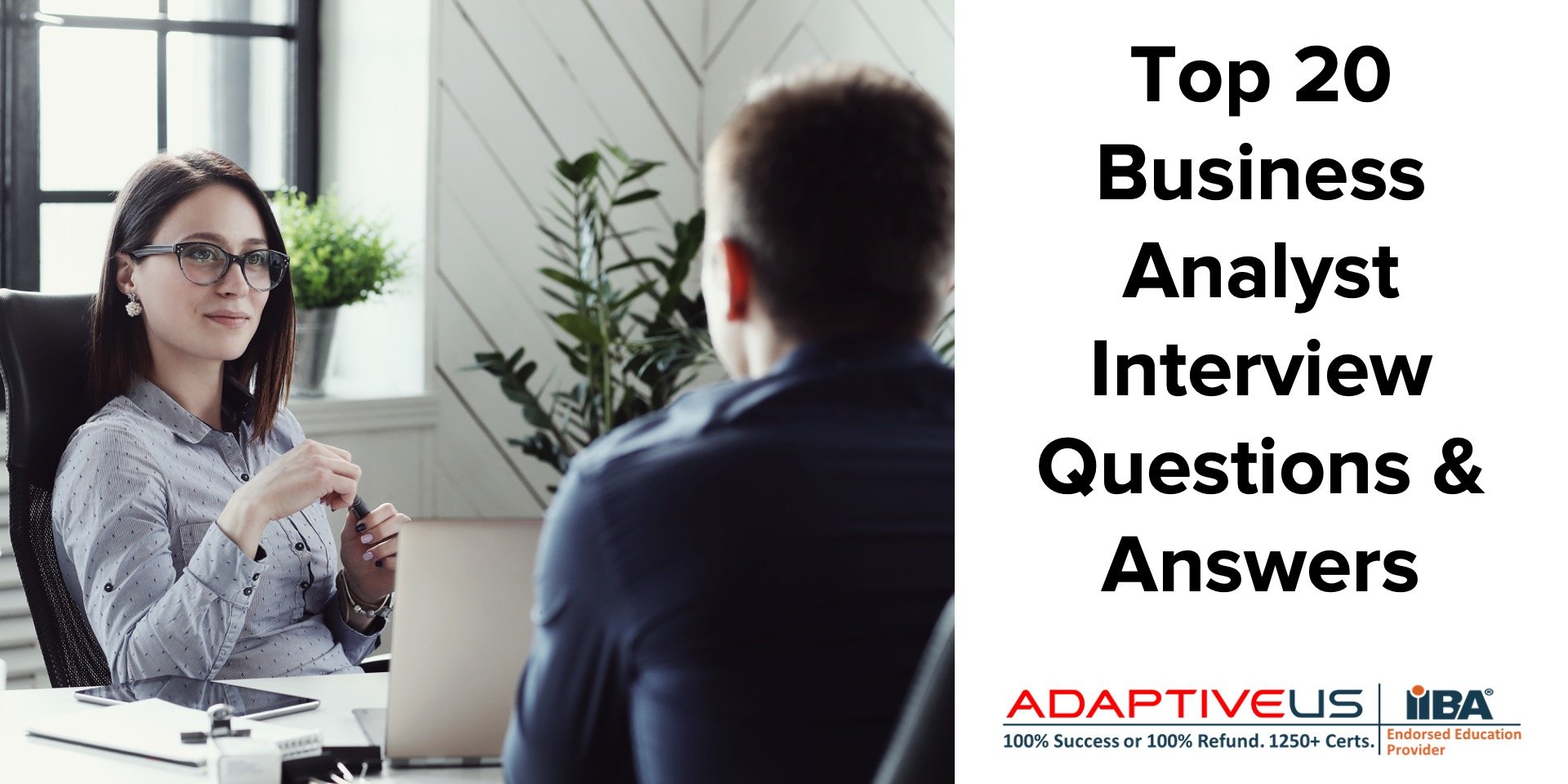 Industry reports indicate that Business Analysis has emerged as a promising field. It has one of the fastest-growing career options, is lucrative, and offers high remuneration.
Are you preparing for your next Business Analyst Job Interview and breaking your head over the questions you might face?
Are you a wannabe business analyst nervous about your first interview?
Are you a new graduate looking for a business analyst intern position? Or, are you an experienced BA desirous of cracking the interview to grab your dream job?
Rising competition and having no familiarity with the type of questions asked during the interview can land you in great trouble. Preparing well for the interview in advance will give you the edge over other aspirants for the position.
This article will cover:
Business analyst interview questions

Business analyst intern interview questions

Business analyst behavioral questions and answers

Analytical skills interview questions
Interview questions for BA role with answers
Interview questions for analyst role with suggested answers
To enable you to be confident and prepared for the interview, below are common questions and answers that interviewers ask during Business Analyst Job Interviews.
What is the role of a business analyst in an organization?
With this type of question, the interviewer is trying to assess your knowledge regarding the job role. The best way to start the answer is by explaining the role of a business analyst as a profession. Although a business analyst's role varies dramatically from industry to industry and company to company, some key roles a business analyst performs remain the same. Help guide businesses in improving processes, products, services, and software through data analysis. These agile workers straddle the line between IT and the business to help bridge the gap and improve efficiency.
Name 3 key soft skills for Business Analysts / Business analyst behavioral questions
The three main soft skills that all business analysts must have–
Communication skills

Stakeholder management skills

Conflict resolution skills.
As we further move on, the interview questions asked become more subject-oriented. Some examples are: -
Interview question about business
Define RACI Matrix.
To improve the chances of a project's success, it is important to know who is responsible, accountable, who needs to be consulted, and be informed at every step of the project. This makes the RACI Matrix.
Interview question about business analysis techniques
Interview question for analysts/senior business analysts
What is a business analysis communication plan?
A business analysis communication plan describes the types of communication the business analyst will perform during business analysis, the recipients of those communications, and the form and frequency of those communications.
What is understood by functional decomposition?
Functional decomposition breaks down the large aspect, i.e., the processes, functional areas, deliverables, scope, or problems, into smaller aspects, as independent as possible, to assign work to different groups.
What are brainstorming and collaborative games?
Brainstorming is a team activity that seeks to produce a broad or diverse set of options through the rapid and uncritical generation of ideas.
Collaborative games use game-playing techniques to collaborate in developing a common understanding of a problem or a solution.
What is traceability?
Traceability is the ability to look at requirements and others to which it is related, linking business requirements to stakeholder and solution requirements to artifacts and solution components.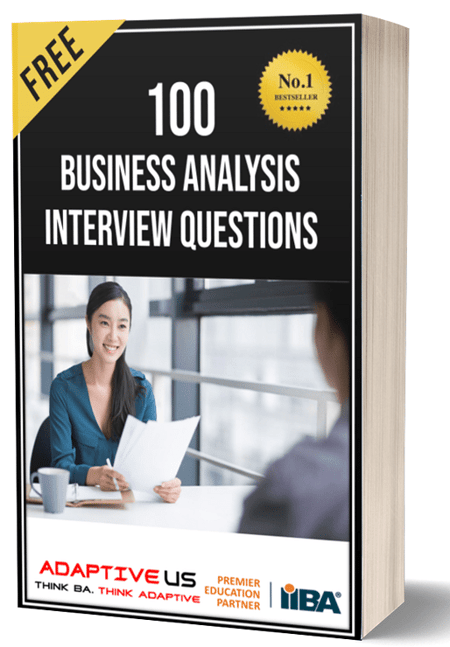 What is competitive analysis?
Competitive analysis is a structured assessment that captures the industry's key characteristics to predict the long-term profitability prospects and determine the practices of the most significant competitors.
What is a root cause, and what is Root cause analysis?
The root cause is the real cause of a problem. It tells us the reason because of why a problem has occurred.
Root cause analysis is a structured examination of an identified problem to understand the underlying causes.
What do you understand by non-value-add activities?
Business non-value-add are characteristics that must be included in the offering; activities performed to meet regulatory and other needs or costs associated with doing business. The customer is not willing to pay.
What are requirement analysis and design definitions?
Requirement analysis and design definition are tasks BAs carry out to organize elicited requirements, model them, validate and verify them and identify and estimate the potential value of solution options.
What is the case diagram and sequence diagram?
Use case diagram is a type of diagram defined by UML that captures all actors and use cases involved with a system or product.
A sequence diagram is a type of diagram that shows objects participating in interactions and the messages exchanged between them.
How does the adaptive approach differs from the predictive approach?
In an adaptive approach, the solution evolves based on a cycle of learning and discovery, with feedback loops that encourage making decisions as late as possible. In a predictive approach, planning and baselines are established early in the initiative's life cycle to maximize control and minimize risk.
How do business requirements differ from stakeholder requirements?
Business requirements are requirements from a business/ organization perspective. A description of the needs of a particular stakeholder or class of stakeholders must be met to achieve the business requirements. They may serve as a bridge between business requirements and the various categories of solution requirements.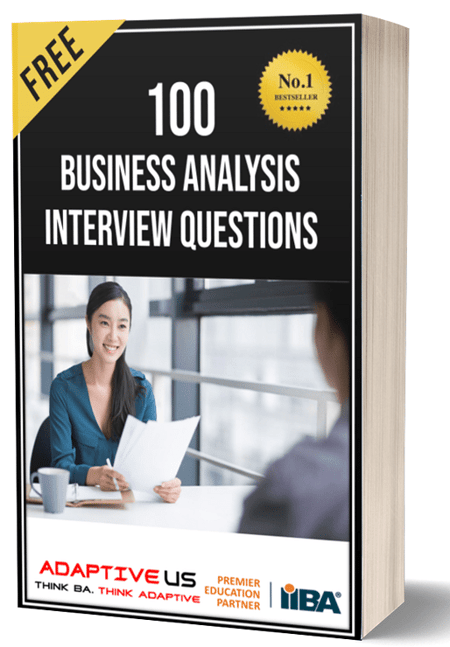 How do goals differ from objectives?
Goals are long-term, ongoing, and qualitative statements of a condition that the organization seeks to establish and maintain. On the other hand, Objectives are descriptive, granular, specific, and linked to measures to assess if the objective has been achieved objectively.
What kind of observations can be conducted during business analysis?
Two types of observations are conducted during business analysis- passive observation and active observation. The business analyst is a mute spectator in passive observation and does not ask any questions. Inactive observation, the business analyst can ask questions as the stakeholder performs the process.
Questions on interviewing stakeholders
B is a business analyst for project Q. One of B's stakeholders has proposed a requirement that the system should support an offline mode of operation. However, B's technical team has indicated that it will take a lot of effort to implement this particular feature. What can B do in this situation?
B can explore critical features which can be supported in offline mode. This approach will be acceptable to both the Domain SME and the implementation team.
Interview questions on agile business analyst
What are the most important components of agile?
The key feature of agile are:
Daily stand-up meetings.

Time-boxed task boards.

TDD (test-driven development), continuous integration, regular code reviews, pair programming, automated builds, continuous deployment, delivery, etc.

Iteration planning meetings and iterative development.
19.

How do you see yourself fit for the role of business analyst in our company?
Start the question by giving a brief of your academic record and how it is relevant for this role. Then, elaborate on your experiences and skills, which you think can give an edge to you over all the other candidates. Finally, provide examples from your earlier job and what changes you brought to that organization.
Do you have any questions for us?
At the end of the interview, you should always have a few questions to ask the interviewer. It shows your enthusiasm and eagerness toward the job role. Turn this question into a conversation and ask some questions you would want them to answer.
Though a BA's role differs from company to company, the underlying factors of the job remain the same. It doesn't matter what job role you are interviewing for and what stage you are! Preparation is the key to acing any job interview. Feel confident and focus on the questions asked. And this will help you achieve great miles in life.
No more cold feet, be best prepared to ace the business analyst job Interview with this Business Analyst Interview Questions e-book. Join Adaptive Inner Circle and get this book for free.
Related Posts
Write Comment