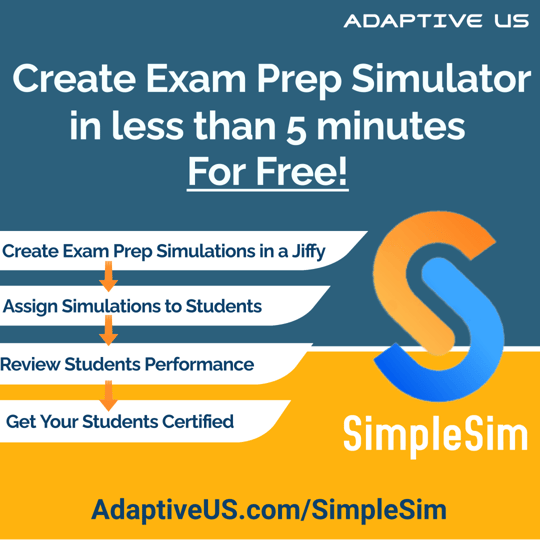 SimpleSim - World's Simplest Quizzing System
Help your students succeed in their certification exams with this powerful yet extremely simple exam simulation tool.
With SimpleSim, you can grow your online course business by creating certification exam simulations that boost student enrollment and certification success rates. Your students can experience firsthand how certification exams are conducted, thus increasing their competence, comfort, and confidence during the actual certification test.
SimpleSim is proven to positively impact your students' learning engagement and success. Want to see for yourself?
Sign up for a lifetime free trial of 1 simulation (up to 10 students) and start increasing student enrollment and engagement today!   
Get to know the benefits of SimpleSim:
Extremely intuitive & easy to set up.

Just watch the

set-up video

where we show how a 130-question simulation is created in less than 3 minutes.
Completely secure.

SimpleSim does not store any personally identifiable student data, such as names, emails, or payment information.
Super flexible.

Easily create short-form and long-form questions with answer explanations.
Advanced test-taking tools.

Students access features like a timer, question flagging & unflagging, and the ability to jump to specific questions.
Supportive environment.

Students can reattempt simulations multiple times, review their answers against the correct ones, and receive performance reports.
Designed to mimic real exam systems.

The user interface is very similar to PSI Exam interfaces, which hosts leading certification bodies such as IIBA.
Insights into student performance.

Course creators can access reports on their students' grades and so much more.