Impact of exam failures on students - Actual cases
A failure in the certification exam can put a spanner in the works when it comes to your promotion or pay revision. It could lead to a potential financial loss of USD 12K per year plus a significant jolt to one's self-confidence and self-esteem.
Here's how - https://www.linkedin.com/pulse/you-applying-your-analytical-skills-ba-career-ann-/
This can ultimately leave you concerned about what this might mean for your BA career.
Here's the story of one of our students from Charlotte, who approached us after failing the CBAP certification twice.

With over 7 years of BA experience and an overall experience of 14 years up her sleeve, she was distraught and disheartened and was even thinking of trying CCBA instead of CBAP

When she approached Adaptive for the first time, all she wanted was some genuine expert guidance to fulfill her dream goal of getting CBAP certified.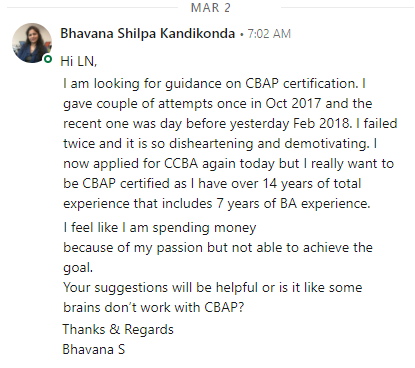 With our assurance, she quickly made up her mind and enrolled for our classes
In a month's time, she was able to fulfill her career goal of becoming a CBAP with the highly focused guidance and full-fledged support from Adaptive US.


Here's what she has to say! https://goo.gl/maps/YsZnMD3jXdgELYUeA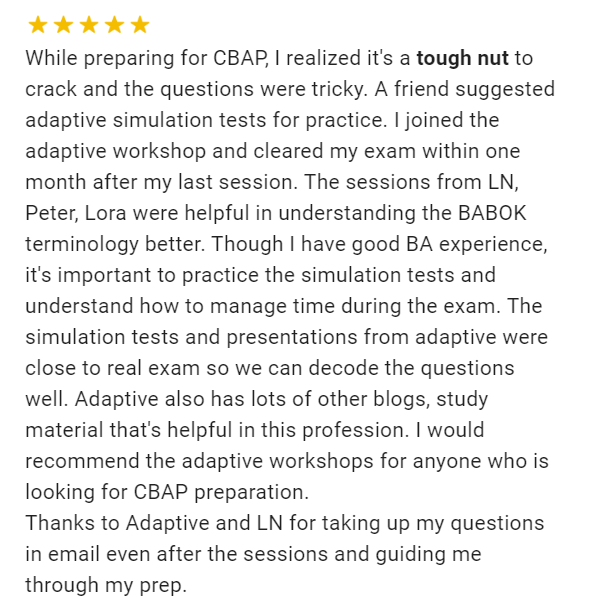 Here's another person sharing the story of her failure on LinkedIn and her experience regarding the intensity of the exam and the level of preparedness required.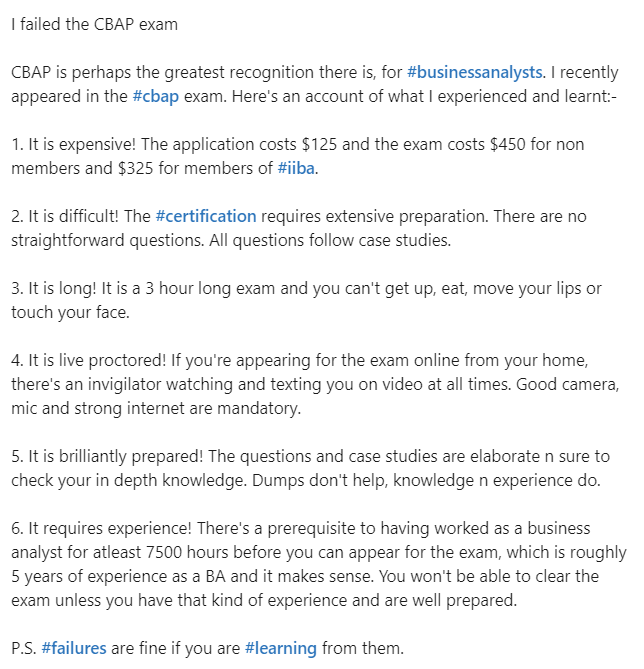 Here's yet another student of ours who was unsuccessful in the CBAP exam, joined our CBAP training program and aced it in the very next attempt!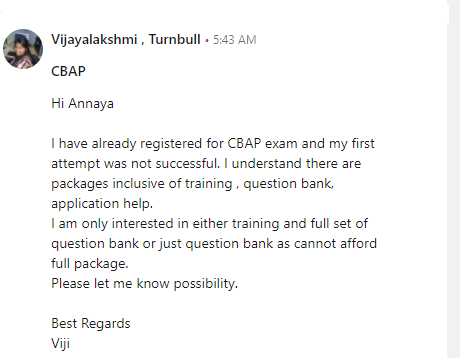 Here's what she has to say upon clearing the exam! https://goo.gl/maps/Av3DiDPGZTiEuzJx9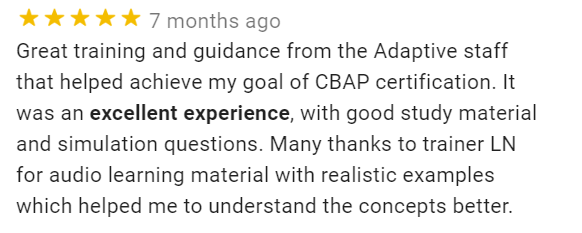 Another ecstatic student shares his experience after passing the exam with our after his first unsuccessful attempts.
Another excited student shares his experience here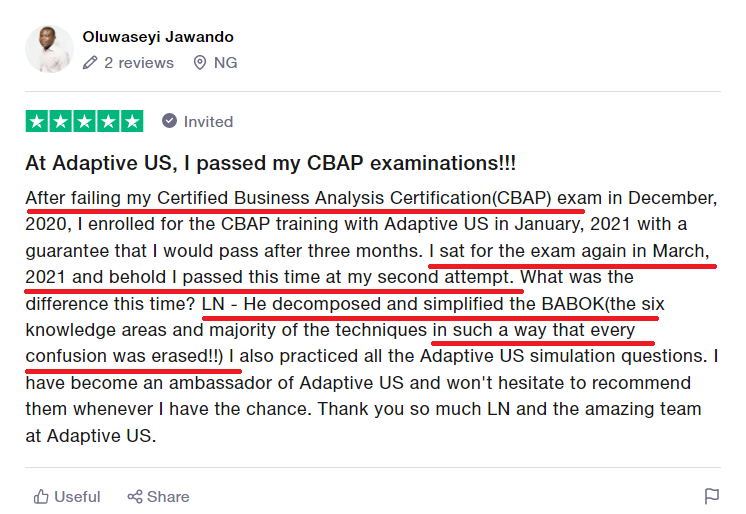 The agony of failure can impact certification aspirants in many ways.
It can lead to a delay in reaching your certification goals. Remember, a failure will undoubtedly be much more expensive in terms of money, effort, mental agony, and reputation loss among your official/friends circle. Above all, it will take away all your energy and motivation. That's exactly why you must take a prudent decision considering these factors.
Sometimes, failure can also lead to the abandonment of the certification journey. Not becoming certified can result in a setback towards your career goals. It is a proven fact that certified professionals earn more, have better chances at promotions, etc. The economic downturn during the ongoing COVID-19 global pandemic has also shown that having a certification in your resume gives you an edge over others.
Both these scenarios are not ideal and definitely not what you deserve.
One of our candidates was stood down by her organization during this crisis. She bounced back immediately as she had CBAP certification with her. She had done her CBAP with us about 3 years back. At that time, she had bagged a job in a new country. And now even after 3 years, she got another job. Benefits from becoming certified will be evident at every level of your career.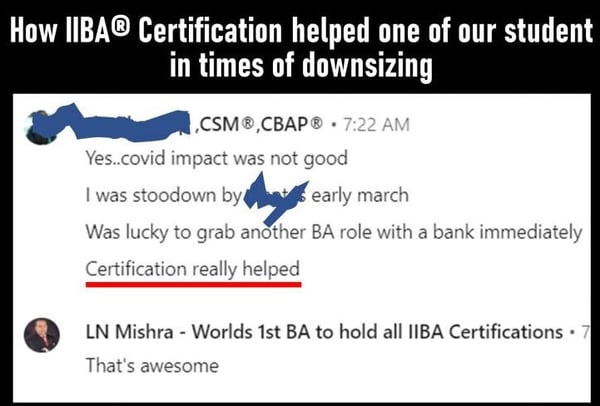 Why stress out, fret, get anxious, lose sleep, worry, and spin around when you can get PEACE OF MIND knowing that Adaptive US is taking you through EVERYTHING.
You don't need to worry about failing the IIBA certification exam anymore!
We stand by our commitment - GET CERTIFIED, ELSE GET YOUR MONEY BACK.
Adaptive US takes the risk away for you by covering the cost of re-sitting the exam in the off chance that you don't pass the exam. We also support you thoroughly through this process to ensure that you pass. After following our recommended approach, if you still don't make it, we will refund 100% of your course fees!
With 1190+ IIBA certified professionals and a pass rate of ~100%, Adaptive US has always been the first choice for IIBA certification aspirants - https://www.adaptiveus.com/certified-business-analysts and our students have vouched for the quality of our training programs here - https://www.adaptiveus.com/googlereview
BE THE NEXT ONE!