All About IIBA Agile Analysis Certification (IIBA-AAC)
Organizations globally are transitioning to an agile mindset and framework. IIBA has foreseen Agile as a high growth area, and an area that will continue to grow. For business analysts, demonstrating Agile competency will be highly advantageous. The IIBA Salary Survey 2020 reports that 72% of BA professionals practice agile approaches, and those certified in agile analysis earn up to 16% more.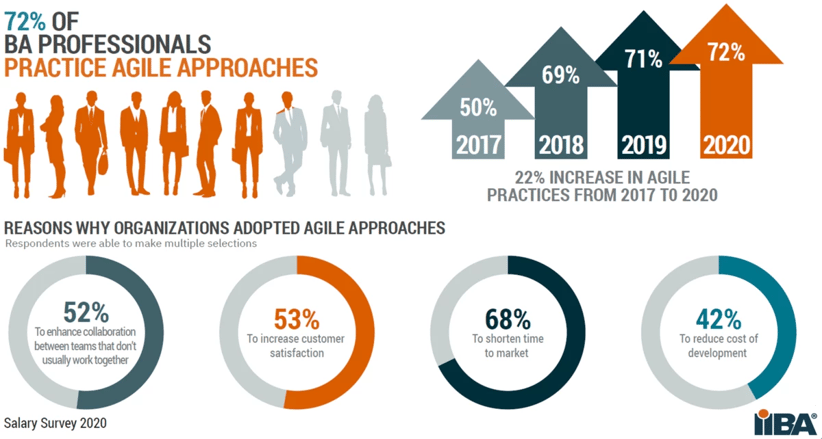 The IIBA Agile Analysis Certification, popularly known as AAC certification, is the first agile certification offered by IIBA. While there are many agile certifications on the market, the IIBA-AAC, is one that focuses on agile from a business analyst's perspective. The IIBA-AAC certification bridges the necessity and demand for agile and analyst communities to collaborate and transform project delivery. It focuses on ANALYSIS when it is practiced in an agile context.
So, AAC is definitely one of the most sought-after certifications for agile business analysts to excel in the corporate world. This competency-based certification recognizes your development of enhanced capabilities in Agile Analysis. Earning this certification provides potential employers, a clearer indication of the competencies that one has developed.
Target Audience
IIBA Agile Analysis Certification is for professionals ready to demonstrate how effective analysis in an agile context leads to better business outcomes. In a digital economy, success is defined by sensing and responding rapidly to market demands.
While pursuing IIBA-AAC, an Agile Analyst will learn how agile intersects and interacts with business analysis. The certification is specifically designed for:
BA professionals who work in agile environments

Augmenting your business analysis skill set and expertise

Staying up-to-date on best practices and industry trends

BA professionals with 2-5 years of Agile-related experience

Agile practitioners with 2-5 years of experience
Eligibility Criteria
IIBA has not provided any eligibility criteria for the AAC exam. Anyone can take this certification exam – Business analysts, Consultants, Trainers, Project managers, Testers, Developers, Current CBAPs, and CCBAs.

But IIBA recommends that BA professionals with 2-3 years of Agile-related experience are best suited for the AAC certification.

There is no requirement for professional development (PD) hours.
IIBA-AAC Certification Cost
The IIBA-AAC Certification cost has two parts – the membership fees and the application/exam fees. The membership fees depend on the country of residence.
The certification fees details for AAC are provided in the table below:
Members
Non- Members

Membership Fees

$55 - $139 (Depending on Region)


Exam Fees

$250

$375

Re-take Exam Fees

$200

$325
IIBA-AAC Certification Validity
The AAC certification is valid for 1 year after which it needs to be renewed. The renewal fee is $85 for IIBA members and $120 for non-members.
IIBA-AAC Exam Pattern
The IIBA®-AAC exam is weighted across four domains. It consists of 85 multiple-choice, scenario-based questions to be completed within 2 hours. It is competency-based and aligned with the Agile Extension to BABOK guide.
Agile Mindset – 30% (25 questions)

Strategy Horizon – 10% (9 questions)

Initiative Horizon – 25% (21 questions)

Delivery Horizon – 35% (30 questions)
The above study areas also include about 30 questions on techniques as part of knowledge areas. One should score 52 points in the test to successfully complete the test.
Exam Registration Process
The process for taking the exam are-
Step 1: Fill in the online registration form. This can be accessed here Exam Registration Form
Step 2: Once the application has been submitted, the exam fees need to be paid through the payment portal on the IIBA website.
Step 3: The next step is to schedule your exam. Once IIBA receives your payment, they will email a link to schedule your exam with the online proctor. Select the date and time based on readiness for the exam.
Step 4: Begin preparing for the exam

Take IIBA-AAC Simulation Exams

Read your copy of Agile Extension to the BABOK® Guide thoroughly.

Step 5: Take your exam. With due diligence and with the correct content and training, you are sure to become an AAC certified professional.
IIBA-AAC Exam Information
All IIBA exams can be taken in an online mode. They are remotely proctored exams that require a desktop or laptop, an internet connection, a working webcam, and a microphone.
In order to complete the exam, your location must support Voice Over Internet Protocol (VoIP). Corporate firewalls and VPNs may restrict user access. It is recommended that you use a personal device.
Before purchasing your exam, please check System Compatibility https://home.psiexams.com/static/#/bcheck.
The

Do Not's

of the AAC Certification Exam
Do not expect many questions straight from Agile Extension to BABOK guide.

Do not attempt until you have mastered the basic knowledge, understand agile, and follow rules – and have completed the self-assessment (see ebook).

Do not attempt until you have successfully answered typical analysis-related outcomes and activities questions in the sample quiz.

Do not expect the exam to be easy

Do not expect to have the luxury of time
If you desire to become an Agile Analyst, who is in great demand wait no further.