Anguish over Choosing the Wrong Training Partner for Your BA Certification Needs
Finding training providers could be easy, however, narrowing down on the right training partner could be a tough choice, which often involves assessing multiple factors and finalizing on what works best for you.
Now, getting certified involves a lot of commitment, so if your heart's not in it, chances are that you might end up with an incorrect training partner - fail to complete the course or fail in the certification exam, thus wasting a lot of time, money and effort.
So, how serious are you about getting certified?
Very often, experienced professionals who approach us for the first time after failing the exam share their mental agony of wasting their hard-earned money on the wrong provider, lose their confidence, experience loss of reputation and express fear of failing again.
Here's a customer who was totally disappointed and disheartened with his experience with a leading training provider and wrote to IIBA about his angst before approaching us.
All that he was looking for was an assurance that he would pass in the very next attempt, which we confidently guarantee to students who approach us.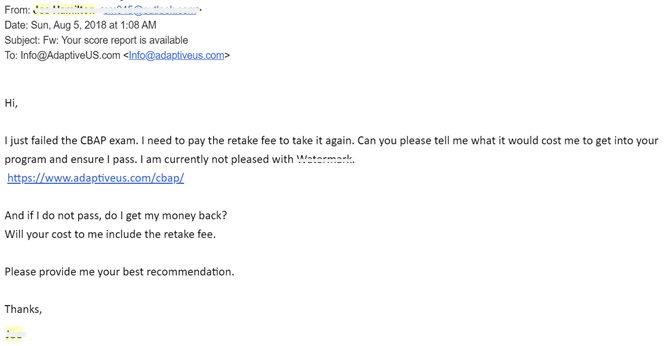 Here's another student of ours, who had an equally bad experience with two training providers, failed in the exam and then approached us and passed in the very next attempt.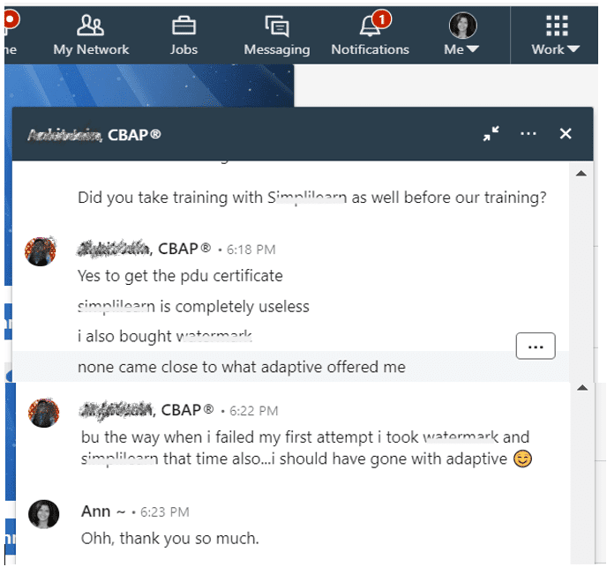 His joy knew no bounds when he cleared the exam in the very first attempt with us and here's what he has to say:

Here is the testimony of another of our students who had a bad experience with a training provider, failed in her first attempt, joined us and is now a IIBA certified Business Analyst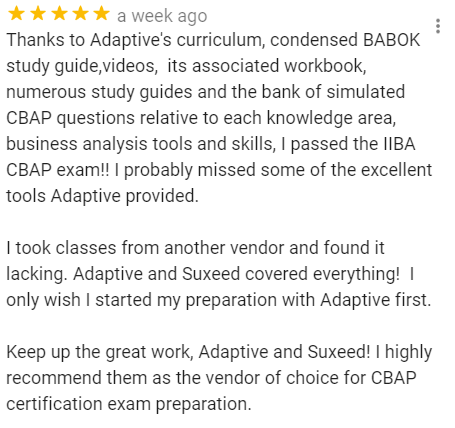 Now, it's possible that you may find alternative training providers for $200 - $300 less. However, what you save momentarily may result in huge additional expense in terms of retraining, exam retake etc. when you fail.
This is because IIBA core certifications like CBAP, CCBA are indeed tough to ace and that is why the industry failure rate stands at 30%. These exams call for crystal clarity of concepts followed by adequate practice of questions of varying difficulty levels which are fully aligned to the exam pattern. There are no direct questions and all the questions require deeper understanding of concepts, tasks and techniques. Without conceptual clarity and succinct learning resources, no amount of preparation will ever make you ready for the exam.
Time management and mastering 500+ pages of complex BABoK content have always been concerns reported by students who have failed their exam from other providers and then come to us.
And that's where our teaching methodology differs from other providers. Undoubtedly, every training provider would tell you the same. However, our value proposition is different. Few, if any, offer success guarantee. That is, in the off-chance that our student fails to clear the exam, we pay the exam retake fees. If our student fails in the 2nd attempt after following our recommended approach, we pay 100% of the course fee.
Now, how do we do this? This is because we are so confident that if a student follows our recommended study approach, they will be able to ace the exam in the very first attempt.
Our students have hardly ever faced the hassle of waiting for months and years to PASS the exam and have not undergone the expense of retaking the exam multiple times primarily because of the guidance, and mentoring of experienced coaches and study materials.
Therefore, it's highly important that you base your research on solid facts and results.
Here are some pointers which you must consider while choosing your training partner:
Adaptive's core certification training programs come with success guarantee and 100% money back guarantee. Details of success guarantee
Quality of trainers and whether their profiles are disclosed
Our trainers have been part of the IIBA BABoK development team and exam setting committees for CBAP and CCBA. They come with 20+ years of industry experience in the field of business analysis.
Focused exam preparation help
We work with you closely till you pass the exam. The classes are supported with fortnightly Q&A classes for clarification of questions, email support for clarifications. This is a unique aspect of our training where our trainers spend considerable amount of time with students discussing questions, highlighting each word of the question and its importance and the role it plays in arriving at the final answer, which is crucial for the exam preparation perspective.
SuXeed - Adaptive's BA Learning Platform comes with the most exhaustive content and learning resources to assist you in passing the exam in the very first attempt - 2300+ Model questions, 100+ videos on BABoK, BABoK tasks and techniques mind maps, most compact BABoK study guide, audiobooks, flashcards, Exam prep tips, personalized exam preparation Plan, Exam Alerts. SuXeed offers mock questions, exam prep plan and more for free, which you can explore for the course of your choice
Our easy online classes, can be taken from home with class recordings to re-watch classes later. You also have the provision to repeat the entire training to reinforce your concepts at no extra cost.

We support you with application filing – a daunting task for many, email support and all possible support till you pass.

The highest success rate in the industry – 97+% first-time success rate. With Adaptive your chances of succeeding in the certification exams go up by 1000% (10 times). (Industry success rate is below 70%).


No. of certified professionals
With 750+ IIBA certified professionals, we are the one stop solution and most preferred partner for BA learning needs. We are the world's largest producer of IIBA certifications for last 3 years in a row - https://www.adaptiveus.com/certified-business-analysts
We give Commitment to Students- Get Yourself Certified or Take Your Money Back.
We specialize and offer only Business Analysis related skill development courses.
A detailed comparison of Adaptive vs. a leading training provider can be found here:
https://www.adaptiveus.com/competition-cbap
https://www.adaptiveus.com/competition-ccba
https://www.adaptiveus.com/competition-ecba
With 97+% first time pass rate, expert faculty assistance and succinct learning resources, Adaptive has been the #1 choice for BAs who yearn to get IIBA certified in the very first attempt.
Our Google reviews vouch for our quality - https://www.adaptiveus.com/google-review and every quality product comes with a price, which you as our student can reap once you start experiencing the benefits in your career.