Detailed Comparison of CCBA Training Offerings
Adaptive US vs. Well-known CCBA Training Provider
Simplilearn offers only self study option for CCBA and Cprime does not offer CCBA program. Hence, they are not included in the comparison.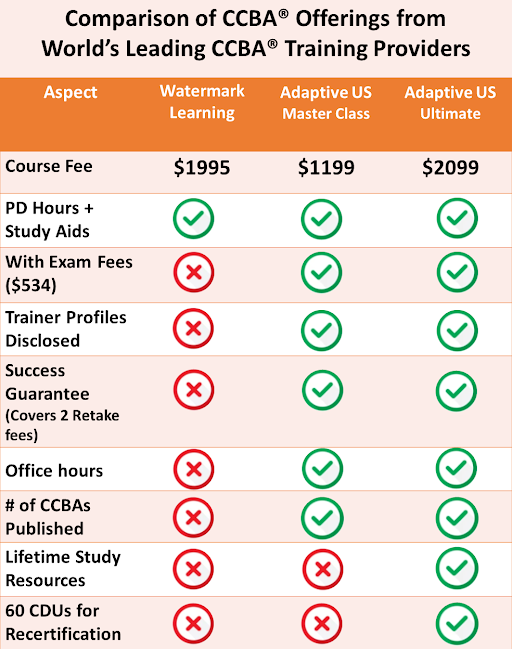 Prices are in USD
Aspect

Adaptive US

Watermark Learning

Program highlights and exam fees

Exam success guarantee

Yes

$195 * 2 - Exam retake fees paid by Adaptive for two unsuccessful attempts

Extended Success Guarantee up to 12 months for Ultimate Plan

No such guarantee

Faculty Profiles

All CBAPs with 25+ Years BA Exp. - Part of BABoK Authoring and Exam Committees

Not disclosed

Published information on CCBA certified professionals available?

Yes

Not disclosed

First Time Pass %

97+%

Not disclosed

Live Exam Prep Support

Office hours/Q&A classes dedicated to clarify concepts and discuss questions with faculty post CCBA training

Yes

Extensive 6 months of fortnightly office hours

(12 office hours - 1 hour each)

Modes of support

Discussion Board, Office Hours, Email Support

12 additional office hours for Ultimate Plan

No such support

Total number of questions

2100+ CCBA Model Questions

Includes 6 simulations, 100 scenario-based questions, warm-ups and concept questions

1100 CCBA Model Questions

Includes simulations, drills, warm-ups

Curated CCBA Learning Resources

Yes

All in one BA learning platform with ~7 months access

CCBA V3 Study Guide, BABoK Glossary, Workbook, Study Tables, 100+ elearning videos, 400 + Flashcards, 6 Audiobooks, 4 Mind maps, Faculty Presentations, CCBA Prep Plan, Tips & more to enhance learning and recall concepts

Lifetime access to resources for Ultimate Plan

Limited learning resources - CBAP Study Guide, Question Bank, Study Tables and Flashcards

Number of 5 Star Reviews
1000+
?

Other Aspects

CCBA Prep Class Fee

CCBA Master Class: $699

CCBA Master Class + BA Skill Building: $1599

$1995

Yes

?

IIBA Application Filing Support
Yes

?

All IIBA Fees Inclusive Plans

(IIBA Membership Fees + Application Fees + Exam Fees)

CCBA Master Class (With IIBA Fees): $1199

CCBA Master Class + BA Skill Building (With IIBA Fees): $2099

$1995

Training guaranteed to run

Yes

Adaptive will refund 100% of the fees plus an additional $50 in the rare event that Adaptive cancels a training

?

Class recordings available to watch later

Yes

(For any missed classes or to re-watch classes to reinforce concepts)

No info

60 Recertification CDUs

(For Ultimate Plan)

Yes

Comes with all the support you need to get your CCBA certification renewed within 3 years

?

1 Business Day Priority Support

(For Ultimate Plan)

Yes

?

Weekday (Tue-Fri)/ Weekend options available

(For Ultimate Plan)

Weekday Batch size limited to 10 students

?