Become a Proficient BA
With Adaptive US
Business Analyst Bootcamp Ultimate
52 Hours of Live Expert Training
Live Project, BA Tools & Skills & More
Business Analyst Bootcamp Ultimate Program
Become a proficient BA and Excel in Your BA career with Adaptive's BA Bootcamp Ultimate Program
The Business Analyst Bootcamp Ultimate Program will equip you to perform the BA role with enhanced efficiency, confidence and consistency by imparting in-demand BA skills, practical BA insights, and tools know-how.
This program will make you work ready by enabling you to
Master BA concepts & best practices that are essential in the BA job

Build proficiency in

BA tools and techniques

Create BA work deliverables effectively and efficiently

B

ecome exam ready for IIBA ECBA certification and achieve the IIBA ECBA Certification in the very first attempt
Adaptive's BA Bootcamp program is endorsed by IIBA.
Business Analyst Bootcamp - Ultimate
The Adaptive US Business Analyst Bootcamp - Ultimate Program has been developed considering the growing demands of aspiring/new Business Analysts to jump-start their BA career, perform the role with utmost confidence and climb the BA career ladder.
This is a highly interactive live training conducted by expert instructors, who have been part of the BABOK V3 authoring team and exam committees.
Over the course of the Business Analyst Bootcamp Program you will
Understand, learn and practice established business analysis tasks and techniques

Carry out elicitation and develop BA deliverables like BRD, SRS

Develop business process models

Develop User stories and Acceptance Criteria

Learn how to prioritize backlog using Jira

Learn how to prototype using Balsamiq

L

earn industry standard BA tools such as MS Visio and BizAgi BPM


Become IIBA ECBA exam ready

Target Audience
The Business Analyst Bootcamp Ultimate program is for:
Corporates who intend to make their BAs proficient at their workplace

Professionals transitioning into business analysis

Professionals who want to learn BA practices in a formal way
Training Program Eligibility
Good command over English language and good knowledge of business and IT
Computer with mic and speaker
High speed internet (> 2 Mbps) and noise-free stationary environment
Residents of Cuba, Iran, Syria, Sudan, North Korea, Crimea Region of Ukraine are not eligible to take IIBA exams


Real Stories
Real Transformations
I discovered that business analysis was a booming career option and wanted to transition from my current job to a business analyst. For getting the proper knowledge and skillsets, I decided to pursue ECBA training and certification.

I would like to thank Adaptive's mentors for helping me understand the material. It would not have been possible without all the support and motivation extended by the team. All the tips and tricks shared were extremely helpful. The practice tests were a great help in preparing for the actual exam. I cleared my exam with ease.

I landed a job as an associate BA during my training itself.

Thank you, Adaptive, for all the support.

Kickstarted BA career in 1 month
I have always dreamed of landing a job as a Business Analyst. So, I decided to appear for the ECBA certification exam and chose Adaptive as my training partner.

With Adaptive's insightful mentorship, I cleared the exam on the first attempt. After a lot of hard work studying for the exam and job hunting, I was able to land a rewarding business analyst job.

I would like to thank Adaptive US for facilitating a learning environment that guided me to achieve my goals.

Landed a rewarding BA job
I used to work as a Business Consultant for quite some time. With aspirations of expanding my role to a Business Analyst, I decided to take up the ECBA certification as it is the best option for entry-level BAs. I enrolled with Adaptive US for my ECBA training, which was one of the best decisions. The ECBA course was very informative, and I was able to pass my exam with ease.

Adaptive has certified mentors and great resources for anyone wishing to undergo training on business analysis.

They have a great team and are very responsive and ready to help at any hour.

After my ECBA certification, I got a new job as a BA with a 25 percent salary hike from my previous job. The BA training gave me a grip on all business basics and gave me confidence at work.

Bagged New BA Job with 25% hike
After completing my BTech & MBA, I started working as an HR professional. Before moving to Canada, I found out about business analysis as a great career option. The BA role piqued my interest and I realized this was exactly what I wanted to do. However, getting a BA job in a new country was difficult as it called for the right knowledge and skillsets.

While looking for a BA course I found Adaptive US and enrolled for their ECBA training. The training was perfect as it gave me a sound understanding of the BA concepts. With my newfound understanding of the BA role, I secured a permanent job as a Systems Analyst in the company that I was interning with. I was confident that I was heading in the right direction and within 2 months of getting ECBA certified, I bagged my first full-time BA job.

I am ever thankful to Adaptive as their ECBA training propelled my BA career and I would definitely recommend it to anyone wanting to become a BA.

Jumpstarted BA career in Canada
Adaptive US's ECBA certification course not only helped me to understand the various aspects of BA but also helped me to gain a deeper understanding of the challenges a BA might face and how to overcome them. Got enrolled in this course in the month of April 2018, landed with a BA Job in May 2018.

Attending the ECBA course gave me more clarity on what could be the right approach for a BA in a given situation. LN Mishra your style of organized delivery of content and making us understand concepts with live scenarios made it quite easy for me to apply at work and also for my certification exam. Thanks a lot :) Thanking Adaptive US team.

Strengthened BA fundamentals
Adaptive US is a thorough training school with many resources, guide and materials. This is a first rate organization focused on high level Business Analyst skill set. The teaching elements leave nothing out. The instructors are experienced, well trained and prepared. Way to go Adaptive!
Adaptive ECBA course is amazing, the live classes, material, videos and quizzes are all so thorough that the exam feels no different than Adaptive's simulations. I am so pleased with the course that I am signing up for the CCBA instructor-led classes!
From day one, Adaptive US was incredibly supportive. With their ECBA Training & material, I am proud to say that I did it in just 6 weeks. The classes are filled with practical examples. so for those looking to give them a shot, I highly recommend them!
Adaptive was instrumental in my passing the ECBA. LN was an amazing instructor who not only took the time to teach us the skills, but also how to apply them, all in an interactive learning environment. I wouldn't have passed without Adaptive and LN.
I was trained by LN for ECBA training. I really liked the course format (online). Explanations were clear, concise and course content was easy to follow even though I am a beginner in the area.No doubt Adaptive is the way to go to get you to your goal! :)
I want to thank Adaptative US for the excellent work they are doing on preparation tools for IIBA certifications.I've successfully used their classes and course materials for ECBA, AAC and CBAP.Just the best IIBA certifications training team, Great Job !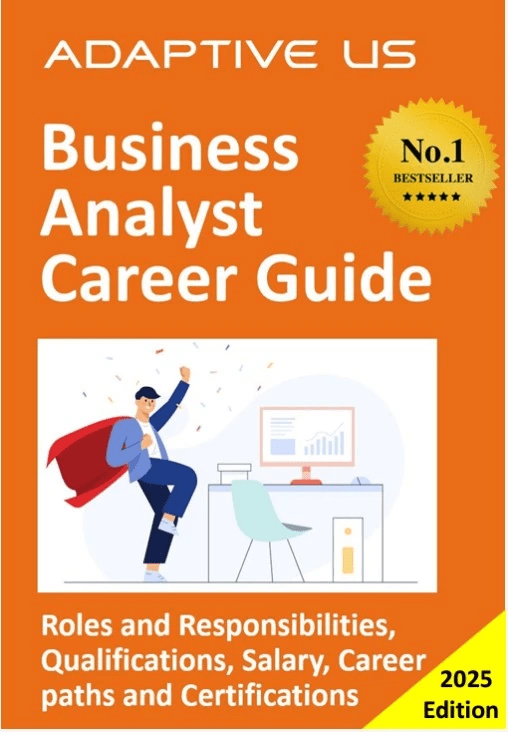 Business Analysis Bootcamp Program Key Deliverables
Adaptive US Business Analysis Bootcamp Certificate of Achievement & Badge
✅Showcase your achievement and let the world know that you are a trained BA with Adaptive's Blockchain-enabled certificate of completion!
✅Post your certificate instantly to your LinkedIn professional network, Facebook, Twitter, WhatsApp, and More!
✅Available in an online format so that you can retrieve it anywhere, at any time
✅Download and print the certificate at your convenience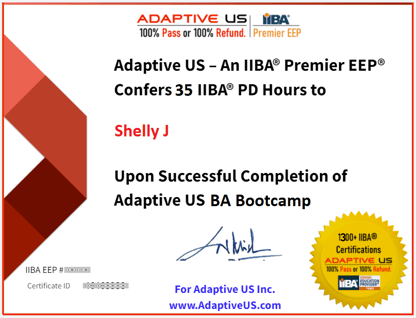 BA BOOTCAMP ULTIMATE PROGRAM


(Weekday Classes)
52 hours of live expert training on BA fundamentals, skills, and tools

16 hours of Live BA Fundamentals Training

6 hours of BA skill building (BRD, SRS, User Stories Creation) and h

ands-on BA tools practice training (2 hours/session)

6 hours of on-the-job mentoring/deliverables review sessions (2 hours/session)

24 hours office hours for ECBA doubt clarification (2 hours per month * 12 months)

35 IIBA PD Hours

Live project with instructor assistance

Premium BA Tools and

Job Aids

BA Fundamentals Study guide

100% Success or 100% Refund for ECBA comprising of 2 ECBA retake fees totaling $190

1000+ ECBA questions including 6

simulations
100+ e-Learning Videos
Mind maps, Audiobooks, Flashcards
ECBA Prep Plan, Tips
Session Recordings
Doubts Discussion Board
Unlimited learning resources access


$2449

$2149

COUPON 'SAVE300'
Session Plan
Session – 1 (4 Hours Live Online Class)
Participant and Faculty Introductions
Course Intro and Test Taking Tips
Intro to Business Analysis
BABoK Key Terminologies
BABoK Knowledge Areas and Techniques Overview
Exam Prep Process
Session – 2 (4 Hour Live Online Class)
BA Planning and Monitoring
KA Intro

Techniques for BA Planning

BA Planning and Monitoring Tasks

Plan BA Approach

Plan Stakeholder Engagement

Plan BA Governance

Plan BA Information Management

Identify BA Performance Improvements

Knowledge based questions
Elicitation and Collaboration
KA Intro

Techniques for Elicitation and Collaboration
Session – 3 (4 Hours Live Online Class)
Elicitation and Collaboration
Elicitation and Collaboration Tasks

Prepare for Elicitation

Conduct Elicitation

Confirm Elicitation Results

Communicate BA Information

Manage Stakeholder Collaboration

Knowledge based questions
Requirements life cycle management
KA Intro

Techniques for Req. LCM

Req. LCM Tasks

Trace requirements

Maintain requirements

Prioritize requirements

Assess requirements changes

Approve requirements

Knowledge based questions

Techniques overview for Strategy Analysis and Solution Evaluation
Session – 4 (4 Hour Live Online Class)
Requirements Analysis and Design Definition
KA Intro

Techniques for RADD

RADD Tasks

Specify and model requirements

Verify requirements

Validate Requirements

Define Requirements architecture

Define Design Options

Analyze potential value and recommend solution

Knowledge based questions

Application Filing - PD Hours Discussion
Session – 5 (2 Hours Live Online Class)
Developing effective User Stories & Acceptance Criteria

Hands-on session on Jira + Confluence
Session – 6 (2 Hours Live Online Class)
Elicitation Roleplay

User Story & Acceptance Criteria Review
Session – 7 (2 Hours Live Online Class)
Hands-on prototyping session using Balsamiq

Overview of MS Visio
Session – 8 (2 Hours Live Online Class)
BPM Review

Prototyping Review
Session – 9 (2 Hours Live Online Class)
Creating effective Business Requirements
Documents
Creating effective Software
Requirements Specifications
Session – 10 (2 Hours Live Online Class)
Business Requirements Documents Review
Software Requirements Specifications Review
24 Exam Prep Tutorials (1 Hour Live Online Classes)
Concept clarification and questions discussion with faculty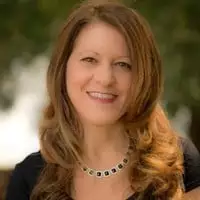 Laura Paton, CBAP
Chairperson PMI PBA Authoring Team. Former Head - Product Development - IIBA. 32+ Years as BA and PM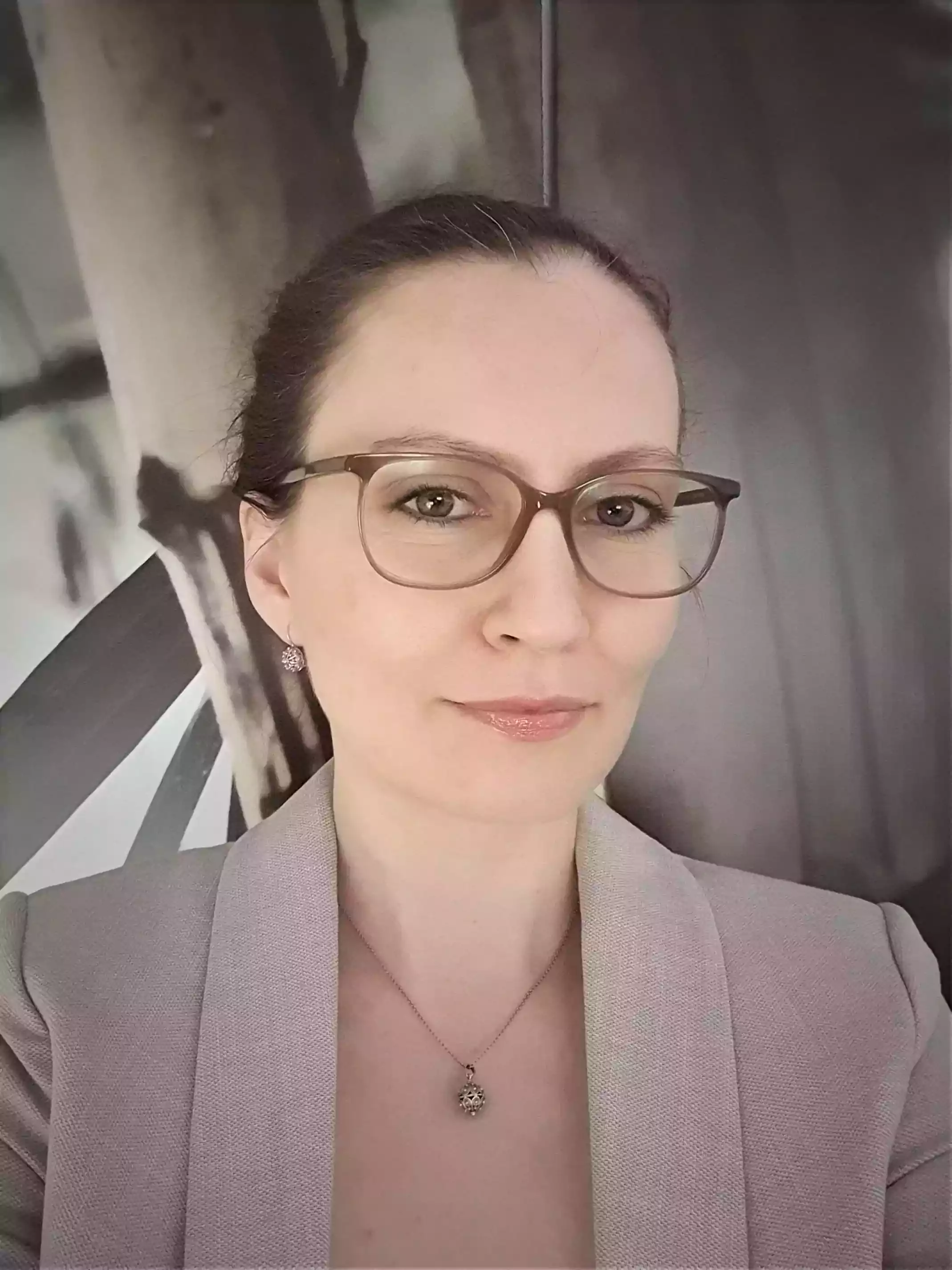 Victoria Cupet CBAP
Former Regional Director, IIBA Europe and Africa. 25+ years of BA experience.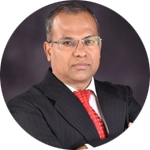 LN Mishra CBAP
Mentor to 1250+ IIBA Certified Business Analysts. 24+ years of Professional Experience in BA.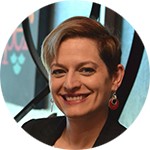 Lora McCoy CBAP
Former Regional Director, IIBA Central Americas. Former President – IIBA Oklahoma Chapter. 22+ years of BA experience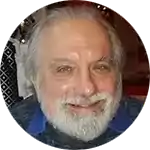 Tom Tomasovic ECBA, CBDA, AAC
Agile BA Practitioner, CPRE Certified. B.S. Chemical Engineering – Massachusetts Institute of Technology. 26+ years of BA experience
FAQs
How can Adaptive US BA Bootcamp Program give you a significant edge over other business analysts?
Technology today offers tremendous opportunities to improve businesses. Business Analyst is a role where one can contribute to the organization's strategy, its offerings, its revenue, and its margin. It offers great opportunity to interact with many stakeholders, develop innovative solutions and improving existing solutions. Business Analysts are the bridge between Business stakeholders and Technology Architects. The demand for Business Analysts is at an all-time high and the benefits are worth taking-up business analysis as a career choice.
As a Business Analyst, one will always have a challenging and a new job role or project in hand due to the uniqueness of each problem in varied companies.
Here are some concrete benefits of the BA Bootcamp Program:
Gives you a great overview of the business analysis career, skills needed to start your BA career
Gets your competency/skills benchmarked by means of the IIBA ECBA certification
Gets an independent validation of your skills
Gets your resume shortlisted
Proof of your proactive attitude
The BA Bootcamp Program is framed rightly to suit the needs of an entry level Business analyst focusing on requirements analysis, modelling, requirements life cycle management with good amount of emphasis on hands on practice of BA tools, BA deliverables creation and much more
The program also makes on ECBA exam ready. ECBA is an established credential and makes a business analyst's competence known and recognized globally by peers and management.
According to the

2021 IIBA Salary Survey Report, professionals with ECBA Certification earn an average salary of $82K

per annum.
Upon program completion, one can attain better career growth and job opportunities.
The knowledge and skills acquired through hands-on BA tools expertise and ECBA certification enables one to become an effective and efficient BA.
It demonstrates continuous dedication to the profession to prospective employers.
It helps BAs achieve reliable, quality results with enhanced efficiency and consistency.
Business Analysis is one of the highest growing occupations, with 14% growth projected between 2014-2024

*Source: U.S. Bureau of Labor Statistics
It also gives a positive feeling and enhanced confidence about achieving a milestone in one's BA career.
What is the BA Bootcamp eligibility criteria?
Who is the target audience for this course?
The BA Bootcamp Program is for:

Individuals entering the business analysis profession

Professionals who want to build a career in the Business Analysis profession

Students enrolled in business analysis academic programs

New graduates

Professionals transitioning careers

Functional managers who are not business analysts but manage them.
How many hours of effort do I need for the BA Bootcamp program?
The program has 48 hours of live training + 10+ hours of e-Learning. Apart from this, one is expected to put in at least 60 - 80 additional hours to the program.
Will BA Bootcamp help me to pass the IIBA ECBA Examination?
The BA Bootcamp provides the required foundation and prepares you for the IIBA ECBA examination.
What is covered under the BA Bootcamp Live Project?
The BA Bootcamp Live Project is to enhance your Business Analysis skills with a hands-on, industry-relevant project, which brings together key concepts that were covered during the training.
The student will be given a real life case based based on a Governance, Risk and Compliance Solution and will be asked to create the following deliverables based on the case:
1. Develop detailed business requirements document (BRD)
2. User stories and acceptance criteria
3. Develop business process models
4. Conduct requirements elicitation interview - Role play
5. Develop prototypes
6. Prepare detailed functional specifications (SRS)
This comes with live project assistance/mentoring sessions with our expert faculty, where you can clarify any questions pertaining to the project and get the best tips on how to make it better.
This will enhance your ability to carry out BA tasks confidently and enable you to become a high performing BA from day 1 at your workplace.
Can I choose/come up with my own live project?
This is not permitted as part of the program. Students have to complete the live project which comes as part of the BA Bootcamp program
For how long will I have access to the learning portal?
The learning portal duration will be Training start date + 6 months
What next after the BA Bootcamp program?
The BA Bootcamp program opens doors to a rewarding and successful career in business analysis. It gives greater confidence and fulfillment at work. It also gives you an opportunity to become part of an elite group of professionals who are known for their dedication and commitment to the field of business analysis.
What is the career path of a business analyst?
Here is a very broad guideline for the career progression of a BA.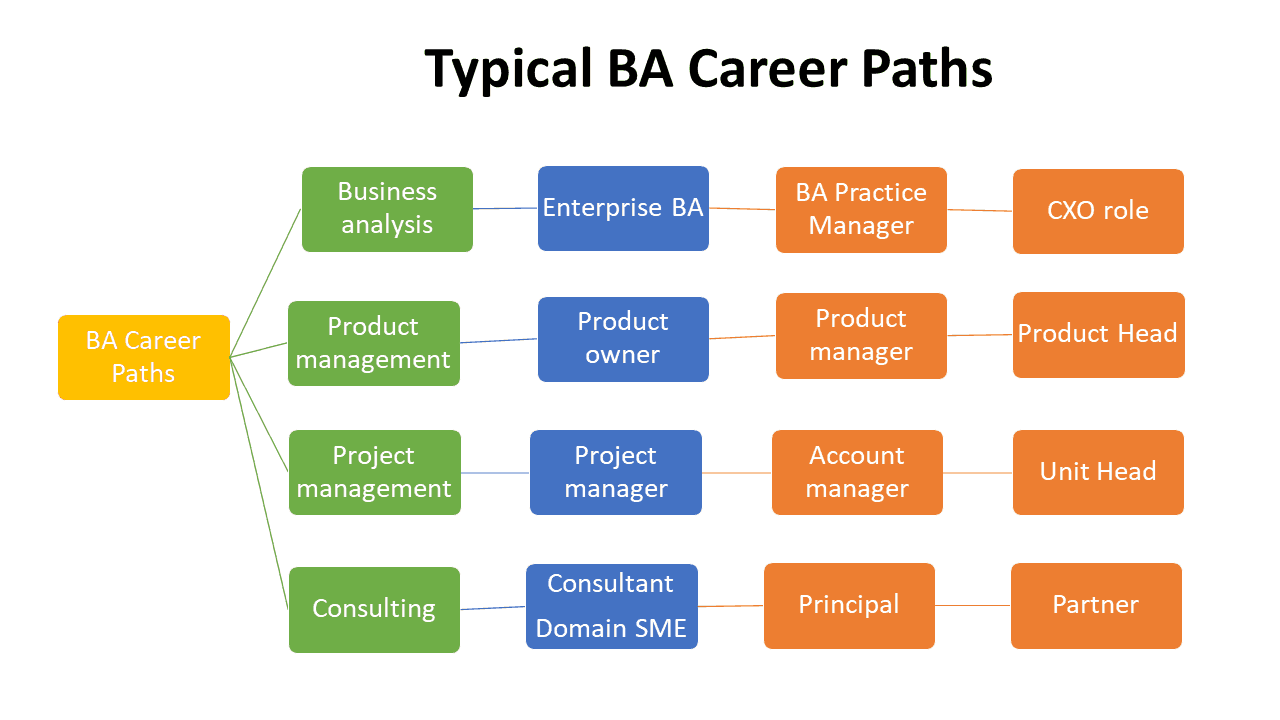 Four common career paths BAs can pursue are:
Business analysis

Product management

Project management

Consulting
However having said that it depends on the person's interest, domain/technical knowledge, interest to learn new concepts and risk-taking ability which determines largely the career progress.
If you are risk-taking and open to learn new concepts/domain you can change your domain and move to a new field and establish yourself to be a good player in the field. This gives you good exposure and makes your career prospects broader. That makes you a good candidate for a senior executive position.
If you love what you are good at and aim to become an expert in the same without changing gears then you can master your domain including getting into other areas in the same domain. This can include having a good hold on the tools and products prevalent in the domain. This can make you a great specialist and unique in the field, which is invaluable for your career.
You can make yourself a great consultant in a particular field and can think of working with multiple clients to give them a part of your time and expert guidance. In return, this gives you the flexibility and the rich experience of working with multiple clients.
There is no better time than now to start something good.
Go and Kiss the world as per your taste and interest, the world is all yours if you can make it and believe in yourself.
Back to top
Our students have come from all across the world
Abu Dhabi, Addis Abbaba, Adelaide, Albany, Algiers, Amsterdam, Annapolis, Athens, Atlanta, Auckland, Augusta, Austin, Bagota, Baltimore, Bangalore, Bangkok, Barcelona, Baton-Rouge, Beijing, Berlin, Birmingham, Bismarck, Boise, Boston, Brasilia, Brisbane, Bristol, Brussels, Budapest, Buenos-Aires, Cairo, Calgary, Canberra, Caracas, Carson-City, Charleston, Charlotte, Charlottetown, Chennai, Cheyenne, Chicago, Cologne, Colombo, Columbia, Columbus, Concord, Copenhagen, Dallas, Darwin, Denver, Des-Moines, Detroit, Doha, Dover, Dubai, Dublin, Dusseldorf, Edinburgh, Edmonton, Florence, Frankfort, Frankfurt, Fredericton, Hague, Halifax, Hamburg, Harrisburg, Hartford, Helena, Helsinki, Hobart, Hong-Kong, Hongkong, Honolulu, Houston, Hyderabad, Indianapolis, Iqaluit, Islamabad, Istanbul, Jackson, Jakarta, Jeddah, Jefferson City ,Johannesburg ,Juneau ,Kansas City ,Kinshasa Lagos, Lansing, Las-Vegas, Lima, Lincoln, Lisbon, Little-Rock, London, Los-Angeles, Luxembourg, Lyon, Madison, Madrid, Manchester, Manila, Marseille, Melbourne, Miami, Milan, Milwaukee, Minneapolis, Montgomery, Montpelier, Montreal, Moscow, Mumbai, Munich, Nairobi, Nashville, New-Delhi, New-Orleans, New-York, Nuremberg, Oklahoma-City Olympia, Ontario, Orlando, Osaka, Oslo, Ottawa, Paris, Perth, Philadelphia, Phoenix, Pierre, Portland, Prague, Providence, Quebec-City, Raleigh, Regina, Richmond, Rio-de-Janeiro, Riyadh, Rome, Sacramento, Saint-Paul, Saint-Petersburg, Salem, Salt-Lake-City, San-Antonio, San-Diego, San-Francisco, San-Jose, Santa-Fe, Santiago, Sao-Paulo, Seattle, Seoul, Shanghai, Sharjah, Singapore, Springfield, St. John's, St. Louis, Stockholm, Stuttgart, Sydney, Tallahassee, Tampa, Tokyo, Topeka, Toronto, Trenton, Valencia, Vancouver, Venice, Victoria, Vienna, Warsaw, Washington-DC, Wellington, Whitehorse, Winnipeg, Yellowknife, Zurich, Alabama, Alaska, Arizona, Arkansas, California, Colorado, Connecticut, Delaware, Florida, Georgia, Hawaii, Idaho, Illinois, Indiana, Iowa, Kansas, Kentucky, Louisiana, Maine, Maryland, Massachusetts, Michigan, Minnesota, Mississippi, Missouri, Montana, Nebraska, Nevada, New-Hampshire, New-Jersey, New-Mexico, New-York, North Carolina, North-Dakota, Ohio, Oklahoma, Oregon, Pennsylvania, Rhode-Island, South-Carolina, South-Dakota, Tennessee, Texas, Utah, Vermont, Virginia, Washington, West-Virginia, Wisconsin, Wyoming, Alberta, British-Columbia, Manitoba, New-Brunswick, Newfoundland and Labrador, Nova-Scotia, Ontario, Prince Edward Island, Quebec, Saskatchewan, Yukon, Nunavut, Northwest Territories, Australian Capital Territory, New South Wales, Northern Territory, Queensland, South Australia, Tasmania, Victoria, Western Australia,