Why invest in the IIBA ECBA Certification in 2023 ? Adaptive US
11 min read
Mar 6, 2020 12:00:00 AM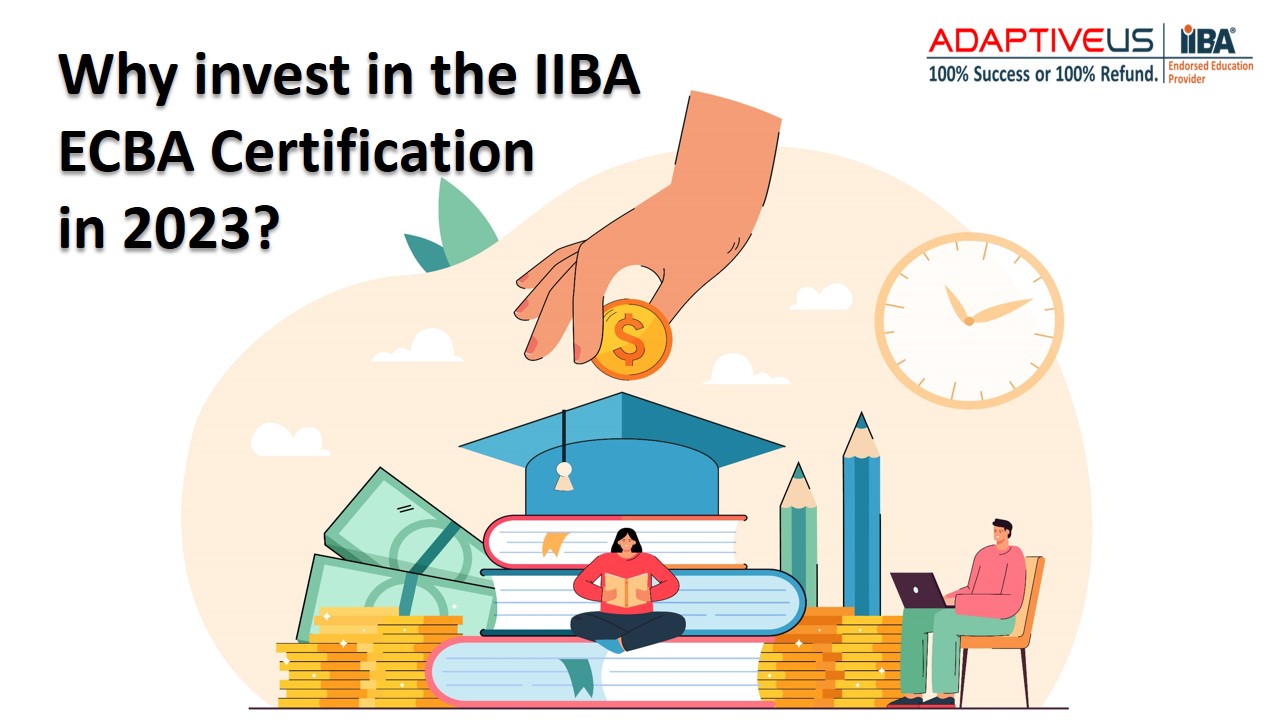 Are you an aspiring BA struggling to find a BA job?
Are you getting rejected in all the BA interviews or not even getting shortlisted?
Are you a new BA trying to learn all the skills in order to perform your job with efficiency and confidence?
Are you eagerly looking at starting your BA career or even transitioning to one?
You may find yourself in one or more of the above situations and you may have...

❌ Enrolled in many courses, followed all the BA job tips that you came across, but you just couldn't find the BA job that you wanted…
❌ Tried posting your CV on multiple job sites and also applied for any BA job opening that you came across, but none of them translated into an interview call…
❌ Struggled to clear the job interview which you got with so much difficulty…
❌ Been overlooked for BA roles even within your current organization…
❌ Got caught in the vicious cycle of lack of experience and inability to project value to your future employer…
This can undoubtedly be frustrating and life may even seem complicated. You feel like no matter what you try, nothing seems to be working and you are never going to get your dream BA job.
Well, if you are an aspiring Business Analyst looking at ways to start off on the right foot in one of the fastest-growing professions with an all-time high growth rate of 14% from 2014-2024, this blog is for you. The good news is that a BA's job is in high demand and one of the reasons for this demand is because of the fact that a BA's job cannot be automated owing to the nature of the job.
A recent report prepared by LinkedIn based on insights from 660+ million professionals and 20+ million jobs titled "The Skills Companies Need Most in 2020 - And How to Learn Them", indicates that Business Analysis skill has made the most significant jump out of all the skills listed in 2020's trending hard skills. The report also states that business analysis is one of the few hard skills every professional should have, as most roles require some level of business analysis to make decisions.
Here's a data insight from SEEK on the job opportunities for BAs and how the job market is trending: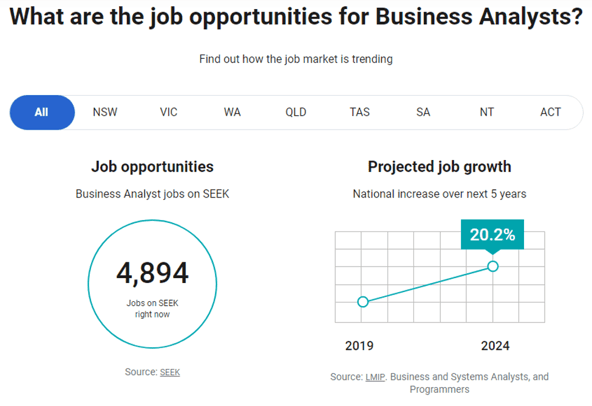 In fact, organizations have also realized the importance of having skilled and capable BAs to enhance their delivery capabilities and have started establishing Business Analysis Centers of Excellence (BACoE).
So, when every entry-level job comes with stiff competition and you aspire to kick start your career as a BA, how do you maximize your chances and set yourself apart from the crowd?
Would it be sufficient to just project whatever experience you have or would you need to do something more?
Well, the answer is…to grab that dream BA job, there's no better way than to be prepared, get skilled, certified and project your capabilities in the professional environment.
Here are some facts to substantiate the claim:
ECBA is the world's most recognized entry-level BA certification
ECBA Certified BA professionals earn $70K on an average
Top-notch companies across the globe prefer hiring certified BA professionals
An investment of about $1000 can make you richer by $40,000 or more.
ECBA trained and certified professionals have successfully landed their first dream BA jobs
ECBA is the world's most recognized entry-level BA certification
The best way to start a career in business analysis is by getting yourself formally skilled and recognized by the leading authority in business analysis, IIBA (International Institute of Business Analysis). The ECBA (Entry Certificate in Business Analysis) from IIBA is particularly designed for newbies in the BA space. Getting ECBA certified would lay a strong foundation on BA knowledge areas such as elicitation, requirements life cycle management, requirements analysis, and various BA techniques as defined by BABoK (Business Analysis Body of Knowledge). It recognizes individuals who are ready to develop BA skills, knowledge and behaviors as practicing BA professionals and enhances employability prospects considerably.
ECBA Certified BA professionals earn $70K on an average
By investing in becoming a trained and certified ECBA professional, you not only learn the BA skillsets, industry best practices, tools and techniques outlined in BABoK but you also get an edge over your counterparts. According to the 2019 IIBA Salary Survey Report, ECBA certified BA professionals earn $70K on average at the global level.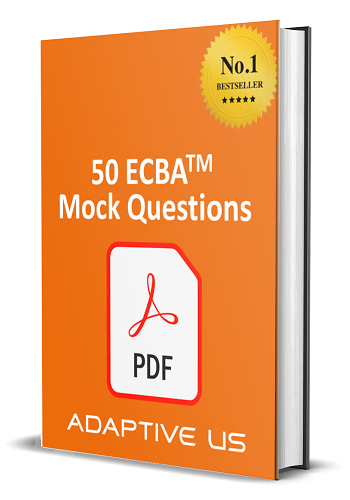 3. Companies prefer employing certified BA Professionals
Studies after studies have proven that lack of required skills and accreditations affects one's job search. Thorough training on business analysis skills coupled with a credible certification from an internationally acclaimed organization like IIBA can propel one's job search process and enhance employability prospects as employers typically look for knowledge on Business Analysis Processes, knowledge on BA Tools and Techniques along with verifiable credentials when they hire junior BAs.
Companies across the globe prefer hiring ECBA professionals for entry-level BA jobs as it
Establishes credibility of the professional
Is an independent validation of the competencies and skills of the BA by the most reputed global body for the BA domain, IIBA
Establishes a solid foundation on industry best practices and enables them to exhibit greater confidence in performing roles and responsibilities
Demonstrates dedication to the profession and showcases the commitment the individual has put into preparing and clearing the exam
Saves time, resources, and effort to train and upskill the BA professional.
A quick look at a few entry-level BA job openings in firms across the US, Canada, and Australia clearly indicates that ECBA professionals are preferred over their non-certified counterparts.
BA opening in the State of North Carolina, US

BA opening in CGI Group, Inc., Princeton, NJ, US

BA opening in Calfrac Well Services, Calgary, Canada

BA opening in IOOF Holdings, Sydney, Australia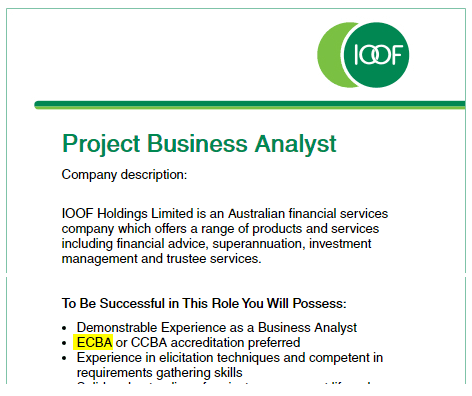 BA opening in HelloWorld, Melbourne, Australia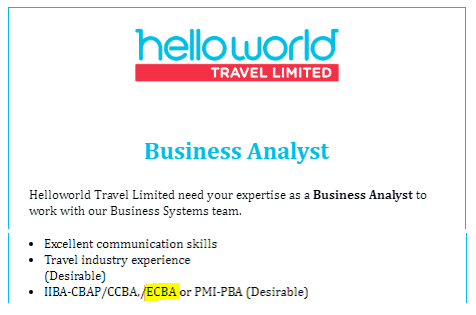 4. Not skilling yourself at the right time makes you poorer by $40,000 or more
As aspiring BAs, it is important to evaluate the return on any investment that we make regarding our careers.
Now that you know the importance of getting trained and certified to increase your chances of landing your first BA job, what do you lose by not acting on it?
Let's make an approximation:
Without formal BA training and certification, your job search will take an average of 4-8 months longer.
Given a conservative estimate of $5K per month of entry-level BA salary, this means you are losing earnings of $40K (Considering a scenario where it takes 8 months to find a job and a loss of $5000/month, $5000*8=$40,000).
There could also be the possibility of not getting called for an interview without the essential BA skillsets. All this could result in mental agony, lowered confidence, a feeling of dejection, and more…thus, taking you away from your dream BA career goal.
You are paying a cost of $5k per month at the minimum if you don't solve this problem!!
At this point, it's totally worth mentioning the ROI – both tangible and intangible that one obtains upon becoming an ECBA-certified professional.
BAs worldwide have reported that ECBA certification not only increased their chances of getting called for interviews but also enabled them to bag their first BA jobs. In addition, ECBA-certified professionals also experience increased confidence and fulfillment owing to enhanced BA skills.
With an investment of about $1000 (USD) for ECBA training, IIBA membership, certification application, and exam fees, and zero cost to maintain it (as ECBA is a lifetime certification), here's the benefit that one can accrue with an ECBA certification. The benefits are typically realized within 4-6 months based on insights from our past students.
Here's the salary of ECBA-certified professionals as shared in the 2019 IIBA Salary Survey Report

Would you want to say NO to getting 60 times the return within a year for an investment of about $1000?
5. Amazing career transformations of those who have done it!
90% of our students have experienced spectacular results after undergoing ECBA training and here are some amazing cases of career transformation that they shared with us.

Watch this testimonial video from Adaptive's ECBA trainee Sarah Beasley describing how Adaptive's training boosted her confidence, skyrocketed her BA skills, and helped her pass the ECBA exam on her first try.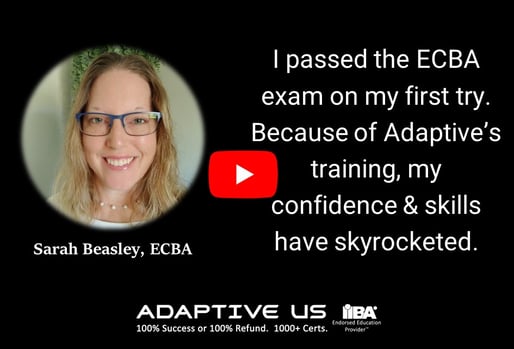 Here's Ineha narrating her experience on how she migrated to Canada and bagged her first BA job with the ECBA training from Adaptive
After completing my B Tech & MBA, I started working as an HR professional. Before moving to Canada, I found out about business analysis as a great career option. The BA role piqued my interest, and I realized this was exactly what I wanted to do. However, getting a BA job in a new country was difficult as it called for the right knowledge and skillsets. While looking for a BA course, I found Adaptive US and enrolled for their ECBA training. The training was perfect as it gave me a sound understanding of the BA concepts. With my newfound understanding of the BA role, I secured a permanent job as a Systems Analyst in the company where I was interning. I was confident that I was heading in the right direction and within 2 months of getting ECBA certified, I bagged my first full-time BA job. I am ever thankful to Adaptive as their ECBA training propelled my BA career, and I would definitely recommend it to anyone wanting to become a BA.
Here's Rakesh narrating his success story on how he transitioned his career from a travel agent to a lead BA in one of the most prestigious names in the global travel industry.
After my bachelor's degree, I worked as a travel agent in a reputed travel agency. But it did not give me job satisfaction. While working in the corporate travel department, I became interested in the business analyst role. To get my foothold in the BA domain, I enrolled with Adaptive US, which had very good reviews, comments, and feedback. The BA concepts, tools, and techniques taught by the world-class mentors at Adaptive gave me a good insight into business analysis. After the ECBA training, I applied for the position of a BA and bagged the job with one of the leaders in the travel industry. I feel very elated and proud to be working in my dream role as a business analyst, all thanks to Adaptive US.
Here's Raja narrating his experience on how the ECBA training from Adaptive helped him land his first BA job.
After completing my Masters, I aspired to become a BA. I diligently applied to over 500 organizations but unfortunately, none translated into a job. I figured that there was a gap in my resume and having no experience, knowledge, or skillset for a BA role were the major stumbling blocks for me. I enrolled with Adaptive US for the ECBA online training which helped me immensely by boosting my confidence and improving my communication skills. The exposure to the BA domain, the knowledge, and the tips were the main reasons I was able to get a job by the end of the 5 weeks training session. I would definitely say that having experienced Adaptive's training with LN as the chief mentor, I consider it to be the best.
Here's Kuda sharing his experience on acing his ECBA in the first attempt with Adaptive.
From day one, Adaptive US was incredibly supportive and responsive. I found out, last minute, that an ECBA would significantly bolster my career prospects and that led me to find Adaptive through a Quora answer of theirs that explained that it could all be done in 6 weeks. With their course and material, I am proud to say that I had it done in those 6 weeks so for those looking to give them a shot, I highly recommend them!
For the best experience and chance of attaining certification on your first chance, I highly recommend them!
Now, you're at the point of decision. You can either continue down the path of least resistance, the path you have already been traveling, or you can choose the road less traveled. The path of least resistance will probably result in you getting the same outcomes you've always received, and THAT IS you not getting anywhere close to your dream career. But if you want something different to happen, if you want to change the direction of your career and make your dream job a reality, you're going to have to do something different.
UNTIL YOU DECIDE TO BREAK THE CYCLE, get off the treadmill and change things, the chances of succeeding in a highly competitive world remains nil.
Now, the number of BA openings may not be within your control but upskilling yourself and doing what it takes to project your capabilities and stand out amidst the crowd is very much under your control. It is high time you make a new choice and pursue your new outcome!
So what's stopping you? Are you turning a blind eye to your career?
DO WHAT IT TAKES TO BE THE NEXT ONE & WIN YOUR DREAM BA JOB!
Start your success journey today.

Suggested Reading-
ECBA Career Transformation Stories