IIBA CCA vs. ISO 27001 Lead Auditor: Which one should you go for?
by LN Mishra, CBAP, CBDA, AAC & CCA on Aug 12, 2020 12:00:00 AM
This is a question that arises in many information security and business analysis professional's mind. Both IIBA CCA and ISO 27001 deal with information security. So, which one should pursue?
I am among very few BA professionals who have done both the certifications. I consulted more than 10 clients to implement ISO 27001 in their organizations and it was indeed a great learning process. I thoroughly enjoyed my ISO 27001 Lead Auditor training.
Similarly, I took IIBA CCA certification few months back and again was pleasantly surprised about new aspects those I learnt as part of my CCA preparations process.
Let's do a comparison between the 2 certifications below.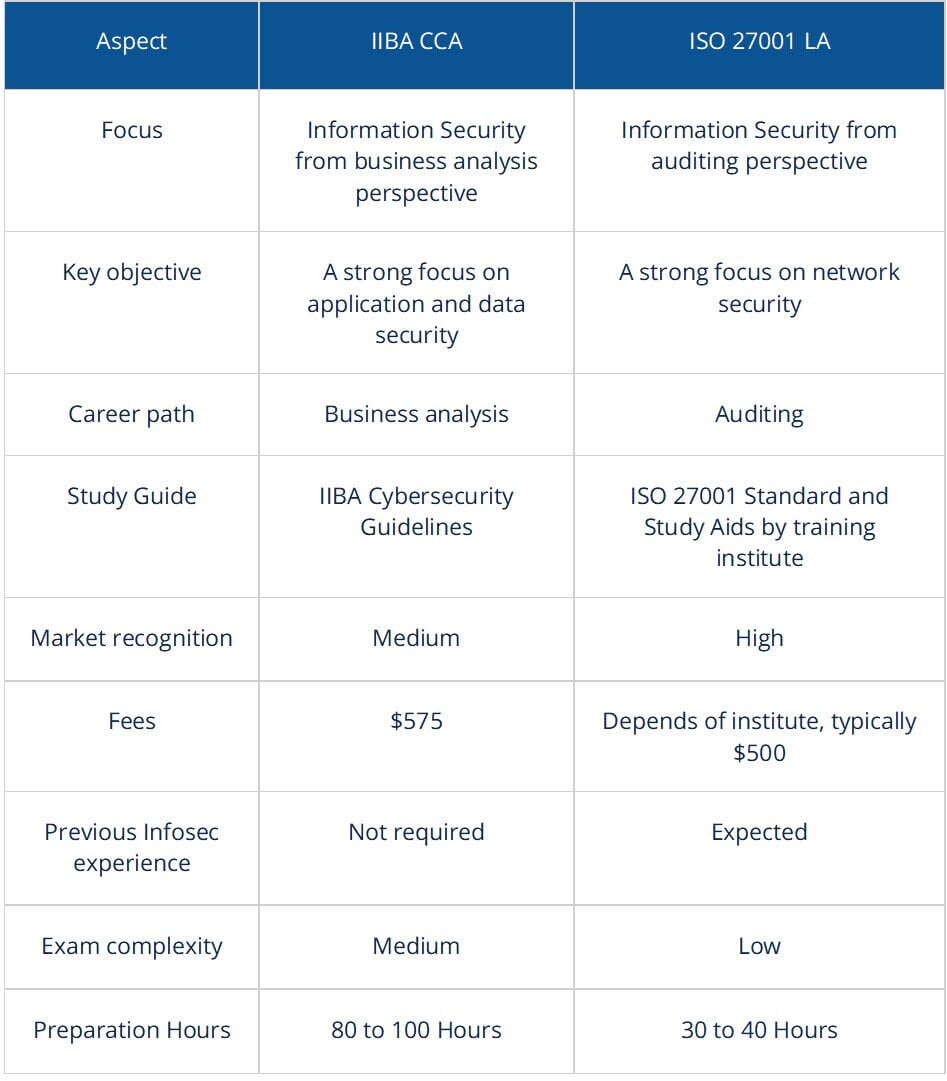 | | | |
| --- | --- | --- |
| Domain | IIBA CCA Domains | ISO 27001 Domains |
| 1 | Cybersecurity Overview and Basic Concepts | Information security policies |
| 2 | Enterprise Risk | Organization of information security |
| 3 | Cybersecurity Risks and Controls | Human resource security |
| 4 | Securing the Layers | Asset management |
| 5 | Data Security | Access control |
| 6 | User Access Control | Cryptography |
| 7 | Solution Delivery | Physical and environmental security |
| 8 | Operations | Operations security |
| 9 | | Communications security |
| 10 | | System acquisition, development and maintenance |
| 11 | | Supplier relationships |
| 12 | | Information security incident management |
| 13 | | Information security aspects of business continuity management |
| 14 | | Compliance |
IIBA-CCA Recommended -
To become enterprise / strategic level BA
If your organization has IIBA CCA certifications as part of the competency framework
Part of BA Center of Excellence/BA Competency team


ISO 27001 LA Recommended –
Members of Organizational Infosec team
If your organization has ISO 27001 LA certifications as part of the competency framework
If your organization has implemented or plan