Business Systems Analyst Qualifications
Business Systems Analysts understand the problems and goals of an project, analyze current processes, understand stakeholders needs, elicit and analyze requirements, collaborate with stakeholders, and come up with recommendations on what the product or solution must support.
While entering the field of business systems analysis, a broad understanding of businesses and specific knowledge of business processes is desirable. A good understanding of technology and business will enable a business Systems analyst to be successful in his/her career as the role involves a lot of interaction with the business side as well as the technical side.
When it comes to Business Systems Analyst qualification, a bachelor's degree is desirable. Organizations may prefer candidates in computer science, electronics engineering, Information Technology or related degrees for entry-level positions, but it is not really mandatory. A bachelor's degree in business administration includes knowledge in communication, accounting, business, law, and other specialized streams. Occasionally employers also prefer candidates with a master's degree.
The most popular route into business systems analysis without a degree is to transfer from a role in a related field. Many successful BSAs have started their careers in any department of the organization like - business management, human resources, information technology, or related fields and gain work experience. Once they have gained enough professional experience, candidates can apply for entry-level positions as Business Systems Analysts.
Along with a degree and experience, getting a Business Systems Analyst certification carries a lot of weight with organizations and also helps the candidate to acquire the requisite knowledge and meet their professional goal. Certification can improve overall performance, remove uncertainty and widen market opportunities. A certified business systems analyst has a broader perspective of the BA techniques and approaches. It also shows commitment, as preparing for these certifications and clearing the exam is not an easy task. Organizations also recognize individuals for the hard work and commitment which the candidate has put into it.
Business Systems Analyst Salary
Business Analyst salary is determined by various factors such as location, qualification, experience level, and job specialization and organization.
Worldwide average salary ranges for Business Systems Analysts based on experience:
• Entry Level: $40,000 to $70,000
• Mid-Career: $55,000 to $95,000
• Experienced: $70,000 - $150,000
Business Systems Analyst Certifications
A huge advantage that any Business Systems Analyst can give to his/her career is to get certified. BA certification can help Business Systems Analysts stand out in the field and provide proof of competence. Market research has shown that certified Business Systems Analysts earn much higher salaries than those who are not certified. Besides higher salary, the other benefits of doing a business analysis certification are:

• Certification help improve overall performance
• They remove uncertainty and widen market opportunities
• A certified Software Business Systems Analyst has a broader perspective of the BA techniques and approaches and demonstrates better capabilities in principle and practice.
• Employers show increased confidence when hiring a certified Software Business Systems Analyst as it also shows commitment, as preparing for these certifications and clearing the exam is not an easy task.

There are multiple BA certifications. Their acceptability, qualification criteria, and fees vary widely. Some of the points which you need to consider before choosing which BA certification is correct for you are-
• How much experience do you have as a Business Systems Analyst?
• What is your employment status?
• The popularity and recognition of a certification location wise
• What are your future goals?
• What are the Best Business Systems Analysis Certifications available in the market?

Business Systems Analysts Certifications for Beginners
While entering the field of business systems analysis, a broad understanding of business analysis tasks and techniques is the prerequisite.

ECBA from IIBA, Canada
The Entry certificate in Business Analysis, ECBA, is the first level of certification by IIBA. ECBA certification is ideal for individuals entering the field of business analysis. ECBA recognizes individuals ready to develop their business analysis skills, knowledge, and behaviors, to join the business analysis profession.

CPRE-FL Certification from IREB, Germany
The CPRE-FL certification is designed for those working in requirements engineering (RE), Business Analysis, and Testing. The IREB Certification Model consists of three subsequent levels. The CPRE Foundation Level covers the fundamentals of the Requirements Engineering domain, methodology, and available techniques.

BCS Foundation Certificate in Business Analysis from BCS, UK
BCS Foundation Certificate in Business Analysis covers a range of fundamental knowledge needed for a business analysis role. This includes the roles and competencies required as well as strategic analysis, business system, process modeling, and business case development.

Business analysis certifications for Mid-level Professionals
For professionals who have a few years of BA experience, a good understanding of technology and business will enable them to be successful in their careers. Certifications like CCBA, AAC, and CBDA will help you with this.

CCBA from IIBA
The Certification of Capability in Business Analysis (CCBA) is the 2nd level of professional certifications by IIBA for business analysis practitioners. It is highly valued in the BA industry as it emphasizes your work experience, personal development, competencies, and up-to-date knowledge of the latest industry trends and developments.

CPRE-AL Certification from IREB
The prerequisite for the CPRE-Advanced Level certification is having obtained the certificate of the previous level, i.e., CPRE-FL.

AAC from IIBA
IIBA Agile Analysis Certification (IIBA AAC) is the first agile certification provided by IIBA. IIBA Agile Analysis Certification examination is ideal for Agile Business analysts, BA Consultants, Trainers, Project Managers, Testers, etc.
Business Systems Analysts Certifications for Senior Professionals
As business systems analysts mature in their careers, the expectations attached to their role expand and it is essential that the BA too, expand their knowledge through training and certifications related to business analysis.

PMI-PBA Certification
The PMI-PBA certification is best suited for business analysts who work with software projects or programs, or software projects and program managers who work with analytics. It's offered through the Project Management Institute. The certification focuses on business analysis training through hands-on projects and testing on business analysis principles, tools, and fundamentals.

CBAP from IIBA
Certified Business Analysis Professional (CBAP) is the 3rd level of professional certification by IIBA for business analysis practitioners and is the most sought-after certification for senior business analysts to excel in the corporate world. CBAP certification has proven results in terms of salary benefits, career growth, and opening up new opportunities in the global markets. The CBAP certification examination needs one to understand BABoK in-depth and apply BABoK concepts to various business analysis scenarios.

CPRE-EL Certification from IREB
The Expert Level of the CPRE certification stands for the highest level of expert knowledge, which comprises practical experience as well as outstanding knowledge and skills in Requirements Engineering. The prerequisite for the CPRE-EL certification is having obtained the certificate of the previous level, i.e., CPRE-AL.
Business Systems Analyst Training
Business Systems Analyst Boot camps
BSA boot camps are designed to teach new skills and improve the current skill set, unlike certifications, which are there to prove the skills you already have. Boot camps can be full-fledged, instructor-led courses that run for weeks or months at a time or traditional workshops held over the course of a few days. You can find a boot camp to suit your needs irrespective of your preferred learning style.
Bootcamp courses are offered both in-person and online. Organizations bring boot camps to the company to run a four-day workshop. Many boot camps are free but depending on the program some might require a subscription fee or a one-time fee. The one-time fee ranges from $2500 to $5000. Bootcamps are designed to give hands-on experience and help you build your resume and portfolio — some even offer career guidance and mentorship.
Master's programs
There are plenty of programs designed to provide a formal Software Business Systems Analyst education. The type of degree you go for will depend on what area of BA you want to work in. If you have a business degree or a computer science degree, you might want to look at a master's in business analysis.
Business systems analysis learning can be expedited by undergoing a formal training. Many colleges, universities, professional training institutes provide structured training on business analysis.
Business Systems Analyst Job Descriptions
Business Systems Analysts enable the enterprise to articulate its needs, the rationale for change and to design and describe solutions that deliver value. In a business systems analyst role one can contribute to an organization's strategy, its offerings, its revenue, and its margin. It offers a great opportunity to interact with many stakeholders, develop innovative solutions, and improve the existing solutions. Business Systems Analysts work as a bridge between business stakeholders and technology architects. A Business Systems Analyst is an important part of any project team. Acting as the key interface between the users and the project manager, they gather information, document processes, and confirm the final documents with users.
To be a good Business Systems Analyst, one must have a clear-cut idea of what is required of them regarding their roles and responsibilities. One primary job of the Business Systems Analyst is to locate business opportunities and inefficiencies and provide recommendations (principally through implementing IT and technological solutions).
Job Description of Business Systems Analyst
Plan business analysis approach

Plan stakeholder engagement

Plan business analysis governance

Plan business analysis information management

Identify business analysis performance improvements

Prepare for elicitation

Conduct elicitation

Confirm elicitation results

Communicate business analysis information

Manage stakeholder collaboration

Trace requirements

Maintain requirements

Prioritize requirements

Assess requirements changes

Approve requirements

Specify and model requirements

Verify requirements

Validate requirements

Define requirements architecture

Define design options

Check whether the acceptance criteria are met

Support in User Acceptance Testing (UAT)



Business Systems Analyst Career Paths
Business Analysis is a very versatile space. It offers numerous career paths for its practitioners. In this article, we have described common career paths that are suitable for Software Business Analysts. Here is a very broad guideline for the career progressions for Business Systems Analysts.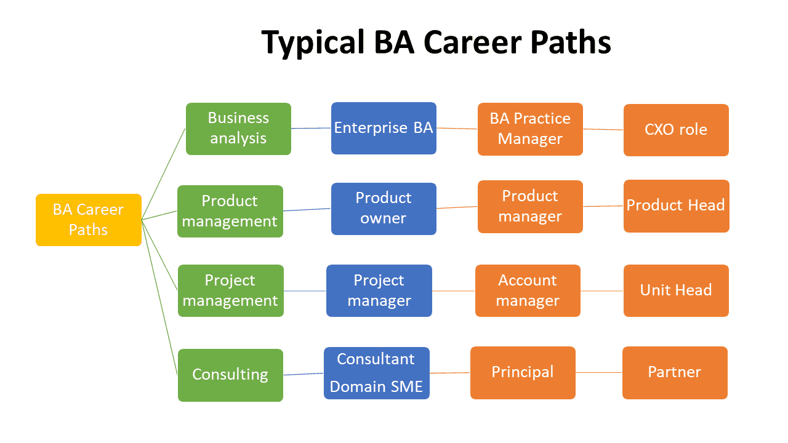 Four common career paths BSAs pursue are:
Enterprise systems analysis

Product management

Project management

Consulting
However having said that it depends on the person's interest, domain/technical knowledge, interest to learn new concepts, and risk-taking ability which determines largely the career progress.
If you are risk-taking and open to learn new concepts/domains you can change your domain and move to a new field and establish yourself to be a good player in the field. This gives you good exposure and makes your career prospects broader. That makes you a good candidate for a senior executive position.
If you love what you are good at and aim to become an expert in the same without changing gears then you can master your domain including getting into other areas in the same domain. This can include having a good hold on the tools and products prevalent in the domain. This can make you a great specialist and unique in the field, which is invaluable for your career.
You can make yourself a great consultant in a particular field and can think of working with multiple clients to give them a part of your time and expert guidance. In return, this gives you the flexibility and the rich experience of working with multiple clients.