10 Common Reasons for Failure in ECBA Exam | Adaptive US
by Sonal Singh on Jan 8, 2022 12:00:00 AM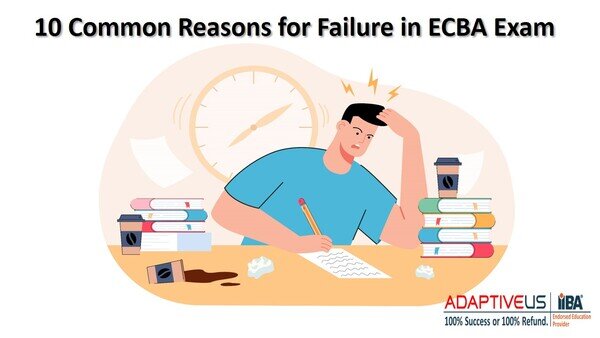 The Entry Certificate in Business Analysis (ECBA) is the entry-level certification offered by IIBA. ECBA certification is for those interested in entering the Business Analysis field. ECBA™ recognizes professionals ready to improve their business analysis skills, knowledge, and behavior to enter the business analysis profession.
An ECBA certificate is a great way to get into the Business Analysis Domain for candidates just starting on the professional ladder. This certification opens up many possibilities for business analysts, including career growth, skill development, and visibility.
ECBA was designed to meet the needs of an entry-level Business analyst. It focuses on requirements analysis, modeling, and requirements life cycle management, with much emphasis on modeling concepts and tools, and is well structured. This certification exam is based on BABoK version 3.0 of the International Institute of Business Analysis.
While preparing for the ECBA certification exam and getting certified can be a very fulfilling experience, some professionals fail the actual exam even after investing time, effort, and commitment in the preparation.
This blog analyses the top reasons people fail their ECBA exams and provides recommended strategies to avoid these failure traps.
Memorizing BABoK without conceptual clarity and not understanding the flow of tasks
Answering questions on the ECBA exam will require a solid understanding of the BABoK concepts. It is important to apply and relate the tasks and techniques. While it is helpful to retain concepts from BABoK, it is not really advisable to memorize and write them during the exam.
Another mistake new BAs with little professional experience make is to start applying personal BA experience as a BA to answer questions. Your exam performance can be hindered if you cannot correlate the knowledge from BABoK. You are supposed to give answers based on general business analysis practices and apply BABoK concepts to real-world situations.
Lack of proper understanding of BABoK terminologies
The ECBA is a knowledge-based exam. To answer correctly, you'll need to be familiar with specific terminologies. IIBA exams might use terms from BABoK that aren't commonly used in your organization. It is essential to be familiar with BABoK terms and how they relate to terms used in your company. Do not attempt any exam until you have a solid foundational knowledge of business analysis as per the BABOK® Guide.
It is useful and valuable to have a BABoK glossary that explains the different terms.
Not understanding the purpose of each task and the roles of various stakeholders.
This will make it hard to clear task-based questions. Therefore, you should not be too focused on memorizing definitions but rather on understanding BABoK terminologies and concepts and understanding stakeholder roles and responsibilities.
Not knowing the strengths and limitations of techniques and which technique to apply when
Usually, the professionals taking up the ECBA exam are new to the BA domain. Therefore, it is possible that their knowledge of the techniques, the strength and limitations pertaining to the techniques, and where the techniques are applied are limited. This could be problematic while writing the exam, and they can answer the questions wrongly.
Know the purpose of the techniques and devise ways to understand their application in order to answer the questions correctly.
Giving equal priority/weightage to each Knowledge Area without looking at the exam blueprint
For an entry-level certification exam like ECBA, certain concepts and techniques are given more preference. Therefore, it is best to prepare smartly by not focusing on concepts that are unlikely to appear on the exam.
Most questions are expected to be single-sentence questions. The best areas to focus on would be understanding the purpose of tasks and techniques, definitions of role and requirements characteristics, etc. Any other questions like diagrams and calculations, advanced modeling concepts, advanced techniques are unlikely to show up.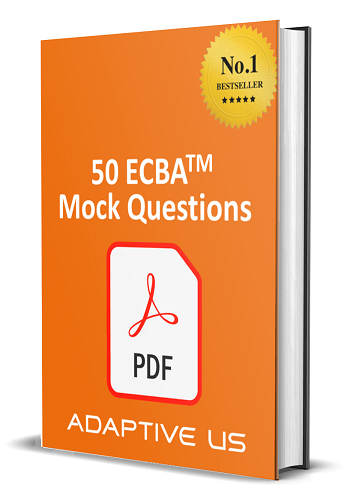 Not knowing smart ways of dealing with questions
ECBA exams have many trick questions containing words like always, never, certainly, only, not, etc., to confuse the candidate. The answers often contain words sounding like BABoK terms but are not used in BABoK. Candidates must be focused and read the questions and options clearly. Choose the option that has BABOK terminology. Beware of made-up terms. These are fabricated to confuse you. Not knowing smart ways to deal with questions or rushing through them distracted by time constraints will cost you dearly.
Not having adequate infrastructure for the exam
The ECBA certification exam, like any other competitive exam, can be stressful to write. Especially in the case of working professionals who might not have taken an exam for years.
It is very vital to run through the infrastructure checklist to ensure the availability of all the resources like camera, ID card, clean room and table, computer with admin access, uninterrupted power supply, an empty room with no one around and without unnecessary items like headphones, etc., to name a few.
In an already tense situation, we must prepare ahead with adequate infrastructure to avoid any last-minute delay and stress/anxiety in starting the exam, leading to failure.
Poor time management
Another mistake first-timers make is getting stuck and spending too much time on a question. Do not think you have the luxury of time. One critical skill for acing the ECBA certification exam is time management. There are many cases of people having difficulty completing the exam just because they could not finish it on time.
Taking unwanted breaks will result in the timer still running and losing time from the stipulated time. You are given an hour to complete 50 multiple-choice questions. It is extremely important to acknowledge the time constraint.
Getting stuck and spending more time on a question
Some questions take more time than others. Therefore, it is extremely crucial to keep track of the time spent answering each question. Allot 1 min per question so that you have about 10 minutes to review the answers at the end. If a question takes a lot of your time and you are unable to answer it in the time you have allotted, mark the question for review, move on. Revisit the questions marked for review after you have answered every question.
It is vital to develop a time management strategy to maximize your time during the exam.
Not preparing with the right resources
ECBA exams, like other competitive exams, have a blueprint or pattern. Not doing enough real exams like simulators and model questions will make it difficult to face the exam confidently. You need proper resources, practice tests, and simulators on BABoK to pass the exam.
Although it is not mandatory to take training for one to take the exam, it is advisable and highly recommended to undergo proper training under a mentor/coach. The training will make understanding BABoK easier. An ECBA Certification Training Course will also give you the right resources necessary to prepare for the certification exam. Since you will be training under the mentorship of a trainer, you will get the added benefit of being coached for the problem areas during the exam. They will guide you towards what you should and should not do during the preparation and the exam.
No Comments Yet
Let us know what you think