Top 10 ECBA Blogs for 2023
9 min read
Jun 26, 2023 7:13:43 AM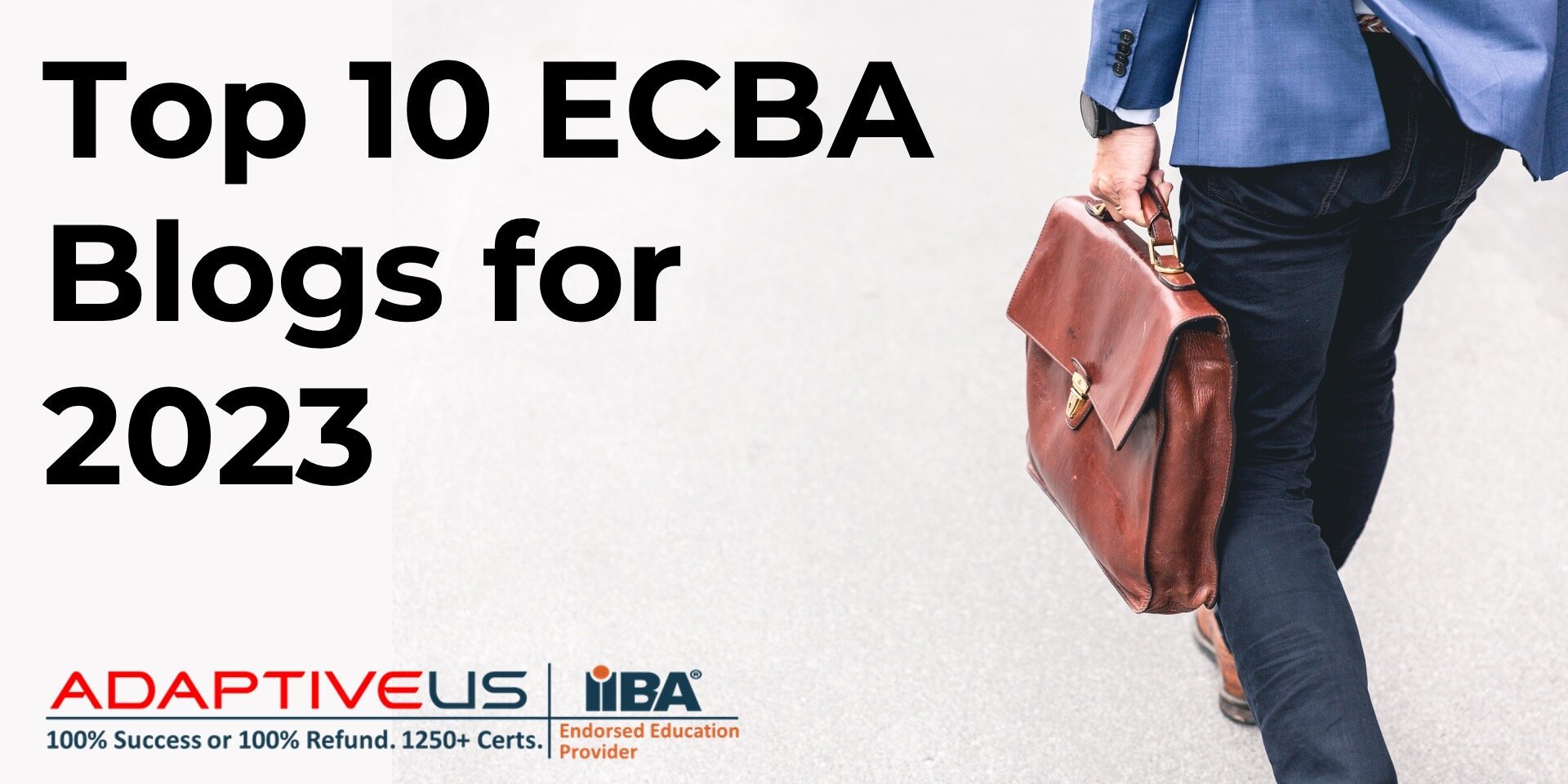 Introduction
ECBA, Entry Certificate in Business Analysis, is one of the world's most popular entry level certification. It is the first level of certification issued by the International Institute of Business Analysis (IIBA), Canada. Completing ECBA validates one's foundational knowledge on business analysis according to the BABOK® Guide.
1. How to Launch Your BA Career in 2023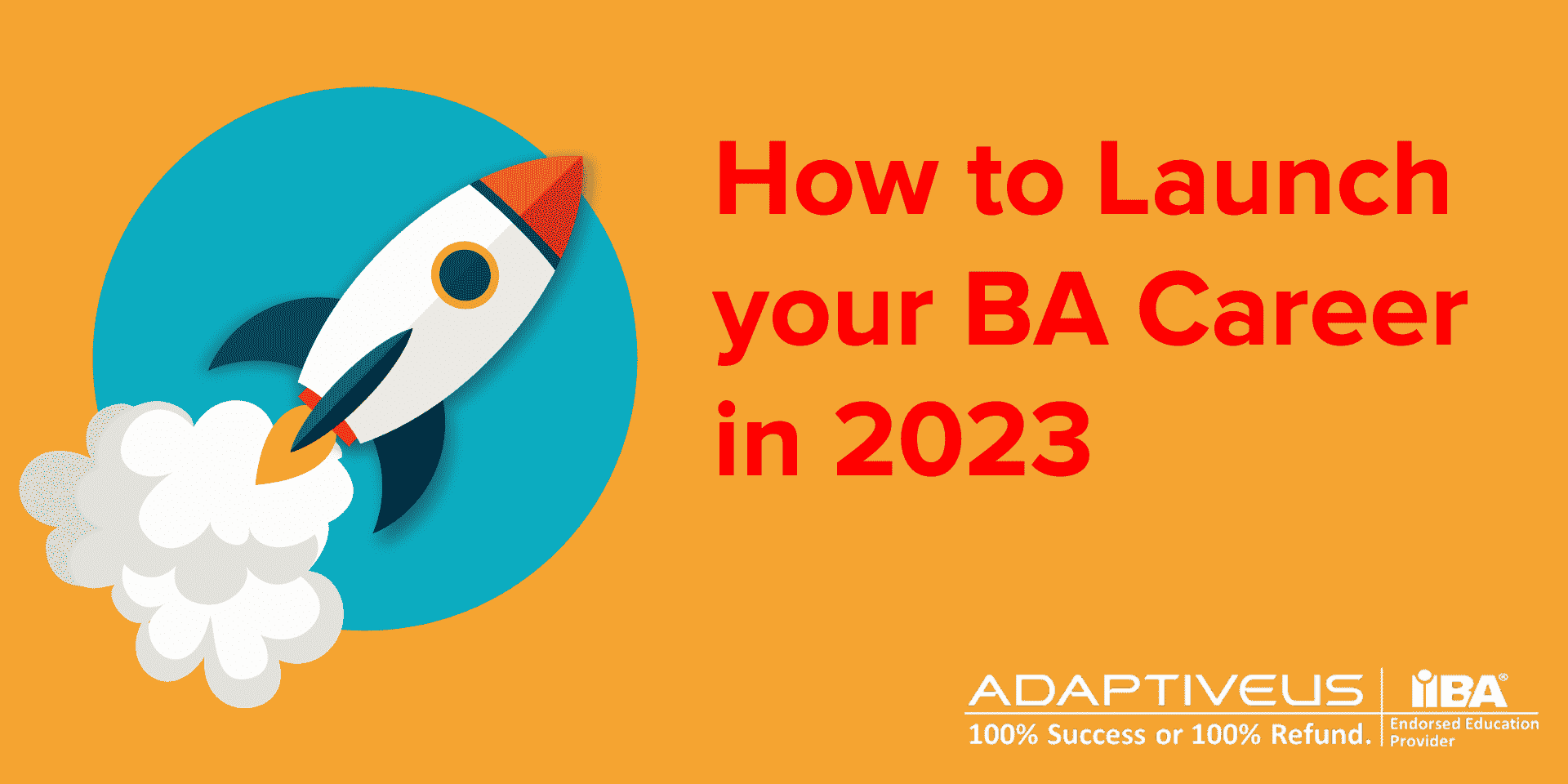 Technology today offers tremendous opportunities to improve businesses. Business Analyst is a role where one can contribute to the organization's strategy, its offerings, its revenue, and its margin. Here is the 10-step proven approach for someone to become a successful business analyst.
Learn the basics of business

Hone behavioral skills

Learn the business analysis process

Learn business analysis tools

Learn the domain of your organization or domains of your interest

Get involved in Business Analysis activities

Participate in professional groups on business analysis

Use stepping stones: Explore gateway roles to business analysis

Volunteer for Business Analysis Activities

Get yourself business analysis certified
Read about this 10-step approach in full detail and start your journey as a Business Analyst
2. How to become a Business Analyst with no work experience in 2023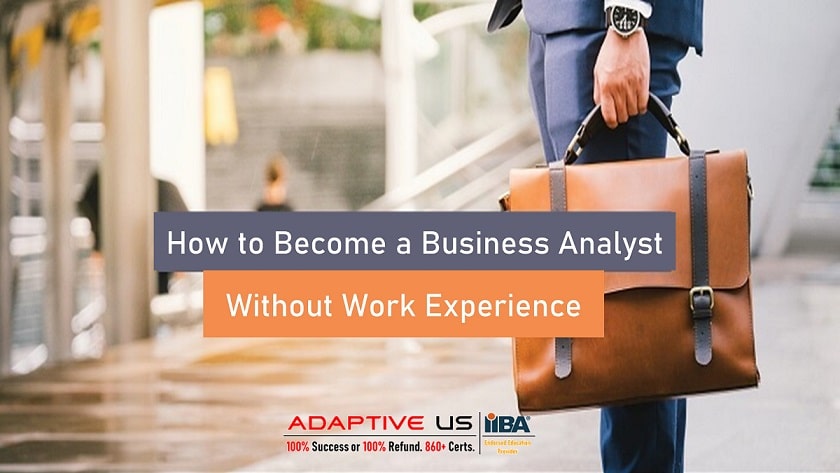 If you are a self-motivated professional with strong analytical skill, have good written and verbal communication skills with the ability to work well with people, a business analyst position is a great fit for you.
In this article, we will discuss:
Learn The Basics Of Business

Learn The Business Analysis Process

Develop Domain Knowledge

Build Behavioral Skills
Communication Skill

Documentation Skill

Facilitation Skill

Problem-Solving Skill
Get Hands-on with Modeling, Diagramming, and Other Software Tools

Learn the Basics of Data Analysis using Excel

Get Familiar with Office Tools like Word, Excel, PowerPoint

Get Familiar With Industry Terms and Glossary/Vocabulary

Get Yourself Certified - Certification Options For An Entry Level Business Analyst

Network - Participate In Professional Groups, Conferences On Business Analysis
Click here to access the full article explaining all the above points in detail
3. ECBA Certification Exam Preparation in 2023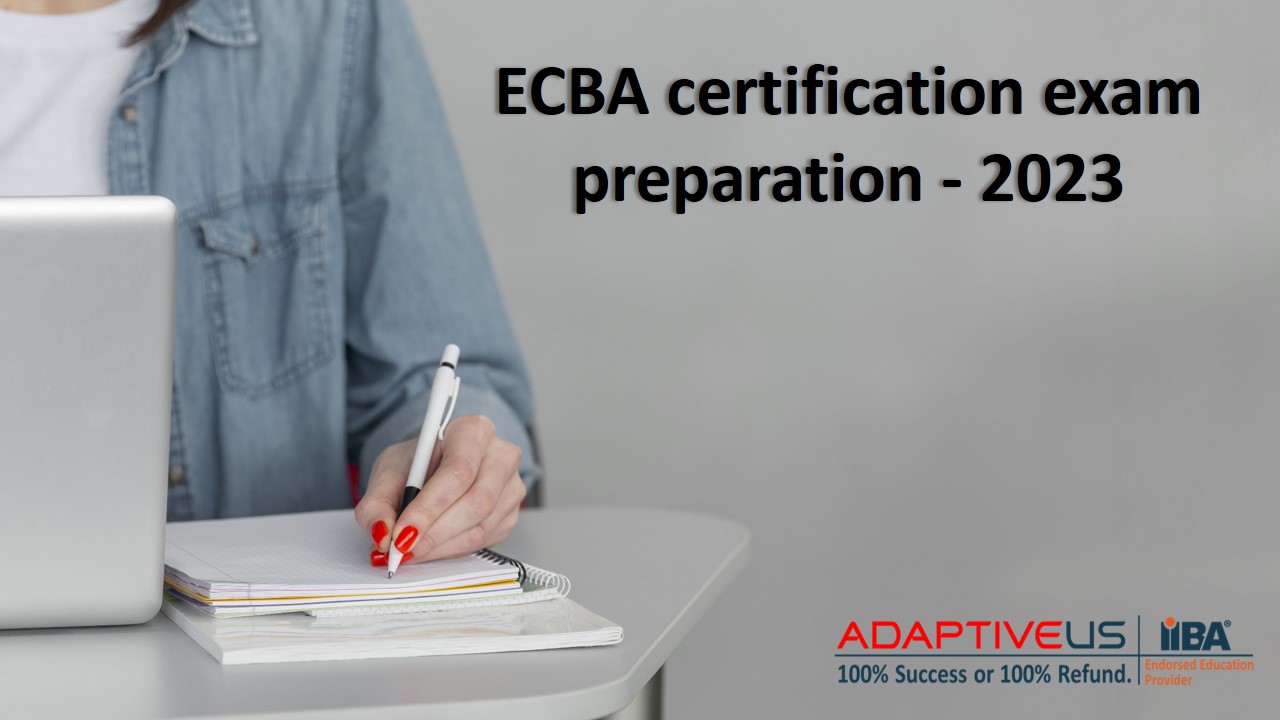 Two essential components that you must have to master ECBA are:
Clarity on the concepts of BABoK

Attempt sufficient ECBA model questions.
ECBA covers the foundation of how to approach business analysis according to the BABOK® Guide. ECBA not only gives a rock-solid foundation for getting into the BA profession also helps with global certification.
EXAM FOCUS AREAS

Requirements Analysis and Design

25%

Requirements LCM

20%

Business Analysis Planning and Monitoring

5%

Elicitation and Collaboration

20%
IIBA ECBA Exam Pattern:
1-hour remote online proctored exam.

There are 50 MCQs.

In order to clear the ECBA certification exam, IIBA checks for success in each knowledge area and overall.

It is competency-based and aligned with v3.0 of the BABOK® Guide.

There is no negative marking.
Read in detail information about ECBA, its benefits, exam pattern and steps to prepare for it in two months
4. Why invest in the IIBA ECBA Certification in 2023?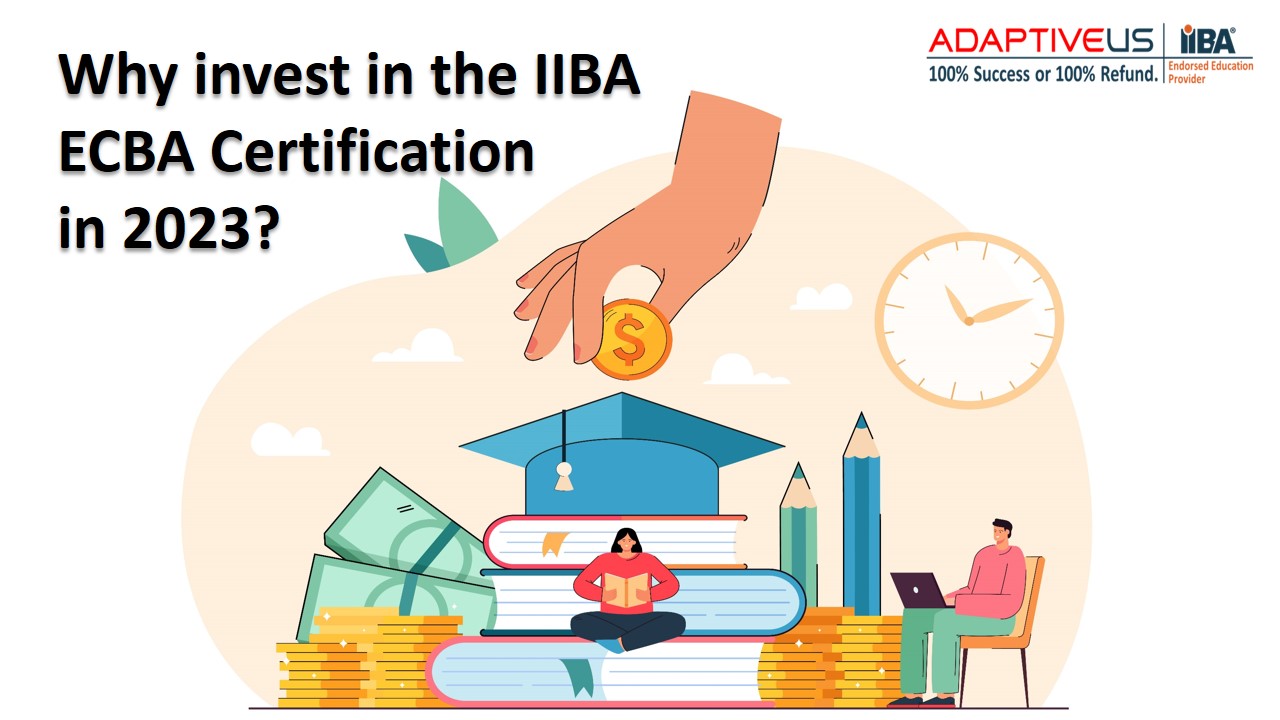 Well, if you are an aspiring Business Analyst looking at ways to start off on the right foot in one of the fastest-growing professions with an all-time high growth rate of 14% from 2014-2024, this blog is for you. The good news is that a BA's job is in high demand and one of the reasons for this demand is because of the fact that a BA's job cannot be automated owing to the nature of the job.
To grab that dream BA job, there's no better way than to be prepared, get skilled, certified and project your capabilities in a professional environment.
Here are some facts to substantiate the claim:
ECBA is the world's most recognized entry-level BA certification

ECBA Certified BA professionals earn $70K on an average

Top-notch companies across the globe prefer hiring certified BA professionals

An investment of about $1000 can make you richer by $40,000 or more.

ECBA trained and certified professionals have successfully landed their first dream BA jobs
Is ECBA worth it? Read in detail its scope, benefits and testimonials from ECBA certified professionals
5. ECBA Exam Pattern for 2023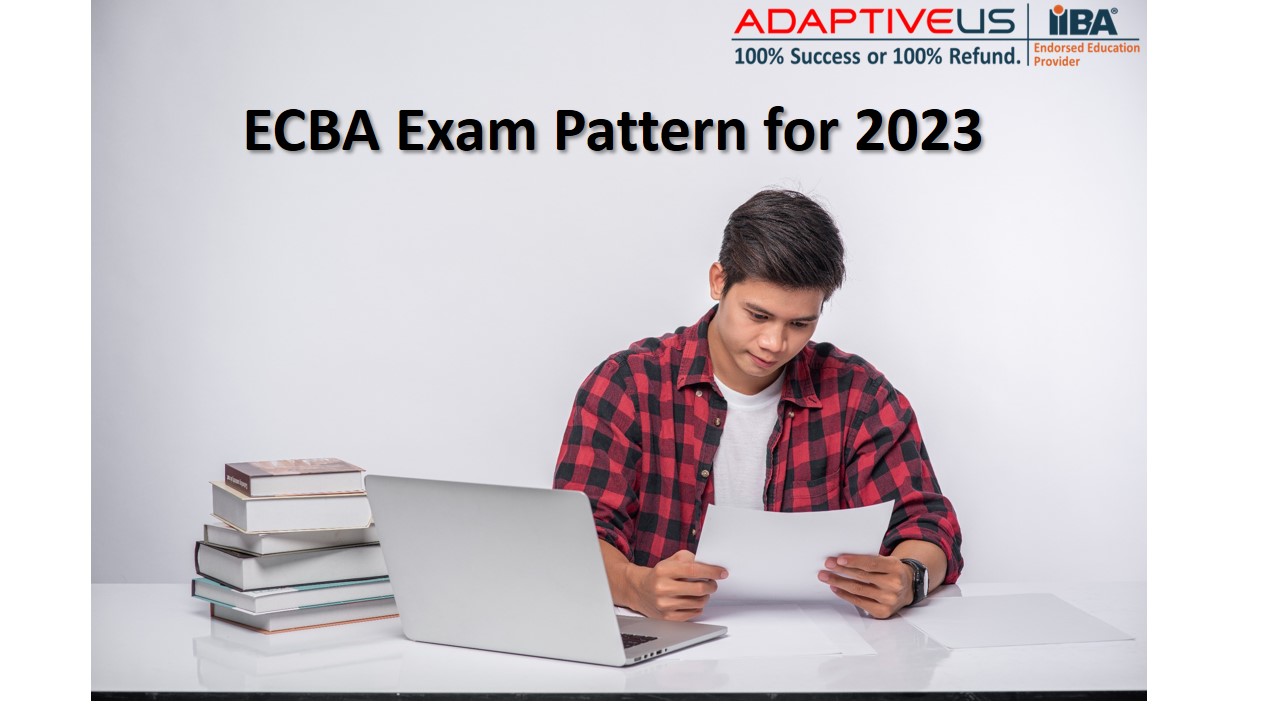 Business Analysis Knowledge - 30%
Knowledge Area - 70%
The ECBA exam blueprint is aligned with the BABOK®v3.0 Guide.
Business Analysis Knowledge
Business Analysis & the BA Professional - 2.5%

Underlying Competencies - 5%

Business Analysis Key Concepts - 5%

Techniques - 17.5%
Knowledge Area
Business Analysis Planning and Monitoring - 5%

Elicitation and Collaboration - 20%

Requirements Life Cycle Management - 20%

Requirements Analysis and Design Definition - 25%
Read more about the ECBA exam pattern and details in detail
6. ECBA exam passing score for 2023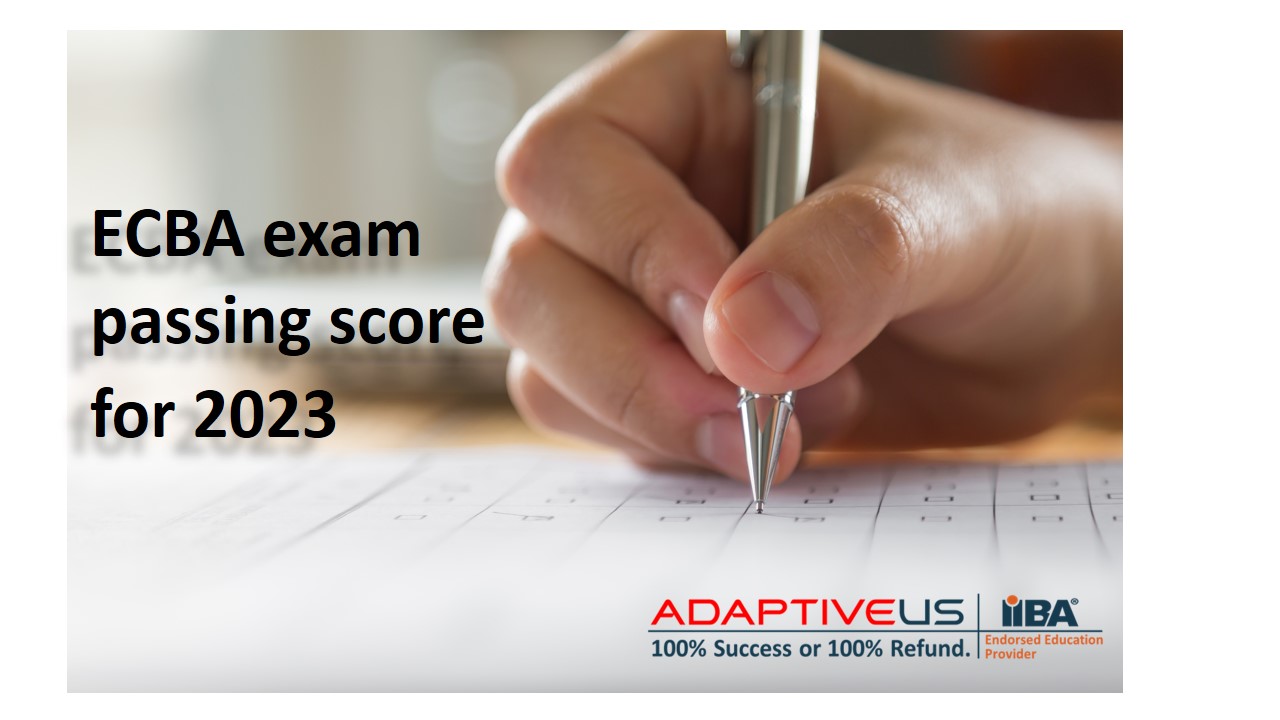 One of the common questions that all ECBA aspirants ask is, "What is the ECBA exam passing score?"
Since IIBA does not disclose this information, we don't have a confirmed answer to this question. As per IIBA, the Level 1 certificate will provide a new foundation for a career in business analysis targeting students, recent graduates, and professionals entering the Business Analysis profession with limited to no Business Analysis work experience. The Level 1 exam will test the candidate's knowledge and understanding of the components below within the BABOK Guide v3.
Get to know more about the ECBA Exam blueprint in this blog
7. 10 Common Reasons for Failure in ECBA Exam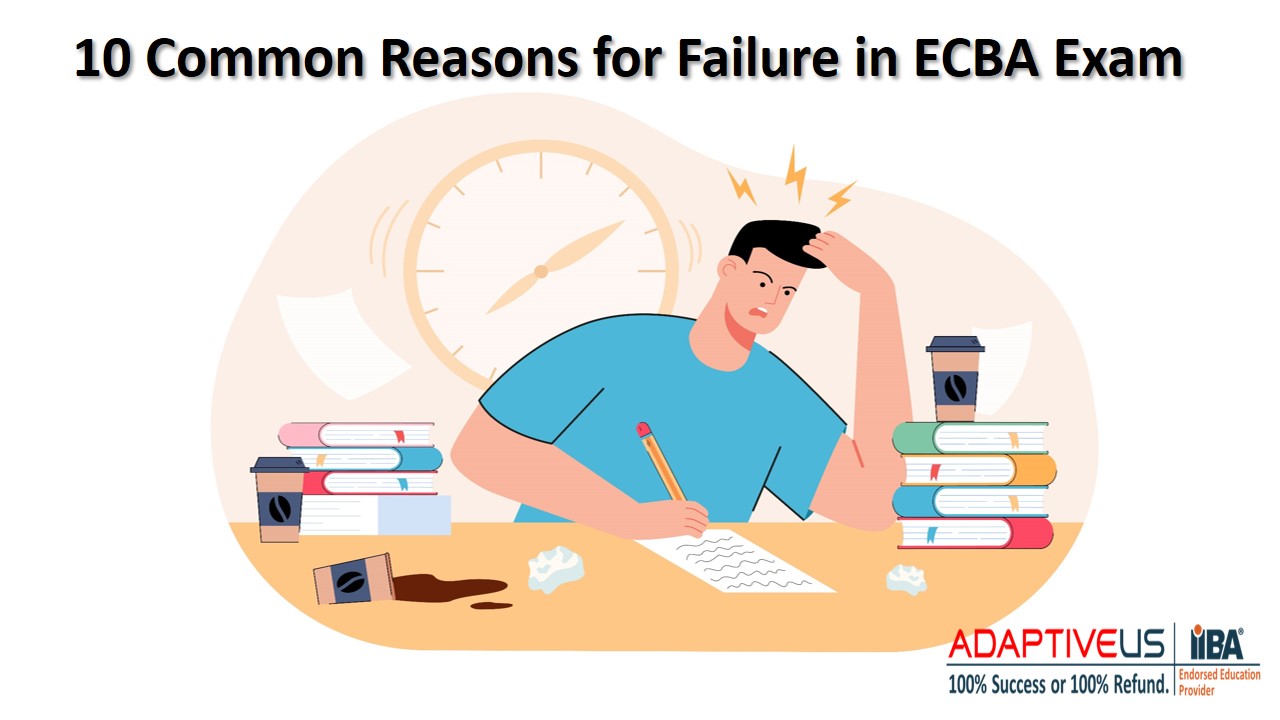 While preparing for the ECBA certification exam and getting certified can be a very fulfilling experience, some professionals fail the actual exam even after investing time, effort, and commitment in the preparation.
This blog analyses the top reasons people fail their ECBA exams and provides recommended strategies to avoid these failure traps.
Memorizing BABoK without conceptual clarity and not understanding the flow of tasks

Lack of proper understanding of BABoK terminologies

Not understanding the purpose of each task and the roles of various stakeholders.

Not knowing the strengths and limitations of techniques and which technique to apply when

Giving equal priority/weightage to each Knowledge Area without looking at the exam blueprint

Not knowing smart ways of dealing with questions

Not having adequate infrastructure for the exam

Poor time management

Getting stuck and spending more time on a question

Not preparing with the right resources
Read in detail about the causes of ECBA exam failure and what you should and should not do during the preparation and the exam.
8. How to Conquer ECBA Exam Anxiety in 2023?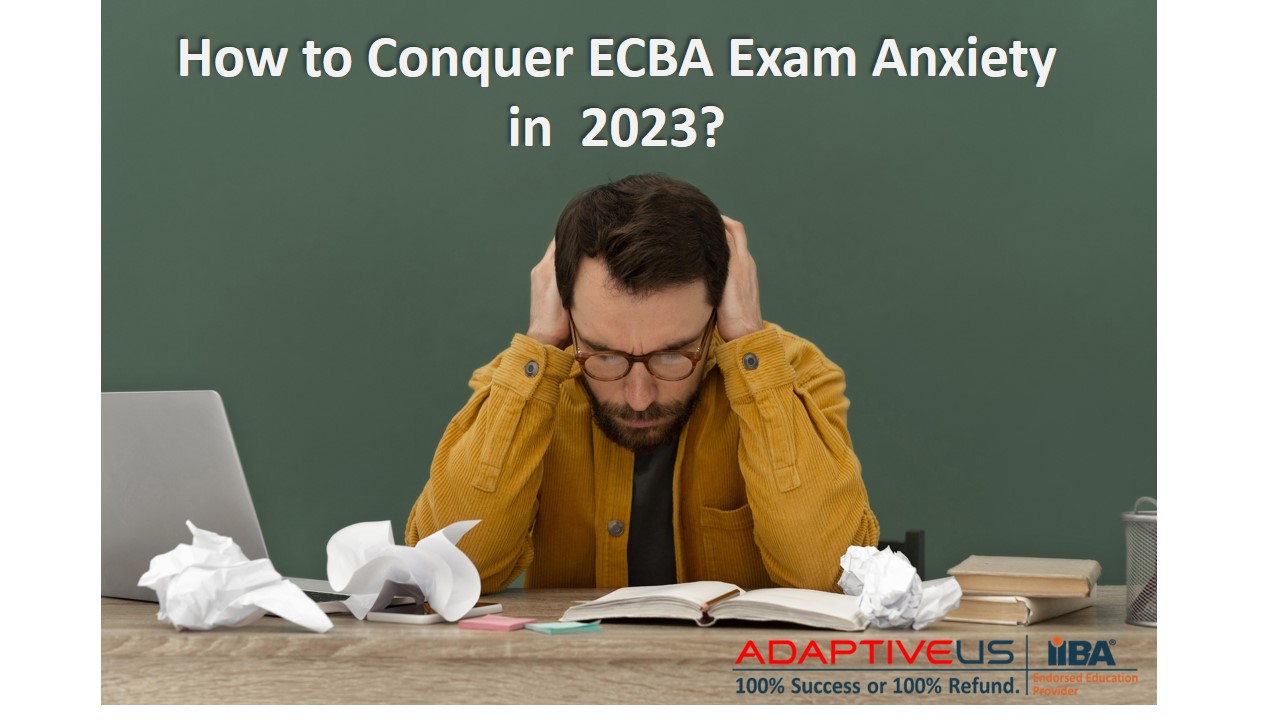 The ECBA certification exam, like any other exam, can be stressful. Writing a new exam can be difficult, especially for working professionals who haven't taken an exam in years, if not decades. Many people have had terrible experiences with the IIBA tests. Many people who take the IIBA exams fail on their first try. Exam preparation requires a lot of time and money, which puts you under a lot of strain. "Is it possible to give any advice for the final week of preparation?" participants commonly inquire. Exam days are rapidly approaching, so it is critical to make the most of the final week in order to pass the exam without succumbing to stress and worry.
Seven days prior:
Make sure that you have all the hardware requirements for the exam sorted out.

As the online proctored exam relies on your Internet, computer set up, firewalls and VPN, and camera quality, ensure that all these are functional and of good quality.

Please do the compatibility check on the scheduling website at psiexams.com. The compatibility check will ensure that there are no kinks during your exam time.
Check this blog for a preparation routine and tips that can help in assailing the anxiety level before the ECBA certification exam.
9. Ten Key Advantages of Hiring the Best ECBA Training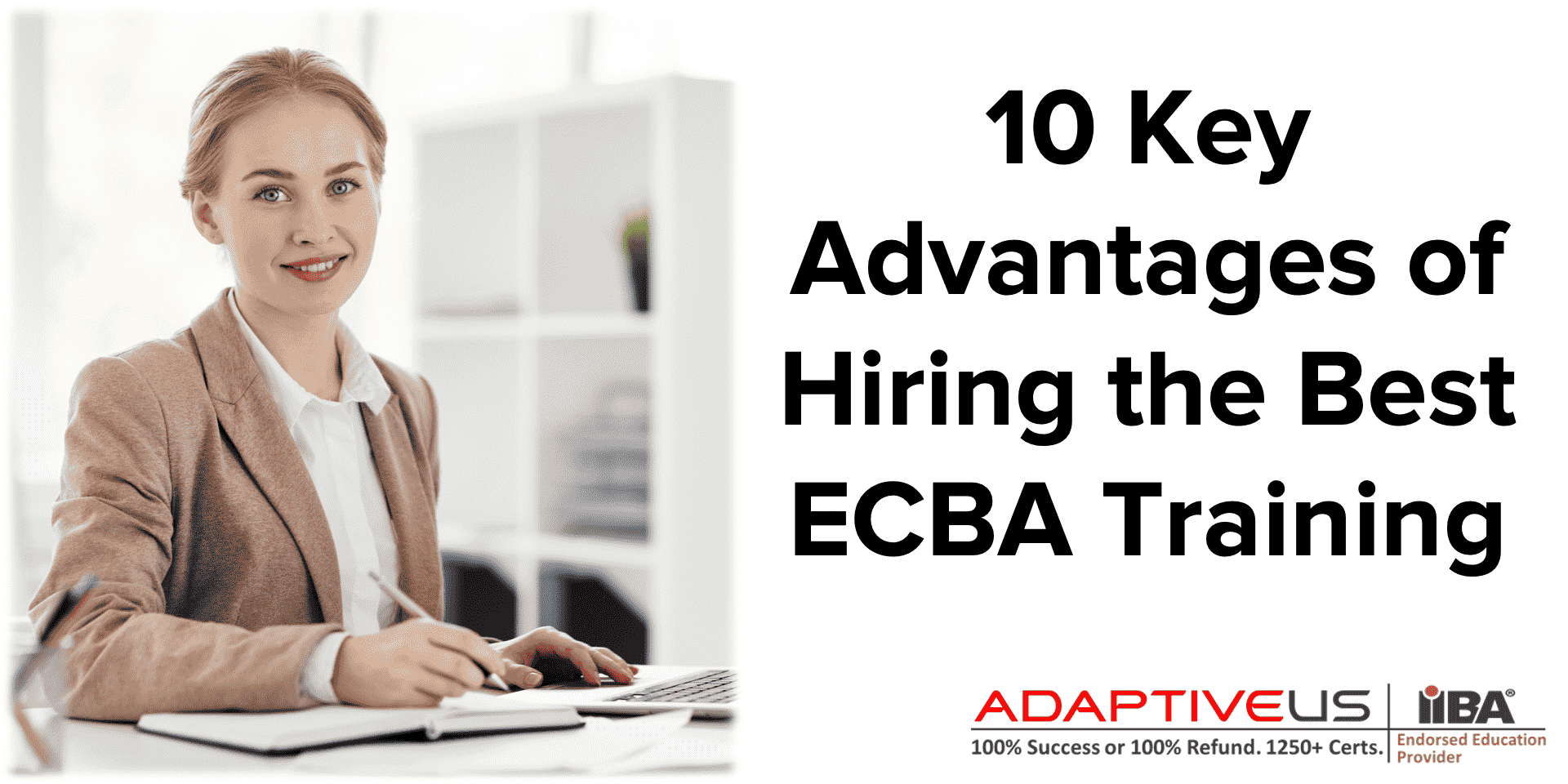 Do you want to start a career in business analysis? If this is the case, becoming certified as an Entry Certificate in Business Analysis Professional (ECBA) is a great option. However, preparing for this exam on your own can be time-consuming and overwhelming. Hiring the best ECBA training, on the other hand, can provide various benefits that will help you pass the ECBA certification exam with flying colours!
Advantage # 01 - Accessibility to excellent trainers: Having access to excellent educators is a significant benefit while pursuing ECBA certification training, as it improves your grasp of BABOK topics while giving personalized coaching along the process.
Advantage # 02 - Clarity on BABOK concepts: Clarity on BABOK concepts is crucial for anyone looking to pursue a career as a business analyst or obtain their ECBA certification.
Advantage # 03 - Access to user-friendly ECBA study guide: if you're serious about achieving success in your career as a certified business analyst professional, then investing time into understanding all aspects provided by a well-structured user-friendly ECBA study guide can go a long way towards helping you achieve your goals successfully.
Advantage # 04 - Access to ECBA chapter-based questions: Access to chapter-based questions as part of your ECBA training provides an invaluable resource for honing your skills and mastering key concepts.
Advantage # 05 - Access to ECBA video learning content: Having access to video learning content found in reputable ECBA training programs will help in improving your comprehension of BABOK concepts.
Advantage # 06 - Access to ECBA simulation questions: Access to ECBA simulation questions is a crucial advantage as candidates can build knowledge and confidence through realistic practice scenarios.
Advantage # 06 - Support in application filing: With the help of experienced trainers and professionals, you can ensure your application is complete and meets all the necessary criteria. This minimizes errors or omissions which could lead to rejection by IIBA®.
Advantage # 07 - Access to office hours: Having access to office hours is an excellent resource that ensures learners receive comprehensive support throughout their learning journey.
Advantage # 08 - Access to ECBA audiobooks: Having access to ECBA audiobooks can enhance your learning experience by allowing for flexibility and convenience while providing another avenue for retaining information.
Advantage # 09 - Access to ECBA exam support: By working closely with your ECBA exam support team, you can gain valuable insights into how to approach different types of questions, learn tips and tricks for managing your time effectively and strategies for tackling difficult questions.
Advantage # 10 - Access to ECBA flashcards: Flashcards come with detailed explanations and examples that provide additional insights into each concept.
Read more in detail about how these ten key benefits of investing in top-notch ECBA training can help you achieve your career goals
10. Steps to Transition from Your Current Job to an Amazing BA Career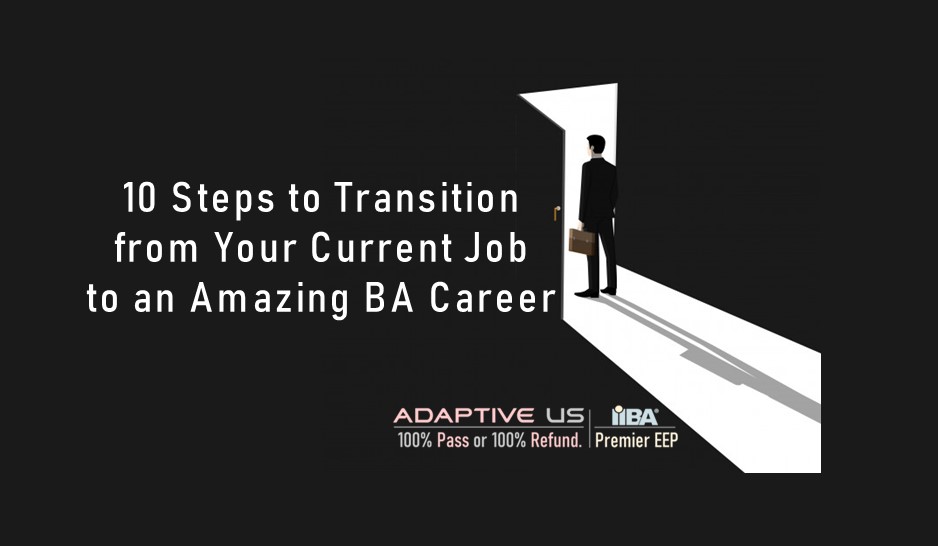 Over the years, professionals wanting to pursue a career in business analysis have been seeking my advice. Few of the questions posed to me-
"How do I launch my career as a business analyst?"
"How do I switch over to BA role? "
"Is it possible to move to a business analyst position for someone working as a sales engineer?"
"Is it possible to become a business analyst without having BA experience?"
"How can I take up a career as a business analyst? I am currently working in freight forwarding and operations."
"I'm working as a software developer since last 3 years and planning to change my career to be a business analyst. Where should I start from?"
"Can I become a business analyst after BBA?"
Check this blog for answers to all the above questions and details about transitioning into a business analyst career
Learn more about business analysis by joining our training programs on ECBA Certification (Entry Certificate in Business Analysis Certification) (ECBA Training), Certification of Capability in Business Analysis (CCBA Training), CBAP Training (Certified Business Analysis Professional), CBDA Training (Certification in Business Data Analytics), CPOA Training (Certificate in Product Ownership Analysis Certification and AAC Training (Agile Analysis Certification).
No Comments Yet
Let us know what you think