How to analyze the CBAP exam result? - Adaptive US
by Sonal Singh on Apr 30, 2019 12:00:00 AM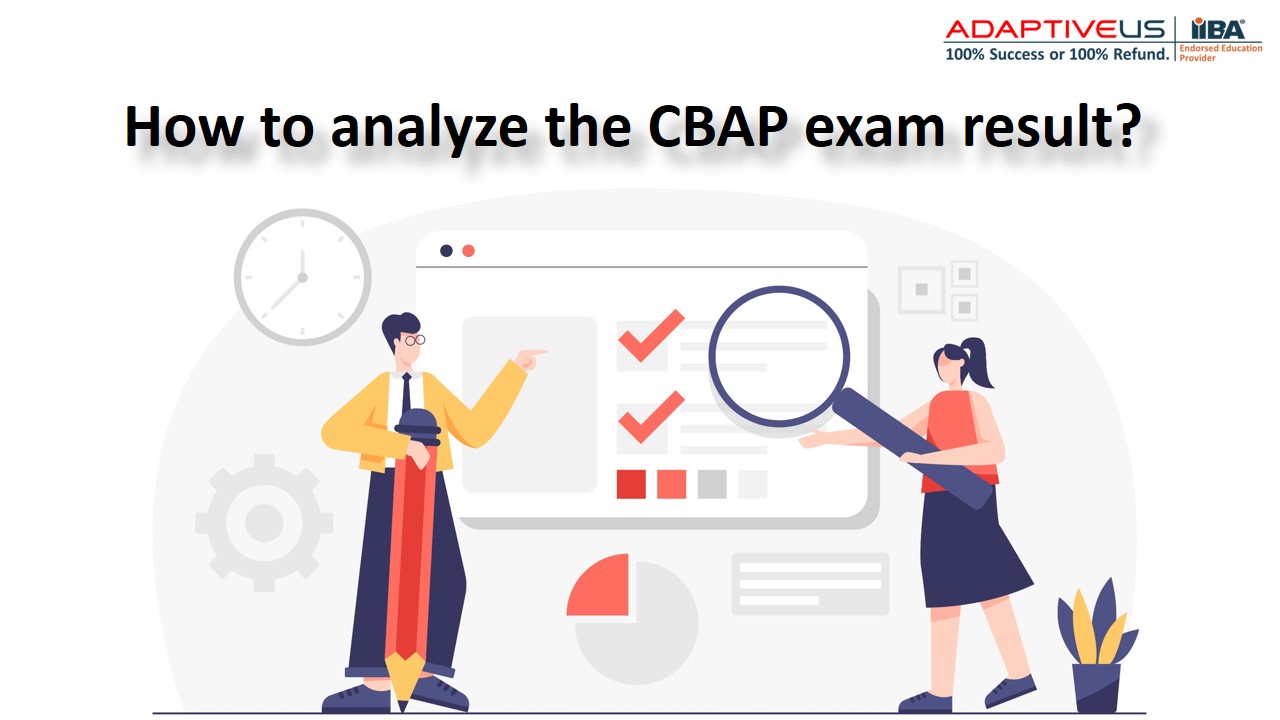 CBAP is a dream business analysis certification for business analysts. CBAP V3 version success rate has been significantly lower than the success rate in CBAP V2. We receive feedback from many CBAP exam takers as to how to interpret the result for the CBAP certification examination.
According to IIBA, 'CBAP recognizes your expertise in multiple business domains and your ability to tackle more complex projects, work with stakeholders to define and manage their business requirements, drive business processes, lead the BA effort, and identify opportunities to achieve better business results.'
CBAP has three scales for measuring the competency of the knowledge areas, Higher than average, Comparable and Lower than average.
One gets an assessment rating on each of the 6 knowledge areas.
| | | |
| --- | --- | --- |
| # | Knowledge Areas | Assessment Result |
| 1 | Business analysis planning and monitoring | Lower / Comparable / Higher |
| 2 | Elicitation and collaboration | Lower / Comparable / Higher |
| 3 | Requirements life cycle management | Lower / Comparable / Higher |
| 4 | Strategy analysis | Lower / Comparable / Higher |
| 5 | Requirements analysis and design definition | Lower / Comparable / Higher |
| 6 | Solution evaluation | Lower / Comparable / Higher |
To successfully qualify, one must not obtain Lower than average assessment in any of the knowledge areas. Even if one gets Comparable in all the knowledge areas, one may still fail in the exam. IIBA assesses at each individual knowledge area level and overall level. For successfully clearing the exam you need to get higher than average in most of the Knowledge Areas.
IIBA does not provide any specific score to ensure one has scored "Higher than Average" score. In Adaptive practice tests, we consider 85% as Higher Than Average score.
Gathering information from past participants it can be safely assumed that in order to clear the CBAP certification exam the score should be over 70% in all knowledge areas so as to not fall into the Lower than Average category.
Preparing for the CBAP certification exam can be a daunting task. CBAP exam has 120 questions and you get 3.5 hrs. to complete them. The questions are multiple choice with only one correct answer. There are mainly case-based and scenario-based questions. The case-based questions are long and there are multiple questions about a single case. CBAP is a competency-based exam and is aligned with the BABoK Guide Version 3.
Through dedication, hard work, proper planning, and help from your mentor passing the CBAP exam in your first attempt is a distinct possibility.
Suggested Reading-
The horribly wrong advice for your CBAP Certification Exam
Getting CBAP Certified in the very first Attempt
No Comments Yet
Let us know what you think