CBAP Certification Exam Preparation in 10 Simple steps
by Ann P on Nov 20, 2018 12:00:00 AM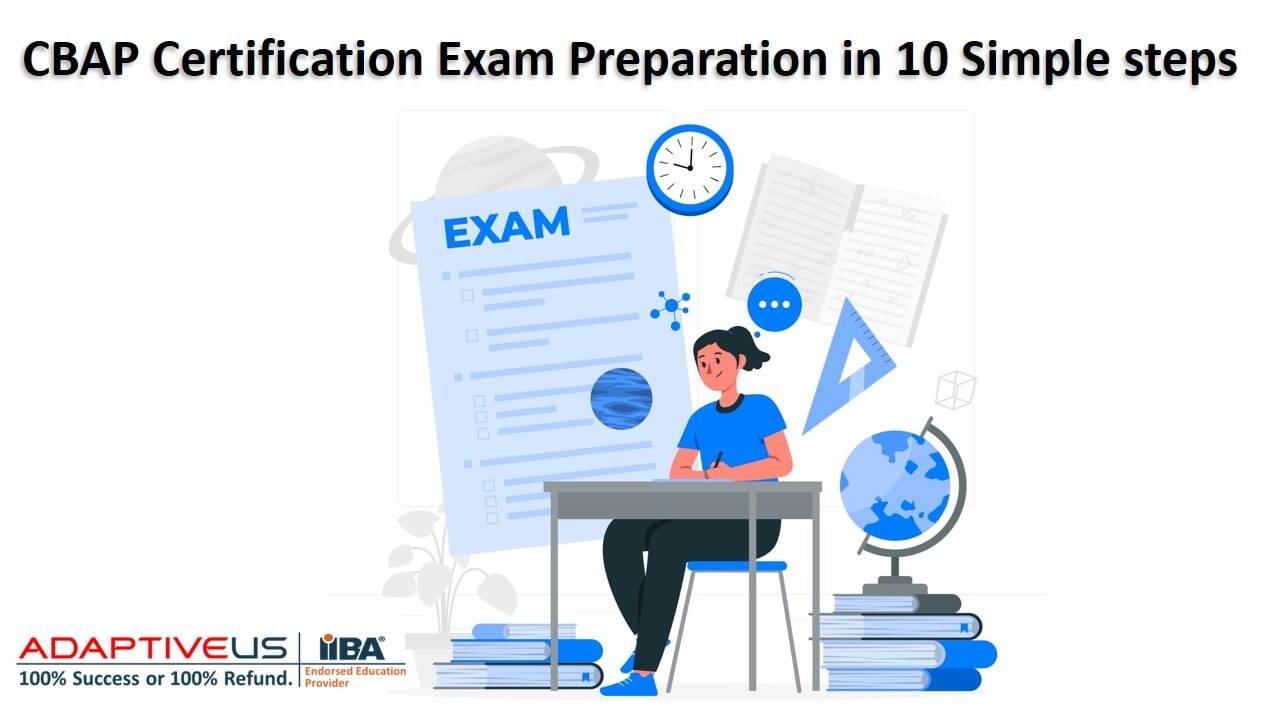 Have you been dreaming of having CBAP next to your name for some time now?
Has it started becoming a far-fetched dream for you, and you seem to have lost all the confidence to grab it.
Don't lose all hope, read Missed the Bus get ready for the next one
CIO.com ranks CBAP among the top 10 certifications to opt for to advance your BA career.
Here are 10 simple steps which will take you to your dream certification:
CBAP certification recommended approach would be
Check your eligibility with the CBAP requirements – Check the eligibility.
Attend a prep course with an EEP - Adaptiveus.com/CBAP and obtain the mandatory 35 Professional Development Hours
Meet our expert trainers who have been part of the IIBA authoring and questions team - Peter Johnson, LN, Lora
Start reading the Adaptive CBAP study guide to get a firsthand hold on the concepts and then move to BABoK v3 – Adaptive CBAP Study Guide
Complete the CBAP application filing - The Adaptive CBAP application template helps you fill up the CBAP application within a few hours with 100% assured results of approval. The template is 100% failure-proof for IIBA CBAP application filing
Test your understanding with the CBAP model questions
Revise your concepts, work on the weak areas
Book your exam with IIBA - Choose one from this list of CBAP centers based on your region
Do some more revision of the BABoK and CBAP exam simulator
Once you are scoring about 80- 85% in the model questions, you are ready to go for it
Take the exam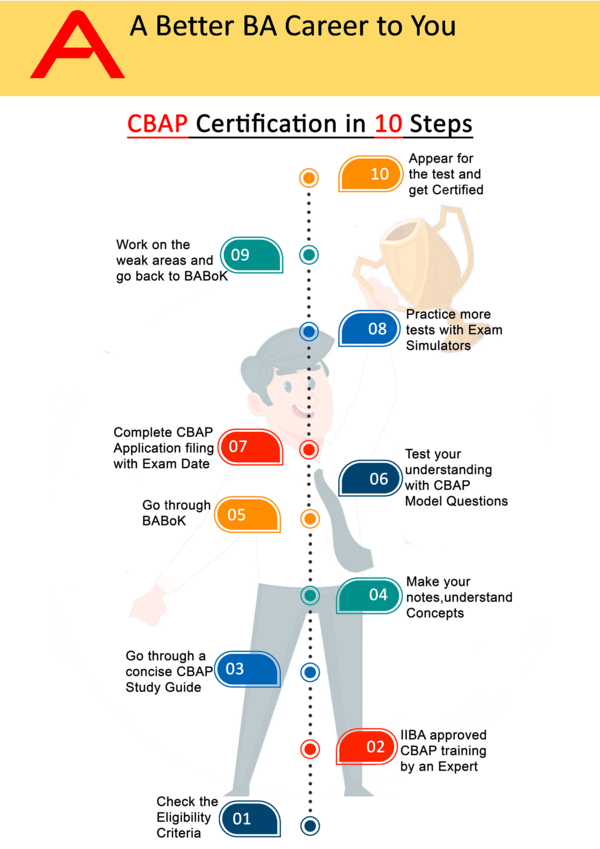 The reassuring feedback of our latest CBAP certified professional reconfirms this
"I just relied on Mastering CBAP guide prepared by LN Mishra, the trainer and their outstanding question bank. LN explains the concepts well in a layman language and clears all our doubts patiently. But as they say - Quality comes only with Cost. Adaptive course comes with a success guarantee assurance which I feel is worth taking. It also covers the IIBA membership fees worth ~$150. Go to Adaptive only if you are serious and want to save time. All the best for your preparation! - Pavan Mondreti - CBAP, Sep 2017
Thank you LN and team for the support ! I cleared my CBAP today. Adaptive question bank and study guide is really really useful! Some tips: Being clear in all the tasks and it's elements/concepts. Time management, 40 questions per hour really helped. Last 30 mins for review and personally I corrected at least 10 of them - Uma, CBAP, Sep 2017
"I am happy to let you know that I have passed my CBAP certification. Thank you Ananya, for making to believe that I can pass this certification and a big Thank you to LN he is the best instructor. " - Pranitha Seeram, CBAP, Aug 2017
"With Adaptive I passed my CBAP on the first attempt and in just under 3 months. LN is an amazing tutor with vast amounts of knowledge" - Juan Lemoine CBAP, Jun 2017
"Wanted to share the news of me attaining CBAP certification on the 20th September, and take this opportunity to thank everyone involved in my journey, and with a special thanks to Ananya , LN at Adaptive Processes for their coaching, expert guidance and mentoring from the start of process until the last minute. Your coaching and discussion with you were instrumental in my success." -Thomas Simonsen, CBAP
"While preparing for CBAP, I realized it's a tough nut to crack and the questions were tricky. A friend suggested adaptive simulation tests for practice. I joined the adaptive workshop and cleared my exam within one month after my last session. The sessions from LN, Peter, Lora were helpful in understanding the BABOK terminology better. Though I have good BA experience, it's important to practice the simulation tests and understand how to manage time during the exam. The simulation tests and presentations from adaptive were close to real exam so we can decode the questions well. Adaptive also has lots of other blogs, study material that's helpful in this profession. I would recommend the adaptive workshops for anyone who is looking for CBAP preparation. Thanks to Adaptive and LN for taking up my questions in email even after the sessions and guiding me through my prep" - Bhavana Kandikonda, CBAP
Free Sample of CBAP Study Materials
Sign up for a free trial to access the sample of CBAP learning resources.
The sample material that you get with the trial pack includes-
Sample Study Guide
Sample Question Bank
Sample e-learning
Sample Class Video
BABoK Terms Video
This will give you a good overview of the learning portal contents (Study guides, Learning videos, question bank)
The Adaptive learning platform is loaded with
A concise study guide with certification essentials of BABoK.

It has only 20% word count as compared to BABoK V3 which saves a significant amount of preparation time.

2300+ questions for taking the participant through a gradual process of learning.
CBAP Flash Cards
CBAP Audio Book
100+ Learning videos
BABoK Mindmap
BABoK Study Tables
CBAP Application Simulator
CBAP certification prep tips and tricks from the recent exam takers
This process enhances learning and clarity of concepts, which ultimately helps the professional to be a better business analyst end of the day.
See a short video from one of our classes here on Elicitation and Collaboration by Peter Johnson - Member of the BABoK V2 and V3 authoring team, questions review and questions prep committee for v2 and v3
The learning should be based on concepts/skills and should ultimately help anyone in their day to day job rather than only getting a certificate.
Learn with Adaptive to be a better business analyst while getting CBAP certified.
We have been maintaining ~100% success rate on CBAP with our success guaranteed training programs and with 490+ CBAP certified professionals to date.
Suggested Reading :
Everything You Wanted To Know About Business Analyst Profession
No Comments Yet
Let us know what you think