The scope of the role of business analyst is ever expanding and at its all time high. And quite expectedly it is quickly becoming one of the sought-after jobs with an all-time high growth rate of 14% from 2014-2024.
If you are one of the those who admire this profession and want to pursue your career as a business analyst but unfortunately have no experience to back for your dream job, then you are at the right place.
So the question is how do you break this cycle?
How do you become a business analyst with no experience?
Do you want to become a business analyst but don't know where to start, what are the expected skills and prerequisites for this role.
This is one of the most common questions that ae being asked by beginners or people who want to move/transition from a different career to a business analyst role.
Business Analysis has been an upcoming promising field and has gained high popularity owing to its techno-functional nature, where functional/domain knowledge plays a significant of role.
A high-level knowledge of technology is a great booster to the skills.
Often professionals find it difficult to join the BA professionals even though they may have a good industry experience and knowledge, but the good news is business experience, no matter how inconsequential it may seem, counts. This is because Business Analysis is not restricted to a particular field but in most cases, cuts across diverse fields.

If you are a self-motivated professional with strong analytical skill, have good written and verbal communication skills with the ability to work well with people, a business analyst position is a great fit for you.
In this article we will discuss: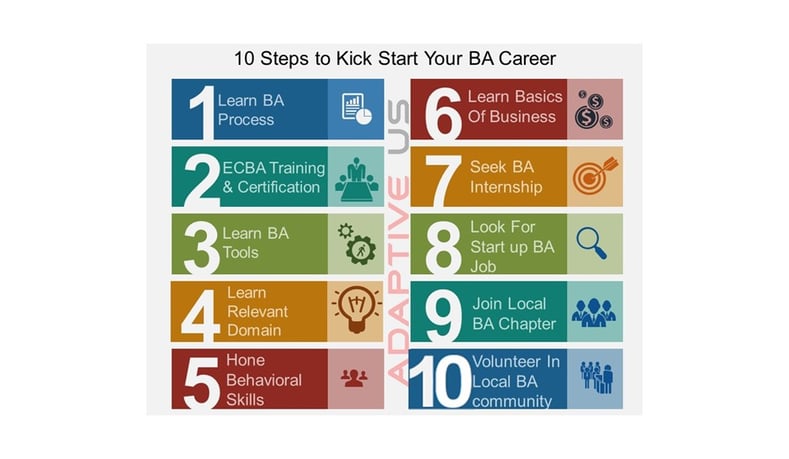 LEARN THE BASICS OF BUSINESS -
Business Analyst is a role which is closely aligned to to the organization's strategy, its products/service offerings, its revenue stream, and strengths. A 'Business Analyst' helps the company to stay ahead from competition by coming up with better products/services, helps in financial growth and become more efficient by removing inefficiencies, making process/tool changes.
Business analysts, understand the problems, strengths and goals of the organization, they analyze needs and devise possible solutions, formulate change strategies, get the change strategy executed, work closely with stakeholders and remove inefficiencies from various departments of the organization.
Hence the first step is to understand how businesses operate, how the various departments work closely and interdependently with each other serving the internal and external customer.
APQC.org provides a good high level overview of the business and a generic process classification framework.
It's important for a business analyst to have a good foundational knowledge of the various functions and its objectives, stakeholders and customers while coming up with process changes or new applications/tools towards org improvement initiatives. Without an overall knowledge of the departments and its goals, the solutions and tools may sometimes benefit some part of the organization while putting the others into an inefficiency or loss of effort and time consuming process.
LEARN THE BUSINESS ANALYSIS PROCESS -
When a process based approach is followed for a task the output is consistent and more predictable and the same goes for business analysis process as well.
A good reference point to know the business analysis process is the BABoK core standard, which is available for free to download and refer.
Business analysis process invariably spans across functions and hence its important for one to know how is the end to end process to have an overall effective solution being formulated.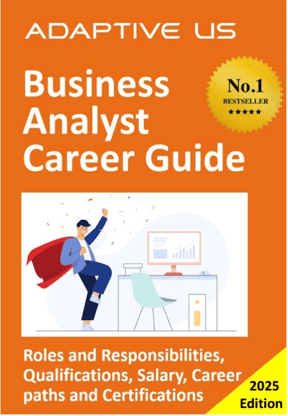 DEVELOP DOMAIN KNOWLEDGE -
You can either pick up the domain of your interest or the domain you have been working on to gather more knowledge and familiarity.
It is important to know the terms, the ground rules and domain related regulations to become an effective BA who not only knows the regulations while designing the solution along with being a trusted advisor to the stakeholders.
There are multiple ways one can gather more knowledge on the domain like referring to the product documentation and available resources for your own project and then going back to any good resource (book, published paper, article, expert's content like podcast ) related to the domain.
BUILD BEHAVIORAL SKILLS -
To be a progressive business analyst, one must develop ability to work well with people and that involves communication skills, facilitation skills to name a few.
Communication is a critical skill for business analysts to lead meetings with stakeholders, ability to influence the team for the proposed solution since they need to communicate with various stakeholders on the needs analysis, elicitation and validations related to the requirements. To be an effective business analyst one should possess the skill of writing unambiguous, clear and concise requirements, hence its important to have great verbal as well as written communication skill along with skills such as facilitation skills, negotiation skills, stakeholder interaction, active listening skills, conflict resolution, creative thinking to become a proficient BA.
Behavioral skills are very essential for a BA and the best way to hone these skills is to practice it extensively.
Read more on Behavioral Skills for a Business Analyst
GET HANDS ON WITH MODELING, DIAGRAMMING AND OTHER SOFTWARE TOOLS
It's rightly said that a man/woman is as efficient as his/her tools. To be a proficient BA it's vital to get expertise on the common BA tools that are needed in the day to day work of a BA like
BPM Tools - Microsoft Visio/ BizAgi BPM – for creating diagrams, use cases, workflows, etc
Atlassian JIRA – for creating user stories in agile projects and also for managing product backlogs

Diagramming/Modeling/Prototyping Tools -

Star UML, Balsamiq
Learn more about BA books, templates and tools to practice- https://www.adaptiveus.com/adaptive-inner-circle/

LEARN BASICS OF DATA ANALYSIS USING EXCEL
Business analysts often have to come up with solutions/alternatives to problems or improvements and for any decision to be zeroed down its important to note the basis of the decision.
Hence its crucial for a business analyst to evaluate alternatives using the right data and analyzing data. Data analysis would be needed for needs evaluation as well as impact analysis, planned spread of the funds in the project to name a few.
Microsoft Excel presents a fair amount of charts and analysis functionality like pivot, charts to present your data and make meaning /decision out of them. More and more practice on those will make one proficient soon on data analysis using MS Excel.
GET FAMILIAR WITH OFFICE TOOLS LIKE WORD, EXCEL, POWER POINT
The Microsoft Office tools are going to be your lifelong companion, so the earlier you develop familiarity and expertise in them, the better it is for your career.
MS Word - One of the most popular documentation products.
MS Excel - Great to have most data analysis and visualization done.
MS PowerPoint - The go to product for all your presentation decks.
GET FAMILIAR WITH INDUSTRY TERMS AND GLOSSARY/VOCABULARY
Getting to know the industry terms, domain related acronyms are great way to get your feet firm on the ground on your project and start contributing meaningfully.
This goes a long way to communicate and add value while interacting with stakeholders.
GET YOURSELF CERTIFIED - CERTIFICATION OPTIONS FOR AN ENTRY LEVEL BUSINESS ANALYST
Apart from education, skill and experience, getting an international Business Analyst certification will have significant value add for a job seeker for a BA role. An international certification not only helps one in getting an entry into an organization but also helps the person to acquire the necessary knowledge and skill to meet their professional goals at the work place.
Certification is an independent validation of your skill and knowledge on the subject.
It not only goes about proving that you value your career growth and have taken the extra step to get yourself independently assessed but also puts forward your proactive personality in acquiring skills which are relevant to your profession.

The scales are certainly in favor of those who hold business analysis certifications from IIBA since it's a global body and recognized across all geographies.

Here are 8 proven benefits of getting certified -

1. Employers are making it a preferred choice to hire certified business analysts.
2. Certifications help you get a salary raise of anything between 15 - 50%
3. Certifications help you move up the career ladder to a C- Suite or senior executive role faster
4. You have higher chances of being placed in more complex and strategic initiatives of the organization.
5. It's a verifiable and independent assessment of your skills and credibility
6. It gives you a 360 degrees perspective of the BA role/skills irrespective of your experience and role.
7. Provides a good overview and exposure to BA techniques beyond your role.
8. Results in enhanced confidence and ability to take on different kinds of projects than what you have worked on.

Certifications help in skill enhancement, and staying ahead of the curve. The increased knowledge + skills help you in being more efficient and confident.

Professional associations such as IIBA have become much more diligent about developing relationships with corporations and organizations and it certainly helps to be ahead of the shift that is taking place in the job market.

Certification can improve overall performance, remove uncertainty, and widen market opportunities. A certified business analyst has a broader perspective of the BA techniques and approaches. It also shows commitment, as preparing for these certifications and clearing the exam is not an easy task. Organizations also recognize individuals for the hard work and commitment which the candidate has put into it.
ECBA (Entry Certificate in Business Analysis) from IIBA serves this need fairly well and provides a good foundation for beginners to start their BA career journey.
Highlights of ECBA certification -
ECBA caters to those professionals who would be making an entry or begin their career in BA domain, which means changing the domain from a different field to the BA field.

ECBA doesn't require any experience in BA domain to take this certification, however it requires a 21 hours of formal training to fulfil the 21 PD hours need from IIBA to qualify to write the exam.

ECBA focuses on those knowledge areas of Business Analysis domain which are going to be of use for the beginners like Requirements Analysis, Requirements Life Cycle Management, Elicitation, and Collaboration.

The following are the fee details for ECBA i.e. Entry Certification in Business Analysis certification from the International Institute of Business Analysis.

| | | |
| --- | --- | --- |
| Application Fee | Exam Fee (Member) | Exam Fee (Non-Member) |
| $45 | $150 | $305 |
Read also - Most Popular Business Analysis Certifications
NETWORK - PARTICIPATE IN PROFESSIONAL GROUPS, CONFERENCES ON BUSINESS ANALYSIS
There is a Greek saying that goes like this," Show me your friends, I will tell you who you are". We are shaped by people we surround ourselves with hence it's important to pick up the people we hang out with and ones whom we admire / want to follow their path.
Here are some definitive tips to move faster towards your goal of becoming a proficient BA
Follow industry leaders in the BA domain
Listen to podcasts/audio books of BA thought leaders
Read BA books and articles
Follow popular BA YouTube channels like Adaptive US, IIBA, Bridging the Gap
Join professional groups, discussion forums on Business analysis on LinkedIn and other online groups
Join local IIBA chapters and conferences around your locality
Become an IIBA member and join their webinars and events
This surely opens new doors for you as well expands your professional opportunities.
And it's important to believe in self and rise above self doubt to expand your horizon. People who believe in self and have shown the grit to go beyond their comfort zone have been able break barriers and reach peak of growth in their careers.
Read also - 10 Steps to Transition from Your Current Job to an Amazing BA Career
CONCLUSION
You can become a Business Analyst without experience, no need to break your head or burn your heart.
It may sound like a tough goal to move to a business analysis profession without having any experience but definitely possible with a well crafted plan, determination and sticking to the plan with self confidence.
Dreams and possibilities are limited only by our ambitions and thoughts.
With small and consistent steps towards the goal any task is achievable.
A skilled business analyst is an asset to the organization. An accomplished BA can make org initiatives successful with not only revenue growth but also keeping costs in control and staying the org ahead of competition.
So, plan ahead, learn & hone the skills needed and forge your way ahead with one of the fastest-growing and exciting professions.
All the best on your career, don't forget to share your success story to us and in the BA network.
Always remember to extend help to someone who is in need of some career guidance and help.