Why should you be a CBAP in 2023 | Free CBAP Questions
8 min read
Feb 26, 2020 12:00:00 AM

If you are an ambitious BA looking at scaling greater heights in your BA career and expanding your business analysis horizon, there is no better time than now. The exciting news is that you are in one of the fastest-growing professions with an all-time high growth rate of 14% from 2014-2024, while the average growth of any profession is 5%, as per the US Bureau of labor statistics.
A recent report prepared by LinkedIn based on insights from 660+ million professionals and 20+ million jobs titled "The Skills Companies Need Most in 2020 - And How to Learn Them" indicates that Business Analysis skill has made the most significant jump out of all the skills listed in 2020's trending hard skills. The report also states that business analysis is one of the few hard skills every professional should have, as most roles require some level of business analysis to make decisions.
Here's a data insight from SEEK on the job opportunities for BAs and how the job market is trending: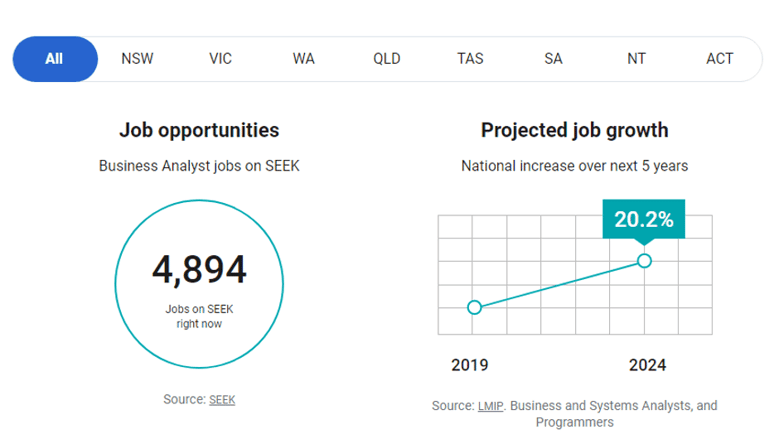 In fact, organizations have also realized the importance of having highly skilled and matured BAs to enhance their delivery capabilities and establish Business Analysis Centers of Excellence (BA CoE).
So, when the demand for BAs is on the rise, how do you set yourself apart in a highly competitive world and empower yourself with the best BA jobs in the market?
Would it be sufficient to project whatever experience you have, or would you need to do something more?
Well, the answer is…to keep yourself in demand; there's no better way than to be prepared, get skilled, certified, and project your capabilities in the professional environment.
Here are some facts to substantiate the claim:
CBAP professionals earn 59% more than non-certified BAs
Top-notch companies across the globe prefer hiring CBAP professionals
An investment of less than $2000 can result in 500% ROI within a year
CBAP professionals experience amazing career transformations
CBAP Certified BA professionals earn significantly higher
By investing in becoming a trained and certified CBAP professional, you not only expand your BA skillsets by aligning yourself to the industry best practices described in BABoK, but you also significantly increase your earning potential. According to the 2020 IIBA Salary Survey Report, CBAP professionals earn 59% more than their non-certified counterparts.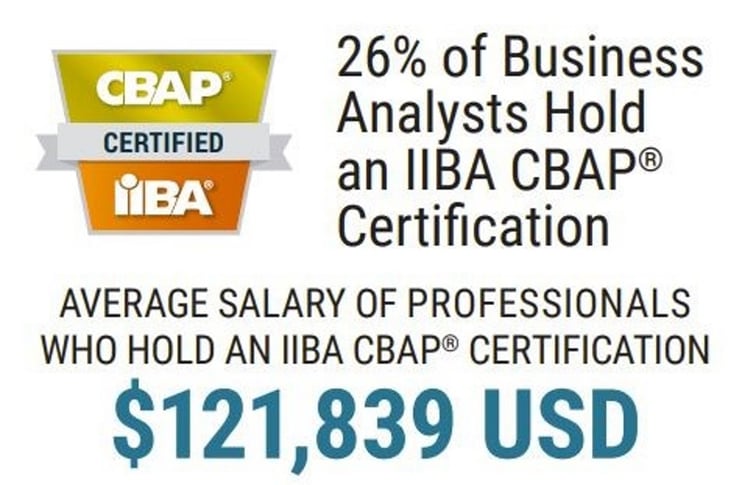 Here's the pay that top-notch companies pay CBAP professionals as per PayScale:
Top companies and Salaries paid for CBAP professionals in the US: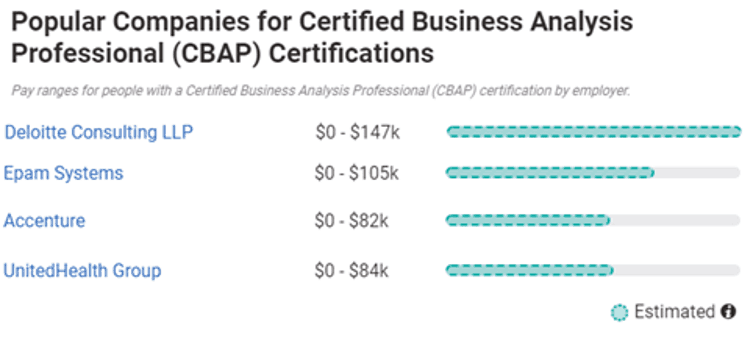 Top companies and Salaries paid for CBAP professionals in Australia: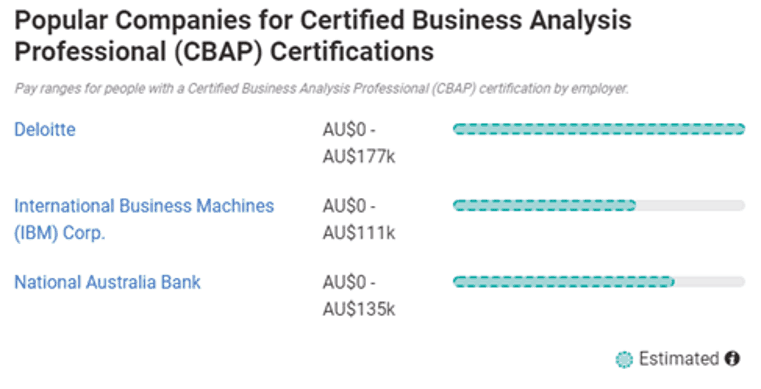 Top companies and Salaries paid for CBAP professionals in Canada:

2. Top-notch companies prefer employing CBAP-certified BA Professionals
Top-notch companies across the globe prefer hiring professionals who have industry-recognized BA certifications such as CBAP as it
Establishes credibility of the professional
It is an independent validation of the competencies and skills of the BA by the most reputed global body for the BA domain, IIBA.
Showcases the hard work and commitment the individual has put into preparing and clearing a tough exam like CBAP.
Saves time, resources, and effort to train and upskill the BA professional.
Studies conducted on BA job openings in reputed firms across the US, Canada, Middle East, and Australia clearly indicate that CBAP professionals are preferred over their non-certified counterparts.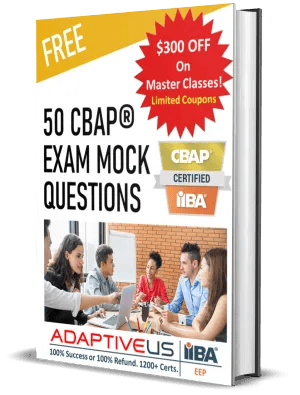 3. Experience a 500% ROI in 1 year
As committed and passionate business analysts who wish to upskill and stay relevant, we often evaluate the return on any investment we make regarding our career.
At this point, it's totally worth mentioning the ROI – both tangible and intangible that one obtains upon becoming a CBAP-certified professional.
BA practitioners worldwide have reported that certification not only brings the often sought-after salary increases but also provides greater opportunities for promotions, increased efficiency, and effectiveness at work. In addition, certified professionals also experience increased confidence and fulfillment owing to enhanced BA skills.
Let's do some quick math here: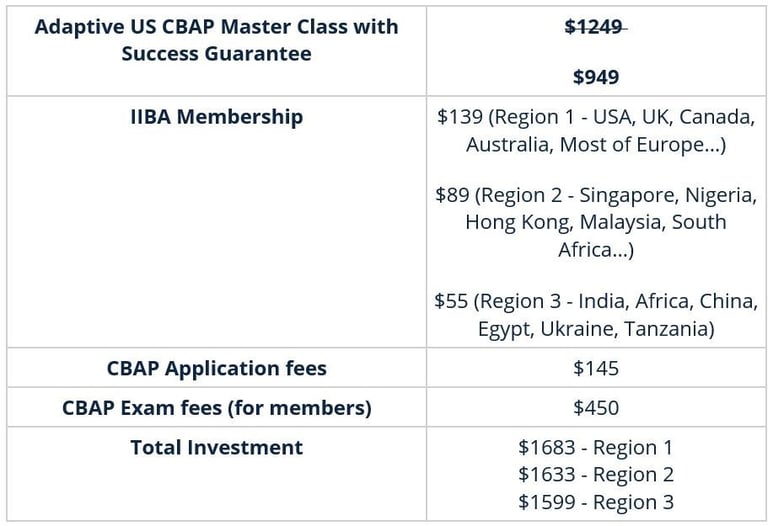 With less than $2000 (USD) for CBAP training, IIBA membership, certification application, exam fees, and a fraction of that to maintain it, here's the benefit that one can accrue with a CBAP certification. The benefits are typically realized in 6 months based on insights from our past students.
A quick ROI calculation based on figures shared in the IIBA Salary Survey Report 2020:
Here are the salary statistics published by IIBA.
Business analyst's salary as per 2021 IIBA salary survey -
Current Salary = $108,586 (average uncertified BA salary in the U.S.)
New Salary = $121,839 (average CBAP certified BA salary in the U.S.)
Salary increase after CBAP = $13,253 in 1 year
Note that $13.2K is an average number – One can get up to $20,000 too.
ROI Calculation in 3 years = (Total Benefits – Cost of Investment)/ Cost of Investment x 100%
Considering Region 1 investment of $1,683
ROI Values = ($13,253 - $1,683) x 100%/ $1,683
Return on Investment (ROI) = 687%
Also, let's do a computation on the opportunity loss with the lack of certification.
One may not be considered for a role promotion due to a lack of credentials.
Most of our students have got a promotion post CBAP certification within 1 year.
A promotion can easily bring in the benefit of a minimum additional amount of $15K year.
The total benefit of CBAP certification = $13K (Salary Raise) + $15K (Promotion) = $28K Per year
Considering a 20-year time frame, you are losing out on $560K additional benefit by not being a certified BA as opposed to one who is certified.
In addition, would you want to overlook the intangible benefits of getting trained and certified like
Bagging all the best jobs/opportunities in the market like strategic/transformation initiatives, digital initiatives, heading the BA practice/CoE, and many more.
Making one a more trusted leader by the management and customer
Enhanced BA skills and hence improved confidence
Higher productivity
Ability to influence stakeholders better with enhanced knowledge of BA techniques and skills.
Competency to lead successful change efforts
Improved ability to guide and mentor team members and others in the community
Enhanced ability to resolve conflicts and crises better
Totally worthwhile, isn't it?
Would you want to say no to such stupendous benefits in your BA career?
4. Amazing career transformations of those who have done it
90% of our students have experienced the above benefits with CBAP, and here are some amazing cases of career transformation that they shared with us.
Watch Rouble Kapur's testimonial about how Adaptive's "superb training and exhaustive resources" helped her pass her CBAP exam on her 1st attempt: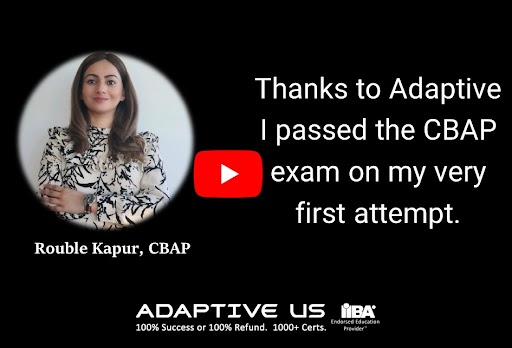 How Etoma advanced his career within 2 months of CBAP completion and how he got promoted to a BA Team Lead:
With 8 Years of BA experience, the demand to mentor and lead other BAs significantly increased, and I felt a greater desire to hone my BA skillsets. Craving more knowledge and a global certification, I enrolled for the CBAP training with Adaptive US. With the help of Adaptive's excellent guidance and resources, I passed my CBAP exam on the first attempt. With the learning & recognition that came with the CBAP certification, I got the senior management's attention and was promoted to a BA Manager role. Getting certified was worth all the time and effort as it took my BA career to the next level.
How Ajay climbed the ladders of success and grabbed a lucrative opportunity with a Fortune 500 company:
I was always passionate about the BA role. With the dream of excelling in my career, I decided to acquire the coveted CBAP certification and enrolled in Adaptive's CBAP training. This proved to be the turning point of my career. Getting CBAP certified proved to be the accelerator in my career. The CBAP training improved my overall confidence, enhanced my BA skills, and improved my proficiency at work. The CBAP training helped me to hone my BA skills and leverage them in my BA role. I caught the attention of the management and was given better opportunities. I worked on key projects with some of the top global companies. I was even awarded for my work. Aiming higher, I applied to a Fortune 500 company and was able to get my dream role of Sr. Manager- Digital Transformation & Market Research.
How Niranjan commanded the price he deserved within 3 months of completing the CBAP training and certification:
I have always been passionate about my career as a BA and wanted to enhance it further and climb the ladders of success. I decided to take up the CBAP certification to aid me in successfully leading my team and making a mark of an effective BA. One of the best decisions I ever made was to join Adaptive's CBAP training. The training sessions not only helped me to achieve my CBAP certification but have also helped me to become a better and more effective BA at the workplace. Upon becoming CBAP certified, I was able to showcase value and dedication to my work with the utmost confidence. I was promoted in the very same year, and this came with a significant pay raise. This was a dream come true moment for me.
In short, as the Business Analysis profession continues an upward trend, you should find ways to keep your skills sharp and stay ahead of the game, and this calls for critical thinking of the best path to pursue, an ROI analysis, and the value that you can attain through the process.
The value that CBAP certification brings to your career is much more than just a tag to your name. It is a hallmark of your credibility, commitment, and passion, as earning it calls for time and dedication. It also helps you land the jobs that you desire, increases your future paychecks, and earns the respect of your peers and employers. 
So what's stopping you? Are you turning a blind eye to your career?
Become part of a bigger community, stay abreast of the changing trends and move on to become an industry leader with CBAP.
Start your success journey today.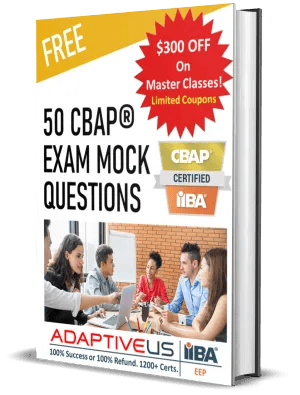 No Comments Yet
Let us know what you think