CBAP Certification Advanced My Career Within 2 Months
by Etoma Egot, CBAP on Jan 30, 2020 12:00:00 AM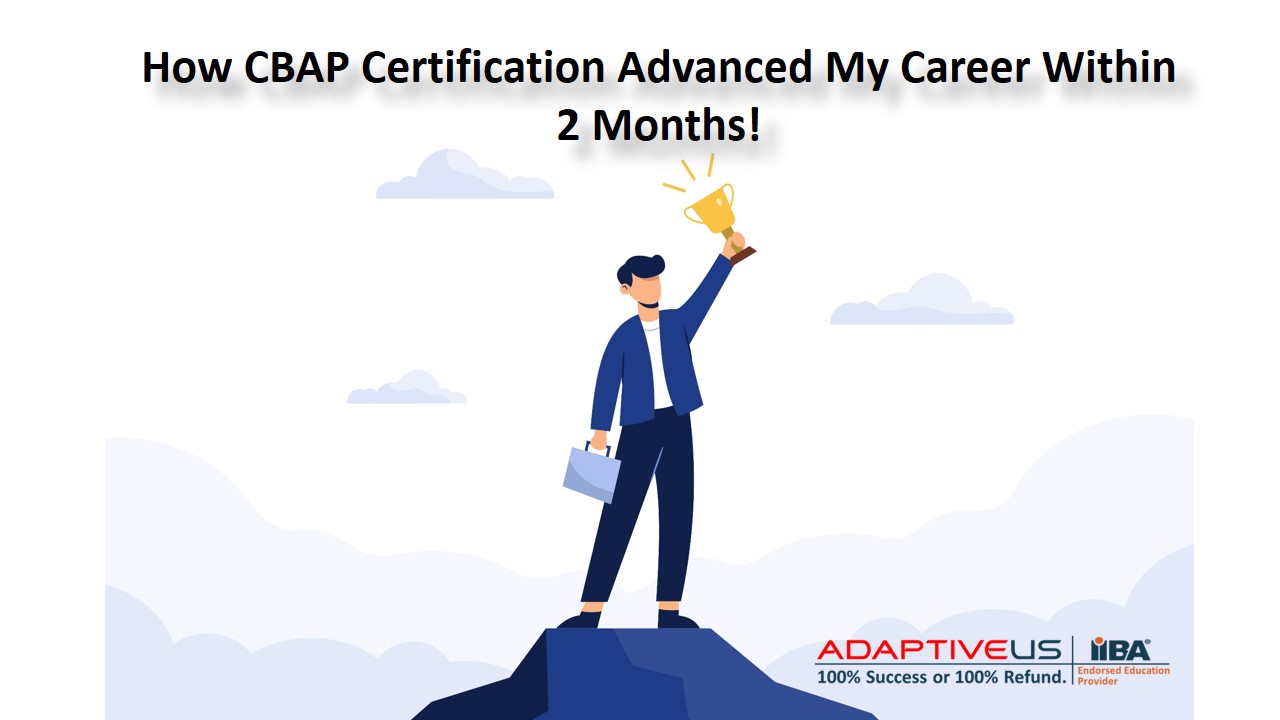 I was promoted to a BA Manager role soon after becoming CBAP certified
Hi, I am Etoma Egot, working as a Business Analyst Team Lead for Wirecard.
With 8 Years of experience as a Business analyst, my role as a Business Analyst evolved beyond gathering requirements and finding practical solutions to business needs to that phase where I wanted to harness the depths of BA knowledge and equally align my understanding of business analysis with what is globally accepted and practiced.
As I craved more knowledge, I gained more understanding, and that became increasingly evident in my work and project successes.
Upon becoming a Senior BA, the role became more exciting and challenging, and I was constantly required to mentor other BAs. To match the constant demands of leadership and expertise, I then felt a greater desire to hone the BA skillsets in my arsenal to be able to guide and mentor my colleagues.
Having read about the value and recognition that a BA certification could bring to one's career, I decided to give CBAP a shot considering my work experience.
I found Adaptive US when I was searching for an IIBA-recognized institute for CBAP education and learning via google search. The most impressive aspect of my journey with Adaptive started with online human assistance. At some point, I wasn't sure if I was dealing with a robot or a human help, but then I was wowed by how quickly my questions were answered with nice details and the fact that I was successfully convinced to start the program immediately rather than postpone to another month. They also kept their promises (financial and training).
They provide you with an all-in-one package (BA templates, audio materials, simulation exams, etc.), which means you get the best value for your investment.
It was an exciting journey for me, and I will strongly recommend Adaptive's program to any professional seeking trusted and knowledge-based services. Finally, with good guidance coupled with focused post-training studies and personal discipline, I passed my CBAP. Following the success of my CBAP, it was very natural to choose Adaptive US Services again for my IIBA AAC, which I also aced on the first attempt.
With the learnings from the one-month program and the recognition, which came from being a certified BA professional, my qualifications and work soon got the senior management's attention, and I was soon promoted to a BA Manager/Lead role.
Time and tide wait for no one, and that should serve as a trigger to make the best of your opportunities. Please do every proper thing to get your BA career to the next level. It's worth your effort and investment.
Do not hesitate to use Adaptive US services. I strongly recommend their programs to whoever wants to stay ahead of their game!
- Etoma Egot

Suggested Reading-
No Comments Yet
Let us know what you think