Tips for Getting BA Job in Canada in 2023 | Free Career Plan

6 min read
Sep 16, 2019 12:00:00 AM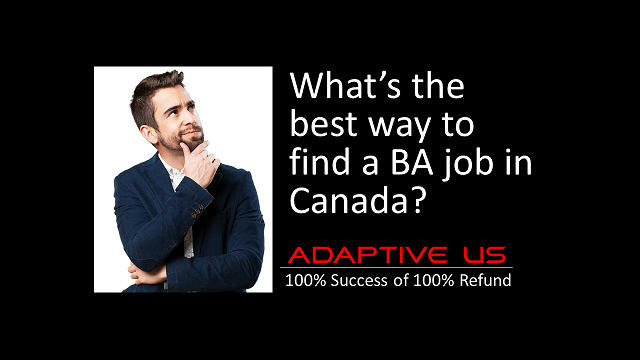 If you are a newcomer and a resident of Canada looking at Business Analysis as a career option, the good news is that the Canadian market has a high demand for Business Analysts. As per the most recent IIBA survey, it has been found that business analysts are one of the most 'in-demand professionals in Canada. Since IIBA® is headquartered in Toronto, it seems only natural that the country with the highest number of certification takers is Canada.
The business analysis profession is one of the fastest-growing occupations right now with 14% industry growth projected between 2014-2024*. The prospects for a career in business analysis are promising and growing.
*Source: U.S. Bureau of Labor Statistics
When it comes to business analyst qualification, a bachelor's degree is desirable. But gone are the days when employers focused on the number of degrees that you possess. Having exceptional grades or scores may also not be the single most important criteria to land you a job. The world has changed and so have the parameters for judging professionals at the time of interview.
For those looking for job openings as a business analyst in Canada, the following steps would be very helpful-
Prerequisites for Finding BA Jobs in Canada -
1. Learn the Business Analysis process
Like any other activity, business analysis activities also follow a process. The best resource, which is available free, is the Business Analysis Core Standard from IIBA. This is a fairly short document of about 50 pages but it is very informative. This will give you a good idea about how business analysis is actually performed.
2. Learn Modeling and Diagramming tools
Business Analysts need to be technologically competent. Like most other professionals, business analysts also use a plethora of tools as part of their projects. Fundamentally, BAs have the following requirements to be fulfilled by using their tools
1. Managing requirements
2. Modeling requirements wherever feasible
3. Collaboration tools
Learn tools for business process modeling, state modeling, and use case modeling. You can get your hands on the free trial version of Microsoft Visio, which is a tool very popular in many organizations. You can also learn to utilize other free tools such as Lucid chart, BizAgi, Business process modeler.
3. Learn about the domains of your interest
There are good resources available on the internet pertaining to almost all domains. It is useful to familiarize yourself with the domain in which you are seeking employment. Look for a handbook on the domain of your interest. Going through the handbook will give you a fairly good idea about how the domain functions.
When you understand your domain, it is easier to understand the needs of the organization and your acceptance as a business analyst will increase manifold. You can find a high-level overview of most of the domains at APQC.org
4. Hone your Behavioral skills
Business analysts need to have a combination of hard and soft skills. The soft skills you will need to acquire/hone over the years to be a better Business Analyst professional are:
Communication Skills
Negotiation Skills
Facilitation Skills
Analytical Thinking Skills
Problem-solving Skills
Decision Making Skills
The ability to see the bigger picture
The ability to appreciate and empathize with others
The ability to influence without authority
Good interpersonal skills
In Canada, for the benefit of the professionals who have been educated internationally, several programs are conducted to acclimatize them to the Canadian job market. New and permanent residents can participate in these programs which cover generic subjects ranging from workplace communication and integration advice to BA-specific training.
5. Prepare an impressive resume
While writing your resume, make sure to avoid silly mistakes- Silly Resume Mistakes.
Remember your resume reaches the recruiter before they meet you, and whether you are called for an interview or not depends on the impression which your resume makes on your prospective employer. Besides making sure that all the information you provide is honest and correct, it will bode well to write the resume using jargon and terms which are used by the Canadian industry. The better written your resume is, the better are your chances of getting called for the interview, and the higher the chances are of you grabbing the job that you are aiming for. Utilize online resources like resume builder or resume editor to put up a great resume.
Tips to find a BA job in Canada
1. The Internship & Startup job path
An internship helps you bridge the gap between the educational and professional world. They are a great way towards easing your entry into the Canadian BA job market. An internship provides practical skills, workplace experience, and greater knowledge of the industry.
Startups need smart people who are ready to tackle a variety of problems and are willing to walk the extra mile. Most startups are small, and it may only take an email or LinkedIn message to get connected to a decision-maker. Working at a startup will give you the required experience while also teaching you the nuances of the job. A startup job can prove to be a great stepping stone in securing your dream BA job in Canada.
If you are interested in working for the Government, visit canada.ca/en/services/jobs/opportunities/government.html for jobs offered by the Canadian Government.
They even have student hiring programs- https://www.canada.ca/en/services/jobs/opportunities/student.html, both full-time and part-time.
2. The Volunteering, Networking & Knowledge gathering path
Volunteering helps in keeping you engaged, connecting you to members of your professional network, and providing an opportunity for you to get access to job opportunities.
Be part of the various online BA forums and groups in Canada. Participating in the events in these forums and conferences will help in gathering knowledge about business analysis. It can also help you make connections with potential employers. If you ask most experts, they will agree that only about 30% of all new jobs are ever advertised. Based on this stat it is even more important to grow your professional network through volunteering, attending events, and joining your local Chapter.
Look for local IIBA/BA chapters in your area and become a member. Volunteering in these chapters will help those looking for opportunities to connect with other professionals and make a difference while waiting for their ideal job. IIBA is headquartered in Toronto, and Canada has thus been the biggest certification taker in the world for the IIBA certifications.
IIBA® presently has 12 chapters in Canada, some of them being located in
Toronto, Vancouver, Calgary, Ottawa- Outaouais, Quebec City, Montreal, Waterloo-Wellington, Winnipeg, Saskatchewan, Greater Victoria Halifax, Edmonton
3. Be certified
To be a preferred BA and to increase your chances of success, earning a business analyst certification is important. Certification can improve overall performance, remove uncertainty and widen market opportunities. Organizations also recognize individuals for the hard work and commitment which the candidate has put into studying and clearing the certification exam.
For freshers looking for a job in Canada, getting IIBA certification is a sure path to success. IIBA certifications not only gives a rock-solid foundation for getting into the BA profession also helps with global certification.
Since freshers have a layman's experience with BA, it is strongly recommended to undergo proper training from a seasoned BA coach. This will help increase the chances of passing in the very first attempt and in the shortest possible time. Please see here for more details on how to get certified with ECBA.
Sectors in Canada that hire large number of business analysts
Another factor that needs to be kept in mind while looking out for a job is to find out which areas in Canada have a higher demand for Business Analysts. This will help in narrowing your focus area for your job search. One quick way of doing this basic groundwork is to visit the Job Bank or similar websites for job market information regarding the business analysis.
According to Job Banks Canada, some of the provinces having the maximum demand for Business Analysts are- Quebec, Ontario, Alberta, British Columbia, Saskatchewan, and Nova Scotia. Make your strength as a business analyst your unique identifier during an interview process. Following these basic steps and being patient with your job search will definitely give you a breakthrough in your job search in Canada.
Suggested Reading-
My journey to becoming a Business Analyst in Canada
How Adaptive's BA Training helped me get my dream job
ECBA Certification Exam Preparation
No Comments Yet
Let us know what you think