Business Analysis Process – A Definitive Guide - Adaptive US
6 min read
Jan 18, 2021 12:00:00 AM
Business analysis has become an integral part of most progressive organizations who would like to improve their performances with information technology. Major reasons why organizations start a business analysis process are:
To solve some of the problems in their business processes.

Trying to exploit an opportunity available in the market.
When we look for business analysis process, we usually refer to the Business Analysis Body of Knowledge (BABoK) which is considered as the global standard for business analysis. Unfortunately, BABoK does not give a definitive business analysis process. It is rightly so because business situations are vastly different, organizations are vastly different, needs are vastly different. Trying to propose a business analysis process in such varied conditions can really be a nightmarish approach.
At the same time, applying Pareto's principle, it will be prudent to say that in about 80% of the situations, we can propose a definitive business analysis process. For remaining 20% cases, of course, we need expert guidance and need to design custom process.
We are proposing the following business analysis process. We have utilized the process in our organization and many client organizations multiple times.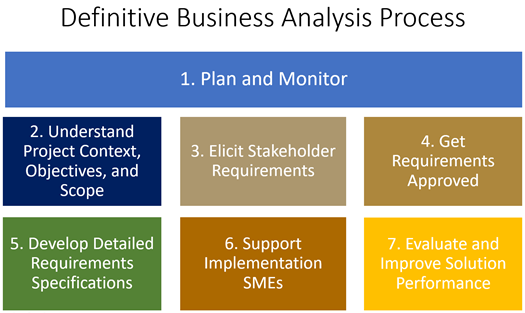 Plan, Engagement, and Monitor
There are certain activities which run across the business analysis life cycle. This is numbered as 0 as it is the foundation for the remaining phases. Phase 1 will involve continuous planning, monitoring, engaging stakeholders, managing issues, risks, requirements, traceability. For every phase, we should perform appropriate level of planning and monitoring.
Create a task plan
It is extremely important that you create a task plan for yourself and monitor your progress on your task plan. A task plan works like a compass for you.
Choosing the most appropriate types of business analysis deliverables, given the project scope, project methodology, and other key aspects of the project context.

Defining the specific list of business analysis deliverables that will completely cover the scope of the project and identifying the stakeholders who will be part of the creation and validation of each deliverable.

Identifying the timelines for completing the business analysis deliverables.
Make Yourself Familiar with Domain
As Business analysts or as project team members, we must understand the business domain. Now one would not have experience in a domain unless one works in the domain. So, this seems to be a chicken and egg problem. So how can we learn a new domain quickly? Here are few tips that can help all of us:
Learn vocabulary for the domain
I would consider this as the most crucial journey. Most businesses fundamentally do lots of things which are common. However, they use the terminology which could be very different from another domain. So, once you start appreciating what the terminologies mean, then it becomes much easier for you to understand and communicate with stakeholders. If you are comfortable with the language of business, business becomes comfortable with you.
Refer basics of domain on APQC.org
This is a website I find I find very useful, where one can learn basic tasks that companies perform in various domains. If you visit the process classification framework provided on APQC.org, you will see process definitions for at least about 25 domains. You may not get an exact domain, but you will definitely find something close to your domain.
Read a fundamental book on the domain
Most domains have a fundamental book written by a prominent author. Usually these books are called as handbook of the domain. For example, you can look at handbook of Banking, or Handbook of insurance, or Handbook of retail. Such books are a very good primer for what happens in the particular domain so if you are planning to join a particular domain. Please buy the paper copy of the book and go through it thoroughly.
Identify resources on internet
Internet is a great source of information. Find authoritative websites which describe about a particular domain that would be very helpful for you to learn the new domain. Only challenge with internet-based learning is that internet is a vast information source, so you have to be really careful not to get deluged in the vast amount of information on internet. I still prefer books for initial reading.
Identify people with domain knowledge
This is another great way to learn a new domain. Try to be in friendly terms with them. They would know lot of tips and tricks and they also may have information resources which could be invaluable for you. I remember when I was working as a Consultant for Change management, I developed good friendship with a senior colleague of mine in my organisation who had tremendous knowledge in change management consulting. I got books and materials from him which was a great help for me in my project.
Be familiar with any of requirements modeling and management tools
Most clients use some tools for requirements modeling and management tools, the most prominent ones being MS Visio and Jira. Make yourself comfortable with the same.
Must Read: List of 10 Best Business Analysis Tools
Understand Project Context, Objectives, and Scope
Often business analysts are expected contribute as soon as possible towards project delivery. Often, the project may have started already, or a phase may be completed. As business analysts, it's our job to clarify the business and project objectives as quickly as possible. Investing some time, whether that's a few hours or few days, to get oriented will ensure we are not only moving quickly but also competent, effective and confident contributor for the project.
Our key responsibilities in this step include:
Plan for understanding the client, project objectives, context, and scope

Understanding the project history so that we do not repeat work that's already been done.

Understanding the existing systems and business processes so we have a reasonably clear picture of the current process or system that needs to change.

Understand domain and organization vocabulary

Understand project objectives and scope.

Meet key stakeholders – Sponsor, Project Manager, Domain Subject Matter Experts, and Implementation Subject Matter Experts.

Understand project documentation standard to deliverables that meet stakeholder needs.

Understand scope and constraints on the project.

Develop clear scope statement to validate stakeholder requirements against project scope.

Get to understand the solution approach from the sponsor.

Learn tools to be used to in the project for requirements management.
This step gets we the information we need to be successful and effective in the context of this particular project.
Elicit Stakeholder Requirements
Your key responsibilities in this step include:
Plan to understand the process and expectations in detail from various stakeholders to understand their expectations from the solution.

Identify stakeholders who are in best position to provide the requirements.

Choose appropriate techniques to conduct elicitation activities.

Conduct elicitation sessions.

Elicit both functional and non-functional requirements, normal and exception requirements.

Confirm elicitation results with stakeholders and other sources of requirements.
Get Requirements Approved
Not all stakeholder expectations can be met given the organizational constraints. We need to understand which requirements are critical and feasible.
Your key responsibilities in this step include:
Plan for managing requirements elicitated from various sources.

Define a requirements prioritization approach and get it approved by Sponsor / PM.

Prioritize requirements.

Verify alignment to scope.

Get requirements approved from competent authorities.
Develop Detailed Requirements Specifications
Detailed requirements provide the implementation team with the information they need to implement the solution. Your key responsibilities in this step include:
Plan for developing detailed requirements specifications.

Develop requirements models.

Develop detailed specifications.

Ensure quality of requirements specified.

Reviewing and validating detailed specifications with appropriate business and technology stakeholders and filling in any gaps.
Also Read: 10 Most Popular Business Analysis Techniques
Support Implementation SMEs
This step is all about ensuring all members of the business community are prepared to embrace the changes that have been specified as part of the project.
Your key responsibilities in this step include:
Engage with implementation team to explain detailed requirements.

Ensure the solution design fulfills all of the detailed requirements

Review test plans and/or test cases to ensure they cover both functional and non-functional requirements.

Develop transition requirements.

Be available to resolve issues surfacing during the technical design, technical implementation, or testing phases of the project.

Managing requirements changes to ensure that everyone is working from up-to-date documentation and that appropriate stakeholders are involved in all decisions about change.

When appropriate, leading user acceptance testing efforts completed by the business community to ensure that the software implementation meets the needs of business end users.

Training end users / working with the learning instructors to ensure end users understand all process and system changes

Collaborating with organizational process designers to update organizational assets impacted by the business process and technology changes.
Evaluate and Improve Solution Performance
A track record of successful projects creates significant positive momentum within an organization. So, if we need to assess the value created by the solution.
Your key responsibilities in this step may include:
Evaluating the results achieved against the business objectives for the project to show the extent to which the original objectives have been fulfilled.

Communicating the results to the all the stakeholders.

Participating in the project closure activities.

Suggesting follow-up projects and initiatives to fully realize the intended business objectives of the project or to solve new problems that are discovered while evaluating the impact of this project.

Recording one's personal learnings from the project for future reference.

Celebrating the success of your hard work, commitment and the success of the project.
References
IIBA's Business Analysis Body of Knowledge (BABOK), version 3.

Requirements Engineering by Rupp and Kohl