5 Leadership Traits of Great Business Analysts - Adaptive US
by Laura Brandenburg on Mar 28, 2019 12:00:00 AM
One of the greatest opportunities in the progression of your business analysis career is to step into leadership roles. While leadership can mean the actual leading of a team or managing of a department, it doesn't have to mean either of these roles.
As business analysts, we can be leaders from within our role as individual contributors on a project team. We are a profession of problem-solving change agents. We are consistently and diligently creating positive change.
Let's look at 5 leadership traits of great business analysts.
#1 – Continually Step Up and Step In
Great business analysts continually step up and take on new responsibilities. This doesn't mean that you have to wear every hat available in the organization (and doing so could actually be detrimental to your career progression), but it does mean that you look for opportunities within your zone of genius to work at a higher level.
For example, if you see your sponsor getting stuck defining the business needs for a project, you jump in and help. You might go back and help them analyze the business process so they can more clearly see the true business problem that needs to be solved.
This is stepping up by working directly with a sponsor on a high-level project task. It is also stepping in by turning a roadblock into an opportunity.
#2 – Take Personal Responsibility of Your Results
Great business analysts also take personal responsibility for their results – the good and the bad. Whether it's a missed requirement that delays a project or a problem identified and solved before it derails a project, we take ownership of our results.
In the case of a missed requirement, we jump in and figure out what's missing and how to fix it, and then make improvements to our business analysis process so that the mistake doesn't happen going forward.
In the case of a problem we identified and solved early on, we let our manager know about our win and celebrate our success. Often these situations involve speaking up and pressing forward with what we know to be true, even in the face of resistance. So these wins are worth celebrating!
And that leads me to our next trait about the value of business analysts.
#3 – Understand Your Value
Great business analysts understand their value and work from their value every single day. I fully realize that in many environments it can seem like stakeholders, management, and even team members don't understand what we do and why we do it.
That's an external reality. Great business analysts take personal responsibility for that situation as well, and take ownership of continually communicating the what and why of what they are doing until they break through organizational barriers to success.
This also means that when they catch themselves doing a low-value activity, like endlessly tweaking their models instead of getting out and reviewing them with stakeholders, they stop.
Understanding our value means we are always expanding into more value, and finding ways to be more effective and efficient with our work.
#4 – Cultivate Abundance Mindset
One of the absolute keys to my success is to cultivate an abundance mindset. I don't pretend to be perfect, but I make a diligent effort to recognize where I'm viewing the world from a place of scarcity and shift my perspective.
A few of the core principles of abundance include generosity, possibility, and vision. This means we look more at what's possible, instead of focusing on what's not. We are generous with our time and energy because we trust that what we give will come back to us in turn.
This doesn't mean you can be a pushover – boundaries are incredibly important for us to be successful – but it does mean that we always look at problems with the intention of finding a solution. We look at the world as a place of opportunity.
#5 – Mentor Other Business Analysts
Finally, great business analysts mentor other business analysts. When other team members need help or get stuck solving difficult project challenges, they help them navigate the waters. They share what has worked for them, and what hasn't.
They are continually sharing resources with their team, and often are the ones starting communities of practice, peer review circles, or knowledge sharing platforms.
Part of having an abundance mindset means you believe in helping others because a rising tide lifts all ships.
Being a Business Analyst Leader
There are many ways to be a business analyst leader. You are adding more value to the world and creating more abundance, each and every day you show up in your full strength as a business analyst.
What change will you make to cultivate your leadership abilities as a business analyst?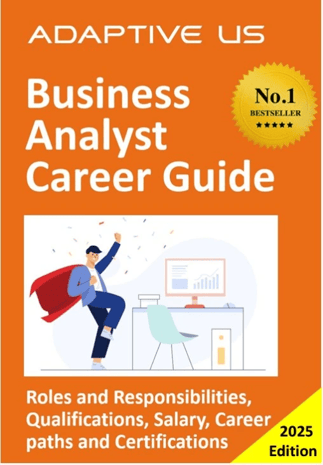 No Comments Yet
Let us know what you think