Impact of Artificial Intelligence on Business Analysis
by LN Mishra, CBAP, CBDA, AAC & CCA on Jun 3, 2022 8:23:15 AM
Artificial Intelligence brings the computer's intelligence close to human intelligence in many aspects, such as image recognition, voice recognition, knowledge extraction, etc. For quite a long time, business analysts have been thinking deeply about how the world of business analysis would change with growing artificial intelligence capabilities. There are multiple perspectives for business analysis. This blog will focus on one perspective of software systems requirements analysis. There are three key areas that business analysts can consider for any IT / software business analysis:
Eliciting requirements

Analyzing requirements

Managing requirements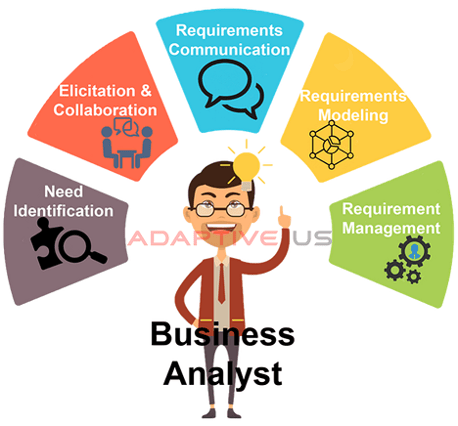 Image credit: AdaptiveUS.com
Area 1: Requirements Elicitation
During elicitation, business analysts elicit stakeholder requirements. They also look through existing documents and data to identify how a business problem can be solved. Currently, most business analysts treat projects as new initiatives. But in reality, the organization may have completed many similar projects in the past.
One thing that the AI-enabled systems can do for BAs is predicting project requirements based on project context.
Over the years, organizations have used homegrown tools, Microsoft Word, Excel, or tools such as Microsoft TFS, HP ALM, and Jira to record requirements. Many organizations already have a large number of requirements available, and many of these requirements have already been coded and tested. Hence, organizations have access to their design specifications, code, and test cases.
AI-enabled systems can propose possible requirements for a project by understanding the context and the domain. Adaptive RED, an Enterprise Requirements Warehouse product from Adaptive business analysts, enables organizations to provide requirements based on project context. These are requirements that one may likely come across in one's project. This can help save a humongous amount of work and effort that business analysts must put in while eliciting requirements.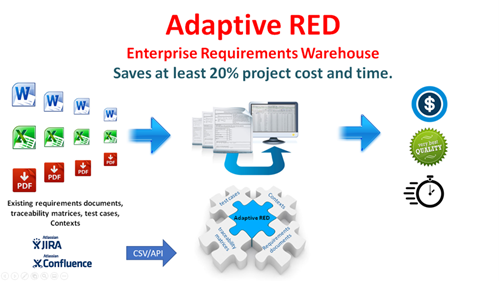 Image credit: AdaptiveUS.com
Sometimes business analysts may not elicit all types of requirements due to a lack of knowledge or experience. Often implicit requirements and nonfunctional requirements are not elicited to the right detail. In less than a decade, we believe we will have a virtual business analyst that will actually take the stakeholders through the elicitation journey.
Business analysts are required to carry out a large number of in-person and virtual conversations with stakeholders as part of their business analysis work. Transcribing these conversations is a labor-intensive process. Fortunately, with the present-day technological capabilities, AI-enabled transcription software is available to do the heavy lifting. The draft version of this blog was created with one voice transcription software. The voice-to-text tool was used to create a first draft of the blog. Automated transcription and knowledge extraction are powerful tools for documenting stakeholder discussions.
Area 2: Requirements Analysis
During requirements analysis, business analysts deep dive into individual requirements, verify their quality, check comprehensiveness, and model requirements to explain the requirements to various stakeholders.
Requirement analysis is a very labor-intensive process. This is because there are so many attributes (can be 15+ easily for every individual requirement) to look for in a particular requirement. For example, every requirement must be clear, have no ambiguity, be concise, consistent, etc. Verifying all the requirements attributes manually is a pretty time-consuming and costly activity. There are multiple AI-enabled tools available today which perform the requirements quality analysis. Consider a tool like ScopeMaster, which does a fantastic job assessing requirements quality. It also identifies requirements dependencies. It also builds concept models, which can be very helpful in explaining the domain to stakeholders.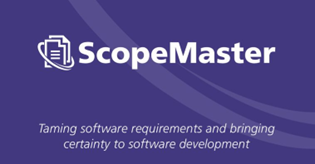 Image credit: ScopeMaster.com
Area 3: Requirements Management
Business analysts are custodians of all requirements, be it business requirements, stakeholder requirements, or solution requirements. Requirements management ensures that the integrity of the requirements is maintained during and post-project.
Organizations are looking at maintaining requirements at the project level (which most business analysts perform fairly well) and at the enterprise level. However, in general, organizations are not good at Enterprise requirements management.
Business analysts can perform two amazing things automatically with an AI-enabled tool like Adaptive RED. One, it creates high-level generic requirements from project-specific requirements. It also aids in requirements reuse given the specific project context.
Conclusion
AI is a relatively new and rapidly evolving technology. However, given the drastic reduction in computing and communication costs, it will definitely become prevalent in business. As we described in this article, AI can help in improving business analysis practices in any organization.
What other aspects will get affected by AI? Do comment below.