Adaptive US Awesome BA Program
9 min read
Dec 2, 2019 12:00:00 AM
$1000 Performance Guarantee
Success guarantee on ECBA Certification
$1000 Performance Guarantee | Live Project | 48 Hours of Live Training | 10+ hours of eLearning (150+ Videos) | 2500+ practice questions | BA Study Guides | Mind maps | Audio books | Flashcards | Fortnightly Tutorials | Session Recordings | Faculty Presentations | BA Glossary | BA Workbook | BA Library with 1200+ Job Aids (templates, checklists, guidelines, books) | Guidance on Enhanced LinkedIn Profile and CV | Faculties part of IIBA Authoring & Exam Teams | 35 IIBA PD Hours | $85 Success Guarantee on ECBA Certification Exam |AAC, CBDA, CCA Self Study Learning Resources|6 months access
Awesome BA Training Program Description
The Awesome BA course by Adaptive US has been developed considering the growing demands of professionals to advance their BA skill sets and climb the BA career ladder. It also enables them to take on larger and more complex project responsibilities. This program makes you future ready by making you comfortable with futuristic technologies like Agile BA and other most popular BA tools.
The intense Awesome BA training program crafted by expert IIBA certified instructors (part of the BABoK authoring team and IIBA v3 exam setting committee with over 25+ years of business analysis experience not only establishes a solid foundation on the industry best practices recommended by the International Institute of Business Analysis (IIBA) but also equips the students with BA skills needed to become a skilled BA.
Awesome BA training is a highly interactive online training conducted using reliable web conferencing systems over a span of 3 months. Expert faculty, who have been part of the BABoK authoring team and IIBA v3 exam setting committee, conduct this intense Awesome BA preparation training. The training includes contents from the Business Analysis Body of Knowledge (BABOK) v3.0, Agile Fundamentals and more.
Over the course of the program, Awesome BA students will
Understand, learn and practice established business analysis tasks and techniques from BABoK

Understand, learn and practice Agile, Business Data Analysis and Cybersecurity concepts

Develop Wire frame, User stories, Acceptance Criteria

Develop business process models

Learn how to prioritize backlog using Jira

Learn industry standard BA tools such as Jira, Confluence, MS Visio and Balsamiq

Learn 50+ BA techniques

Learn how to write better BA resume

Learn how to succeed in BA interviews
Who is the target audience for this course?
The Awesome BA program is for:
Professionals who want to join the BA profession

Students enrolled in BA academic programs

Professionals transitioning into business analysis

Functional managers who manage BAs

Professionals who want to learn BA practices in a formal way
Blended Live Virtual and Self-paced Learning
Attend interactive sessions by top-notch IIBA certified instructors with 25+ years of BA experience, using proven web-based conferencing system. Experience world class coaching at the comfort of your home. Watch eLearning videos and the recordings of the live class later to review.
Rewards
Individuals* | Brand ambassador award | Trailblazer award of $99 Inner Circle Premium
Group discount* |USD 50 discount/student for 2 – 5 participants |USD 100 discount/student for 6-10 participants |USD150 discount/student for >10 participants
What You Get from Adaptive US Awesome BA Training Program
$1000 Awesome BA Performance Guarantee
You read it right – it is a $1000 performance guarantee. We pay $1000 to your employer / organization if you fail to carry out specific BA tasks satisfactorily. Read the conditions for performance guarantee here.
Awesome BA Training with IIBA ECBA Certification Success Guarantee
We repay the exam retake fees of $85 if a participant fails to clear the ECBA certification exam in the first attempt. We stick our neck out for you. We succeed with your success and fail with your failure. Read the conditions for success guarantee here.
48 hours of Live Instructor Led Awesome BA Training + 10+ hours of eLearning
Awesome BA is a 6 months program with the session duration as follows:
16 hours of Live Instructor Led ECBA Training

4 hours of AAC Self paced e-learning videos

4 hours of CBDA self paced e-learning videos

12 hours of fortnightly exam prep tutorials (2 sessions/month * 6 months)

8 hours of Agile BA concepts/BA Tools/Resume and Interview Prep Training (2 sessions/month * 4 months)

12 hours of On-the-Job mentoring sessions (2 sessions/month * 6 months)

CCA Self Learning Resources

The Awesome BA program offers 35 IIBA PD Hours.
BA Tools Training
Get trained on the industry's most popular BA tools – Jira, Confluence, Balsamiq, MS Visio.
Live BA Project based on case study
Awesome BA comes with hands on experience in performing business analysis tasks and creating BA deliverables.
Agile BA Training
Awesome BA trains you on agile business analysis essentials which has become the most popular software development approach.
Resume Building and Interview Prep Workshop
As part of the program, we will review your CV and LinkedIn profile and guide on how to make it better, which will help you find better BA opportunities. As part of the program, we will conduct a mock BA interview to make you better prepared to appear for BA job interviews.
We support you till you succeed
We are just an email/ phone call away. Our training support team and faculties are there to help you with concept clarification and any other query till you become an Awesome BA.
Gain mastery over business analysis with Adaptive BA Library
Access to Adaptive Library comprising of 1200+ practical business analysis job aids, blogs, videos and more.
Exhaustive 2500+ Model Questions
This includes time-based chapter end practice questions of ECBA, AAC, CBDA, CCA and multiple examination simulations.
Revisit what you learnt during the training
Adaptive offers class recordings to watch and refresh concepts later.
Learn on the go with ECBA Audio books
ECBA Audiobooks are a great resource to learn on the go.
Make learning fun with ECBA Flashcards
Flashcards are a fun way to learn and test the BA terminologies.
10+ hours of e-learning Videos
You'll get access to 150+ byte-sized learning modules (each between 5 to 15 mins) for ECBA, AAC, CBDA and other trending BA topics. It is compatible with all devices.
500+ Slides of faculty presentations
Get access to all faculty presentations used during the program.
Curated Learning Resources
Get access to curated study resources pertaining to ECBA, AAC, CBDA and CCA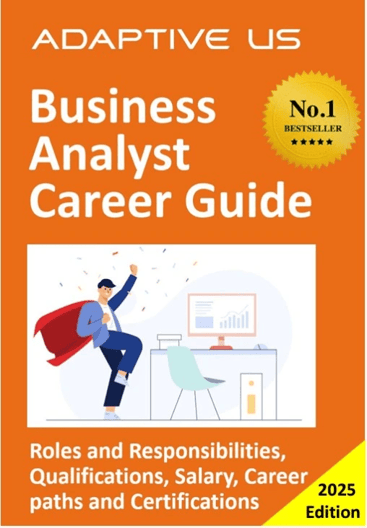 Session Plan
Week

Module

No. of Hours

1

Intro to Business Analysis

2

1

Intro to BABoK

2

1

BA Planning

4

2

Elicitation

2

2

Req. LCM

2

2

Req. Analysis

4

Month 1 - 6

e-Learning Videos (IIBA - AAC, IIBA - CBDA)

8

Month 1 – 6

Fortnightly Exam Prep Tutorials

12

Month 1

Introduction to Agile Software Development

Developing Effective User Stories

2

Month 2

Hands on session on Jira + Confluence

Hands on session on Balsamiq

2

Month 3

Hands on session MS Visio

Hands on session on Business Process Modelling

2

Month 4

Writing Killer Resume

How to be successful in your BA interview

2

Month 1 - 6

Fortnightly On the Job Mentoring sessions/Project Assistance

12
The Awesome BA Training can be attended by students from
Whole of USA, Canada, Europe, South America, Africa, Middle East, India
(New York City, Chicago, Philadelphia, Charlotte, Jacksonville, Indianapolis, Columbus, Detroit, Miami, Boston, Baltimore, Orlando, Jacksonville, Virginia Beach, Portland, Newark, Jersey City, Richmond, Portsmouth, Raleigh, Atlanta, Houston, Fort Lauderdale, Austin, Dallas, San Antonio, Aurora, Des Moines, London, Toronto, Saskatoon, Regina, Quebec, Ottawa, Winnipeg, Calgary, Edmonton, Dubai, Frankfurt, Riyadh, Johannesburg, Paris, Amsterdam, Berlin, Prague, Vienna, Madrid, Copenhagen, Lisbon, Dublin, Stockholm, Munich, Budapest, Copenhagen, Madison, New Jersey, Washington D.C. , Hamilton, Hartford, Wilmington, Brunswick, Maine, Concord, New Hampshire, Richmond, Virginia, Burlington, Oklahoma City, Phoenix, Denver, Halifax, Ontario, Montreal, Kingston, Mississauga, Victoria, Abu Dhabi, Sharjah, Kuwait, Muscat, Cairo, Rome, Barcelona, Edinburgh, Athens, Zurich, Brussels, Milan, Hague, Sao Paulo, Buenos Aires, Rio de Janeiro, Lima, Bogota, Santiago, Caracas, Brasilia, Lagos, Dar es Salaam)
Your Faculties: World's finest
Laura Paton -
LN Mishra CBAP-Mentor to 1000+ IIBA Certified Business Analysts, 24+ years of Professional Experience in BA. Part of IIBA V3 Exam Committees.
Lora McCoy CBAP- Regional Director, IIBA Central Americas, Former President – IIBA Oklahoma Chapter, 22+ years of BA experiences.
Tom Tomasovic IIBA-AAC- Agile BA Practitioner, CPRE Certified, B.S. Chemical Engineering – Massachusetts Institute of Technology. 26+ years of BA experiences.
Customer Reviews of Adaptive BA Training
Adaptive US BA program made studying easy for me. After the instructor-led courses, and the learning tools the practice tests took away my anxiety of IIBA test day and I was fully prepared. I was able not only pass the exam on the first try, but I didn't second guess any of my answers - Carin Chapman
More @ Adaptiveus.com/googlereview
Awesome BA - FAQ
How Awesome BA credential gives you a significant edge
Technology today offers tremendous opportunities to improve businesses. Business Analyst is a role where one can contribute to the organization's strategy, its offerings, its revenue, and its margin. It offers great opportunity to interact with many stakeholders, develop innovative solutions and improving existing solutions. Business Analysts are the bridge between Business stakeholders and Technology Architects. The demand for Business Analysts is at an all-time high and the benefits are worth taking-up business analysis as a career choice. As a Business Analyst, one will always have a challenging and a new job role or project in hand due to the uniqueness of each problem in varied companies.
Some of the benefits of getting Awesome BA certified are:
Awesome BA is framed rightly to suit the needs of all Business analysts who would like to excel in their BA career. Practices, tasks, tools and certifications are covered in-depth in the Awesome BA program. IIBA reports prove that the average salary of top 5 certification holders is 11% more on average in earnings in comparison to non-certification holders.
Awesome BA is a credential that makes a business analyst's competence known and recognized globally by peers and management.

It provides better career growth and job opportunities

The knowledge and skills acquired through the Awesome BA enables one to become an effective and efficient BA.

It demonstrates continuous dedication to the profession to prospective employers.

It helps BAs achieve reliable, quality results with enhanced efficiency and consistency.

Business Analysis is one of the highest growing occupations, with 14% growth projected between 2014-2024 *Source: U.S. Bureau of Labor Statistics

It also gives a positive feeling and enhanced confidence about achieving a milestone in one's BA career.
What is the Awesome BA eligibility criteria?
The Awesome BA program is tailored for entry level BAs. Following are the requirements for the program:
No BA Work Experience required

Agree to Code of Conduct.

Agree to Terms and Conditions.
How many hours of effort do I need for the Awesome BA program?
The program has 48 hours of live training + 10+ hours of e-Learning. Apart from the same, one is expected to put in at least 60 additional hours to the program.
Will Awesome BA help me to pass the IIBA ECBA Examination?
The Awesome BA provides the required foundation for IIBA ECBA examination.
What is covered under the Awesome BA Live Project?

The Awesome BA Live Project is to enhance your Business Analysis skills with a hands-on, industry-relevant project, which brings together key concepts that were covered during the training.

The student will be given a real life case based based on a Governance, Risk and Compliance Solution and will be asked to create the following deliverables based on the case:

1. Develop user stories and acceptance criteria

2. Develop business process models

3. Conduct requirements interviews

4. Develop wireframes

5. Develop prototypes

6. Prepare detailed functional specifications

This comes with live On the Job mentoring sessions with our expert faculty, where you can clarify any questions pertaining to the project and get the best tips on how to make it better.

This will enhance your ability to carry out BA tasks confidently and become a high performing BA from day 1 at your workplace.

Can I choose/come up with my own live project?

This is not permitted as part of the program. Students have to complete the live project which comes as part of the Awesome BA program

What is performance guarantee and what are the tasks covered under the same?

Adaptive US offers $1000 performance warranty (You read it right it is $ One Thousand) on it's Awesome BA program. Adaptive shall pay $1000 to the employer in case the employee is not able perform satisfactorily in basic business analysis tasks. The basic business analysis tasks are:

1. Develop User Stories and Acceptance Criteria

2. Develop business process models

3. Conducting requirements interviews

4. Develop wireframes

5. Develop prototypes

6. Detailed Functional Specifications

When can the performance guarantee be invoked?

Participants have completed a medium complexity project (~30 hours effort).

Passed all 6 ECBA simulation tests.

Attended and completed all core modules training successfully.
The company which claims the guarantee must provide 3 specific instances where the person has failed to produce the above-mentioned deliverables.
For how long will I have access to the learning portal?

The learning portal duration will be Training month + 3 months

What next after the Awesome BA course?
With the $1000 performance guarantee, one's candidature will have significantly higher chance of getting the dream BA job. The Awesome BA opens doors to a rewarding and successful career in business analysis. It gives greater confidence and fulfillment at work. It also gives you an opportunity to become part of an elite group of professionals who are known for their dedication and commitment to the field of business analysis.
Whether there's any provision to purchase independent training modules in Awesome BA?
Please write to Info@AdaptiveUS.com and one of our customer success managers will reach out to you.
About Adaptive US
As an Endorsed Education Provider (EEP) for the IIBA, Adaptive US, helps professionals to prepare for and succeed in their certification exams. Adaptive US is one of the market leaders when it comes to BA online training in Awesome BA, CCBA, AAC, and CBAP and also gives the option of success guarantee where we repay your IIBA ECBA exam fees and you can undergo the training all over again without paying an extra penny, in the off-chance that you fail.
Have more doubts?
Write to us at Info@AdaptiveUS.com and we will respond to all your queries.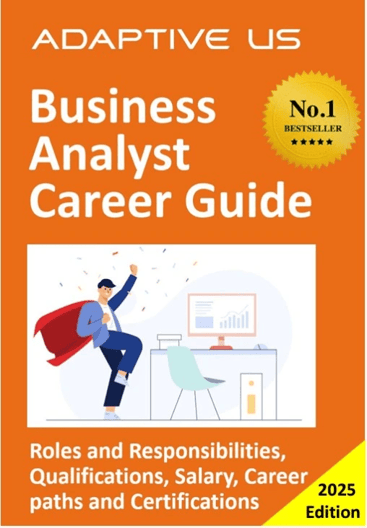 No Comments Yet
Let us know what you think