CCBA Certification Exam Preparation in 2023
10 min read
Apr 16, 2020 12:00:00 AM
"I got a BA job within 1 month of becoming CCBA Certified"- Nancy Adams, Technical Business Analyst
"CCBA Certification helped me get a new job and become a better analyst "- Susan White, Business Analyst
"I landed a job as a Business Analyst Coordinator within months of getting CCBA certified"- Steven Cross, PMO Business Analyst
The Certification of Capability in Business Analysis or CCBA is the 2nd level of a professional certification by IIBA for business analysis practitioners. It is highly valued in the BA industry as it emphasizes work experience, personal development, competencies, and up-to-date knowledge of the latest industry trends and developments.
CCBA certification is appropriate for business analysts with 2 to 3 years of experience, who are keen to expand their skillsets and climb the BA career ladder. It adds a lot of value to a BA's profile as it is a recognition and acknowledgment of the expertise that a BA practitioner has in the business analysis domain. With the CCBA training & certification, one can learn the best practices and skillsets essential to turn their career around.
CCBA certification is relevant to a large proportion of working professionals as-
Industry reports predict that business analysis is among the fastest-growing IT occupations and it is among the top desired skills for tech workers.

The most sensible way (Backed by a recognized certificate) to switch from the technical field to the management field.

As a recent trend among big companies, the business analyst role gradually is kept as a stand-by internal consultant for the organization.

Saves organizations time and money in training a prospective BA.
Benefits of CCBA
Apart from the relevancy of this certificate, there are several benefits to having CCBA certification. It gives the business analyst a competitive edge over others as employers will give preference to a certified BA over others.
The reputation of the certification awarding body is important. Currently, IIBA is the undisputed leading body for BA certifications. Formal recognition from IIBA will give employers the confidence that the BA is capable of taking up further responsibility, has a sound understanding of how to carry out BA activities and that (s)he can demonstrate the experience, knowledge, and competencies of a qualified BA practitioner according to guidelines laid out by IIBA.

Gives the business analyst a competitive edge over others as employers will give preference to a certified BA over others.

CCBA certification holders on average earn 14% more salary compared to their non-certified counterparts, as per the salary survey of 2019.

At times, the clients insist that the consultant on their project must have professional certification to ensure high-quality delivery. Here, a CCBA individual comes to the rescue.

A definite & swift ascent of career into middle management positions.

The process of achieving and maintaining certification helps ensure you are continually improving and enhancing the knowledge base.

Recognition of professional competence by professional peers and management.
CCBA Exam Pattern
The CCBA exam is competency-based aligned with BABOK Guide Version 3
Number of questions – 130 multiple choice questions
Questions pattern – Scenario-based questions (i.e. the candidate must do a bit of analysis to arrive at the answer)
Duration – 3 hours
The exam blueprint aligned with v3.0 of the BABOK Guide is as follows:
| | |
| --- | --- |
| Knowledge Area | % of Questions |
| Business Analysis Planning and Monitoring | 12% |
| Elicitation and Collaboration | 20% |
| Requirements Life Cycle Management | 18% |
| Strategy Analysis | 12% |
| Requirements Analysis and Design Definition | 32% |
| Solution Evaluation | 6% |
One needs to pass individually in all the knowledge areas as given above and have to also score the overall minimum to pass.
From our experience from the past CCBA participants and their experience, we know that it is safe to assume that the CCBA exam passing score is more than 75%. Hence, it's suggested to target 80 – 90% in the CCBA mock tests to be successful in the CCBA final exam. Again, there is no official data by IIBA to support this.
This is based on our best estimate of the information on the CCBA exam. In this blog, we describe how one can be a CCBA in a time-bound manner.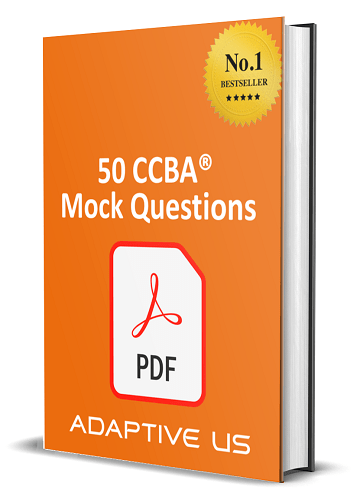 Steps to become a successful CCBA
Be difficult or simple, every certification exam has a specific preparation path that needs to be followed to successfully pass. So, if you want to pass the CCBA certification exam on the first attempt, you too need to follow the right preparation path.
Ensure the eligibility for the CCBA certification exam
Take IIBA approved CCBA Certification Training
Go through the Study Guide, BABoK and practice CCBA Model Questions
Fill-up application and get it approved by IIBA
Take the CCBA test and be a proud CCBA
Step 1 # Ensure the eligibility for the CCBA certification exam
The eligibility criteria for the CCBA certification are-
Business Analysis Work Experience- Minimum of 3,750 hours in the last 7 years
Knowledge Area Requirement- From within all of the business analysis work experience hours, a minimum of 900 hours in each of 2 of the 6 BABOK® Guide Version, 3 Knowledge Areas or a minimum of 500 hours in each of 4 of the 6 BABOK® Guide Version 3 Knowledge Areas
Professional Development- Minimum of 21 hours in the last 4 years
References- 2 references are required
Agreement with the CCBA® Code of Conduct
Step 2 # Take an IIBA Approved, 100% Success or 100% Refund Training for CCBA
As per IIBA, to be eligible for CCBA requires one to attend a faculty-led training. The training needs to be aligned to BABoK V3. It is not easy to understand the BABoK without the help of a mentor as it is 500+ pages long and not very easy to follow. Faculty-led training will make understanding BABoK easier.
It is very important to choose the right class or training for yourself. Don't look at the cost and PDU as the only factor to select the training.
Look at the following:
Institute credential

Are they an Endorsed Education Provider (EEP) to IIBA or not?

Trainer credentials- is the trainer IIBA certified?

Is it a CCBA certification prep training or a business analysis skill generic training?

Course deliverable – Is CCBA study guide, CCBA question bank, CCBA exam simulators part of the program offers?

Do they provide 100% Success or 100% Refund?

Do they offer help in application filing?
Adaptive US is an IIBA approved EEP and we provide you with a complete, comprehensive and 100% Success or 100% Refund training that will help you get certified in the very first attempt. We provide 49 Hours of Online Live Instructor-Led Training (23 Hours Mandatory). You can also repeat your sessions to reinforce the concepts and also attend tutorial sessions to get your doubts cleared by the mentors. We also have CCBA Study Guide, CCBA self-learning pack, and several other resources to help you in your quest for certification.
Adaptive's CCBA Certification exam success rate is more than 97%. This is indeed the best success rate for any training institute. Our past participants have had brilliant success after they completed their certification.
Adaptive's CCBA certification training deliverables include:
CCBA Training with 100% Success or 100% Refund

49 Hours Online Live Instructor-Led Training (23 Hours Mandatory)

Exhaustive 2100+ CCBA Practice Questions

IIBA approved courseware

BABoK V3 based CCBA Study Guide

Access to Adaptive's learning portal, SuXeed.

The option of revisiting what you learnt during the training

Attend live sessions once again to reinforce the concepts- (5 sessions, 3 hours each)

Access to Adaptive Library

CCBA Application simulator fully aligned to IIBA CCBA requirements.

CCBA Audiobooks

Access to faculty presentation

CCBA Flashcards

Over 10+ hours of CCBA Video learning

Comprehensive support till you Succeed
Adaptive's trainers have been part of the IIBA BABoK development team and exam setting committees.

Adaptive's BA learning platform, Suxeed, comes with 1000+ certification model questions, 100+ videos on BABoK, the world's most compact BABoK study guide, audiobooks, flashcards, Exam prep tips, personalized exam preparation Plan, Exam Alerts.
Step 3 # Go through the Study Guide, BABoK, and Practice CCBA Model Questions
Good preparation always leads to good results. Formulating the right path to follow towards your certification goals will help you towards this. Set up a committed plan towards your target and work towards it.
First, go through the Adaptive Study Guide. It is the most compact CCBA preparation guide (99% content in 40% volume). It is complemented with study tables and mind maps on BABoK Techniques and Knowledge Areas.
Second, do a thorough reading of BABoK once and note aspects that are difficult for you. Discuss the difficult areas with your trainer/mentor.
Pay attention to knowledge areas as 80+% of questions come from knowledge areas.
Next, thoroughly practice the CCBA Model Questions from Adaptive. Adaptive provides 2100+ practice questions and they are quite exhaustive.
Step 4 # Fill-up Your CCBA Application & Get It Approved by IIBA
This is an equally important step and you need to do this carefully. Adaptive has a CCBA Application Simulator available on our learning portal SuXeed, which helps candidates and ensures that the process is a smooth affair.
Preparing the CCBA Application
Begin the application at least 2 weeks before you plan to apply.
It can take anywhere from 6-10 hours to complete.
Using Adaptive CBAP application simulator ensures the application approval
Apply within 3 months of when you plan to write.
Additional Information
The application expires within 1 year from approval
3 exams can be taken within a year without any waiting time in between
CCBA certification cost has the below components:
CCBA Application Fee – $125(non-refundable)
CCBA Exam Fee – $325 for IIBA members and $450 for non-IIBA members
IIBA membership fee varies based on the country of residence
Member

Non-Member

Membership fee

As per the country of residence

(Between $55 to $125)

Application Fee

USD $125

USD $125

Exam Fee

USD $325

USD $450

($125 more than members)

Retake Fee

USD $85

USD $195

($110 more than members)
The IIBA membership and hence the overall CCBA certification cost varies as per the country of residence, which are divided into three regions.
Region I Countries: Australia, Belgium, Canada, France, Germany, & more…
Region II Countries: Brazil, Greece, Singapore, Indonesia, & more…
Region III Countries: India, Argentina, Pakistan, China, Sri Lanka & more…
| | | |
| --- | --- | --- |
| | Member Annual Fee | One-time Application Fee |
| Region I | $124 | $15 |
| Region II | $89 | $10 |
| Region III | $50 | $5 |
Applications are assessed immediately upon submission and payment of the application fee.
Once your online application shows that all requirements have been met, you will be able to submit your application. You will immediately receive an email stating that you are either approved OR approved pending audit. If you are approved, the e-mail will contain instructions on paying the exam fee so you can schedule it.
Once your exam fee is received by IIBA, you will receive an e-mail confirming payment with instructions to schedule your exam. At this point, you can proceed to schedule your exam.
Step 5 # Take the test and be a proud CCBA
Once you are ready to take the exam, choose a day when you are relaxed.
Set up the exam date preferably after a weekend or if not then on Sunday. Don't go for the exam immediately after a work week, that doesn't let your brain relax. One needs to stay cool and have a good rest before the exam since the exam is quite exhaustive.
You can book your exam with Prometric or if there is no test center where you live or you need to travel a very long distance to reach the examination center, exams can now be conducted at your own home when it is convenient for you.
For remotely proctored IIBA exams there are a set of rules & guidelines which one needs to adhere to. To know all about these rules & guidelines read-
Ground Rules for IIBA Online Examinations
You can do a compatibility check before the exam-
https://www.examslocal.com/ScheduleExam/Home/CompatibilityCheck
The link to register for your exam is–
https://my.iiba.org/CPBase__item?id=a131N000006rGhuQAE
Once you have set up the exam dates then do at least 2 times revisions of the study guide and the question bank. Brush through your notes.
Go for the test. Do not overburden yourself. Success will be in your hands.
Some CCBA exam and time management tips-
Relax and read the instructions carefully
Pay close attention to the number of questions answered and remaining, and the countdown of time remaining.
Never leave a question unanswered. Select the best answer and mark it for review and revisit it at the end.
Make use of the highlight and strike-through features of the exam software.
Attempt the calculation-based questions first, there is an on-screen calculator available, make use of that.
Take a break if you feel your mind is tired and blank in the exam.
Read the question slowly and twice if required to understand correctly.
At the end of all this, it is very important to stay focused throughout the journey. No amount of study will be enough if you don't set a deadline and work backward.
Keep a target for yourself and work towards it, make some progress every day. Keep some time marked for prep every day and make use of the weekends more effectively.
All of us spend a significant amount of time traveling to and from work. Utilize this time to brush up your knowledge by listening to the CCBA audiobook that helps in refreshing the memory and concepts. This helps in memorizing the terms and tasks as well as input, output, etc.
Hopefully, by following these steps you will be able to achieve your goal of getting CCBA certified in the first attempt.
The reassuring feedback from one of our CCBA certified professionals reconfirms this-
"Adaptive CCBA training was straight to the point! LN training is aimed at understanding the Knowledge Areas in a very simple way in order to assimilate them for the better. The online help was also fantastic, you could choose between a specific quiz on KA and Flashcards, with great tests to go with it, finishing off with two full tests simulation.
I would recommend this training preparation anytime, they are fantastic!"
Federica Andriani, Business Analyst Lead / Bank of Ireland
Several other such feedback on the link here: CCBA Review
Have confidence in yourself and stay focused.
All the best ahead for your preparation for CCBA, may you pass your exam with flying colors!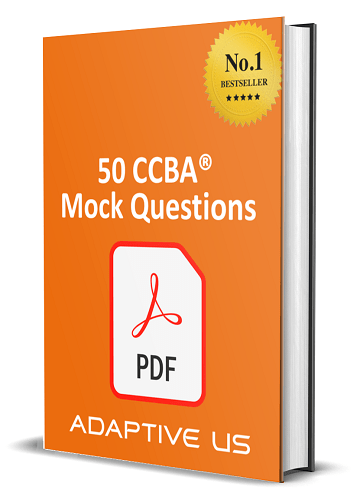 No Comments Yet
Let us know what you think