10 reasons to choose CBAP certification - Adaptive US
6 min read
Dec 17, 2020 12:00:00 AM
The U.S. Bureau of Labor Statistics pegs Business Analysis as one of the fastest-growing occupations, with 14% growth projected between 2016-2026. Business Analysis is an immensely challenging and at the same time extremely rewarding career. A business analyst is easily one of the best assets of the organization.
A business analyst needs to understand their organizational goals, identify their business needs, and recommend good solutions to fulfill those needs. A business analyst works as a bridge between business stakeholders and technology architects. They gather information, document processes, and confirm the final documents with users.
A good business analyst needs to be proficient in skills that will help them in business analysis planning and monitoring, enterprise analysis, requirements management, communication, solution assessment, and validation. These skills help them in performing their responsibilities efficiently and with less to no downtime.
Certification and training help BAs to stand out in the business analysis field, help them to master various skills and tools needed in their domain, and in the process provide them with proof of competence. Market research and surveys have repeatedly shown that certified business analysts earn much higher salaries than those who are not certified.
The other significant advantages of becoming certified are-
Certification help improve overall performance

They remove uncertainty and widen market opportunities

A certified business analyst has a broader perspective of the BA techniques and approaches and demonstrates better capabilities in principle and practice.

Employers show increased confidence when hiring a certified business analyst as it also shows commitment, as preparing for these certifications and clearing the exam is not an easy task.
IIBA Business Analysis certifications are the most popular business analysis certification in the world. IIBA has been promoting the business analysis profession and certification for more than a decade now.
The certification space for the BA community has been dominated by IIBA with its core certifications, namely,
ECBA – Entry Certificate in Business Analysis - Basic level, ideal / most suited for beginners and newbies
CCBA - Certification of Competency in Business Analysis - Intermediate level, ideal / most suited for professionals with 2-3 years of BA work experience
CBAP Certified Business Analysis Professional - Advanced level, ideal / most suited for professionals with 5+ years of BA work experience.
What Is CBAP?
Certified Business Analysis Professional (CBAP) designation is the world's most admired business analysis professional certification from IIBA, Canada. CBAP is a certification that is ideally suited for senior business analysis professionals with more than 5 years of business analysis experience.
It is designed to help business professionals gain new skills and expertise in Business analysis tasks, techniques, planning, and execution. Business professionals with this certification can quickly accommodate rapid changes in the IT industry and handle competencies in all phases of business analysis roles.
What is the eligibility criteria for CBAP?
CBAP being the 3rd level certification from IIBA, has very strict eligibility criteria. Following are the eligibility criteria for the exam:
7500 hours in the last 10 years, 900 hours of which should be in 4 out of the 6 BABOK Guide Version 3 Knowledge areas

35 hours of Professional Development in the past 4 years

Two references from a career manager, client, or Certified Business Analysis Professional – CBAP

A Signed Code of Conduct with IIBA
In today's competitive workplace, a senior business analyst is a key force behind the delivery of a successful project. The business analysis field, due to its rapid growth, is fraught with various challenges, including inconsistent terminology across organizations, lack of standardization, and difficulty in assessing risks. CBAP helps business analysts improve their skills and efficiently address these shortcomings.
Becoming CBAP certified demonstrates that the professional has years of experience in business analysis, is an expert in identifying the business needs of the organization, and suggests the best solutions for the organization to achieve maximum benefits. Pursuing CBAP® forces you into the broader world of BA than what you have been exposed to so far.
Some of the CBAP benefits you can experience by being CBAP certified are:
As per the IIBA salary survey of 2020, BAs who hold the CBAP certification earn 59% more than their non-certified peers. Top-notch companies across the globe prefer hiring CBAP professionals owing to their skills and expertise in business analysis. Therefore, becoming CBAP certified can get you more job opportunities, better income, and global recognition.
The CBAP exam needs one to understand BABoK in-depth and apply the BABoK concepts to various business analysis scenarios. So, a BA who becomes CBAP certified understands the principles, practices, and techniques of business analysis outlined in BABOK v3.0 quite efficiently. They become competent in implementing these effectively to produce reliable and consistent results. Also, they gain competency in the six knowledge areas mentioned in the BABoK, namely,
BA planning and monitoring

Elicitation and collaboration

Requirements life cycle management

Strategy analysis

Requirements analysis, and design definition

Solution evaluation.
Advanced Career Potential
Companies across the globe are always looking for highly competent and skilled BAs. Companies prefer hiring professionals who have industry-recognized BA certifications such as CBAP. BA practitioners worldwide have reported that certification not only brings the often-sought-after salary increases but also provides greater opportunities for promotions and new job opportunities. It helps in staying ahead of the competition. In short, helps them advance their career potential by creating a distinct and separate path within the IT industry and business community.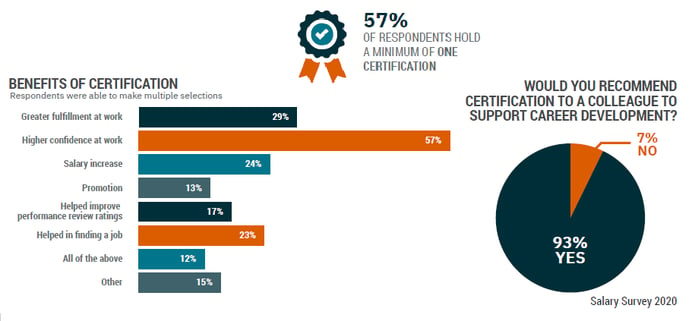 Recognition by Professional Peers and Management
The organization, future employers, and professional peers see CBAP certified professionals as those who are well qualified and take their careers seriously. They are treated as competent professionals who play a vital part in the success of a project. Simply put, certifications can be considered a 'stamp of excellence'.
Satisfaction on Achieving a Personal Milestone
For BA professionals, becoming CBAP certified (owing to the nature of the certification exam), means that they are an expert in the field. It is something that helps them climb up the ladder of success and achieve their goals and dreams. It helps them in becoming effective and trusted BA. Becoming CBAP certified is definitely a milestone achievement that enhances one's confidence dramatically.
Becoming a part of an elite Professional Group
CBAP certification elevates a senior BA to a group of elite professionals who are considered the best in their fields/domain. There are about 10K+ CBAP certified professionals globally and it's not a small feat to be one among them. Being a CBAP is like being an elite club member for BA professionals. The BA community looks up to the CBAP certified professionals to share and discuss ideas about business analysis. Interaction with such an elite set of professionals helps in the continuous enhancement of BA skills and knowledge and helps to add more value and meaning to the BA profession.
Achieving and maintaining the certification means you have to put continuous effort into improving and refining your skills in business analysis practices and activities. This means that you can continuously identify new learning needs based on your professional requirements and do what it takes to bolster them.
A senior business analyst's role is both exciting and challenging at the same time. A CBAP often leads a team of BAs and it involves mentoring them. CBAP arms a senior BA professional with skill sets and knowledge which are invaluable in meeting the constant demands of leadership and expertise, and mentoring junior BAs.
How Do I Become a CBAP?
Preparing for the CBAP exam can be a daunting task. It involves
Being eligible for the certification

Filling the CBAP application and getting it approved.

Preparing and passing the CBAP exam
The CBAP exam is a 3.5-hour exam, consisting of 120 questions based on the BABOK guide. Remote online proctoring is now available for the CBAP exam. This new option provides flexibility to take the exam online from anywhere in the world, though the test center option is also still available. However, before attending the exam, make sure you fulfill the eligibility criteria defined by IIBA.
Adaptive US is a leading IIBA EEP. The certification training provided by them helps organizations and participants to unlock and enhance their skills and excellence through IIBA certification courses. It is the only training organization that guarantees 100% success or 100% refund.
Are you interested in becoming an IIBA certified CBAP professional?
We are here to help, contact us at info@adaptiveus.com.
Suggested Reading
How to prepare for CBAP certification - A step by step approach
No Comments Yet
Let us know what you think