20 Points Checklist for Choosing Your CBAP Partner in 2023
by LN Mishra, CBAP, CBDA, AAC & CCA on Jun 6, 2018 12:00:00 AM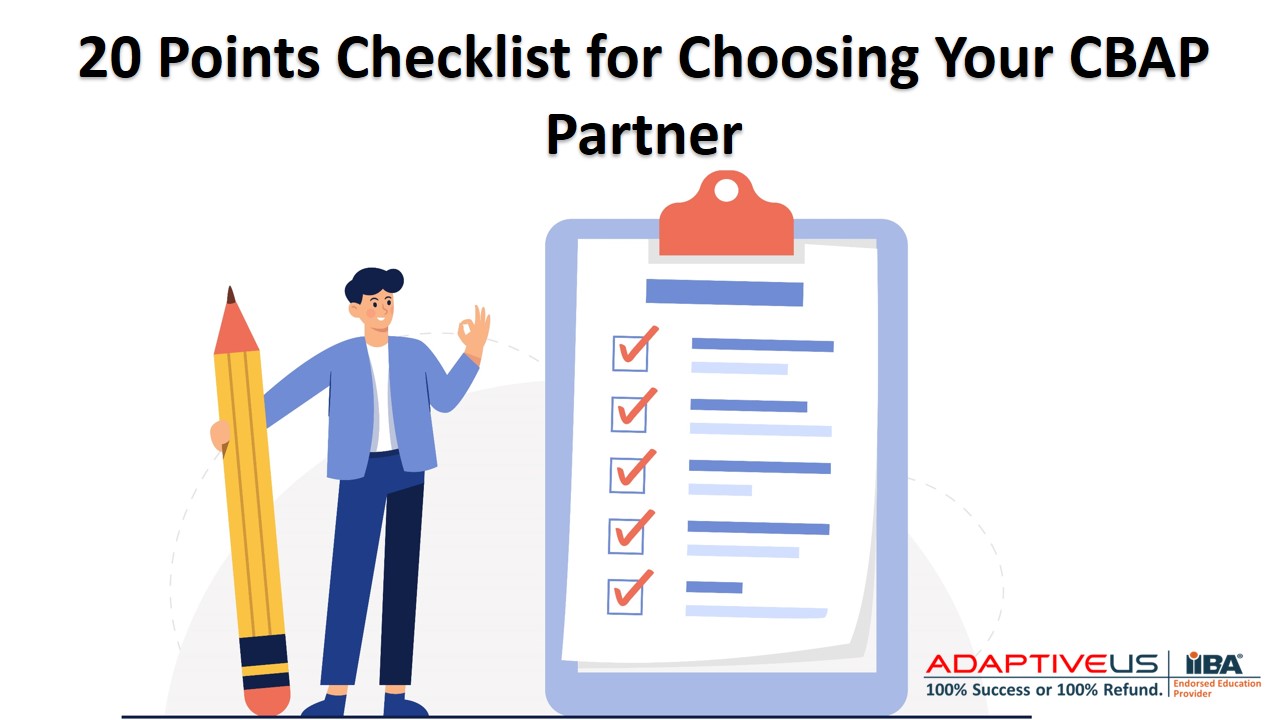 Business analysts play a significant role in project success.
Trained and certified business analyst is a valuable asset to any organization.
CBAP certification is a significant investment in terms of time and money. Each participant invests easily up to 10000 USD for getting the training, preparing for the certification, and paying the certification fees.
How do you choose your CBAP certification training partner?
Here is a 20-point checklist that will guide you in making an informed decision.
Does the partner offer success-guaranteed training? A success-guaranteed program ensures you / your employees are mentored well for the certification
Are the trainers industry recognized as experts and practicing BAs? Practicing business analysts can provide significant insight into practical business analysis problems.
Does the course fee include IIBA® certification fees?
How many past participants from the institute have completed CBAP® certification?
Are there a large number of IIBA certification practice questions available for participants to practice post-workshop sessions?
Does the institute provide multiple simulation tests for CBAP?
Is the course complimented with e-learning based on BABOK?
Are there associated mind maps?
Are there audiobooks for participants?
Are the trainers themselves CBAP certified? Non-certified trainers cannot assist you much with the preparations.
Is the organization an EEP of IIBA?
Does it offer a business analysis and requirements engineering toolkit which contains useful templates for BA's day-to-day job?
Is the course based on BABOK version 3.0, which is an industry-accepted standard for the performing BA?
What has been the organization's past program feedback? And is the organization willing to provide the reference to past participants for feedback?
Does the organization provide you with pre-class study material to enhance the effectiveness of the learning during the classroom session?
How long has the organization been conducting the program? The longer the organization's experience in conducting the program, the higher the maturity of the program.
Are the pieces of evidence of the completed programs available on the website of organization?
Is the course based on a case study-based approach? A case study-based approach allows participants to relate to a real-world problem.
Are the sessions recorded for future reference?
Does the institute provide ongoing support beyond the training?
Lastly, you can compare Adaptive with other prominent training organizations.
No Comments Yet
Let us know what you think