5 Effective Tips to Move your BA Career to a C-Suite Role
7 min read
Sep 23, 2021 12:00:00 AM
You've probably seen those confident professionals in their big corner offices and aspired to be like them one day. These offices belong to C-Suite positions like CEO, CDO, CIO, CFO, CTO, COO, etc.
C-suite members are the senior executives of the company, notably titles that start with the word 'Chief.'
These are the strategic roles that set the direction, strategy, and path of an organization. These positions are the most admired, respected and are almost always the highest-paid in an organization, having maximum authority over decisions, including major responsibilities.
However, they say, "With great power comes great responsibility," so the C-suite professionals are the ones with the most responsibility within the organization.
The ultimate goal of every business professional is to rise to the top echelon of the company. Suppose you're a creative, innovative, and proactive business analyst. In that case, you can go as far as you want in your career and progress through the management ranks to the highest level of your organization, limited only by your talents and desires.
Business analysts act as a bridge between different departments within a company. They are highly sought after in all areas of business, ranging from finance and IT to corporate management. They are essential in today's multifaceted business world to cater to business, and IT needs. BAs act as the link between business problems and solutions, so they are very familiar with the different areas of the company.
The CEO usually has a vision for the organization, and the Business Analyst conducts the research and groundwork to help understand that vision. Richie Bello, CEO of White Dove Bird, says, "In terms of vision, a CEO is a developer while a business analyst is a researcher." A business analyst knows what it takes to be a CEO; they just need to acquire the skillset, experience, and knowledge necessary to assume the role of a C-suite professional.
To reach top leadership levels, business analysts must be multidimensional professionals with a wide array of business, IT, and leadership skills. To succeed in this coveted position, business analysts have to get out of their comfort zone; they need to create new opportunities to hone existing skills and learn and acquire new skills.
This blog will discuss general guidelines that a BA can use to elevate their career.
1. Business analysts should broaden their cross-functional experience.
Andy Salunga of Forrester Research says, "Business analysts looking to expand their career horizons must seek challenges outside of their functional heritage."
For a Business Analyst to grow into a C-suite executive, one must expand their functional expertise and knowledge about an organization's different departments and domains. A business analyst already possesses cross-functional knowledge, and by improving these skills, they will be better able to take on more significant responsibilities.
2. Business analysts should increase their technical knowledge & skills, and be familiar with IT management methods.
To be a successful business analyst, one requires a higher degree of technical proficiency. Executives who aren't proficient in technical skills may be overlooked as a lack of technical skills can hinder resource allocation and make it difficult to make strategic decisions, which is very important in this rapidly changing global economy.
BAs must familiarize themselves with business process charting and modeling tools to scope out your process's future and present visions. Some useful tools are MS Visio, Lucid Chart, BizAgi business process modeler, and so on.
The BA should be able to utilize methodologies such as CMMI, ITIL, and Lean Six Sigma to improve business processes, enable wide-scale innovation, and improve IT performance to align IT with business.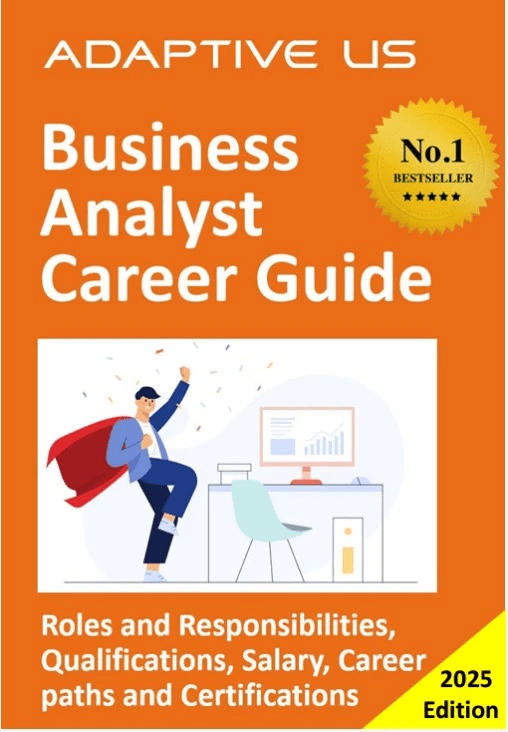 3. BAs should nurture and strengthen their behavioral skills.
Each BA should possess a unique combination of interpersonal and behavioral skills. These skills can be invaluable as they move up the career ladder. The most notable ones among those are-
Problem-solving Skill

Skill in decision-making

Innovative & creative thinking

Skill in analytical thinking

Skills for team building

Communication Skills

Questioning Skill

Presentation skills

Listening Skill

Negotiation skills

Conflict Resolution Skill

Facilitation Skill
To succeed in a competitive environment, a business analyst must build relationships with people from other departments. As BAs lead ever-changing teams and initiatives, they need to hone their conflict resolution, organizational change management, and interpersonal skills.
4. Training & Certification- A Sure-Shot Method Of Moving up The Ladder
Tammy Bjelland said, "A learning curve is essential to growth." Therefore, it is no mystery that the path to stay ahead in the game is via learning. Most successful business leaders agree that a continuous thirst for knowledge is key to building a growing and thriving career. Not only do certifications increase the professional value of an individual, but they also help enhance one's skills by allowing one to learn new things outside of their job.
Your organization, future employers, and peers will know that you are well-qualified and take your job seriously by looking at your certification. Certifications can be viewed as a "badge of excellence."
Getting certified helps you stay ahead of your competition and stay up-to-date on all technologies and regulations that impact your profession.
There are many industry-recognized certifications that a business analyst can obtain. A business analyst certification is a special education that serves as a credential, and as you advance in your career, you can pursue several specialized certifications. The blog Business Analysis Certifications gives an overview of the different BA certifications available in the market.
IIBA has dominated the certification market for BA professionals by promoting business analysis and certification for over a decade. The C-suite position is the most senior in an organization. It would be highly desirable for a BA to avail the CBAP Certification Training and sit for the CBAP certification exam and other specialized certifications such as CBDA or AAC.
CBAP
CBAP, which is intended for senior business analysts, is the most sought-after BA certification globally. CBAP certification is a proven way to increase your salary, improve your career, and open up new markets. CBAP exam includes scenario-based and case study questions that are based on the Business Analysis Body of Knowledge.
AAC
The IIBA AAC Agile Analysis Certification is designed to recognize the skills of BA professionals. It is suitable for Agile BAs and BA Consultants, Trainers/Project Managers, Testers, and other BA professionals. The IIBA-AAC exam is closely aligned with the Agile Extension to BABOK, version 2. It tests one's ability to answer questions that are relevant to real-world situations.
CBDA
IIBA CBDA recognizes the ability of a BA Practitioner to execute analysis-related work in support of business analytics initiatives. This signifies one's passion, commitment, and competence in performing business analysis on these initiatives.
5. Business Analysts should develop and hone their Leadership Skills
According to John C Maxwell, "A leader is one who knows the way, goes the way, and shows the way."
A leader's role is to inspire others to achieve their goals, dream higher, and assist in ways conducive to achieving their goals. Leadership skill in an employee is a valuable asset in any company, especially when it comes to C-level positions where it's essential.
For a business analyst, leadership skill is never the uncharted territory. Most business analysts share a leadership role, working collaboratively with project managers. Organizational psychology, negotiation, collaboration, influencing, and the ability to broker conflict resolution from a position of neutrality have become key traits of a business analyst. With all this experience in leading teams and projects, BAs should find it easy to hone their leadership skills.
The following activities can help business analysts improve their leadership skills:
Take initiative

Being decisive

Assisting others with their tasks

Setting clear goals and directions

Influencing others

Continuously learning from other people and situations

Listening and communicating clearly

Empathy and positivity are critical to success

Conflict resolution
Knowing the company's goals and how to reach them is just one part of the equation for a C-level professional. The more challenging and important part is knowing how to get others involved and follow you. This is where having professional leadership skills makes a big difference.
It bodes well to remember that there isn't a single distinct path to business leadership for BAs; they will have to adapt and expand their skillsets to succeed.
In short, the skills required by a BA to step up to a C-level executive role should cover a wide range of subjects, from leading others to knowing oneself and striving to learn new skills at every phase of their career.
BAs are generalists capable of working proficiently in different positions. The future of a BA is very bright as there is an ever-rising demand for them in the global market.
A well-planned road map can be a profitable and rewarding move for a BA aspiring to reach the C-level of an organization. Mastering BA skills, having the business acumen necessary to make firm decisions, along with honing the skills mentioned above, will solidify your place as a prized executive.
In the words of Audrey Hepburn, "Nothing is impossible, the word itself says, 'I'm possible!'". So, let your dreams lead you to where you desire to be in your career. Don't let the fear of failure and uncertainty intimidate you. Treat your stumbling blocks as a lesson worth their value in gold. Prepare yourself for the role and beyond, believe in your potential, be passionate about what you do, work hard, and most importantly- believe in the best for yourself.
It's said that if you find a path with no obstacles, it probably doesn't lead anywhere.
It is also rightly said the higher the goal, the harder the path. So, you will have to be ready to fight many stumbling blocks on the way.
So, move forward towards your goal and do everything required to achieve it. Your aspirations and diligence may result in you sitting in a boardroom, making decisions, chalking out growth plans, and shaping the organization's future as a business leader.
Read about the