Why Should You Invest in The IIBA CCBA Certification?
8 min read
Mar 18, 2020 12:00:00 AM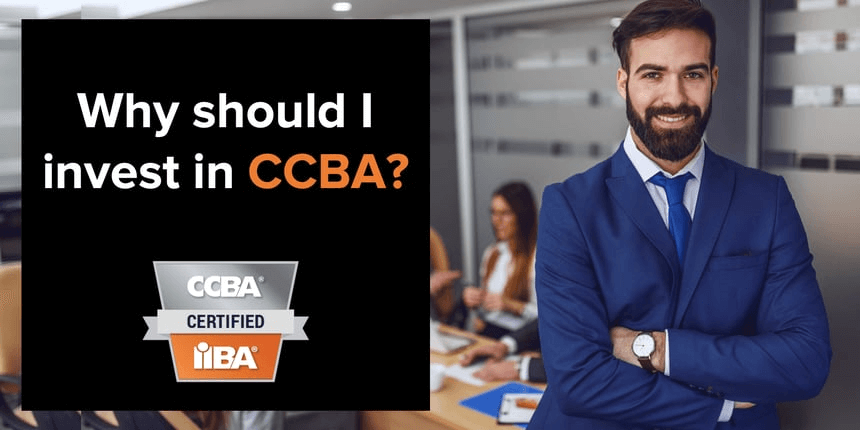 If you are a BA looking at handling BA responsibilities proficiently and propelling your career to the next level by upskilling, you are very much on the right track as organizations today are constantly looking out for professionals who have the ability to apply effective business analysis and consistently deliver business value.
With Business Analysis proclaimed as one of the fastest-growing professions with an all-time high growth rate of 14% from 2014-2024, as per the US Bureau of labor statistics, the need to upskill and stay in demand goes up manifold. The labor stats also reveal that the average growth of other professions is just about 5%.
A recent report prepared by LinkedIn based on insights from 660+ million professionals and 20+ million jobs titled "The Skills Companies Need Most in 2020 - And How to Learn Them", indicates that Business Analysis skill has made the most significant jump out of all the skills listed in 2020's trending hard skills. The report also states that business analysis is one of the few hard skills every professional should have, as most roles require some level of business analysis to make decisions.
Here's a data insight from SEEK on the job opportunities for BAs and how the job market is trending: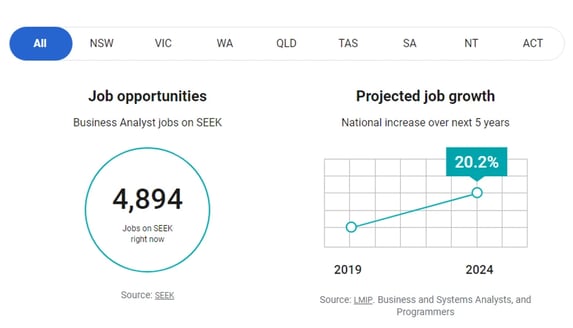 In fact, organizations have also realized the importance of having highly skilled and matured BAs who would help enhance their delivery capabilities and have started establishing Business Analysis Centers of Excellence (BA CoE).
The ability to identify and evaluate business needs and find solutions to problems are undoubtedly certain essential skillsets for business analysts. However, when the demand for BAs is on the rise, how do you stand out in the crowd and empower yourself with the best BA jobs in the market?
Would it be sufficient to just project whatever experience you have or would you need to do something more?
Well, the answer is…to keep yourself in demand, there's no better way than to be prepared, get skilled, certified, and project your capabilities in the professional environment.
Here are some facts to substantiate the claim:
CCBA professionals earn an average salary of $70,000+
Top-notch companies across the globe prefer hiring CCBA professionals
CCBA gets your resume past HR bots for mid-level positions
An investment of $1600 can result in ~300% ROI within a year
CCBA professionals experience amazing career transformations
CCBA professionals earn an average salary of $70,000+
By investing in becoming a trained and certified CCBA professional, you not only learn the BA skillsets, industry best practices, tools, and techniques outlined in BABoK but you also get an edge over your counterparts.
The exhaustive learning process involved in acquiring the CCBA certification will not only provide you with the necessary edge to stand out from the crowd but would also give you knowledge that you would not have acquired through work experience alone.
According to the 2019 IIBA Salary Survey Report, IIBA certified CCBA professionals earn salaries in the range of $70,000+

2. Top-notch companies prefer employing CCBA certified BA Professionals
Professionals with a certification in business analysis from IIBA (International Institute of Business Analysis), find themselves in higher demand, are more respected, and find it easier to obtain credibility for their business analysis work.
Top-notch companies across the globe prefer hiring professionals who have industry-recognized BA certifications such as CCBA as it
Establishes the credibility of the professional and demonstrates expertise and knowledge in practice and systems of business analysis.
Recognizes the BA's ability to take on larger and more complex project responsibilities.
Is an independent validation of the competencies and skills of the BA by the most reputed global body for the BA domain, IIBA.
Highlights the hard work and commitment the individual has put into preparing and clearing a tough exam like CCBA.
Saves time, resources and effort to train and upskill the BA professional.
Creates an impression among customers, competitors, and investors that the organization gives importance to industry-standard business analysis practices and techniques.
A quick look at a few BA job openings in reputed firms across the US, Canada, Australia, NZ clearly indicates that CCBA professionals are preferred over their non-certified counterparts.
BA opening in the State of Vermont, Montpelier, US
BA Job Opening in Deloitte, Hermitage, US
BA Job Opening in Railroad Commission of Texas, Austin, US
BA opening in Ubisoft, Montreal, Canada
BA opening in Brookfield Renewable, Gatineau, Canada
BA opening in Town of Oakville, Canada
BA opening in Cognizant, Sydney, Australia
BA Job Opening in Hawksworth, Brisbane, Australia
BA Job Opening in People Equity, Melbourne, Australia
BA Job Opening in Mercury, Auckland, New Zealand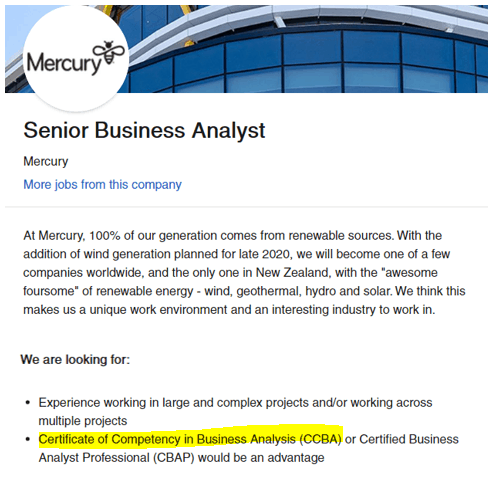 3. CCBA gets your resume past HR bots
With several organizations employing HR bots and preferring CCBA preferred candidates for mid-level BA roles, possessing this certification will be an added advantage in the pre-screening process and will enable you to cross the hurdle of your resume getting overlooked when you look out for better opportunities.
4. An investment of ~$1600 can result in 300% ROI within a year
As committed and passionate business analysts who wish to upskill and stay relevant, we often evaluate the return on any investment that we make regarding our career.
At this point, it's totally worth mentioning the ROI – both tangible and intangible that one obtains upon becoming a CCBA certified professional.
BA practitioners worldwide have reported that certification not only brings the often sought-after salary increases but also provides greater opportunities for promotions, increased efficiency, and effectiveness at work. In addition, certified professionals also experience increased confidence and fulfillment owing to enhanced BA skills.
Let's do some quick math here:
Success guaranteed CCBA Training fees
$1049
IIBA Membership

$139 (Region 1 - USA, UK, Canada, Australia, Most of Europe…)

$89 (Region 2 - Singapore, Nigeria, Hong Kong, Malaysia, South Africa…)

$55 (Region 3 - India, Africa, China, Egypt, Ukraine, Tanzania)

CCBA Application fees

$125

CCBA Exam fees

$325

Total Investment

$1638 - Region 1


$1588 - Region 2


$1554 - Region 3
With an investment of $1600 (USD) for CCBA training, IIBA membership, certification application, and exam fees, and a fraction of that to maintain it, here's the benefit that one can accrue with a CCBA certification. The benefits are typically realized in 3 months based on insights from our past students.
A quick ROI calculation based on figures shared in the 2019 IIBA Salary Survey Report:
The salary of a Business Analyst with 1-year experience typically is in the range of $60,000. As per the 2019 IIBA Salary Survey, CCBA certified professionals, which is meant for BAs with 2-3 years of experience, earn salaries in the range of $70,000.
As per figures published in the 2019 IIBA Salary Survey,
The global average salary of entry-level BAs = $63,824
Global average salary of CCBAs = $70,179
Difference = $70,179-$63,824 = $6355
Considering an investment of $1600, ROI = (6355-1600)/1600 = ~300%
In addition, CCBA also provides the following advantages:
Ability to present ideas and start leading projects with the newly acquired knowledge and skillsets
Makes one a more trusted leader by the management and customer
Enhanced BA skills and hence improved confidence
Higher productivity
Ability to influence stakeholders better with enhanced knowledge of BA techniques and skills.
Enhanced ability to resolve conflicts and crisis better
Would you say no to such wonderful benefits in your BA career?
5. Amazing career transformations of those who have done it
90% of our students have experienced the above benefits with CCBA and here are some amazing cases of career transformation that they shared with us.
How Nancy got the much-needed career break as a BA with CCBA training and certification and how she propelled her career to the next level
When I migrated to a new country, I had a hard time looking for a BA job although I had relevant BA experience and ended up working as a customer relations associate. With aspirations to get back to being a BA, I was convinced that getting CCBA certified would give me the much-needed break. I enrolled with the Adaptive US after reading their wonderful customer testimonials. I must say, they helped me a great deal to prepare for the CCBA certification. Their study material, practice tests, simulation tests are most helpful. They are also very responsive to any queries. The lessons and practical insights I learnt from the experts gave me wonderful talking points in interviews and I landed a BA job in a month's time. The recognition also gave me the confidence to perform my job better and earn my client's trust.
How Susan was able to open up new avenues in terms of job and career advancement with CCBA training and certification:
Being a committed BA professional, I wanted to scale greater heights by harnessing my ability to work effectively with stakeholders, design efficient business processes, and take on opportunities to work on complex projects.
I decided to pursue CCBA certification as it would be the best way forward in the pursuit of my goals of career advancement. I enrolled with Adaptive US and I am glad I did so. The training was straight to the point and the trainers were very knowledgeable.
CCBA certification & training helped me get a new job and is bringing me new laurels. My enhanced understanding of the BA role and areas have enabled me to interact much more efficiently with stakeholders, suggest creative solutions to problems, and improve existing solutions.
How Steven projected value to his employers and landed his dream job in one of the world's largest pharmaceutical companies with CCBA training and certification:
With the role of a BA constantly evolving and changing, I realized how important it was to stay relevant and ahead of the game.
I wanted to master the art of business analysis to take on more challenging projects and project value to my employers. With this goal in mind, I decided to get CCBA certified and enrolled with Adaptive US, and let me tell you, it was the best choice I made regarding my career advancement.
I passed the exam at the first attempt and with my newfound learnings and practical insights, I pursued my dream of landing a BA job in the finance or health sector and soon landed a job as a BA Coordinator in one of the world's largest pharmaceutical companies within months of passing the CCBA certification. CCBA certification taught me the best practices and became a proficient BA who could handle the BA role adeptly.
In short, the CCBA is suitable for any ambitious business analyst who wishes to skyrocket their BA career. Being a holder of this certification will not ensure that you are on top of your game but will also open doors of opportunities that come along with enhanced knowledge and skillsets. Being a CCBA is a hallmark of your credibility, commitment, and passion as earning it calls for time and dedication.
So what's stopping you? Are you turning a blind eye to your career?
Become part of a bigger community, stay abreast of the changing trends and turn your BA career around with CCBA!
Start your success journey today.
Suggested Reading-
CCBA Certification Exam Preparation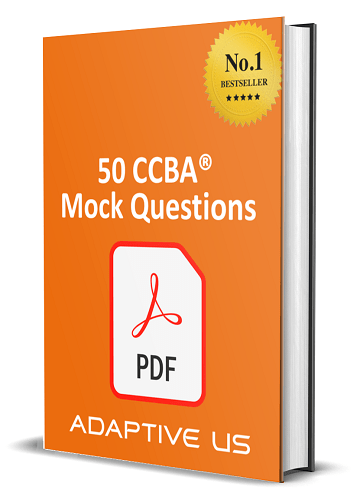 No Comments Yet
Let us know what you think