Why BACoE?
39% of project failures are attributable to poor business analysis.
According to the PMI Pulse of the Profession® report, inaccurate requirements (which is a result of poor or missing business analysis process) are the second leading cause of project failure (39%), the first reason being changes in an organization's priorities (41%). Access the report here.
Today's organizations more than ever recognize the value of business analysis, ensuring sufficient pre-project analysis is performed to align project, program, and portfolio investments to the organization's strategy, goals, and objectives. Organizations with high-maturity business analysis processes also experience better strategic alignment to goals and higher performance.
PMI conducted a research study with 730 professionals with an average experience level of 9+ years. The respondents classified their organization's BA practice as "Low Maturity" and "High Maturity." Organizations that reported high business analysis maturity consistently performed 20% points better in financial performance, strategy implementation, organizational agility, and project success.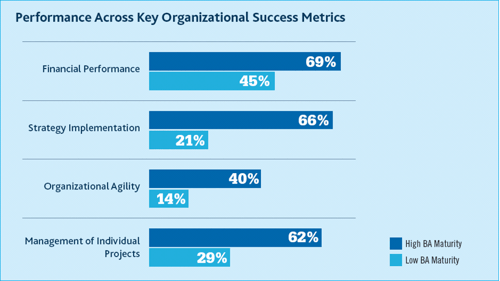 Here is even more fascinating information on the impact of business analysis on a competitive advantage. 81% of respondents considered the BA capabilities a strategic advantage in organizations with higher BA maturity.
In a recent LinkedIn survey carried out by Adaptive US in 2022, 45% of CIOs and senior IT professionals attributed a lack of business analysis capabilities as the primary reason for most project failures.
[ Learn in-depth about business analysis ]
What is BACOE?
A Center of Excellence is a team of dedicated individuals managed from a common central point, separate from the functional areas it supports within a practice or organization.


---
BACOE is often the team leading the way in exploring and adopting new technology tools, techniques, or practices in the domain of business analysis. Gartner describes effective BACOEs as "concentrating existing expertise and resources in a discipline or capability to attain and sustain world-class performance and value."

---
This group is designed to operate across areas within the practice or organization, with a focus on:
Providing thought leadership and direction

Establishing and promoting best practices

Research and development, to provide appropriate recommendations

Support and education

Performing other similar functions in specific focus areas considered critical to the success of the overall organization or practice that the BACOE supports
In addition to its core focus areas, the BACOE can also add value by contributing to:
Optimizing the organization or practice by centralizing resources with high-demand and unique knowledge or skills and streamlining their contributions across a wide range of areas

Improving ROI through the identification and development of reusable assets

Reducing delivery times, development, and maintenance costs by increasing efficiencies and leveraging reusable asset

Identifying and reducing duplication of effort across initiatives within the practice or enterprise

Developing and maintaining a catalog of reusable assets will add tremendous, tangible value, enabling project teams to rely on proven, predictable results while avoiding common pitfalls.
In the context of automation and process management, concentrating this expertise and resources in a Center of Excellence framework means that when you upscale production, you can realize economies of scale, with a decreased turnaround time for generating additional workflows and reduced costs in production.
COVID-19 has compressed corporate budgets, reduced the workforce, and disrupted company business analysis processes worldwide. As a result, many organizations now face the challenge of adapting to a new normal or suffering adverse economic effects. So, a Center of Excellence is an excellent way to ensure alignment around a common purpose.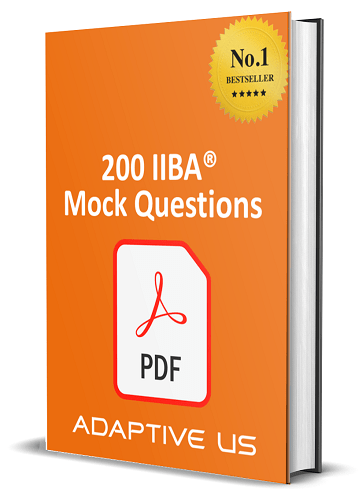 Steps to Set up BACoE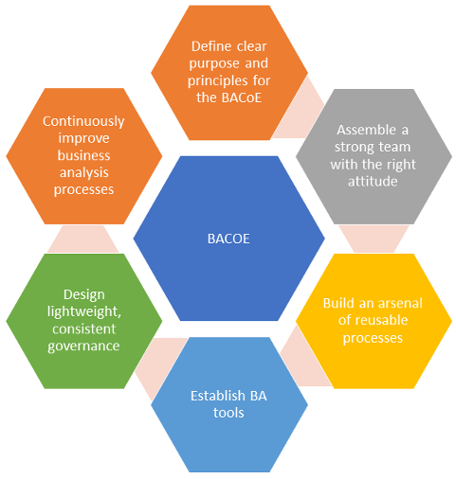 STEP 1: Define clear purpose and principles for the BACoE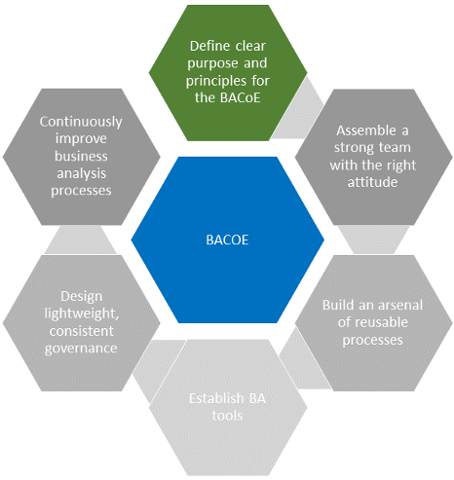 For an organization to be successful, it must have a clear purpose and principles. So is the case with BACoE.
It is important to note that the purpose of the BACOE can evolve over a period of time. In the beginning, the purpose may be to convince the stakeholders about the utility of the organization. Later, the focus may shift to developing effective processes and identifying the right tools.
STEP 2: Assemble a strong team with the right attitude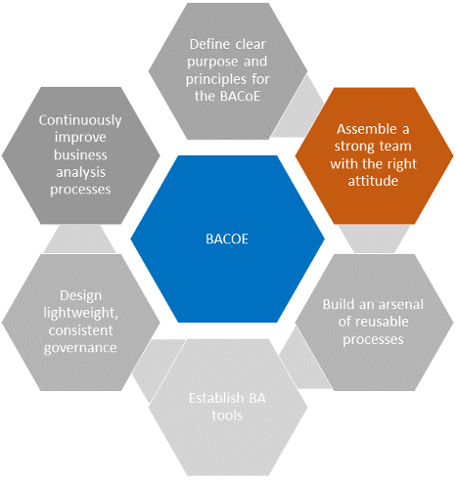 Any business analysis initiative counts strongly on both technology and human aspects. Capable business analysts assist the organization in efficiently achieving its goals and staying ahead of the game. Hence it makes enormous sense to get your business analysts trained in strategy analysis, business analysis planning and monitoring, elicitation, requirements management, requirements analysis, and solution performance improvement. Training them on your recommended business analysis practices and business analysis tools is also equally critical.
STEP 3: Build an arsenal of reusable processes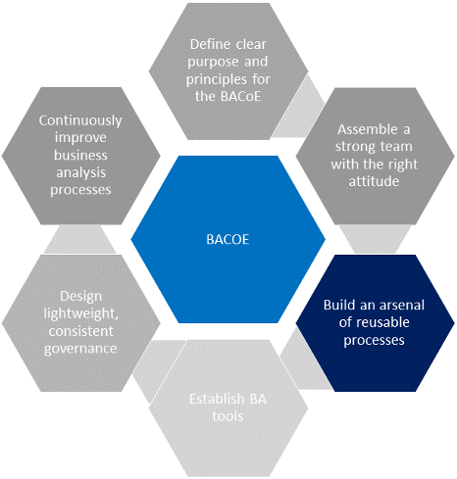 An arsenal of reusable processes can deliver value and speed to your organization. A process can be something as simple as a document template or something developers create. Everything that's designed should be built so it can be used across multiple use cases.
A well-defined process enables all business analysts in your organization to perform business analysis consistently, predictably, and efficiently. It is also critical to get your business analysis process benchmarked against the Business Analysis Body of Knowledge (BABOK), a global standard on business analysis practices.
STEP 4: Establish BA tools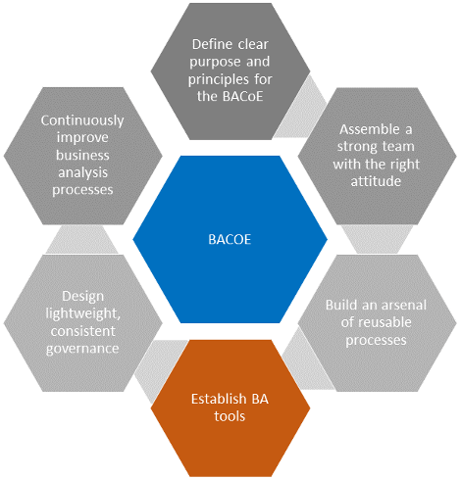 About a decade back, there were very few business analysis tools, most of which were utterly expensive. Fortunately, over the last few years, a significant number of high-quality and cost-effective tools have been introduced into the market. Some business analysis tools popular in the market are Jira from Atlassian, Balsamiq, MS Visio, and Adaptive Business Process Modeler.
STEP 5: Design lightweight, consistent governance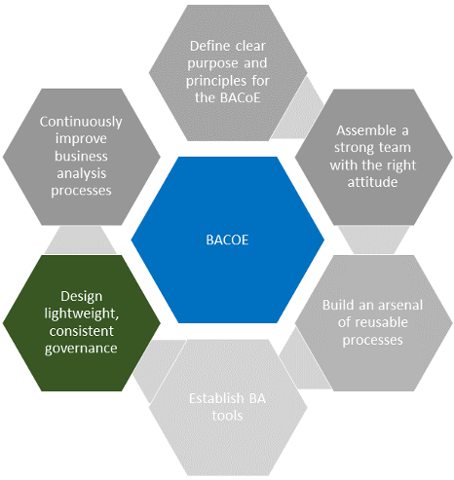 Finally, you must design lightweight, consistent governance to ensure compliance and best practices are met. Create exceptions-based approval business analysis processes; get your security and infrastructure teams to provide checklists of areas where they would need to be consulted. This means these teams only have to review five or so requests each month, rather than 90. Only after things pass through the governance gate can they enter the sprint cycle of plan, test, build, deploy, and then retrospective. This helps to increase efficiency by engaging the right people at the right time. It will also improve quality and reduce the rework rate as the checks ensure effective business analysis processes.
STEP 6: Continuously improve business analysis processes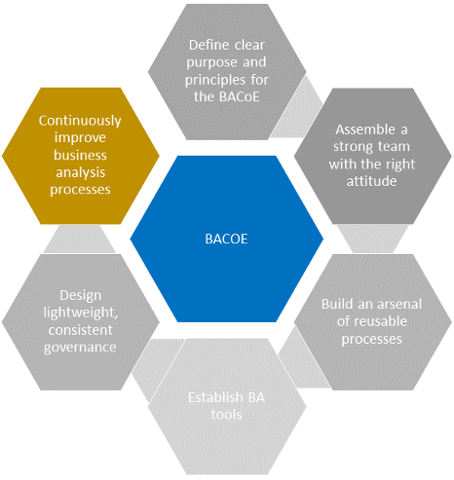 Create an iterative methodology to ensure everything is being done correctly, at the right time, with the right people involved. It's wise to establish an evaluation process, which includes a three-tiered assessment to help identify items that are suitable for automation based on:
1) Suitability – is the BA process mature and stable enough to automate?
2) Complexity – assess the integrations involved and
3) Business value to assess what the savings will be, whether it's a saving of time or money.
Alongside this, you should also set up retrospective business analysis processes for continuous learning. By establishing a documentation repository for holding all team artifacts, team members can check information and learn as they go. This will help accelerate time-to-market and improve quality.
We would love to learn the experiences of other business analysts in setting up and managing their BACoEs. Do comment and suggest improvements to the approach.
To get an in-depth understanding of Business Analysis, check out Apdative's Business Analysis Fundamentals Training course: https://www.adaptiveus.com/business-analysis-fundamentals-training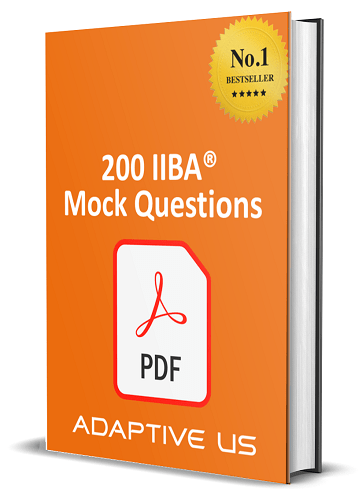 Related Posts
Write Comment