How to manage negative stakeholders | Free Template
by LN Mishra, CBAP, CBDA, AAC & CCA on Apr 23, 2018 12:00:00 AM
I wish you do not face the need to manage negative stakeholders in your project lives.
But life is not going to fair all the time and you need to learn to manage negative stakeholders.
Negative stakeholders will try to break your morale, make you cry in the restroom (for no fault of yours). But then, one grows only in adversity.
You may be surprised why such a stakeholder group would exist. But I have personally experienced the existence of such stakeholder and stakeholder groups in multiple projects. Sometimes this group of stakeholders may not be convinced about the desirability of the project, or they may not agree to the sponsor's vision of the project.
They may have a personal grudge against the sponsor. Organizations are like human beings, stakeholders like each other and they dislike each other like human beings like each other and dislike each other.
Sometimes some stakeholders may have strong reservations about the way the project is being executed and they would like the project to fail because they believe that this is not the right way to run the project.
So how do we manage negative stakeholders?
I am proposing a 4 steps approach.
Step 1. Identify negative stakeholders.
As a practitioner of continual improvement, I wanted to bring in a new dimension to the stakeholder map which will help manage negative stakeholders. This is based on my practical experience in working on multiple projects.
We have been using the classic four quadrant stakeholder map for ages. This has been very useful in terms of segregating our stakeholders into 4 different categories and taking action based on the influence and interest of the stakeholder group or individual stakeholders.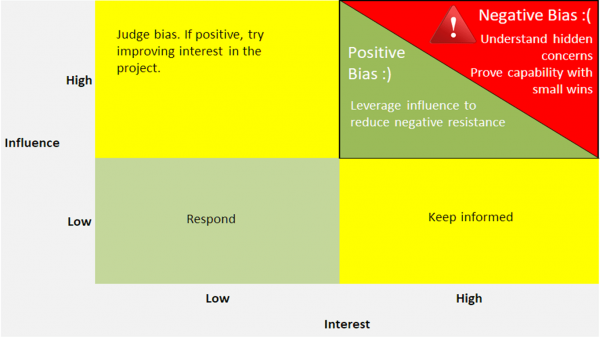 If we look at the quadrant which is a high influence and high interest, this is the most critical quadrant that we need to focus our energy on. We can divide this quadrant into two parts indicating whether the stakeholder group or stakeholder is positively biased towards the change or negatively biased towards the change.
If the stakeholder group is positively biased, one is actually lucky because this group of stakeholders has high influence, have high interest and they want the project to be successful.
The most dangerous group of stakeholders could be the ones who have high influence and are negatively biased. This group of stakeholders can actually mar the project because of their authority in the organization.
As business analysts and project managers, it is critical for us to segregate this critical stakeholder group into two parts and take action based on the biases.
Step 2: Investigate the reason for negative bias.
There must exist a reason for stakeholders to oppose a project.
Is it due to personality conflict?
Is it due to lack of goal alignment?
Is it due to power/authority conflict?
Is it fear of change?
Understanding the reason for negativity will help us to develop right approach to manage negative stakeholders.
Step 3: Contain influence of the negative stakeholders and groups.
One key approach that one can think of doing is to leverage the influence of positive biased by stakeholders to reduce the biases of negative stakeholders.
Even at some point in time, one may also ask the sponsor to intervene to make sure that the influence another the negative influence of the critical stakeholders is minimized.
At the worst case, such stakeholders can be moved out of the project.
Step 4: Prove your competence and project approach.
Often, negative stakeholders simply do not believe the project will be successful in the current design and structure.
One other approach will be is to take baby steps to prove that the project can actually be made successful given the current approach.
This is work in progress and not meant to be perfect and can definitely be improved.
I would encourage my BA friends to contribute to improving the stakeholder map.
You may like some of our other blogs on stakeholder management
Silent stakeholders. The Giant killers of projects.
How to handle aggressive stakeholders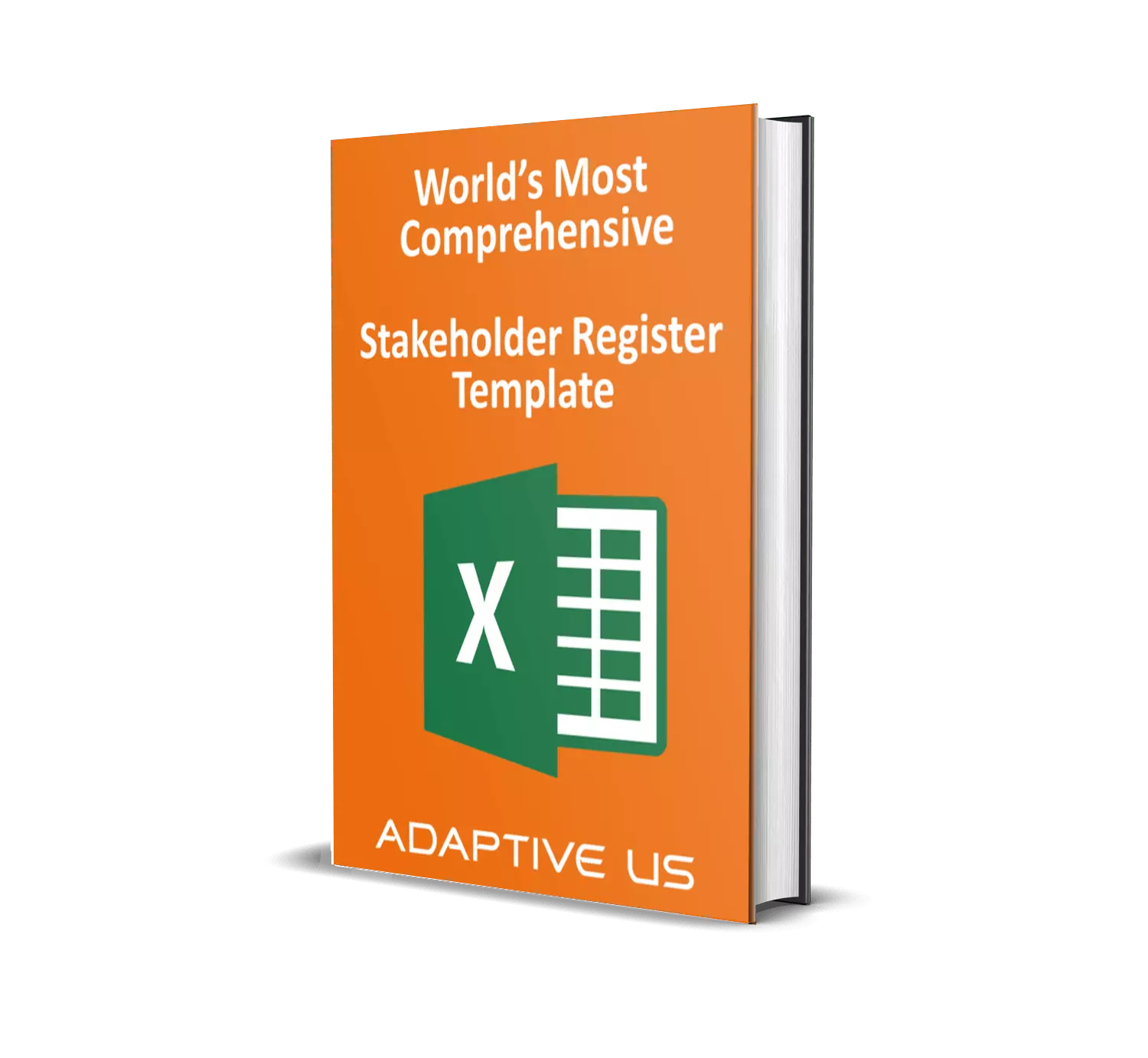 No Comments Yet
Let us know what you think