What Does a Data Analyst Do? | Adaptive US
by LN Mishra, CBAP, CBDA, AAC & CCA on Oct 10, 2022 5:36:47 AM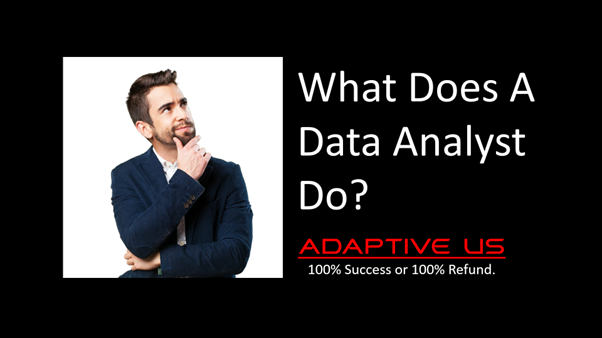 Over the past few decades, data has immensely transformed how we see the world today. As a result, the ability of businesses to extract valuable insights from the vast amounts of data they deal with has proved to be a crucial task. Therefore, depending on the data, business decisions, such as which products to produce more, which markets to enter, what investments to make, or which customers to target, are being asked more frequently than before. As a result, organizations across all industries are becoming highly dependent on data to analyze raw data and transform it into informative data that businesses and organizations can utilize to make important decisions and pinpoint weak points in the company that needs to be fixed. So let's take a dive into the most demanded role of the decade and how to become one.
What is data analysis?
Data analysis is the process of gathering, processing, interpreting, and presenting data using a variety of methods and tools. You can use data analysis tools to find important insights to help you make wiser and more effective decisions. It converts unprocessed data into useful statistics, knowledge, and explanations.
This analysis of the data usually takes place in the following phases:
Understanding

the business objective

Identifying

the data needed for analysis

Collecting

the required data

Cleaning

the data in preparation for analysis

Analyzing

the available data

Interpreting

the results of the analysis
IIBA Guide to Business Data Analytics prescribes the following approach to Data Analytics: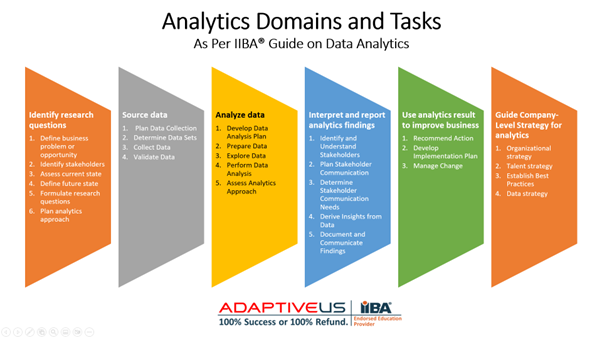 What does a data analyst do?
A Data analyst is a role where one can contribute to analyzing large amounts of data and modeling data to generate valuable business insights. A data analyst is responsible for developing the hypothesis and the behavioral patterns based on analytics to support decision-making. A data analyst comprehends the business purpose and gathers, filters, and analyses data sets to provide a solution to a business problem or opportunity. They are employed by the majority of sectors, including government, science, retail, health, and criminal justice.
Tasks and responsibilities of a data analyst
The day-to-day responsibilities of a data analyst are:
Data collection- Many times, analysts gather data themselves. Completing surveys, keeping track of demographic information about website visitors, or buying datasets from data-gathering specialists can help with this.
Data Cleaning - Duplicates, mistakes, and outliers may be present in raw data. Cleaning the data is the process of maintaining the accuracy of data in a spreadsheet or through a programming language in order to avoid incorrect or skewed interpretations.
Data Analysis - This necessitates creating and organizing the structural components of datasets. You can choose which data types to save and collect, connect various data categories, and how the data will appear.
Data interpretation- To interpret data, you must identify patterns or trends in the data that will aid in resolving the current question.
Data presentation- An important aspect of your employment will be explaining the conclusions of your research. You accomplish this by assembling visual aids like graphs and charts, producing written reports, and delivering information to interested parties.
Key skills of a data analyst
Having experience with data visualization programs like Excel, Tableau, and QlikView.

Knowledge of computer programming languages like Python, SQL, Oracle, R, and MATLAB

Strong mathematical abilities can assist with data collection, measurement, organization, and analysis

Technical expertise in data models, data mining techniques, and segmentation.

Precision and focus on the details

Proficient in research, report writing, and presenting skills

Collaborative skills

Writing and verbal communication Skills

Problem-solving skills

A track record of performing data analysis
Tools used by data analysts
During the data analysis process, analysts commonly use various technologies to increase their job's accuracy and efficacy. The following are some of the most popular tools used in data analysis:
SQL

R

Microsoft Excel

SPSS and VBA

Tableau

SAS

Microsoft Power BI
Salary of a data analyst and job outlook
Some factors that affect a data analyst's salary are the educational background, geographic location, relevant work experience, and skill set they hone. An experienced data analyst may earn an average annual income between $60,000 and $140,000.
However, companies in the financial and technological sectors often offer salary packages above average. Therefore, the role of a data analyst is regarded as one of the most in-demand professions with an extremely high growth rate.
Types of data analysts
Knowing how to gather, classify, and analyze data has turned into a key component of practically any sector due to the rapid expansion of the types and amount of information we can collect because of advanced technologies. Among most others, the criminal justice, fashion, food, technology, business, and public sectors use data analysts.
Some of the most common titles used by data analysts are:
Business Intelligence Analyst

Market research Analyst

Medical and Healthcare Analyst

Operations Research Analyst

Intelligence Analyst
How to become a data analyst?
There's more than one path toward a career as a data analyst. Whatever path you choose often requires more than just the technical expertise to excel in this career. It would be ideal for getting a bachelor's degree in a subject that values statistical and analytical abilities. Individuals with backgrounds in statistics, mathematics, computer science, or economics typically have an advantage in the field of data analysis. Apart from this, Microsoft Excel and SQL should be mainstays in any data analyst's toolbox. Some other skills you must possess as a data analyst are
Problem-solving skill

Critical thinking

Communication skill

Industry knowledge

Critical thinking
It would not be difficult to find a data analyst job if you possess the required skills and degree. Today, the job description of a data analyst branches off into various specializations like healthcare, business, finance, marketing, and e-commerce. Also, the US and Europe currently have more job openings for data analysts in business intelligence firms than in the financial, sharing economy, healthcare, or entertainment industries.
Become a proficient Business Data Analyst and Stay Ahead of the Curve with Adaptive's Data Analytics Bootcamp.