Top 5 Reasons Why You Should Become A Business Analyst
by LN Mishra, CBAP, CBDA, AAC & CCA on Aug 27, 2020 12:00:00 AM
I am a practicing BA for the last 25 years and I have loved every day of it. But let me tell you something very interesting – I absolutely hated software when I started my professional career! What made me take a complete U-turn? Let me narrate.
After graduating as a telecommunications engineer, I joined a telecom research firm. I was part of the radio systems validation group. We used to install the radio systems in the field to test the radio systems. It was truly an amazing experience to listen to your colleague who maybe 20 miles away through the radio system (This is the year 1992 when telecom was still quite manual systems.). We also had a software division and I used to find my colleagues working on their PCs for the whole day. And here I was, going to the field, installing and testing systems, true engineering activity.
I had always dreamt of completing a master's program and I got an opportunity after working for 2 years to do a master's program in management. After my master's program, I joined PWC, which was a pretty reputed consulting firm. I was assigned the responsibility to improve the revenue performance of a client.
Something interesting stuck me – I analyzed the client revenue data and I found a very startling fact. Our revenue recovery efficiency varied from 20% to 70%. I did not know about the technique root cause analysis but I used that. I found that in certain categories of customers where our recovery was high, we had an automated billing process. The categories where revenue recovery was low, the bills were prepared manually. Due to the slow manual process, we could invoice a certain category of customers only once in 6 months. A huge bill was the primary reason for customers to delay the payment by raising complaints.
I thought why can't we automate the remaining category of customers? I found the software developer who knew FoxPro. I requested his help, I requested help from the most experienced bill preparer and I looked at the billing code provided by the regulator and we started working on the new billing software. In 3 months, we were ready with the new billing system. I also made a provision to segregate current bills and arrears and offered an interest-free payment scheme for the arrears.
Voila! We achieved an incredible 70% improvement in revenue for these categories of customers. This was the DAY of my realization. The software can be so powerful to change the fortunes of organizations. That's when I made up my mind to become a business analyst.
It is even better now than when I first started my BA career roughly a quarter-century ago.
HERE ARE MY TOP 5 REASONS WHY I BECAME A BUSINESS ANALYST AND WHY YOU SHOULD TOO.
#1. YOUR ABILITY TO CHANGE FORTUNE OF YOUR ORGANIZATION / CLIENT
Technology continues to make amazing strides. Organizations that take advantage of technology will flourish. Those who don't will fade into oblivion. Business Analysts are the unique set of professionals who understand both business and technology and enable organizations to take advantage of emerging technologies. The sweeping range of possibilities will keep us engaged for decades.
#2. EXCITEMENT EACH DAY
I, like many people, love the excitement of doing a variety of projects across domains, countries, and situations. As a business analyst, I travelled across the globe, USA, UK, Germany, Spain, Oman, UAE, Philippines, Singapore, and India. I worked across sectors such as manufacturing, hi-tech, retail, oil, and gas, professional services, just to name a few for 25+ clients. Imagine the excitement of learning so many domains, cultures, and clients.
#3. GREAT PAY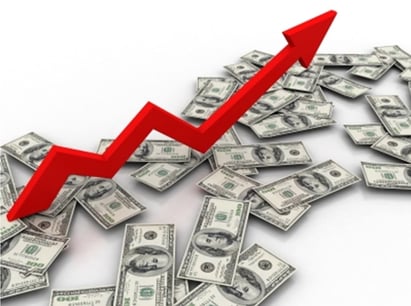 Average Business Analyst makes over $78,000 per year! Top 10% of Business Analysts make nearly $150,000 per year. You are among the highest-paid professions in the world.
Business Analysts definitely are compensated well for their work and with the job market demand outpacing the entry-level candidates, the salary for the Business Analyst should continue to rise.
#4. Demand for Business analysts IS SET TO EXPLODE
More and more organizations are realizing the benefits of having dedicated Business Analysts. The Business Analyst job market is expected to grow at a rate of 19% over the next 10 years! That means the current 740,000 or so Business Analyst jobs will become approximately 880,000 jobs by 2026!
Here's a data insight from SEEK on the job opportunities for BAs and how the job market is trending: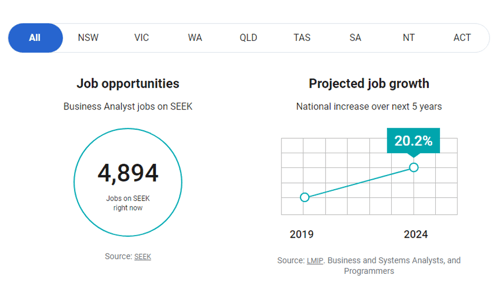 With that type of explosive growth, organizations around the world are competing for skilled and competent business analysts. There is no better time to get into the Business Analyst career than right now!
#5. Make yourself ready to move to the top ECHELON
Business Analysts have a wide range of knowledge and experiences gained from various domains, projects, and cultures. These experiences help business analysts to identify a problem the business is facing, gain rapport with stakeholders, design a solution to solve a problem, reconfigure a process, conduct user training, etc. These are the skills that make one climb to the top positions in the organizational hierarchy.
Business Analyst career the perfect career option, great financial rewards, professional growth, and is personally rewarding. Whether you are graduating from your college, are professionally lost on what to do, or are looking for some zing in your career, you need to give a serious look at becoming a Business Analyst.
Welcome to the exciting world of business analysts!

No Comments Yet
Let us know what you think