ECBA Certification Exam Preparation in 2023
9 min read
Nov 28, 2019 12:00:00 AM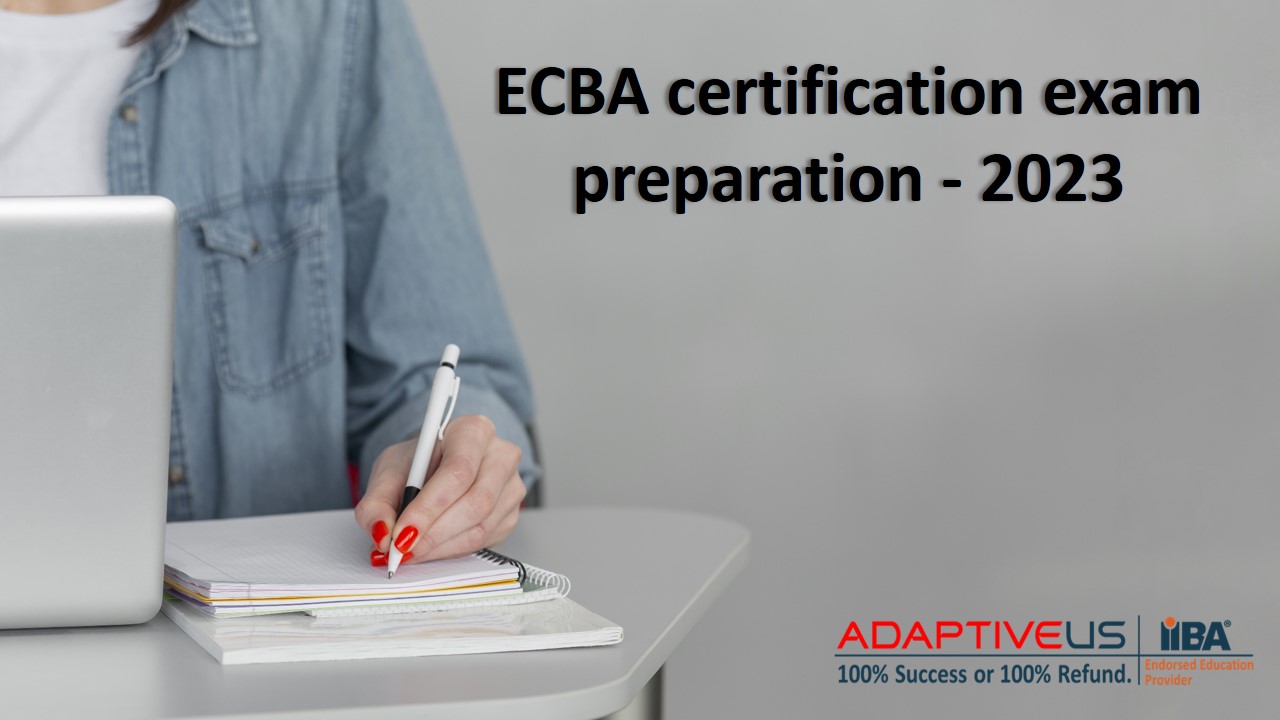 The Entry Certificate in Business Analysis, ECBA, is the first level of certification by IIBA. ECBA certification is ideal for individuals entering the field of business analysis. ECBA™ recognizes individuals ready to develop their business analysis skills, knowledge, and behaviors, to join the business analysis profession.
For candidates just starting up on the professional ladder, ECBA Certification can prove to be the perfect stepping stone to enter Business Analysis Domain. It is primarily targeted at freshers, professionals looking at switching over to a BA career, and any graduate professional looking to build a career in the BA domain.
ECBA is framed rightly to suit the needs of an entry-level Business analyst focusing on requirements analysis, modeling, and requirements life cycle management with a good amount of emphasis on modeling concepts and tools. The questions in this certification exam are based on the business analysis body of knowledge BABoK version 3.0 by the International Institute of Business Analysis, IIBA.
Benefits of ECBA
Pursuing ECBA certification has many significant benefits, the top ones being:
Be recognized for your knowledge, competency, and understanding of the business analysis principles and industry best practices.
Personal satisfaction of accomplishing the first step in their BA careers.
People with domain experience can move into the IT sector by becoming business analysts.
Better job prospects.
Better salary.
More market opportunities.
Improvement of overall performance.
ECBA Exam Pattern
ECBA covers the foundation of how to approach business analysis according to the BABOK® Guide. It is aimed at individuals entering the BA profession. ECBA not only gives a rock-solid foundation for getting into the BA profession but also helps with global certification.
ECBA exam focuses on-
The exam blueprint of ECBA is aligned with v3.0 of the BABOK® Guide.
Business Analysis Knowledge Areas and Questions Distribution
ECBA Exam Blueprint based on BABoK Guide

EXAM FOCUS AREAS

Requirements Analysis and Design

25%

Requirements LCM

20%

Business Analysis Planning and Monitoring

5%

Elicitation and Collaboration

20%

BA KNOWLEDGE AREAS

Business analysis & the BA Professional

2.5%

Underlying Competencies

5%

Business Analysis Key Concepts

5%

Techniques

17.5%
IIBA ECBA Exam Pattern:
1-hour remote online proctored exam.
There are 50 MCQs.
In order to clear the ECBA certification exam, IIBA checks for success in each knowledge area and overall.
It is competency-based and aligned with v3.0 of the BABOK® Guide.
There is no negative marking.
One needs to pass individually in all the knowledge areas as given above and have to also score the overall minimum to pass. From our experience from the past ECBA participants and their experience, we know that it is safe to assume that the ECBA exam passing score is more than 70%. Hence it's suggested to target 80 – 90% in the ECBA mock tests to be successful in the ECBA final exam. Again, there is no official data by IIBA to support this.
This is based on our best estimate of the information on the ECBA exam.
In this blog, we describe how one can be an ECBA in a time-bound manner of 6 weeks.
5 Steps to become a successful ECBA in less than 2 months
Ensure the eligibility for the ECBA certification exam
Take IIBA approved ECBA Certification Training
Study BABoK and Practice ECBA questions
Get your application approved
Take the ECBA test and be a proud ECBA
Step 1 # Ensure the eligibility for the ECBA certification exam
The eligibility criteria for the ECBA Certification examination are as follows:
21 hours of verifiable professional development in the last 4 years. Adaptive US is an authorized EEP of IIBA®, its training will provide you with the desired professional development (PD) hours for ECBA certification examination.
Agreement with the ECBA™ Code of Conduct.
Common Myths of ECBA Certification
Some of the common myths associated with the ECBA eligibility criteria are:
I can't appear for ECBA as I am not in a job right now
There is no such requirement for one to be in a job to be eligible to apply for ECBA.
I can't appear for ECBA as I had a career break
As long as one meets the criteria prescribed by IIBA, that's more than enough to go for the examination. So do not worry even if you had a career break in your work history.
My official designation is not a business analyst and that makes me ineligible to prepare for ECBA
There is no requirement for one to be a BA to appear for ECBA.
I can't appear for ECBA since I am not a graduate
The education requirement for ECBA doesn't have any such condition.
One needs an experience letter from the employer to take the ECBA
Again, there is no such need from IIBA, IIBA has no expectation that one has to produce an experience letter from the employer.
I don't have experience as a business analyst hence I may not qualify to sit for ECBA examination
You do not need experience as a business analyst to be eligible to sit for ECBA, as it is an entry-level BA certification and is meant for new business analysts.
Step 2 # Take IIBA approved training on ECBA
Although IIBA allows one to take the exam without any classroom training, it will be really hard to understand BABoK without the help of an expert instructor. BABoK V3 is 500+ pages long and quite complex to follow. Professionals with 10+ years of business analysis experience and seasoned BAs also find it intimidating.
And since freshers have absolutely no idea about BA, it is strongly recommended to undergo proper training from a seasoned BA coach. This will help increase the chances of passing in the very first attempt and in the shortest possible time. Training from an IIBA EEP (Endorsed Education Provider) will also give the much needed PDU's (Professional Development Units) & guidance in form filling for the exam.
Adaptive US is an IIBA EEP and is the only training organization that provides ECBA certification training with Success Guarantee. If you do not succeed in your first attempt, we will pay your re-take fees.
The course content is based on the ECBA certification exam pattern and designed by mentors and coaches who have expertise in the BA field. The experts create the content as required by IIBA and periodically review it and make changes as needed.
Adaptive's ECBA Certification exam success rate is more than 97%. This is indeed the best success rate for any training institute. Take a look at our past successful participants on our website. Also, take a look at our past feedback.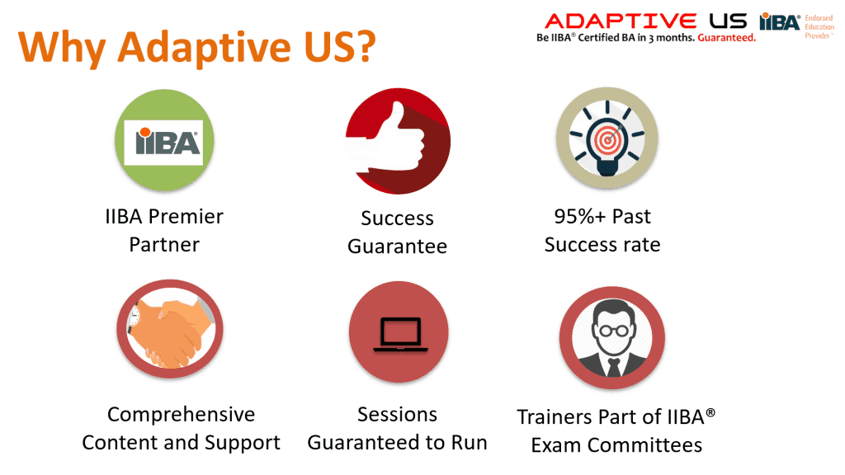 Adaptive's ECBA certification training deliverables include:
ECBA Training with Success Guarantee
21 hours of Live Instructor-Led ECBA Training
Exhaustive 1000+ ECBA Practice Questions
IIBA approved courseware
BABoK V3 based ECBA Study Guide
Access to Adaptive's learning portal
The option of revisiting what you learned during the training
Attend live sessions once again- 2 repeat ECBA training modules
Access to Adaptive Library
ECBA Application simulator fully aligned to IIBA ECBA requirements.
ECBA Audiobooks
Access to faculty presentation
ECBA Flashcards
Over 10+ hours of ECBA Video Learning
Comprehensive support till you Succeed
Adaptive's trainers have been part of the IIBA BABoK development team and exam-setting committees.
Adaptive's BA learning platform comes with 1000+ certification model questions, 100+ videos on BABoK, the world's most compact BABoK study guide, audiobooks, flashcards, Exam prep tips, personalized exam preparation plans, and exam alerts.
Read more: Why Adaptiveus
Step 3 # Study BABoK and Practice ECBA Model Questions
Good preparation leads to good results. And for good preparation, you need to follow the right path towards your certification goals.
If you are committed to the ECBA certification goal you have to set a preparation target of around 6 weeks. Set up a plan and work towards your target.
The week-wise ECBA certification preparation strategies given below will help you pass the certification exam in the first attempt.
Week 1:
Self-study of e-learning for BA techniques
Self-study of e-learning for KA 1 and 2
Attend Adaptive's ECBA certification classes for the 1st week
Complete concept quizzes and Drill question for KA 1 and 2
Week 2:
Complete concept quizzes and Drill question for BA planning
Self-study of e-learning for KA 3 to 6
Attend Adaptive's ECBA certification classes for the 2nd week
Complete concept quizzes and Drill questions for KA 3 to 6
Week 3:
Read the Adaptive US ECBA Study Guide
Week 4:
Complete Simulation tests and review answers
Week 5:
Revise the handbook and key concepts
Take simulations tests again
Take chapter-wise questions for concepts where you need improvement
Week 6:
Give the ECBA certification exam.
ECBA Exam Tips
Focus on the purpose of tasks and techniques
Questions with diagrams and calculations are unlikely
Questions are expected to be single sentence questions
Questions on definitions role
Questions on advanced modeling concepts unlikely
Understand requirements characteristics
Questions from advanced techniques unlikely
Understanding types of tracing requirements
Step 4 # Get Your ECBA Application Approved
Next comes the task of the ECBA application filing. Pick up an ECBA application filing template that simulates the IIBA application filing format.
Once you enter all the relevant details approval is almost immediate.
ECBA certification cost has the below components:
ECBA Application Fee – $45
ECBA Exam Fee – $150 for IIBA members and $305 for non-IIBA members
IIBA membership fee varies based on the country of residence
Member
Non-Member

Membership fee

As per the country of residence

(Between $55 to $139)

Application Fee

$45 USD

$45 USD

Exam Fee

$150 USD

$305 USD

($155 more than members)

Retake Fee

$95 USD

$250 USD

($155 more than members)
The IIBA membership and hence the overall ECBA certification cost varies as per the country of residence, which is divided into three regions.
Region I Countries: Australia, Belgium, Canada, France, Germany, & more...
Region II Countries: Brazil, Greece, Argentina, China & more…
Region III Countries: India, Indonesia, Pakistan, Sri Lanka, Egypt & more...
| | |
| --- | --- |
| | Member Annual Fee |
| Region I | $139 |
| Region II | $89 |
| Region III | $55 |
Step 5 # Take the test and be a proud ECBA
Once you are ready to take the exam, choose a day when you are relaxed.
Set up the exam date preferably after a weekend or if not then on Sunday. Don't go for the exam immediately after a work week, that doesn't let your brain relax. One needs to stay cool and have a good rest before the exam since the exam is quite exhaustive.
You can take the ECBA certification exam from home with PSI Online Exams. It is conducted LIVE and in a monitored environment. You just need to have a webcam, microphone, and stable internet connectivity on your PC/Laptop.
The link to register for your exam is–
https://my.iiba.org/CPBase__item?id=a131N000006rGhuQAE
The 'Must Do's' for the ECBA Certification Exam
You should have a noise and distraction-free environment.
The desk/table which you will use during the exam should be clutter-free and without any papers, books, devices, etc.
Make sure that nobody comes into the room during the exam.
Make sure you have uninterrupted power and the internet.
The Don'ts of the ECBA Certification Exam
Do not attempt until you have a strong foundational knowledge of business analysis as per the BABOK® Guide.
Do not expect the exam to be easy
Do not expect to have the luxury of time
Food, beverages (i.e., water, including chewing gums), attending phone calls, or scheduled breaks during the exam are not permitted.
Do not read questions with lips or whisper loudly
IIBA guidelines to prepare you for your exam day- https://www.iiba.org/certification/exam-preparation/
At the end of all this, the most important point is to stay focused all throughout the journey. No amount of study will be enough if you don't set a deadline and work backward.
Keep a target for yourself and work towards it, and make some progress every day. Keep some time marked for prep every day and make use of the weekends more effectively.
Hopefully, the details and tips given in this article help you in ECBA Certification exam preparation, and you can achieve your goal of getting ECBA certified on the first attempt.
The reassuring feedback from our ECBA-certified professionals reconfirms this-
Adaptive's ECBA Training landed Matthew Welborn in his new BA Job and gave him Strong BA Skills -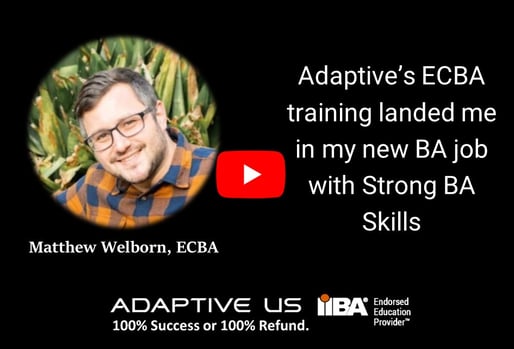 "Adaptive US ECBA program made studying easy for me. After the instructor-led courses and the learning tools the practice tests took away my anxiety about test day, and I was fully prepared. I was able not only to pass the exam on the first try, but I didn't second guess any of my answers." - Carin Chapman
Several other such feedback on the link here: ECBA Reviews
Have confidence in yourself and stay focused. Adaptive US has 460+ professionals who are now ECBA certified, and you should be the next.
All the best ahead for your preparation for ECBA. We hope that you achieve your goal and pass the ECBA certification exam with flying colors.
No Comments Yet
Let us know what you think