Impact of Artificial Intelligence on Business Analysts

7 min read
Apr 12, 2023 11:09:20 AM
Impact of Artificial Intelligence on Business Analysts and BA Jobs
Artificial Intelligence is no more a buzzword, and it has been making waves in the tech industry. We are experiencing AI in our day-to-day life in the form of chatbots, Voice assistants in serving customers' requests, forecasting market trends, detecting possible future ailments, and much more. In recent years, businesses have begun adopting AI to improve their operations and gain a competitive edge. But what does this mean for business analysts and BA jobs? With the rise of AI, will Business Analysts become obsolete, or will it create new opportunities? Let's dive into how artificial intelligence affects business analysis and explore what the future holds for those in this field.
If you are a business analyst, you need to be skilled to leverage these technologies as an added advantage to your capabilities to deliver continued value to your organization.
So, are you geared to make the most of it or see it as a threat, or are apprehensive of losing your job to AI?
AI is your new superpower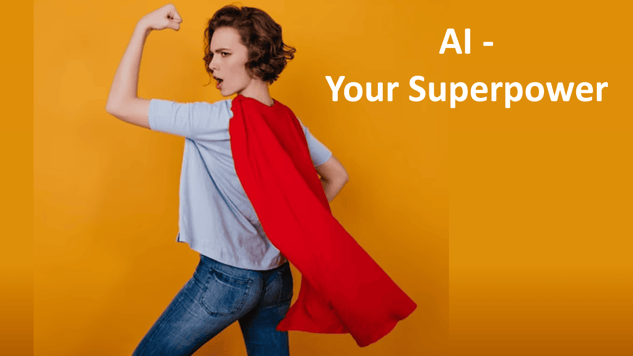 As a business analyst, you have access to a wealth of data to help you make better decisions for your company. But what if you could tap into the power of artificial intelligence (AI) to supercharge your decision-making process?

With AI-powered business analytics tools, you can get insights that would otherwise be hidden in your data. For example, you can use predictive analytics to identify trends and patterns in your data and then use those insights to make better decisions about where to invest your resources.

AI can also help you automate repetitive tasks so that you can focus on more strategic work. For example, you can use natural language processing (NLP) to automatically generate reports from unstructured data sources like social media or customer feedback surveys. Using these opportunities helps us converse with customers about new possibilities.

In short, AI is your superpower when it comes to making better decisions for your business. So why not put AI to work for you?
Use AI to have more control over your time and use it more efficiently –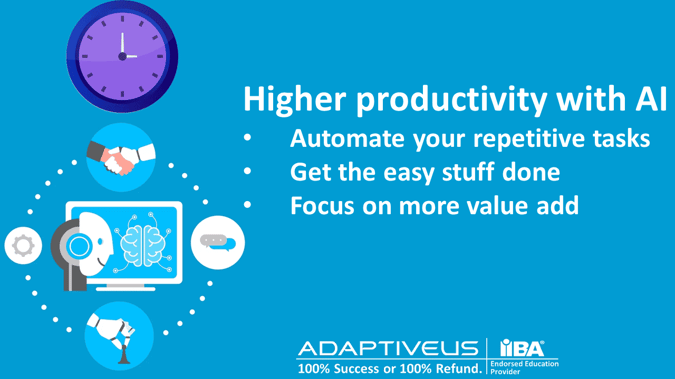 Let AI do all your routine, monotonous/repetitive jobs that free up more time and energy for Business Analysts.
Artificial Intelligence (AI) is increasingly being used to automate low-level tasks, freeing time and energy for Business Analysts. This allows Business Analysts to focus on more strategic tasks, such as identifying new opportunities, analyzing data, and improving processes. As AI continues to evolve, it is expected that even more mundane tasks will be automated, further freeing up time for Business Analysts to add value to their organizations. Let the easy and monotonous tasks be taken up by AI, leaving the complex and the more challenging tasks to humans. Having said that, it requires us to grow and sharpen our skills.
BAs add significant value to the organization with their cognitive abilities
BAs add significant value to the organization in many ways that AI can't take up.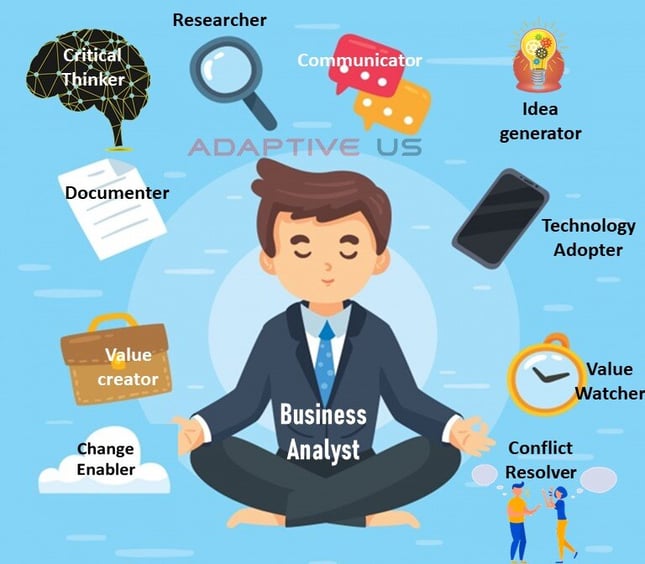 They
Perform a pivotal role in bridging the gap between the business and IT
Help/collaborate with stakeholders in prioritizing the requirements, helping them refine the requirements, and eliciting them using various techniques.
Influence/assist stakeholders in moving towards the unified project goal by communicating effectively.
They understand the business domain and processes and translate them into technical requirements.
They often apply out of box solutions approach to solve business problems where a straightforward solution may not be available.
All these skills are essential for the success of any project or organization but cannot be replaced by AI.
Here is a detailed analysis of skills/tasks that currently are not possible to be taken up by AI.
Problem-solving
BAs help in Problem-solving – For impediments faced in the process or by the team:

Artificial intelligence has altered the role of business analysts and BA jobs. In the past, BAs were responsible for gathering requirements and documenting them. However, with the advent of AI, business analysts now need to be able to solve problems that may arise during the process or by the team.

This is where AI can be beneficial. With its ability to identify patterns and correlations, AI can help business analysts understand why specific problems are occurring and how they can be solved. Additionally, AI can also help BAs predict future problems that may arise and recommend solutions accordingly. As a result, BAs are now able to provide more value to their organizations by helping to solve complex problems.
Out of box thinking
Organizations are under constant pressure to do more with less. As a result, they need their employees to be creative and come up with innovative solutions to problems. This is where out-of-the-box thinking comes in.

Business analysts are in a unique position to help with this. They are trained to think critically and creatively, and they have the analytical skills to back up their ideas. BAs can help organizations see problems from different perspectives and come up with new solutions that they may not have considered before.

AI is only going to increase the demand for out-of-the-box thinking. As AI capabilities continue to grow, businesses will need employees who can think outside the box to keep up. BAs who can provide this critical thinking will be in high demand.
Critical decision making
BAs help in coming up with the best possible solution from the various alternatives
BAs help organizations to make sense of all the data they collect and to use it to make better decisions. With the help of artificial intelligence (AI), BAs can now do even more to improve decision-making. AI can help BAs to identify patterns and correlations that they might not be able to see with their human eyes. AI can also help to automate some of the tedious tasks that BAs have to do, such as gathering data from multiple sources. This frees up the BA's time so that they can focus on more strategic tasks.

AI is also helping BAs to come up with better solutions from the various alternatives available. With AI, BAs can test out different scenarios and see which one is most likely to succeed. This helps organizations to make better decisions and to avoid costly mistakes.

Overall, AI is having a positive impact on the job of the BA. With AI, BAs are able to do their jobs more effectively and efficiently.
Stakeholder collaboration –
BAs play a critical role in validating and prioritizing needs.
In any business, it is essential to have a good understanding of what your stakeholders want and needs from you. This can be difficult to do without the help of a business analyst. Business analysts are experts in stakeholder collaboration. They can help you validate and prioritize the needs of your stakeholders. This is important because it ensures that you are meeting the needs of your stakeholders and that your business is able to run smoothly.
Bridging the gap between tech and users
As the adoption of artificial intelligence (AI) continues to grow in businesses around the world, the role of the business analyst (BA) is evolving. BAs are uniquely positioned to help bridge the gap between technical teams and users, and workshops are one way they can do this.

Workshops help BAs understand the needs of users and translate them into requirements for technical teams. They also help technical teams understand the capabilities of AI and how it can be used to solve business problems. By facilitating communication between these two groups, BAs can ensure that AI is deployed effectively and efficiently.

What's more, as AI becomes more complex, the need for BAs who can navigate its increasingly murky waters will only grow. With their deep understanding of both business and technology, BAs are essential partners in helping organizations realize the full potential of AI.
Data analysis –
Deriving intelligent insights from the data to facilitate business decisions
A Business Analyst (BA) is responsible for analyzing an organization or business domain and documenting its business or processes or systems, assessing the business model or its integration with technology. They also help in data analysis and derive intelligent insights from the data to facilitate business decisions. Data analysts use statistical techniques to examine data and draw conclusions from it. They help businesses to make better decisions by taking into account a wide range of factors, including cost, time, resources, risk, and objectives. The role of a BA has become even more critical in recent years as organizations strive to become more data-driven in their decision-making.

With the advent of artificial intelligence (AI), there is ample opportunity for BAs to leverage AI technologies to improve their efficiency and effectiveness in data analysis. AI can help BAs to automate repetitive tasks such as data collection and cleansing so that they can focus on more strategic tasks such as identifying trends and patterns in data. AI-powered tools can also help BAs to make better recommendations by providing them with real-time insights based on large volumes of data.

In order to take advantage of these opportunities, BAs need to upskill themselves in AI technologies. There are many online courses and resources available that can help BAs get started with learning about AI.
Ethical and responsible use of confidential customer information
As business analysts, we are constantly working with confidential customer information. It is our responsibility to use this information ethically and responsibly.
Here are some ways that we can do this:
Be transparent about how we will use the customer information.
Get explicit consent from the customer before using their data.
Keep the customer information secure and protect it from unauthorized access.
Only use the customer information for the purpose it was collected for.
Dispose of the customer information securely when we no longer need it.

By following these guidelines, we can ensure that we are using confidential customer information in an ethical and responsible manner.
To sum it up, keep your skills chiseled, use your cognitive skills to deliver value, keep your learning on, and leverage technology to keep you in demand.