How to be a BA From QA in 2023 | 100% Success Guarantee
8 min read
Dec 8, 2020 12:00:00 AM
A Quality Assurance professional or a QA is responsible for the product/project quality. They are the ones who are supposed to test the system/application, make all the best attempts to capture as many defects as possible so that the system behaves in the desired/expected way in the intended environment.
QAs are closely involved in the software development life cycle from the initial phase until the application's release. At a high level, a QA primarily focuses on ensuring that the requirements or specifications have been implemented correctly by the system, with a minimal amount of problem-solving.
Forging ahead in their career brings the QA to a decision point, where they need to choose the path on which they want their career to move forward.
Business Analysis is a natural progression and a great career move for a QA professional as they get involved in a lot of activities that overlap and are similar to a BAs task. Business analysis is certainly a career with a higher profile, higher pay, and is one of the fastest-growing professions with an all-time high growth rate of 14%. In short, a career switch to business analysis for a QA is a much more promising and lucrative one in today's scenario.
For someone wanting to transition to a business analyst role, having certain behavioral skills is imperative. As a QA professional, if you have excellent oral and written communication skills, are comfortable with client interaction, and possess good analytical skills, then you are a right fit for the business analyst role.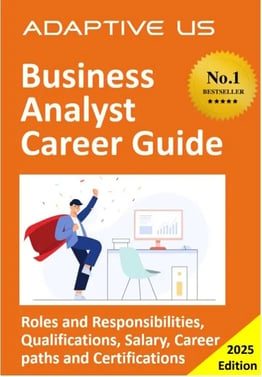 A good QA professional, with a keen eye for detail, stands a good chance of successfully working as a business analyst. Listed below are some reasons why a career transition from a QA to a BA makes great sense-
Fair understanding of the requirements


QA professionals, by virtue of their job profile, read, analyze, and review the requirement specification documents to understand and ultimately test them better. While performing this, Quality Analyst gets better with requirements/domain knowledge day by day. By putting some extra effort in requirement analysis, understanding the business domain, a QA professional can give themselves extra mileage in their plan for a career transition to the Business Analysis Profession.
Well Versed at Documentation


At all points during the project lifecycle, QA professionals are involved in documentation such as test planning, test case development, and defect reporting. Documentation skill is one of the essential skills for business analysts as well. By learning new tools such as diagraming/modeling tools and efficient communication skills, a QA professional can get a good hold of the skills needed to become an efficient BA.




Learning and Getting Better at Requirements Documentation


While trying to test the application in all possible ways to make sure that the functionality/features are working in the desired manner, they go through the requirements minutely, examine it carefully, and over time get better with how best requirements can be written or documented.

Critical & Out of Box Thinking


A great QA professional is one with the ability to think critically and out of the box while solving business problems This highly sought mental skill is one of the critical skills for a BA and it proves helpful in plugging any gaps during requirement elicitation.

Knowing the User Expectation Better


While testing the application for various roles/permissions a QA professional knows what the user expects from the application, be it how the UI should be designed, how a report should look like, or about the features specific to the role.
The next question that arises is, are these qualities enough for a QA professional to smoothly transition to a Business Analyst's role? Though these inherent qualities as a QA are helpful in the transition, a QA professional needs to do some amount of career development and planning, learning of new skills, and refinement of existing skills, to enable them in making a smooth transition to a BAs role.
So, here are some pointers, which if followed, will help a QA professional to steer ahead in their chosen career of a business analyst.
Understand the Business Basics
For a BA it is important to have a good background of the various functions of the organization and how the functions directly/indirectly serve the internal as well as external customers. The very first thing which a QA professional should understand is how businesses are run, how the revenue stream functions, and what they do. For this, a good starting point would be to go through the generic process classification framework provided by APQC. It also would be a good idea to read up basic books on business strategy, marketing, finance, HR, and operations.
Learn the BA process, Tools & Techniques
Like any other activity, Business Analysis also follows a process. The best resource, which is available free, is the Business Analysis Core Standard from IIBA. It is a fairly short document of about 50 pages but is very informative about the overview of the BA process. It gives a fair idea about how business analysis is actually performed in organizations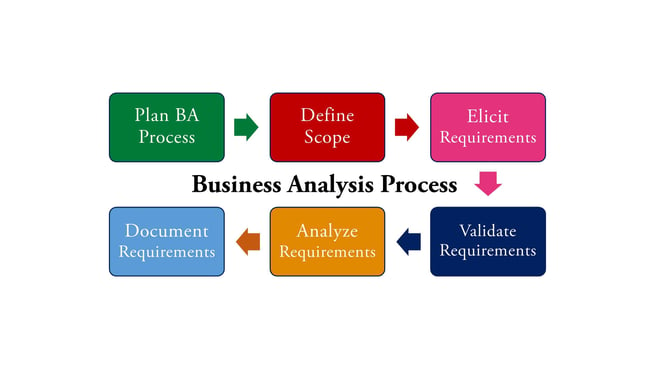 As a part of their work, a BA uses several tools. The most popular tools which they regularly use are business process modeling, state modeling, and use case modeling.
Some very popular tools with most organizations are Microsoft Visio, Lucid chart, BizAgi Business process modeler, etc.
Here's an opportunity to learn these tools. get hands-on training, practice the tools, and access a lot of informative BA resources - Inner Circle Pro
Get a thorough knowledge of your Domain & Industry
The internet has quite a good number of resources available on nearly all the domains. Look for any business (domain) terms repository available in your project, or with client/on the web. You can also lay your hand on a handbook on the domain you are in, e.g. if you are in the retail domain, look for a book by the name Handbook of Retail. Go through the handbook, you will get a fairly good idea about how the retail domain functions. Getting a better insight and knowledge of your domain and organization gives you a better acceptance with the stakeholders'. And stakeholder acceptance is key to the success of all business analysts.
Engage proactively in Requirements Elicitation
Elicitation serves as the underlying research to the requirements creation phase. For every BA, requirements elicitation is one of the most important tasks. According to a scholarly article: "Mistakes made in elicitation have been shown many times to be major causes of systems failure or abandonment and this has a very large cost either in the complete loss or the expense of fixing mistakes."
So, get involved in the requirements gathering process proactively. It is imperative that you learn the various techniques used during requirements elicitation as well as get to understand the project and its value to the users better.
Hone your Behavioral Skills
A business analyst interacts with sponsors, Domain SMEs, End users, and all other business-side stakeholders including suppliers. They are often the mouthpiece between the customers and other stakeholders. They gather requirements and liaise between developers and testers, ironing out any misunderstandings on either side. This requires honing one's behavioral skills. Key skills for business analysis are communication, stakeholder interaction, active listening skills, facilitation, conflict resolution, creative thinking, etc.
Behavioral skills the key traits for a BA and the best way to hone these skills is to practice them extensively.
Training & Certification- the crucial key to success
BA certification & training improves the skill and business knowledge of a professional. Business analysis certifications broaden your perspective of the BA techniques and approaches. Certifications can improve overall performance, remove uncertainty, and widen market opportunities.
For those who are making a foray into the business analysis domain, ECBA certification from IIBA is a good choice. ECBA not only gives a rock-solid foundation for getting into the BA profession but also helps with global certification. The ECBA certification does not call for any eligibility criteria in terms of education and covers aspects related to requirements elicitation, requirements analysis, and management, stakeholder management, techniques used by BAs, etc.
It is strongly recommended that you undergo proper training from a seasoned BA coach. This will help increase your chances of passing in the very first attempt and in the shortest possible time. My organization Adaptive US is an EEP with IIBA and has helped scores of professionals get ECBA certified and step into a successful BA career.
Involve yourself in the Implementation process
At the time of implementation, there are numerous valuable tasks that the business analyst needs to carry out. These tasks help in making the project successful and ensure that the business objectives are achieved. Most of the prioritization and workarounds are worked out in this phase.
A wannabe BA should get involved in the implementation process and learn all the processes, techniques, and nuances attached to it.
Look for an Internal BA Role Change
Upon the completion of BA training and certification, you can utilize your newfound learning and experience in your industry/domain by looking for opportunities within your current organization. The first thing to do will be to look for possibilities for an internal transfer. Discuss your career goals with your manager and seek opportunities to practice BA skills/techniques.
Its well said that being successful requires being proactive and not waiting for life to come to you.
Shadowing the business analyst for a particular project in your organization would allow you to understand and practice the concepts that you have learned. Simply put yourself in the business analyst's boots and evaluate and learn what you are observing.
If finding an opportunity with the current organization is not possible, you could update your resume accordingly to highlight your 'functional knowledge' in your industry/domain, along with your training and certification details. Showcase how your past experience qualifies you for the business analysis role, prepare the use cases relating the work and the skill and update your resume.
Showcase how your profile has been enhanced by the ECBA training and certification you have completed.
Network in the BA Community
Reach out to others in the BA community. Grow your network and leverage from this in the form of learning by sharing thoughts and ideas, and identifying opportunities.
If you wish to climb higher in your career, you need the right push. Sometimes, this push comes from those you are surrounded with. Surround yourself with like-minded people who are experts or passionate about their BA jobs.
Follow the leaders in the BA field and learn from their experiences.
Make Learning a Habit
The only way to stay ahead of the game/competition is by learning. You can choose skills/tools/concepts like UML, BPM, User Story, wireframing, etc., that will help you in your transition to a BAs role and attend training for the same.
Always remember a learning curve is essential to growth.
Transitioning from quality assurance to business analysis does not sound impossible. In fact, a QA professional is someone who is most suited for transitioning to the field of business analysis.
As you progress with your goals, there will be 'what-if' moments and stumbling blocks that will test your resolve. What is required is a dedicated effort and a willingness to learn and succeed at any cost.
Remember, a good business analyst is one of the best assets that an organization can have. Having a good and competent BA in the organization is like finding a pot of gold at the end of a rainbow. And if you can be that Business Analyst you will land in a strategic and favorable position, a true asset to your organization, and a part of the successful, fastest-growing, and exciting profession of Business Analysis.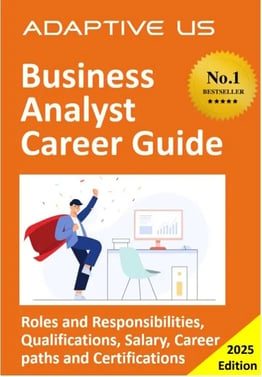 No Comments Yet
Let us know what you think