Top 10 Reasons Why You May Fail in the CBAP Exam
7 min read
Sep 17, 2018 12:00:00 AM
"Hey, I am looking for some guidance on CBAP certification. I gave it a couple of attempts, once last year and the recent one was two days back. I failed twice and it is so disheartening and demotivating. I really want to be CBAP certified as I have 10 + years of Business analysis experience. I just have one more chance to go for the test before my application and chance to sit for CBAP expires this year. Can you suggest what should be my strategy to prepare for CBAP?"
This is an email I received a few days back from one aspiring CBAP. Till now, I have been blogging about how to be successful in CBAP certification exam but the above mail and few other such emails prompted me to write a blog on the common reasons for failure in the CBAP certification exam. Of course, there was success post-training and a good preparation strategy in place, on the third attempt.
Many professionals approach us after being unsuccessful in CBAP so we thought of doing some analysis to come up with the most common reasons for failure in CBAP. There are many articles and blogs giving tips on how to pass the CBAP exam but on a first search, I didn't find any article explaining why people fail in CBAP.
This will definitely help the CBAP aspirants to make sure that they don't repeat the mistakes.
Here are the Top 10 reasons:
1. Inadequate Experience for CBAP
Many times professionals get tempted to go straight for CBAP, even if they are not ready yet for the same in terms of skill and knowledge. Though as per the eligibility conditions of IIBA, CBAP requires about 5 years of business analysis experience; sometimes we have seen professionals stretching themselves to go for CBAP with barely 4 years of business analysis experience.
It's always advisable to go for CBAP with at least 5.5 years of business analysis experience. The CBAP v3 examination requires a good amount of business analysis experience as well as knowledge of BABoK v3 since the questions are case-based. This requires the ability to correlate the knowledge of BABoK to the given case and answer accordingly. Hence business analysis experience as an active BA is essential for clearing this exam
2. Expecting direct questions from BABoK
This is another reason why many people fail, though they have the required experience they don't prepare with the right resources or to be specific with the right kind of questions. Many times they expect direct questions from BABoK. This was the case in the CBAP v2 based exam but that's not true anymore for CBAP v3.
The CBAP v3 questions are case study-based (i.e. longer cases (1-1.5 pages) of information) with multiple questions about the case. It is competency-based and aligned with BABOK Guide Version 3. It doesn't have any direct questions from the BABoK.
In many cases people are misguided by the exam and question pattern, they prepare from questions that are direct from BABoK on input, output, techniques, etc and scenario-based questions. Unfortunately, CBAP v3 doesn't have such questions and hence they are taken aback during the exam with the questions being much longer and complex.
3. Overemphasizing on remembering BABoK
One participant was lost with her result of failure and shared her preparation recently with us," I literally remember each word of BABoK, but still failed to clear CBAP. I failed 3 times already and I am not sure what could be the right preparation strategy for my retake"
This was sad for us to hear her story. The first thought was how someone can remember 500+ pages of content. This sounded dreadful to us. One needs to understand that it's important to understand and assimilate BABoK rather than remembering. One needs to understand the tasks, techniques well and the interrelationship with each other.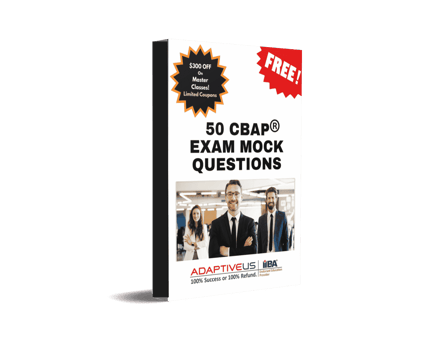 4. Lack of proper understanding of BABoK terminologies and expectation
It's important to know the terms used in BABoK and relating it to the terms used in your organization
This is so true in case of BABoK v3 since there is a significant enhancement in the standard. There is a significant enhancement that has happened from BABoK v2 to BABoK v3, which is great.
The highlights of the enhancements are:
Introduction of 18 new techniques

Rephrasing of the old techniques

A lot more explanation

Many more perspectives
At the same time, it also has added significant complexity in terms of the language used in the standard. For example one of the key terms that you encounter in BABoK v3 is business analysis information. This was called requirements plus other information related to BABoK in BABoKv2.
Now we are going to call this BA information which you may not hear so much about your work. That's the challenge that many of us face because the terminology used in BABoK v3 isn't very close to what we use in our workplace. That requires some extra effort in trying to memorize and make one familiar with these new terms. See a video on the BABoK v3 terms
Hence one needs to make himself/herself familiar with the terms used in BABoK v3 to pass the CBAP examination.
5. Poor Time Management
Time management is one of the key skills for clearing CBAP.
Some quick facts on the CBAP exam:
Duration – 3.5 hours

Number of questions - 120 with a mix of around 50+ case-based questions and around 70 scenario based questions

Scenarios - short cases

Case-based questions - about 1 to 1.5 pages long cases

Multiple questions on the case

Mathematical calculation based questions like ROI calculation etc.

Case-based questions require significantly more time compared to the rest of the questions

Cases require reading a lot of content and information given; hence it's important to keep track of time spent on these questions.

It's suggested to glance through the case first before moving over to the questions and then come back to the case to go through the details and answer accordingly.

Many a time the cases may contain information which may seem relevant but that information is not needed to answer the questions.
Hence most of the times people struggle to manage time in this examination unless one is aware of the time management tips.
6. Getting stressed based on the initial difficulty level of questions
Most of the exams have this kind of an approach; the initial few questions are intentionally kept of a higher order of difficulty to test the candidate's confidence and ability to handle the harder questions.
This also tries to test the candidate's ability to maintain the right mental aptitude to answer the rest of the exam questions. Many exam takers get tense and lose their mental balance seeing the initial level of difficulty of the questions. And the initial stress negatively affects the performance and ultimately leads to failure.
7. Underestimating the exam complexity
"I have around 12+ years of business analysis experience; I know this profession and its intricacies thoroughly. Hence this is going to be a cakewalk for me" – This is what some exam takers feel about the exam. Underestimating the exam, its rigor and hence being underprepared is also one of the reasons for failure in CBAP.
Working experience as a BA definitely helps in clearing this exam but that's not the only thing needed to achieve the CBAP goal.
One also needs to dedicate time to prepare from BABoK and CBAP v3 mock questions to be able to clear the exam.
8. Inadequate preparation
There are various reasons why one may not be adequately prepared for the exam, some of which are given below:
Appearing for the exam without adequate preparations

Not finding adequate time to prepare

Not having access to right mentor or coach

Not attending a rigorous CBAP certification training under an EEP (highly recommended by IIBA)

Not preparing from the right resources
9.Inadequate Questions Preparation
It's important to know the concepts well for CBAP and at the same time, it's important to solve enough of sample CBAP questions to make one prepared for the exam. Doing either of them and missing the other is going to lead to failure. It's also important to pick up sample questions which are of similar complexity to the real exam and can give one the real feeling of the exam.
Many times certification seekers practice from questions that are easier/simpler than the real exam and that makes them get cold feet during the exam. Hence please look for reviews and success rates before choosing the sample questions set.
10. Over-reliance on one's own BA experiences being the single most factor to help them pass the exam
"I have been heading the business analysis team in my organization." "I lead a team of 10 business analysts". "I have set up the business analysis practice in my organization and also for many of my clients". These are some of the statements we have heard from some certification seekers. They underestimate the exam and the preparation needed and hence do not achieve their certification goal.
They rely primarily on knowing the business analysis practices to clear the CBAP exam. One also needs to dedicate time to prepare from BABoK and CBAP v3 mock questions to be able to clear the exam.
Summary
This is only a suggested set of reasons why people usually fail in CBAP; this is not necessarily the entire set of reasons why people fail in CBAP. This set is provided as a guideline to help people to not to repeat these mistakes and in turn help them to pass the certification exam.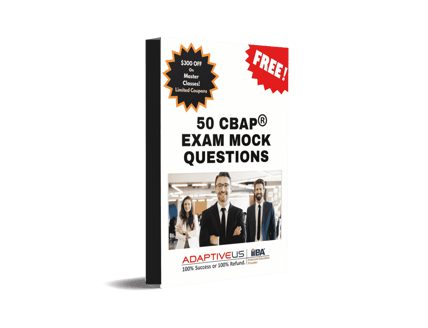 No Comments Yet
Let us know what you think