Attractive offers up to $400
+ A chance to Win FREE 1 YEAR IIBA membership Worth $125!

Up to $400 Offer on Core IIBA Certification Live Exam Prep Training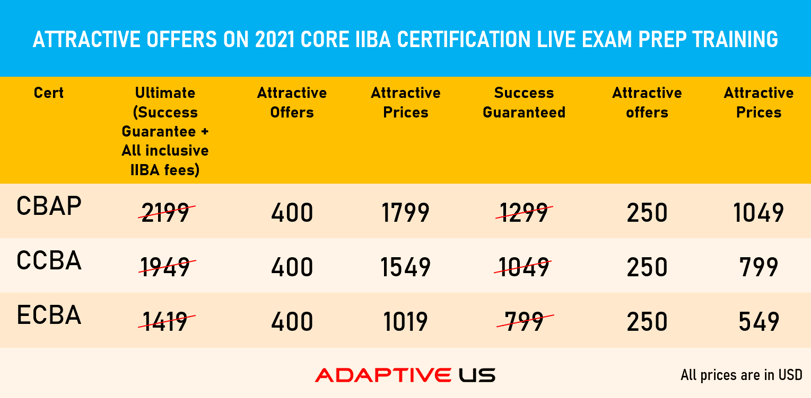 $250 Offer on Specialized IIBA Certification Live Exam Prep Training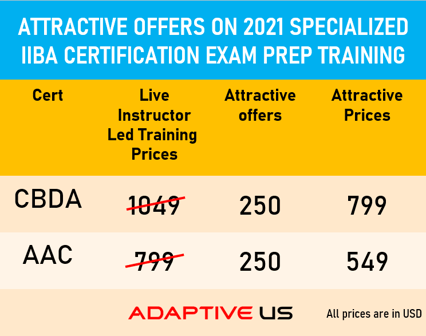 Save over $100 off on CBDA exam fees - Offer Valid Only till 31st Mar, 2021
Save big with IIBA's limited-time special offer for CBDA exam fees that saves you over $100 off the regular exam fee.
The discounted exam fee offer is applicable when you purchase the IIBA®-CBDA exam between March 25 to May 31, 2021 and applies to the IIBA®-CBDA exam and the IIBA®-CBDA exam rewrite fee.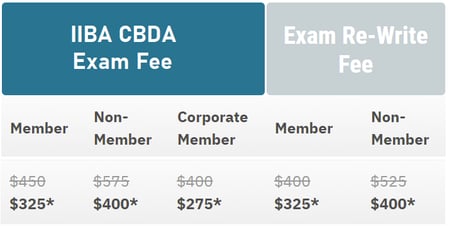 Avail the offer and pre-book any scheduled training month of your choice now!
Sign up early to get additional access days to the learning portal at no extra cost!
Attractive NEW YEAR OFFER of 50% Off on the Inner Circle Programs
Avail 50% off on the Inner Circle Pro and Premium programs.
Sign up today and supercharge your BA career!
Earn UNLIMITED Referral Bonus or Repeat Training as an Adaptive Customer
Refer Your Buddy Program - Unlimited Referral Bonus
Happy with our training and assisted learning, refer your friend or anyone else in your network and get an attractive cash reward when your referral signs up for our classes.
You get a cash reward of $50 for products below $1000 and $100 for products above $1000.
Brand Ambassador Award
Get 1 month's complimentary access to SuXeed by completing the following tasks:
Publish Adaptive's Training Certificate in your LinkedIn profile as a post

tagging

Adaptive US

and the faculties




2. Provide a review in

Trust Pilot

and

Google review

about your training experience with Adaptive.




3. Provide a 2 minutes video testimonial regarding your learning experience with Adaptive US.
Trailblazer Award of $50
Your goal of being certified is our goal as well.
Get an attractive cash award of $50 upon getting IIBA certified within 6 months of course completion by sharing your certification experience and how Adaptive's training helped you achieve this goal. Share this exciting news in the Trust Pilot and LinkedIn post tagging Adaptive US.
This offer is applicable to Adaptive's training and Assisted Learning products.
10% Repeat Customer Discount
If you have purchased a particular certification product from us before and wish to purchase another certification product, you will be eligible for a discount of 10% of the lower value purchase. This amount will be provided as a cash refund in the same mode of payment that you used to purchase the next product .
Please note this discount will not be applicable if you are upgrading from a lower priced product to a higher price product for the same certification.
Group Buying Discount
Applicable ONLY for Single Invoice and Single Payment
| | |
| --- | --- |
| Number of participants | % Discount |
| 2 to 4 | 10 |
| 5 to 9 | 15 |
| 10 to 20 | 20 |
| 21 to 50 | 25 |
| 50+ | 30 |
Monthly Lucky draw of IIBA Membership
We will announce the Lucky Draw Winner on the 2nd Monday of the Month.

Conditions:

1. Purchase any Adaptive Training or Assisted Learning products (1st March 2021 onwards) OR
2. Join the FREE IIBA Live Exam Prep Training with our expert faculty

If you've signed up for Adaptive's Training with IIBA membership and you are the lucky draw winner, you can avail $125 discount for extensions or purchasing any other Adaptive product.
Generic conditions:
Offers are time based and are subject to change without any prior intimation.
Discounts can be combined.
Products purchased during the offer period are neither refundable nor can it be cancelled.
Adaptive US reserves the right to modify any / all of the offers at any point in time.
Discounts shall be applicable on the net price (published price - offers) and not on the published price.
All cash rewards shall be processed on Tuesdays for the claims submitted in the previous week.