BAs - Don't let $500 Destroy Your Dreams and Opportunities
by LN Mishra, CBAP, CBDA, AAC & CCA on Aug 22, 2019 12:00:00 AM
Dear BA certification aspirants,
Studies have proven that trained and certified BAs perform better, progress faster and earn more. There are several benefits when one is Certified as a BA.
Demonstrates dedication and commitment to the BA profession

Ability to enhance the profession and have a voice among other professionals

Advanced career potential – Quicker professional advancement because the certification sets individuals apart

Demonstrates knowledge and skills necessary to be an effective business analyst

Opportunity to earn more income – Certified BAs on average earn 13% more

Be recognized by the organization and peers as experts in their field.
Among BA certifications, IIBA certifications are most recognized throughout the world. Here is the result of 2018 IIBA Salary Survey: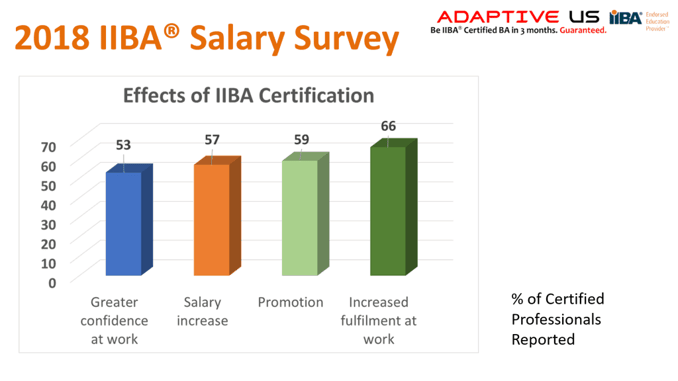 As you may already have received inputs on the new examination scheme for IIBA V3, certifications have become significantly more difficult. We have interacted with many unsuccessful (mostly from our competing with large training institutes) regarding their agony in failing not only once but multiple times.
Many unsuccessful participants report how the question bank they practiced was quite different than what they found in the actual exam. It's indeed sad that many training organizations have not modified their question banks for V3 and pass on V2 question banks to unsuspecting customers.
We are about $500 more expensive than many other IIBA training institutes.
Let's answer 2 important questions:
Should you invest $500 additional with Adaptive?

How is Adaptive able to achieve 1000% better results than competitors?
So, answering the first question first.
1. Firstly, should you invest an additional $500 with Adaptive?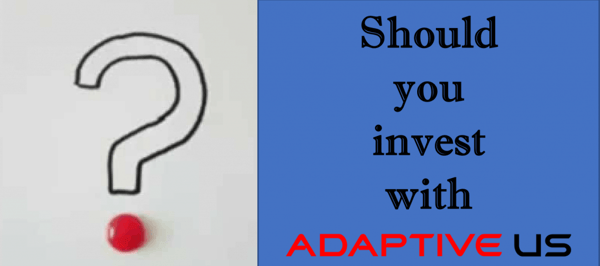 Let's answer the question with supporting data.
All of us work hard to earn our living. So, it is a real pertinent aspect to decide whether one should spend money on getting trained on CBAP or any other certification. Now let us compute this amount in an overall perspective.
Based on information received from IIBA, the current failure rate for CBAP to be approximately 30%. This means one in three CBAP aspirants do not succeed in their first attempt. For us, it is about 3%.
The total investment one makes while going for a certification examination are:
Money spent on Adaptive training: USD 1000. Our CBAP training comes with 36 hours of training by experienced faculties, CBAP study guide with 100+ tips and mnemonics, 2000+ model questions. Post out training, we expect you to study 50 hours to complete the certification.

Money spent on certification fees: USD 575

Time investment made: If you do self-study, you are likely to spend a minimum of 200 hours to prepare yourself in terms of knowledge of BABoK, make notes, mnemonics, etc. One can buy additional question banks if studying alone by paying USD 100. So, you need to spend an additional 150 hours if you are preparing yourself. Even at an extremely modest rate of USD 25 per hour, this will be between USD 3750.

Out of pocket cost one incurs when one does not succeed the first time: Lost time, need to prepare again and re-apply: 50 hours more preparation, USD 250 towards re-application, that's another USD 1000

We are not including non-tangible costs such as lost morale and social prestige. We are pretty much sure that most of your close family and friends would know that you are going in for the examination.

So, the overall cost is close to USD 5750.

Now USD 500 is not even 10% of the whole preparation cost.

This 10% investment can increase the possibility to pass by 90%.
So, it's your call now. Would you let $500 destroy your dreams and opportunities?
$500 additional investment is not even 10% of the overall investment.
2. How does Adaptive achieve a success rate of 1000% better than the industry average?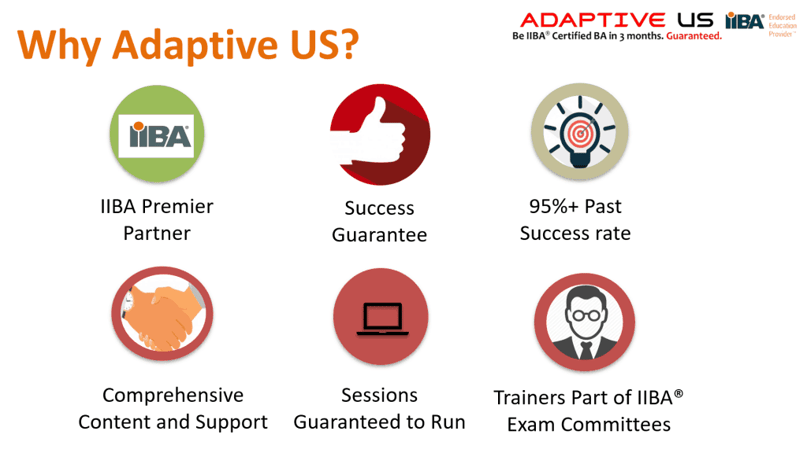 a. Fanatic commitment to your success in the IIBA certification exam
We are with you until you succeed in the IIBA certification exam. We are possibly the only training institute which pays from its own pocket when you don't succeed the first time.
We respond to all your queries within 1 business day. Learn more about no questions asked success guaranteed IIBA certification Exam workshops.
b. 1000+ hours of research on BABoK V3 and the IIBA certification exam Prep Questions
We researched BABoK V3 for more than 1000 hours to find all core concepts in BABoK V3. We created BABoK V3 mind-map, BABoK Task Tables. Our trainers have been part of BABoK V3 development and questions review team having tremendous expertise on BABoK v3.
The reassuring feedback of our latest CBAP certified professional Pavan Mondreti reconfirms this:
"With Adaptive I passed my CBAP on the first attempt and in just under 3 months. LN is an amazing tutor with vast amounts of knowledge" ~ Juan Lemoine CBAP v3
"I just relied on Mastering CBAP guide prepared by Adaptive, the trainers and their outstanding question bank. Adaptive trainers explain the concepts well in a layman language and clear all our doubts patiently. But as they say – Quality comes only with Cost. Adaptive course comes with a success guarantee assurance which I feel is worth taking. It also covers the IIBA membership fees worth ~$150. Go to Adaptive only if you are serious and want to save time. All the best for your preparation! ~Pavan Mondreti – CBAP v3
"Wanted to share the news of me attaining CBAP certification on the 20th September, and take this opportunity to thank everyone involved in my journey, and with a special thanks to Ananya, LN at Adaptive for their coaching, expert guidance and mentoring from the start of the process until the last minute. Your coaching and discussion with you were instrumental in my success." ~Thomas Simonsen, CBAP
Several other such testimonials can be found on the link here – Adaptive Reviews
c. No compromise on faculty quality
Your training can be as good as your faculties who teach you. There are training organizations who deploy faculties who themselves are not CBAP. Have a look at our faculty profiles below:
Member of the authoring and question setting team for BABoK V3 certification.
30+ years as a practicing BA
Founder of IIBA New Jersey Chapter
World's top CBAP trainer – 550+ IIBA certified professionals
Member of the question setting team for BABoK V3 certification
Practicing BA with 25+ years' experience
President, IIBA, Oklahoma Chapter
Active BA Speaker, Trainer
A hands-on BA with 22+ years of BA experience.
d. Most exhaustive IIBA certification exam study aids
3000+ model Questions

100+ Video Learning

World's most compact BABoK V3 study guide

Audiobooks

BABoK Mind-maps
At the same time, we are NOT necessarily the cheapest.
Do consider the investment that you make in terms of examination fees, training fees, preparation time fees and the mental agony of not completing the IIBA certification exams in the 1st attempt (sometimes even in the 2nd attempt).
The decision is in your hands.

No Comments Yet
Let us know what you think