BABoK for Business Process Consultants
by Rennick Fernandez on Mar 21, 2023 1:40:57 PM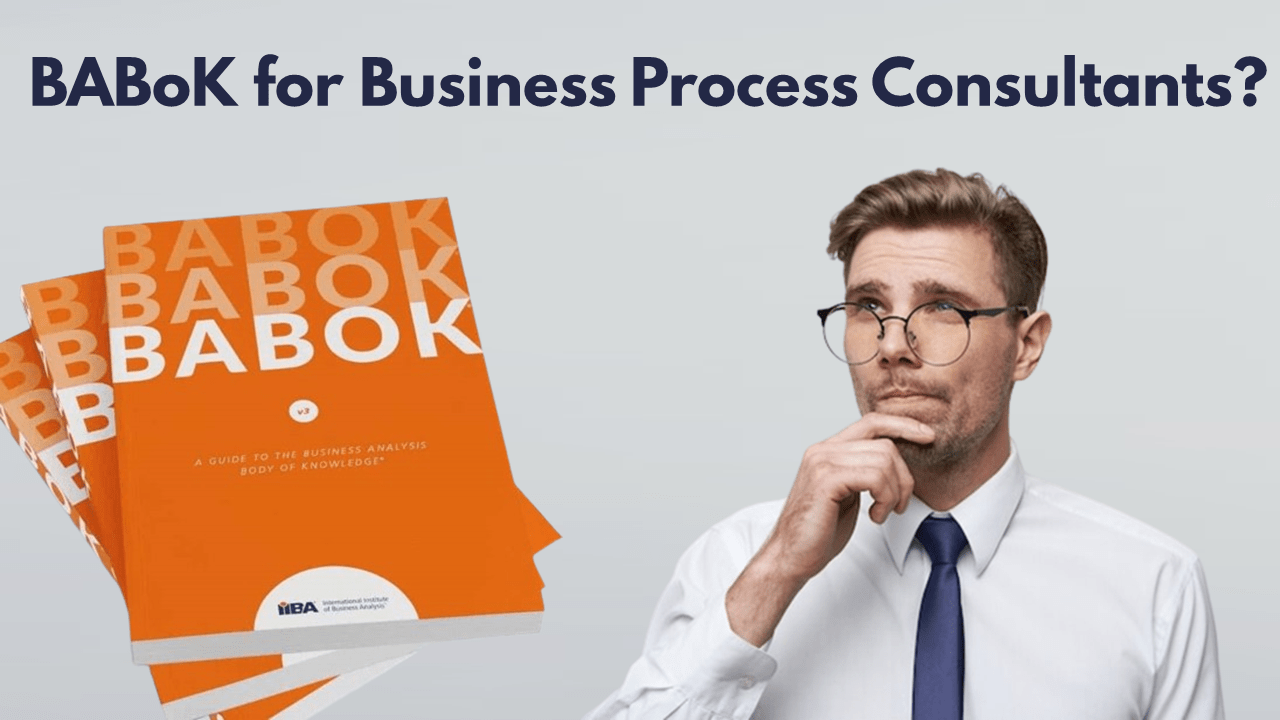 The Business Analysis Body of Knowledge (BABOK), is a guidebook developed by the International Institute of Business Analysis (IIBA) that describes in detail what business analysis is, what tasks are performed as part of business analysis, and what practices, techniques, and competencies enable Business Analysts to carry out their work efficiently.
While BABOK provides Business Analysts with a framework to perform business analysis effectively, the concepts in this guidebook can also be leveraged by Business Process Consultants to carry out their role efficiently.
Business Analysts (BAs) and Business Process Consultants (BPCs) share some similarities in terms of their roles and responsibilities. Both BAs and BPCs work to identify areas for improvement within an organization and find solutions to optimize business processes. However, there are some key differences between the two roles.
Business Analysts primarily focus on analyzing and documenting business requirements and ensuring that stakeholders understand the proposed solutions. They also collaborate with various stakeholders to identify business needs, elicit and document requirements, and facilitate communication between technical and non-technical stakeholders. BAs are responsible for ensuring that solutions align with the organization's goals, objectives, and strategies.
On the other hand, Business Process Consultants primarily focus on identifying process inefficiencies and optimizing them for better performance. They analyze existing processes and recommend changes to improve efficiency, reduce costs, and increase productivity. BPCs are responsible for identifying areas of process improvement, conducting process redesign, developing implementation plans, and training stakeholders on new processes.
Basically, both Business Analysts and Business Process Consultants work to optimize business processes and improve organizational performance. However, BAs are primarily focused on analyzing and documenting business requirements, while BPCs are focused on optimizing and improving business processes.
Here is a brief overview of how the work of Business Process Consultants (BPCs) aligns with each BABOK Knowledge Area:
| | |
| --- | --- |
| BABOK Knowledge Area | Business Process Consultant – Key Activities |
| Business Analysis Planning and Monitoring | Provide input on project scope and effort estimates |
| Elicitation and Collaboration | Identify process inefficiencies, interview stakeholders, and facilitate process redesign |
| Requirements Life Cycle Management | Develop implementation plans, monitor progress, and provide ongoing support to ensure successful implementation |
| Strategy Analysis | Identify opportunities for further optimization and make recommendations for process improvements |
| Requirements Analysis and Design Definition | Develop metrics for measuring the performance of new processes and continuously monitor and improve processes |
| Solution Evaluation | Measure process performance and track process performance over time to evaluate the effectiveness of the solution |
In summary, BPCs work across multiple BABOK knowledge areas to optimize business processes. They identify inefficiencies, develop recommendations for process changes, facilitate process redesign, and monitor and improve processes over time. They also provide input on project scope and effort estimates and evaluate the effectiveness of the solution. With that in mind, a Business Analyst certification aligned to the BABOK might be considered a strong industry recognized value-add to a BPC's arsenal of skills and qualifications.
No Comments Yet
Let us know what you think