Top 5 Benefits of IT Certifications for Organizations
by LN Mishra, CBAP, CBDA, AAC & CCA on Sep 30, 2022 8:14:44 AM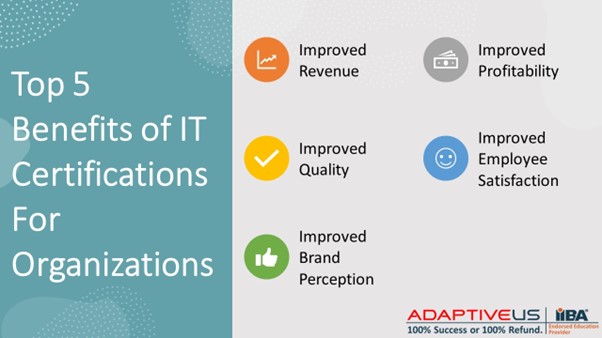 To be successful in business, every organization requires its employees to be skilled and competent. Multiple studies have confirmed that trained and certified employees deliver better outcomes. Customers are attracted to the organization for businesses only if the organization is efficient in working and has highly skilled professionals. Therefore, organizations need to invest in their IT people by helping them grow and develop through IT certification programs.
Here we describe the top 5 benefits organizations can experience by investing in their employees through IT training and certification programs.
Benefit #01 Improved Revenue
Your clients will learn that your business holds its staff to the highest professional standards and will take excellent care of them if you encourage your employees to get a professional certification. Your clients will have a sense of safety and security knowing they are in skilled hands. This is going to improve revenue for the organization.
Certified professionals widen an organization's network in its industry and allied industries. A business can use its certified staff's social and commercial networking abilities to sell its goods and services and boost referrals. To clients and consumers, certified professionals present a more reliable business image.
Benefit #02 Improved Profitability
Trained and certified professionals understand the vocabulary and common processes to execute work and can use the same tools. This improves the productivity of the entire team.
The capacity to combine new technologies with the proper human resources modifies a firm's operations, processes, and managerial practices. These activities help to take advantage of the new opportunities and achieve higher productivity growth. Certifications training better prepare workers to deal with day-to-day challenges and get the most out of new approaches and technologies. Higher skills lead to increased employee productivity.
Benefit #03 Improved Quality
All businesses depend on their ability to produce quality outcomes on time. Performance studies reveal that certified personnel performs better than non-certified ones. In a study conducted by Adaptive US, 91% of its trained students were confident of their capabilities. bit.ly/adaptive-training-performance. Certified professionals improve levels of service and provide better support to end users and customers.
Benefit #04 Improved Employee Satisfaction
Employees will feel valued and noticed by the business as well as by their peers when the business supports them in getting them trained and certified. This feeling of value can go a long way toward encouraging employees to stay longer in the organization.
Benefit #05 Improved Brand Perception
Organizations can improve their brand perception by supporting IT training and certifications. Most certification bodies are focused on large communities. They hold regular events. Organizations can improve their brand position in the employment market by supporting certification organizations.
Summarizing
For the same cost, professional IT certification offers several returns. The first is a competent workforce that performs client assistance and internal technical tasks more quickly and effectively, but that's not all. Companies with more credentialed employees close more deals and larger agreements, increasing client satisfaction and the growth in the repeat business that follows. By using this one method, the ROI potential is unlimited.
Surveys conducted by big organizations such as Amazon and IBM state that certified staff leads to better sales & higher customer satisfaction. They gained more market credibility and hence led to close larger deal sizes. It also stated that field personnel, technical support teams, and application development staff became more efficient in their respective jobs due to their certifications.
Hence, a well-developed and executed IT certification program results in increased productivity and job satisfaction among employees, which translates into better business outcomes and fewer employee problems.
No Comments Yet
Let us know what you think