CBAP Aspirants : Spend an extra month with your loved ones
by Ann P on Aug 29, 2017 12:00:00 AM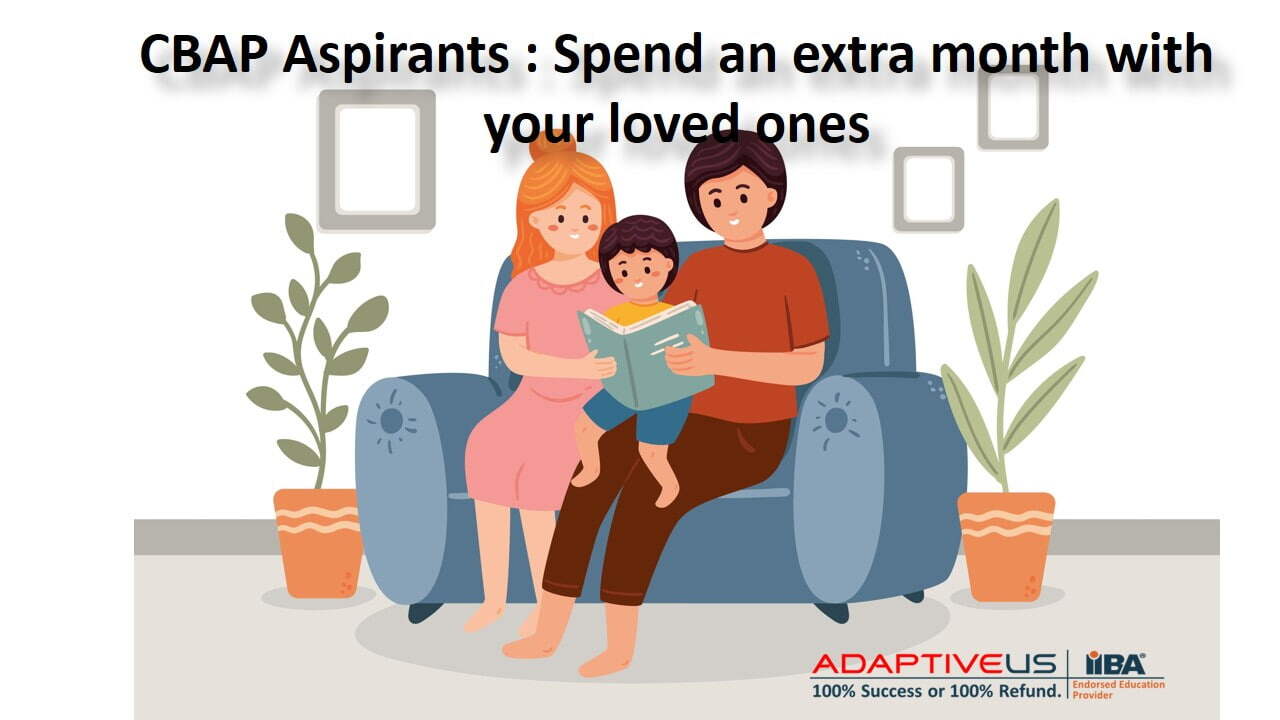 Many professionals look forward to getting certified in business analysis. CBAP®
happens to be the most preferred BA certification from senior business analysts.
Most senior business analysts are likely to be married with a family (It will be indeed a good stat to find the median age of CBAP certification training exam takers. . They are in a mid-career job and have significant work pressure.
Now if one desires to start for CBAP®, one must be very comfortable with BABoK® V3. Even if one has good BA experience, the terms BABoK uses and the concepts it explains could vary in your organization.
We did simple math to estimate how much time one needs to spend to obtain mastery of BABoK® V3. BABoK® is a densely written document with a fair bit of complex language. Here is a screenshot from one sample page from BABoK® V3.
(Extracted from BABoK® V3 for representation purposes only. IIBA® is the sole owner of BABoK®.)
Our conservative estimate is that one would definitely need 80+ hours of intense reading time to comprehend a 500+ pages book. Now one must make his/her notes to jot down one's own notes, which would be about 60 hours. This adds up to 140 hours. We would really like to discuss this with any BA who grasped BABoK V3 with a lesser number of hours. :)
Now consider the same content available to you with 30% volume. Your effort will come down by 70%. The study guide is, in fact, the note you would have prepared for yourself.
How could we compress BABoK® so much?
The key 5 principles we followed were:
1. Everything in tabular form (well, almost everything )
2. Identified common themes which are repeated multiple times in BABoK® (For example, the role of facilitator in Workshops, Focus Groups, Reviews, etc.)
3. Absolutely no prosaic language
4. Everything is written in direct sentence
5. Provided space in the book itself for your own notes for easy referencing
Here is a sample page from Adaptive CBAP® V3 Study Guide.
Now let's do an apple-to-apple comparison between BABoK® V3 and Adaptive BABoK® Study Guide.
Now there may be a question in your mind, have we compromised information in BABoK®? Our answer is an emphatic "No". Many CBAP®, CCBA®, and ECBA® participants have already successfully completed their certifications using our study guides.
You can look at our customer feedback and successful participants.
Now isn't that an extra month with your loved ones?
You can buy our CBAP® V3 study guide
Our classes come with
Success Guarantee

IIBA membership

Live classes (with recording facility) that gives 35 PD hours

2000+ CBAP model questions

100+ learning videos

CBAP study guide (hard copy)

and many more resources to help in CBAP certification preparation.



8. We have an impressive track record of certifying ​1​0 CBA​P​ professionals in the last 1 month on BABoK V3-based certification​.
No Comments Yet
Let us know what you think