How to succeed in CBAP in first attempt
by LN Mishra, CBAP, CBDA, AAC & CCA on Mar 28, 2022 12:00:00 AM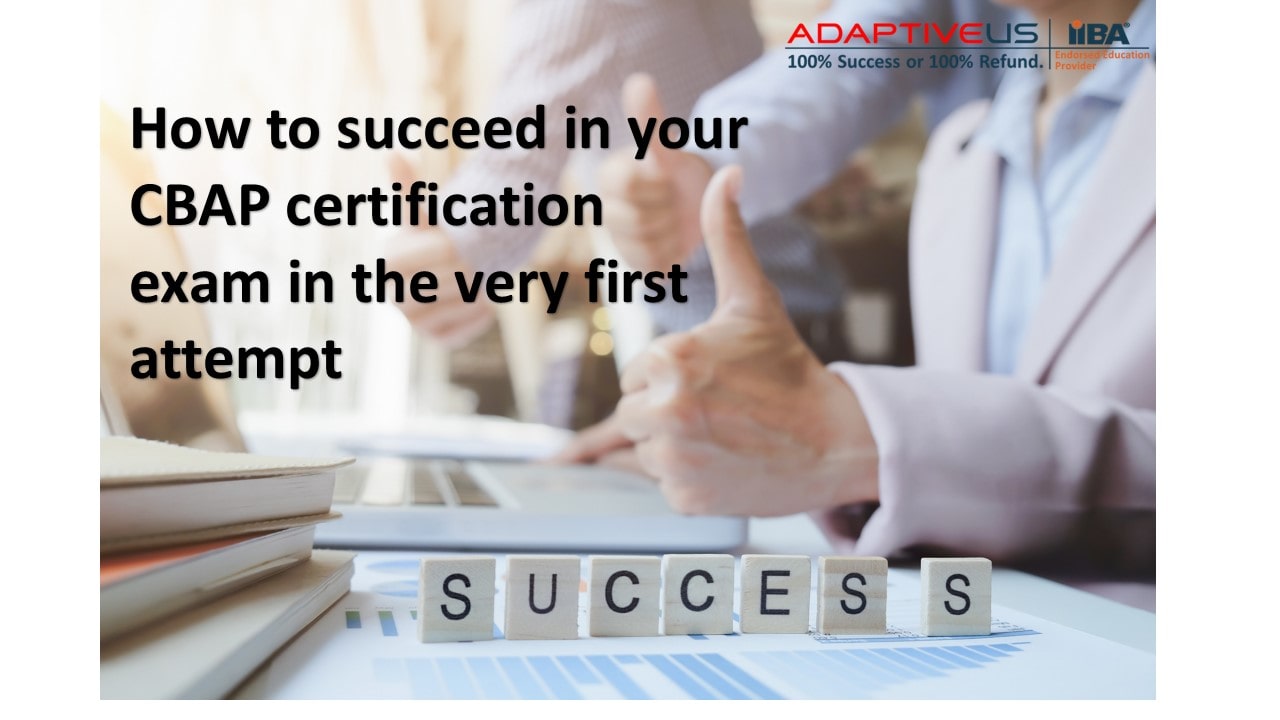 Let me congratulate all of you, those who for taking a very important step in your career. Remember, CBAP certification can be a game changer for your career. So by the end of this blog, you would learn as to how CBAP certification can help you and how it has helped our students to do better in their careers to bounce back from a layoff, then how do you succeed in your exam in the very first attempt, and also what kind of support you can expect from Adaptive US.
I have been lucky enough to guide more than 600 professionals to complete the IIBA CBAP certifications in the very first attempt. I'm also a qualified CBAP and I also have completed remaining six certifications from IIBA.
So here is a pop quiz for you. Do not take more than 10 seconds to choose the option.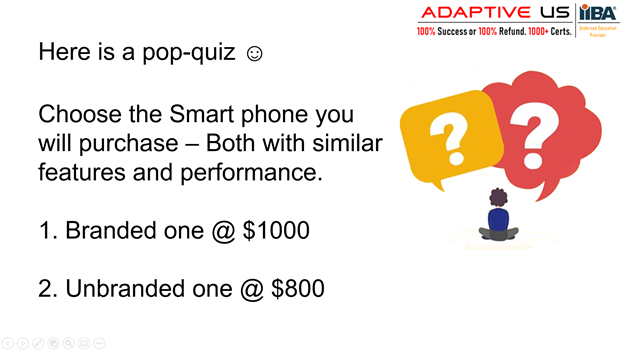 Suppose you have gone to the marketplace and you're trying to buy a phone for yourself and you have two phones with very similar features. One is a branded one at $1,000 and one is an unbranded one, at $800. If you observe, 90% of the professionals would buy the branded one, even if it is 20% more expensive. And the reason is very simple. When it is branded, we trust the quality. If there is an issue, we can always go back to the manufacturer to check what's the wrong with the product. Similarly, when you become a CBAP, you also become a branded business analyst.
There has been numerous studies done by IIBA which proves CBAPs on average earn 26% more than the non-certified BAs. They see a faster career growth, they exhibit higher confidence at work, they have greater job satisfaction, and they are also able to grab the best jobs in the market.
So here is one quick look at one of our recent students, Mary Person. She got 100% higher salary after she completed her CBAP. Another one story from Riaz Ghalib, who again got qualified in a large MNC after completing CBAP. The third story goes to one of our past students, Sharika, who was laid off due to the COVID situation. She was in an aviation company. But within a month, she bounced back to a new job in a bank.
You can actually read hundreds of such real career transformation stories in the link that we have given below, which is AdaptiveUS.com/career-transformations.
Now coming back to the topic, what are the steps that you should follow? Here is a seven-step formula that you can follow. It has worked wonders for so many of our students and WILL work for you as well.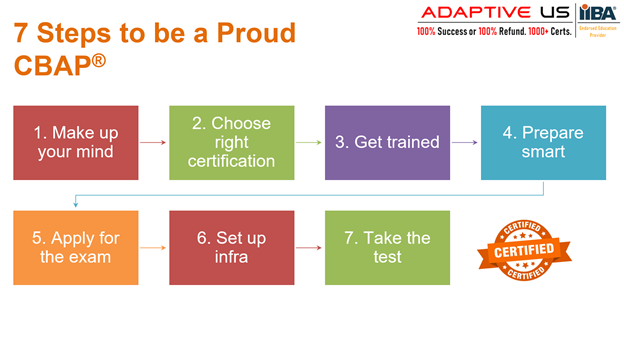 #1 Make up your mind
The first one is to make up your mind. It might look very trivial, but this is the step which determines whether you really complete the exam or not. A lot of professionals take years to make up their mind and, in that process, they possibly have lost quite a lot of money. So if you have delayed it by two years, then you have lost $25,000 of money due to your indecisiveness.
#2 Check your eligibility
The second step is to assess your eligibility. CBAP requires 7500 hours of BA experience, of which you must have 900 hours in 4 knowledge areas of BABOK.
#3 Get trained
The 3rd step is to get trained. CBAP requires a 35-hours live training with the faculty and right training can actually expedite your certification process by six to twelve months. So be careful about with the training partner that you go with because the wrong training partner can delay your process by six months to one year and also can put you into a lot of hardships.
#4 Prepare Smart
Then the fourth point is to prepare smart, and this is something all of us will remember, not the entire study guide comes in the exam. So there are two large chapters which you can exclude for CBAP. One is the perspectives, and which is about 80 pages and of course the underlying competencies, which is again 30 pages which don't come in the exam.
Then as a CBAP certification aspirant, you should be thorough about BABOK. So do use mind maps, study guides, and also prepare sufficient number of questions. It's very important that you at least practice 1000 to 1500 questions before you take the actual exam.
#5 Apply for the exam
5th one is to apply. That's a mandatory requirement. And please make sure that you are applying four to six weeks prior for the exam because sometimes your application may get picked up for audit. Don't worry too much about the audit. It generally goes through in a week or two weeks' time, but just keep that time in hand in case you want to appear the test at a particular point in time.
#6 Set-up infrastructure
The 6th one is actually to set up infrastructure. A lot of students are taking CBAP examination from home, which is allowed and it's convenient because you don't have to go anywhere. But you also have to make sure that you have the right kind of computers, you have the high-speed internet, you have a distraction free test area for you to take that test.
#7 Take the test
Then the last step is of course to take the test. And remember, this test can be quite stressful, so do keep calm. Don't worry so much. If you have studied for about 120 hours, you are reasonably well prepared. Please don't get stuck with any questions. You have the option to come back and review the answers later. Remember, CBAP questions are tough, they are long, they can have mathematical calculations, and they can have diagrams.
How adaptive helps you in your CBAP journey.
We are possibly the only company today which offers your triple guarantee so when we say triple guarantee we provide you 100% success guarantee that means if you don't succeed with us we don't keep a dollar with us. We earn only when you succeed.
All our faculty members are top notch. Our content quality is top quality. We also provide you with twelve live tutorials which you can utilize to kind of get your questions clarified even post training. From a content perspective Adaptive US offers possibly the most exhaustive content that you can get we have study guides, question banks plus cards then videos and then session pass session recordings, glossary, audio books you name it and we have it.
All our faculty members are CBAPs at least 20 years of experience in the industry. Many of them have been authors for the BABOK. Our lead for the program, Laura Paton was the BABOK chairperson, Victoria Cupet was part of the writing team. I have been part of the questions setting team and Laura McCoy is again a very prominent volunteer for IIBA.
A quick comparison between how we share with our competitors - we are priced at about $1,300; our competition is at about $2,400 but they don't offer success guarantee, the content is very sketchy, no post training support.
You can read a lot about our quality of service - we have 300 plus five-star reviews on Google, and you can actually reach out to these professionals. They're all real students and real professionals who you can talk to.
Thank you for your time. We already have 1250 plus certified BAs, and we are confident that some of you will get certified very soon as well. Good luck with your CBAP exam. If you have any questions about CBAP or our CBAP the program, please write to us at info@adaptiveus.com you can also call us at +1 877 872 2860. Thank you.
No Comments Yet
Let us know what you think