How to Conquer ECBA Exam Anxiety in 2023 ?
by Fathima Suhair on Aug 4, 2021 12:00:00 AM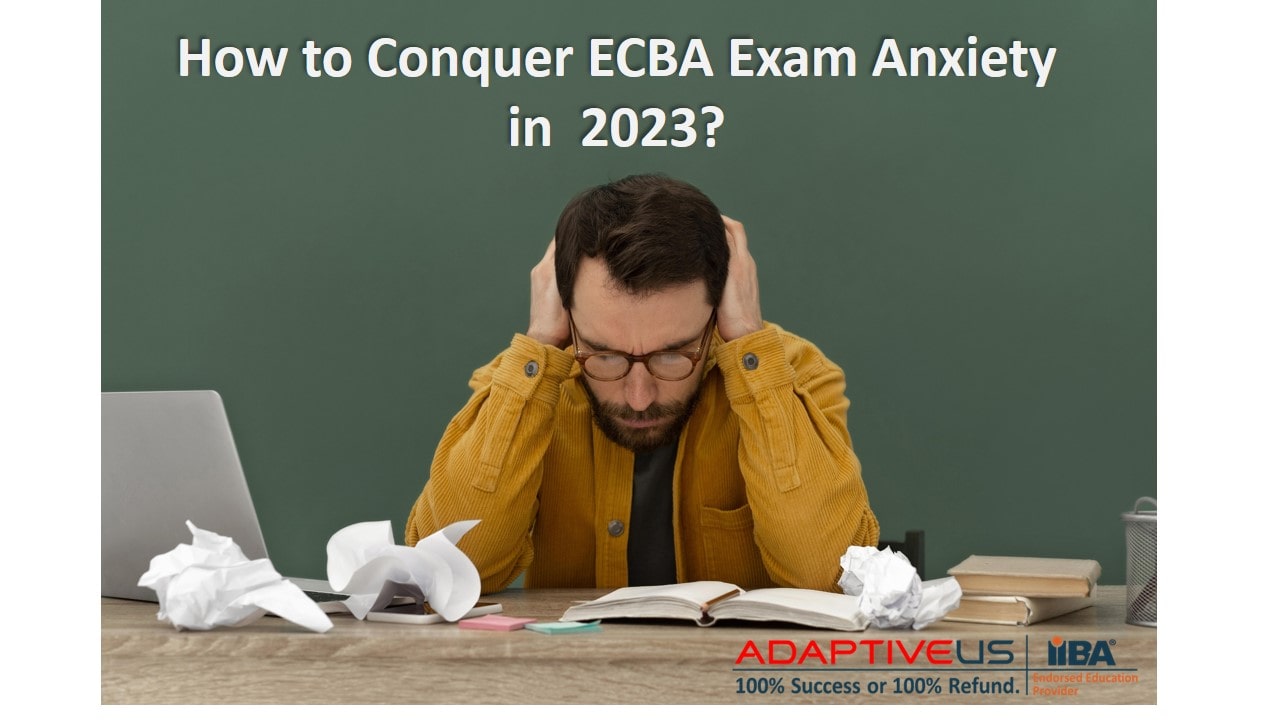 Business analysis as a profession is growing worldwide and is becoming one of the most sought after careers. To become successful and jumpstart their BA careers, prospective BAs look at becoming certified. One of the best certifications for freshers or new Business Analysts is the ECBA certification from IIBA.
The ECBA certification exam, just like any other exam, can cause a lot of anxiety. It can be stressful to write a new exam, especially in the case of working professionals, as most may not have taken an exam for years, maybe decades.
Many people have negative reviews about the IIBA exams. Many who attempt the IIBA exams fail it on their first attempt. Preparation for the exam takes a lot of time and money. These things tend to put you under tremendous pressure.
Participants frequently ask, "Is it possible to give any advice for the final week of preparation?" Exam days are very close, so it is vital to make the most of the final week to pass the exam and not reel under stress and anxiety.
Below are some tips that can help in assailing the anxiety level before the ECBA certification exam.
Eat healthy and exercise regularly.
Many people enjoy eating out. It has become a common practice amongst professionals to eat out at least a few times per week. Avoid eating heavy, unhealthy food the day before and during exams. Stomach ailments can make it challenging to sit for and concentrate during the exams.
Do some light exercise daily, as exercise stimulates your body and relaxes your brain. It will be advisable to not take up very strenuous exercises just before the exam though, as they will tend to tire you out.
Minimum 7 hours sleep
You may be struggling with a project or feel the pressure of exams, making it challenging to study. If you are not in good shape for the exam, you will lose the battle. It would help if you started to sleep better a week before the exam. This will allow you to sleep between 7 and 8 hours each night, depending on your personal needs. To study for the exam, you should not sacrifice your sleep.
Do not stress over the 'Inadequate Preparation' feeling
Professionals share this feeling. They feel they are inadequately prepared for the exam. This is a sign that no amount of preparation will be enough. If you have put in adequate hours into preparation, you should not allow these feelings to overwhelm you.
Do not overexert yourselves during the final week of preparation. Too much stress will affect your performance during the exam.
Listed below is a day-wise plan that you can follow one week before the exam. Please remember, these are just guidelines, and you can modify them to suit your needs.
The IIBA certification exams are now available online. You can now give the exam from the comfort of your home.
Seven days prior:
Make sure that you have all the hardware requirements for the exam sorted out.
As the online proctored exam relies on your Internet, computer set up, firewalls and VPN, and camera quality, ensure that all these are functional and of good quality.
Please do the compatibility check on the scheduling website at psiexams.com. The compatibility check will ensure that there are no kinks during your exam time.
Know more about the Ground Rules for IIBA Online Examinations
Six days prior:
Review study guide. The Adaptive mind-maps can be a powerful tool.
Focus on the task at hand.
Find out the strengths and weaknesses of each technique.
It will amaze you how many techniques can be used for different tasks.
Five days prior:
Revise BABoK and your notes.
Reading BABoK multiple times is definitely not a good idea. It is very much possible to get lost in all the details.
Four days before:
Take at least two simulation tests to test your timings.
Analyze the data.
Three days before:
Analyze past simulations.
Two days prior:
Revise your study notes
1 Day Before:
Enjoy your favorite movie.
Get enough sleep.
Day 0 - Exam Day Tip:
Do not overeat right before the exam.
Use the bathroom before you take the test.
Deep breaths are recommended every 30 minutes during the exam.
Keep cool.
Test the Remote Proctors before the exam. It can be tested 15 minutes before the scheduled start time.
Exam Tips:
The initial questions can be more complicated than expected.
Mark questions for review.
Always gauge the time lost versus progress made.
There will be bouncers. If you are unable to answer specific questions, don't be ashamed. It is unlikely that one can answer all questions correctly.
No Comments Yet
Let us know what you think