IIBA Online Examinations Rules in 2023
by Fathima Suhair on Jul 19, 2021 12:00:00 AM
The rules & guidelines below will assist you in understanding the requirements for the IIBA certification exams to be taken from the place of your convenience.
For All Exams:
One water bottle allowed which has no labels on it.
Two A4 sheets of blank paper or a A4 size whiteboard is allowed to make notes throughout the exam. (Note: Proctor will ask that paper be torn up and whiteboard erased before ending exam)
Getting-up once from the desk and stretching at the desk (i.e. in view of proctor) is allowed.
AAC/ECBA/CBDA:
No breaks (away from proctor view) are allowed during these shorter exams.
CBAP/CCBA:
One break of maximum 15 minutes (away from the proctor's view) is allowed. During this time the exam clock keeps ticking, so you are taking time away from the 3 or 3.5 hours of allotted exam time.
IF the candidate is not back within 15 minutes, the exam is considered 'abandoned'. 'Abandoned' means the candidate cannot resume the exam and thus forfeits the exam altogether and the fee already paid. You will have to pay again to retake the exam.
Note: If a candidate requires more time than what is allowed for the remote proctored exam, they need to request a special accommodation with IIBA prior to paying the exam fee as per the steps in that process.
PSI Web-delivery Rules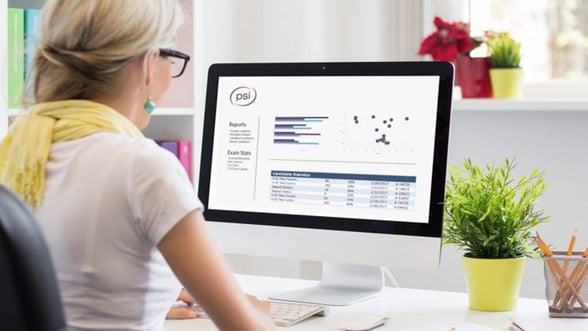 The online proctored exam relies on your Internet, computer set up, firewalls and VPN, and camera quality.
Do not use your office computer as you may not have administrative rights on the computer.
No background software is permitted to run such as TeamViewer.
Keep 2 computers as one computer may fail during the test.
Keep 2 internet connections as one connection can drop.
Keep power backup for at least 5 hours.
Keep an external camera as laptop camera quality may not be good enough for the proctor to verify your identity.
Wear half-sleeves clothes.
Remove any wearables.
Use minimalistic jewelry.
Keep the room well-lit.
Please go through the compatibility check on the scheduling website at https://home.psiexams.com/#/home.
If you need assistance during your exam, you should initiate a chat with the online test administrator using the in-exam chat tool.
No conversing or any other form of communication is permitted once your exam has been released.
You should not cover your head, ears or face.
You should not murmur.
You are prohibited from reproducing, communicating, or transmitting any test content in any form for any purpose.
Copying or communicating content is a violation of the PSI security policy. Either one may result in the disqualification of examination results, may lead to legal action, and will be reported to your Licensing Authority / Sponsor.
With the exception of your testing machine, electronic devices and recording devices of any kind (including but not limited to cell phones, pagers, and cameras) are NOT permitted in secure PSI testing environments.
You will be asked to scan the room in which you are taking the test prior to launching your exam. If there are notes, drinks, a box of tissues, or any such items on your desk, you will be asked to remove them prior to releasing the exam.
You must present valid, unexpired, and acceptable ID(s) in order to take your test. Check with the Sponsor or Licensing Authority/Sponsor for the specific rules that apply to your test. Military IDs are not accepted.
PSI requires all employees and exam takers to conduct themselves in a professional and courteous manner at all times. Exhibiting abusive behavior towards a proctor via chat will be reported to your Licensing Authority / Sponsor and may result in criminal prosecution.
You may connect with our Remote Proctors for testing up to 15 minutes prior to your scheduled start time provided your exam is ready to launch. Your launch button will be enabled when your exam is fully prepared for delivery.
You may not exit the camera view or use your cell phone or other electronic devices during the examination.
Your face and hands must be visible to the camera at all times.
Talking or mouthing words while testing is prohibited.
Here is the list of PSI rules from home.psiexams.com/#/faq and a useful video psi.wistia.com/medias/5kidxdd0ry
When you face any difficulty in the exam
Contact PSI exams support:
To initiate a chat with PSI Support:
http://clientportal.softwaresecure.com/support
Phone numbers:
USA / Canada +1-844-267-1017;
International +1-702-939-6734
Post exam
If you are unable to complete the exam satisfactorily, write to info@iiba.org and info@adaptiveus.com.
IIBA will take up the issue with PSI to investigate.
Best of luck for your IIBA Certifications!
No Comments Yet
Let us know what you think