Everything BAs Must Know About IIBA PD Hours in 2023
by Ann P on Jan 11, 2019 12:00:00 AM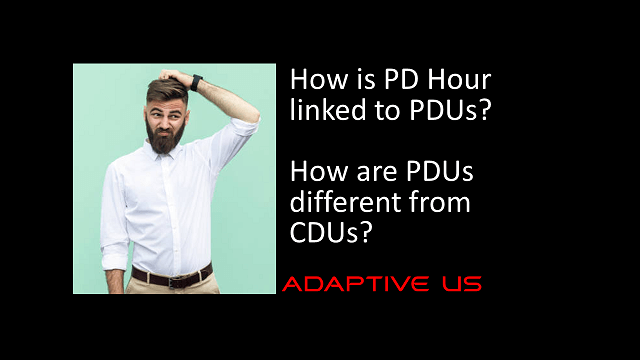 All of you, BA certification aspirants, would come across these terms such as IIBA PDUs, CDUs, PD Hours, PDs, CD Hours and CDs. How are they linked? When do we need which one? Let's explore.
Some of the certification bodies like IIBA and PMI PBA mandate this as one of the eligibility criteria for their certifications like CCBA, CBAP and PMI PBA.
The names vary, so a lot of certification aspirants have this question what is the difference between all these terms PDU, CDU, PD Hours and PDs.
In this article we will try to explain the various terms and what's the difference between them and which one to use when.
Professional Development Hours (PDs)
This is a term used by IIBA - International Institute for Business Analysis. This is one of the mandatory requirements for ECBA, CCBA and CBAP certifications.
As per IIBA Professional Development refers to training and/or education that will assist you in further developing your skills and/or knowledge for a given area.
IIBA does not use or refer to Professional Development Units (PDUs) instead, they use the term Professional Development hours (or PD hours). When applying online, you enter in your professional development hours in the Contact Hours field. 1 hour of Professional Development = 1 Contact Hour.
For a course/training to qualify for IIBA PD hours the classes must be instructor-led and should cover topics related to BABoK.

The course should allow interaction between the trainer/moderator and students.

The course must have been completed by the time of submission to IIBA by the exam taker.

There must be some assignments/practice related to concepts taught and there should be an assessment based on the learning from the class.
All courses that are offered by Endorsed Education Provider (EEP™) like Adaptive US' s classes automatically qualify for the professional development requirement for the certificate or for any certification. This is because they have already been assessed and validated by IIBA to ensure they meet the criteria for PD hours.
Any non-EEP courses can be listed on the certification application and its IIBA's discretion to determine whether it qualifies for the PD hours or not.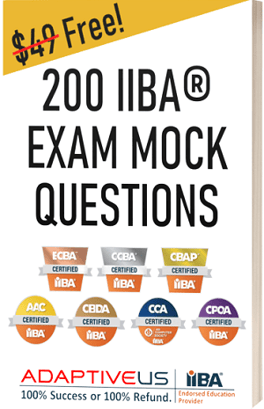 Continuing Development Units (CDUs)
All CBAP and CCBA certification holders are required to re-certify every 3 years to maintain the certification status.
Re-certification requires filling out an online application and documenting a certain number of CDUs or Continuing Development Units, agreeing to the Terms and Conditions and paying the recertification fee.
The CDUs can be classified into 6 categories out of which 3 (Formal academic education, Professional development, Self-directed learning) categories are related to learning and development as given below:
| | | | |
| --- | --- | --- | --- |
| Category | Activity Value | Suggested course/action from Adaptive | CDU's to be obtained |
| Professional Development | Maximum 30 CDUs per 3 yr cycle | BABoK v3 self-study material | 30 CDU |
| Self-Directed Learning | Maximum 15 CDUs per 3 yr cycle | BABoK e-learning (Contained in the CBAP Self Study Material ) | 15 CDU |
| Formal Academic Education | Maximum 30 CDUs per 3 yr cycle | This can be a formal university/college education | 30 CDU |
The requirements for CDU is more relaxed compared to PD Hours. CDU can be satisfied with contents like self-directed learning, attending webinars, chapter meetings, presentations.
All the courses for PD hours can provide CDU as well.
Professional Development Units (PDUs)
Then what is PDUs or Professional Development Units?
PDU is a term which is used by PMI (Project Management Institute); this is a way to measure ongoing professional development. If you hold a Project Management Professional (PMP), Program Management Professional (PgMP), Portfolio Management Professional (PfMP) or Professional in Business Analysis (PMI-PBA) certification, you are required to earn 60 PDUs in a 3-year cycle.
These 60 PDUs can be further broken down as follows:
35 Minimum Education PDUs




25 Maximum Giving Back PDUs
The PMI concept of PDU is very similar to IIBA CDUs.
The names sound similar but PDUs and PD Hours are not the same.
CDU and PDU are more similar in nature, they are more lenient and can be achieved by attending chapter meetings, webinars etc.
Summary
If you are applying for ECBA, CCBA or CBAP then you need to obtain PD hours.
If you are recertifying for CCBA and CBAP you need to obtain CDUs.
If you are recertifying for any of the PMI certifications you need to obtain PDUs.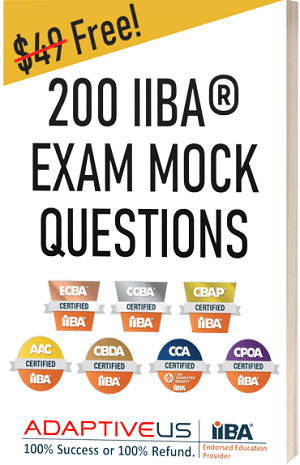 No Comments Yet
Let us know what you think